A reader recently asked for my advice on bespoke shoemakers, making me realise I hadn't done an equivalent to 'The tailors I have known' for shoes. This is the first part of the response to his question, summarising experiences so far and linking to details in old posts.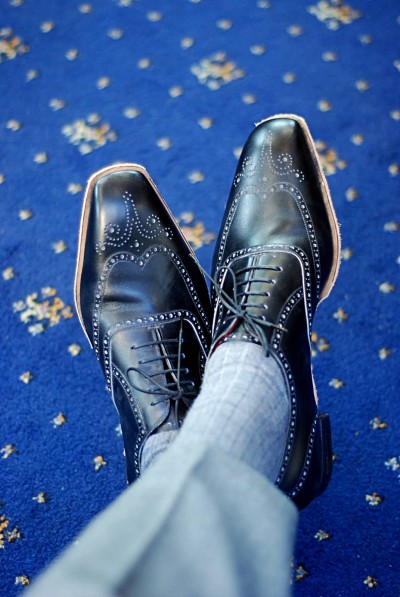 Cleverley
I have had two pairs of bespoke shoes from Cleverley – brown cap-toes and black imitation brogues (left). I covered the process of making the first pair in detail, over 13 posts, so there is no lack of detail on them.
Surprisingly, Cleverley might be the most distinct shoemaker on this list, as their standard shoe is lighter in construction than anyone else. This makes them comfortable slightly quicker in the morning, but less comfortable s towards the end of the day, in my experience. If Cleverley lacks anything, it is around finishing, as they don't do burnishing or patina work.
Foster & Son
I am in the middle of the process of having my first bespoke shoes with Foster's. I like Emma, Jon and the team, but can't reflect much on the quality thus far, except that the measuring and last-making process was very thorough.
I will report back and fill in this profile once the shoes are complete, so the post acts as an up-to-date record.
Gaziano & Girling
I have had two pairs of bespoke from Tony, Dean, Daniel, Thomas and Co – a seamless slip-on in hatchgrain leather, and an oxford Adelaide (pictured left). The latter were made in the wrong colour originally, and have since been patinated by Thomas (pics coming soon).
The Adelaide shoes from G&G are my best-fitting pair of bespoke shoes. Daniel made a new last after the slip-ons, and the fit is superb. Great look, style and finish – with the recent addition of patina a welcome string to their bow. (All three are rather different from Cleverley, which is one reason I carry on using both.)
Tim Little
I am having a pair of tan Chelsea boots made by Tim, with the measuring and pattern-making being done by Tony Botterill. Not much to report on so far, except that the value (£1950 for the first pair, £900 thereafter) is very good.
Antonio pio Mele
Antonio is making me a pair of dark-brown oxfords, and we had one fitting in Milan back in the summer. The first fitting wasn't great, but I do like many of his final products so fingers crossed.
Stefano Bemer
I am rather emotional about my Bemers, given they were ordered from Stefano before he passed away. I finally collected them in July this year – tan oxfords with a lengthened cap toe.
The fit that Masako achieved was very good – better than any other first pair of bespoke – although there are still obvious places they could be improved, such as the in-step. The make is absolutely superb, with a beautiful waist. If Bemer shoes lack anything, it is again in finish (no burnish or patina) and perhaps style. Stefano's lasts are great, but the soles tend to be a little thick and the house styles won't be to everyone's taste.
Norman Vilalta
Norman is one of my favourite people in the world – a great character and a great craftsman. He is in the middle of making me a pair of riding-inspired boots. The height is undecided, as is the position of the straps, but I'm hugely enjoying the creative process with him. It's all about channelling his eccentricity into little small areas, such as the shape of the strap and little points of decoration.
Santoni
I'm not a particular fan of the Santoni style of shoe, but as with many things this commission was a case of personality over preconception. I like the Santoni factory, people and set-up, and we're making a simple brown shoe through the Harrod's concession. Post on that process coming in a week or so.
There are many other shoemakers I would like to try, though not English ones interestingly (Lobb St James's has never attracted me, for the square-waisted style, the price, and arrogance experienced on one or two occasions). On that list are Corthay, Lobb Paris and Hidetaka Fukaya, among others.

(Bobby, let me know if this starts to answer your question…)
Images: Luke Carby