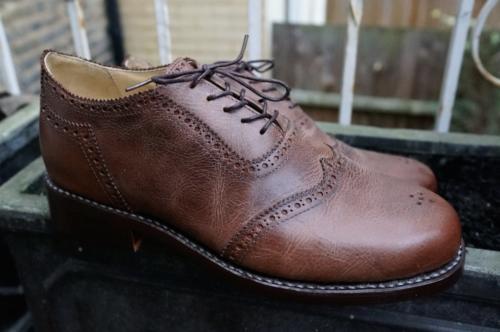 In Autumn last year, John from
J Adler Shoes
asked if I would review his bespoke shoes in return for a review. I don't normally take up such offers, particularly for lower-end shoes such as these, but I was interested in Adler's
unusual fit process
: sending plaster socks that you mould around your feet, and then return to them.
That moulding process largely worked. You remove the socks from a plastic packing, rinse briefly in water, and then put onto your foot. The sock hardens after a few minutes, and you cut yourself out of it using scissors. You can see the process
here
.
It's not quite as easy as it looks – you can only rinse the sock for a few seconds, otherwise it starts to harden and won't go onto the foot. I failed with sock, and had to ask John for another. Although the instructions could have been clearer on that point, the final result was a pretty satisfying set of moulds.


Unfortunately, when the shoes arrived a few weeks later, the result was not good – in terms of fit, style or make.
I don't like writing negative reviews, but I feel in this case it is worth recording, given that one or two readers have asked for my thoughts on Adler. It also doesn't seem transparent if a maker asks for a review, but it is only published if the conclusions are positive.
Let's start with the fit, given that's the biggest argument for buying a service like this, and is the least subjective area.
Unfortunately, the shoes were too big pretty much everywhere. With both laced as tightly as possible, the back halves of my feet rattled around. There was too much room above the joints as well, causing the leather to buckle. The arch support was very pronounced, but that didn't help fill the shoe. And overall it was pitched forward, rather oddly, with a wedge section in the heel.
The quality of the make was also not great, particularly for this price point (£440). The leather was thin and polished poorly. John assured me there was the normal reinforcement in the heel and toe, but I couldn't feel it: the toe was soft and unstructured and the top of the heel cup collapsed easily. The heel and sole were almost brutally large and chunky – though this is arguably more of a style point.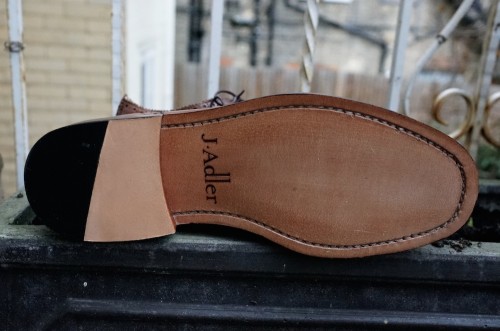 Moving onto style (which is obviously the most subjective area), it's hard to think of anything I liked. The toe shape was rounder and bulkier than anything I've seen outside working boots. The 'antique' finish I chose appears cheap and synthetic. The heel and sole, as mentioned, lacked any style.
This all sounds rather harsh, but I also think it's fair. I have communicated my thoughts to John, who offered to make me another pair – but given how far off the fit was, it seems impossible I would ever be able to recommend this service to readers.
I emphasise again that this is just one experience, and I have been told others are more positive. But given how far this was from the quality normally discussed on this blog, I don't feel I can recommend them in any way.