Although Paris has never been a centre of menswear – unlike London or Milan – there is a surprisingly broad range of small companies and artisans worth visiting. More, arguably, than anywhere in Italy outside Naples.
The products are often very high-end, with the couture heritage leading to some fine but expensive tailoring and shoemaking. And there are fewer independent, multi-brand boutiques than most other big cities.
But that heritage, and an rich seam of international visitors, supports a strong number of artisans that are at the top of their game, and unique to Paris.
As a reminder, to feature in our shopping guides a shop must sell luxury or crafted menswear, and be pretty-much exclusive to that city – making it a reason to travel there. Previous guides have looked at London, Milan and Stockholm. 
  
  
1. Charvet
www.charvet.com
28 Place Vendôme
Quite simply one of the most beautiful menswear shops in the world. A lovely ground floor stacked with accessories, and upper floors of shirtings and bespoke tailoring. There are very few single-brand, single-location shops left of this type in the world. Much of the style is not to my taste, but the shirts are beautiful and everything exquisitely made. (There are also other shirtmakers if you're looking further afield, particularly Lucca and Courtot.) 


2. Cifonelli and Camps de Luca
www.cifonelli.com, 31 Rue Marbeuf
campsdeluca.com, 16 Rue de la Paix

Paris has a small but very good bespoke tailoring scene. The three best-known houses are Cifonelli (now clearly the biggest), Camps de Luca (which recently moved) and Smalto (also has a rather gaudy RTW line). I recommend the first two most highly. 



3. Berluti bespoke
www.berluti.com
9 Rue du Faubourg St Honoré

The Berluti empire is by no means unique to Paris. But it is where the bespoke tailoring and shoemaking are located, with the former a takeover of the old Arnys workshop, and the shoemaking expanded with a few finely chosen names. If either appeals, then, Paris is the place to go for consultations and fittings. (And try to forget the sad demise of Arnys itself, which might well have been top of this list had it still existed.) 


4. Corthay, Dimitri Gomez, Aubercy, John Lobb
www.corthay.com, 1 Rue Volney
www.dimitribottier.com, 14 Rue Chauveau-Lagarde
www.aubercy.com, 34 Rue Vivienne
www.johnlobb.com, 21 Rue Boissy d'Anglas

Paris has a strong contingent of bespoke shoemakers, although mostly part of bigger houses. There is Berluti, there is John Lobb Paris (part of Hermes) and there is Massaro (part of Chanel). The two most highly recommended however are Dimitri Gomez, who works out of Crockett & Jones, and Corthay, which has a rapidly expanding RTW line but still does first-rate bespoke. Also worthy of mention are Aubercy and the recent solo launch of Philippe Atienza.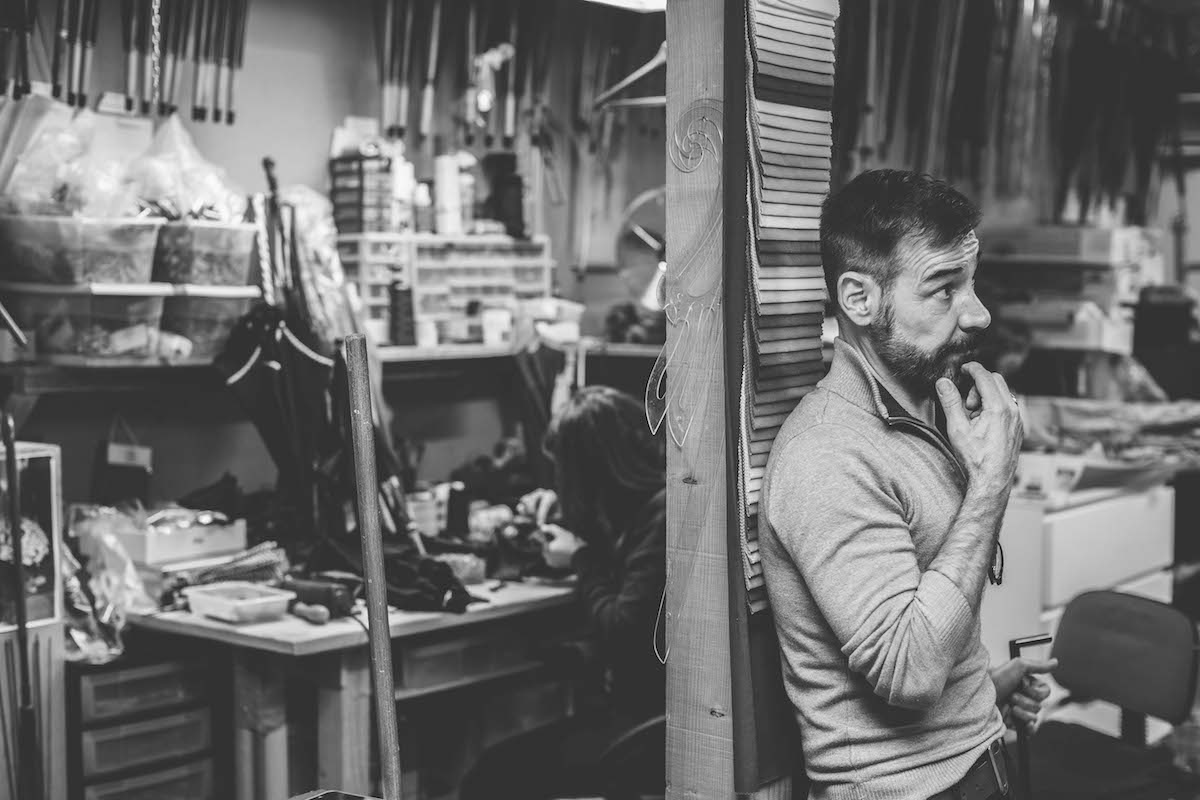 5. Heurtault and Pep's umbrellas
www.parasolerieheurtault.com, Viaduc des Arts, 85 Avenue Daumesnil
www.peps-paris.com, Passage de l'Ancre, 223 Rue Saint-Martin
Paris is also blessed with two wonderful umbrella makers – something very few cities have. Michel Heurtault makes perhaps the finest in the world, largely bespoke and largely women's, but with lovely men's examples too. Pep's is a much more practical, straightforward maker but is great value for money. If you like this area, then cane shop Antoine on Avenue de l'Opéra is also worth a visit. 


6. Maison Bourgeat and Maison Bonnet
maisonbourgeat.fr, 134 Rue du Faubourg Saint-Honoré
www.maisonbonnet.com, 5 Rue des Petits Champs

A contrast in fine spectacles. Maison Bonnet has a stellar reputation, particularly for its stock of old turtle shells, while Maison Bourgeat is an old name that has recently resurfaced with its own beautiful bespoke boutique. 

[Maison Bourgeat has closed since the writing of this article. A founder has started a new shop, Maison Baudin]
7. Chapal and Seraphin
chapal.fr, 244 Rue de Rivoli
www.seraphin-france.com, 57 Quai de Valmy
They all seem to come in twos at the moment. As well as umbrellas and glasses, Paris boasts two of the best makers of leather jackets in the world. Chapal is an old name that was made famous for flying jackets (supplying both French and US airforces) and still has its own tannery. Ignore the jeans, T-shirts and goggles and focus on the authentically detailed USAAF and A2 models. Seraphin is a more regular luxury brand, but making all the leather itself in Paris as well as supplying several designers.



8. Mes Chaussettes Rouges
www.meschaussettesrouges.com, 9 Rue César Franck

Two young guys who sell – you guessed it – socks. Not just red, fortunately, but a large range of classic and sporting socks as well as Simonnot-Godard handkerchiefs. The shop is also often the host to trunk shows and events. 


9. Camille Fournet and Lavabre Cadet
www.camillefournet.com, 5 Rue Cambon
lavabrecadet.com, 5 Rue Cambon

Camille Fournet makes great leather watch straps – something Paris has a surfeit of, with Jean Rousseau and Atelier du Bracelet Parisien among others. Fournet has also taken over running the glovemaker Lavabre Cadet, and both are now in the shop on Rue Cambon.


10. Hermes
www.hermes.com, 24 Rue du Faubourg St Honoré

Hermes, of course, is in most large cities in the world. But the flagship at 24 Rue du Faubourg St Honoré deserves a pilgrimage – rather like the Rhinelander Mansion in New York, or Armani in Milan. A towering temple to the leather and silk expert, and given how small the runs are of some pieces, there will always be something you haven't seen elsewhere. 


11. Cifonelli RTW
www.cifonelli.com, 83 Rue du Faubourg St Honoré
The recently expanded Cifonelli ready-to-wear store is worth a visit. The style is distinctly Cifonelli and the quality high – if expensive compared to the value of bespoke. There is also some beautiful silk/cashmere knitwear.


12. Other flagships….
This guide is strictly about clothing, but it's worth mentioning that Paris also has the flagships of many top-end perfume and luggage brands, such as Caron, Goyard and others. 
In the top image taken in Paris I'm wearing, appropriately, a Cifonelli bespoke jacket (Moonbeam cloth) and Hermes briefcase. Photograph: Jamie Ferguson @jkf_man.