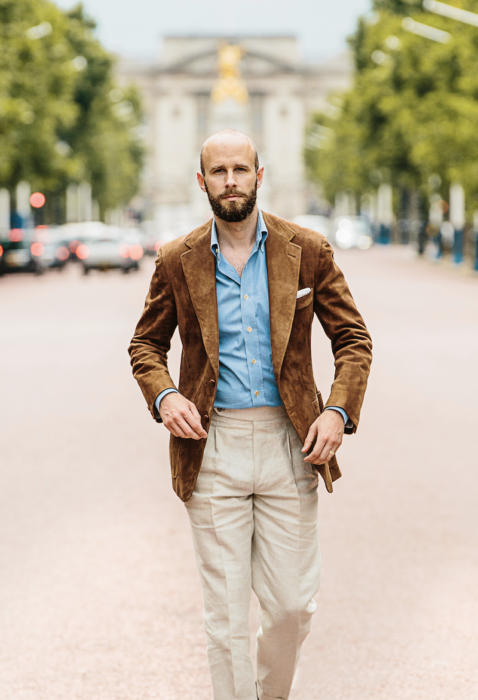 I know I'm biased, but this shirt made in the Everyday Denim cloth we developed with Albiate/Albini last year is now easily my favourite.
It has faded slowly and nicely, while stopping short of bleaching completely. The fading around the cuffs, placket, sleevehead and collar are subtle, but distinct - unmistakable up close but invisible at a distance.
After around 25 washes it is still fading, but very slowly, almost settling on a final patina.
If I could, I'd wear it pretty much every day.
My daily uniform is usually an open-necked shirt, flannels or cavalry twills, with a jacket or shawl-collared knitwear over the top - and the Everyday Denim shirt goes with all of it.
It's smart enough for a navy blazer, and casual enough for a vintage-style RRL shawl. The button-down collar is cut to frame the face, but also have enough curl to sit around a tie if needs be.
And of course it's nice that it's unique to Permanent Style.
A new batch of the shirts, in sizes S to XL, is now available on the Shop site.
I've deliberately included images here of my shirt to give readers an idea of how it fades over time.
And of course, as always the shirts are made by Luca Avitabile in Naples and have several hand-stitching steps. Both the practical (hand-attached collar, hand-attached sleeve) and the aesthetic (hand-sewn buttonholes, hand-attached buttons).
There is no denim cloth to buy on its own at the moment, as that had its second batch at the end of last year. We will do another one, but not for a couple of months.
I should say, by the way, that a couple of readers that don't have access to a shirtmaker have e-mailed saying they darted their Everyday Denim shirts.
The nice thing about a shirt (compared to a jacket) is that it can be darted quite deeply and almost from top to bottom, significantly changing the shape through the chest, waist and hips.
If anyone is going to do this, do make sure to buy the right size for your neck and shoulders, given you can adjust much of the rest.
For anyone that is new to the Everyday Denim shirts, here's a summary:
'Everyday Denim' is so-called because it is a denim shirt a man in a modern office can wear every day. It is made in the same pale-blue colour as a regular office shirt but rendered more casual by its denim texture.
It uses a denim shirting from Albiate (part of the Albini group) that is exclusive to Permanent Style. A re-weaving of a cloth that wasn't commercial enough for mainstream stores because of its fading, but perfectly suits more advanced PS readers.
The shirts are made by Neapolitan bespoke shirtmaker Luca Avitabile, using several stages of hand-stitching to give it more of a bespoke fit (eg a smaller, hand-sewn armhole)
The buttons are flat, yellowed mother-of-pearl in order to give a vintage look to the shirt, which suits the fading denim
And the button-down collar is a style I developed with Luca on my bespoke shirts. It curves subtly outwards when worn open, rolling around the collar of the jacket and framing the face; but when the shirt is buttoned up, it also has enough shape to curve around a tie knot, rather than sitting flat against the body.
The cloth is a cotton twill, using 60/2 yarn in the warp and 120/2 in the weft. Being 2-ply is significant with denim, as most brands use cheap, single-ply yarn for denims - but 2-ply softens and wears better.
Everyday Denim shirts are slightly more expensive than the Friday Polos, reflecting the exclusivity of the cloth, at £180 (ex-VAT).
Ships from the UK.
The full, original post on Everyday Denim can be found here.
Shirts available here.
Sizing:
| | | | | | | |
| --- | --- | --- | --- | --- | --- | --- |
| | Chest | Waist | Yoke | Neck | Sleeve length | Body length |
| Small | 100cm | 94 | 45 | 37 | 64 | 79 |
| Medium | 108 | 100 | 47 | 39 | 66 | 81 |
| Large | 116 | 108 | 49 | 41 | 68 | 83 |
| Extra large | 124 | 116 | 51 | 43 | 70 | 85 |

Other images:
Photography: Portrait image, Jamie Ferguson; other images, Permanent Style