Luxire shirt and trousers: Review
*Update October 2018: This shirt unfortunately shrunk considerably after two washes, and the sleeves are now too short to wear, rather supporting my assessment of the selection of materials at Luxire*
Luxire is an Indian company based in Bangalore that launched in 2012 to offer made-to-measure shirts, trousers and jackets.
There are many such companies, usually making entirely by machine and using a variety of online fit processes, from measuring yourself to digital photos and scans.
These companies are rather limited by the lack of personal interaction between tailor and customer: if they produce a fit that is better than a ready-to-wear brand, that is a success.
In general, they're more of a challenge to high-street brands than the bespoke and high-end made-to-measure we normally cover.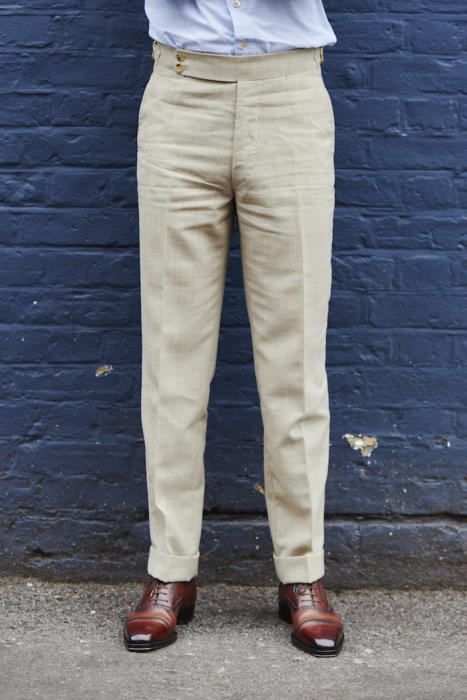 Luxire is a bit different in its understanding of the styles, makes and materials that fans of bespoke tailoring seek, and an ability to accurately copy fit.
At the request of readers, I tried Luxire last month, sending them a pair of trousers and a shirt to copy.
They do offer a service where you take your own measurements, but the results I had seen from that on friends were much more unreliable. I also opted not to copy a jacket for the same reason.
My results can be broadly summarised as very good on fit, a little poor on make.
There are also perhaps relationship and ethical issues that I will consider at the end of this article.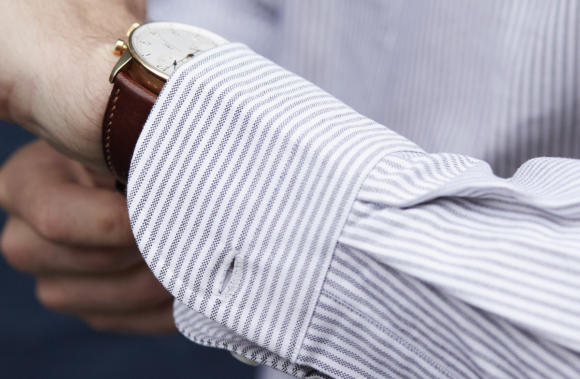 The shirt I sent Luxire to copy was a button-down from Luca Avitabile - probably my favourite style of shirt.
I chose a grey-and-white striped oxford fabric, because this was a shirting pattern I hadn't tried before and it was a nice opportunity to try it out.
When the shirt arrived, the fabric was a little thicker than I had envisaged and a little shinier. These are the disadvantages of ordering things online, of course, but it's exacerbated by the range of fabric and cloth Luxire offers, including synthetic mixes.
I'd generally recommend sticking to mills and merchants you already know (which does also increase the price).
The collar of the shirt that arrived was very good - an almost perfect match.
This is particularly impressive with a button down like this because there are so many variables - the length, width and line of the collar, the precise position of the button and (often ignored) the position of the collar itself on the body of the shirt.
Other shirtmakers in the past have said they would make something similar, and failed.
The fit in the rest of the shirt was good too, though not quite perfect. The sleeves were about 1cm too short, the neck a touch tight and there was a bit too much drape in the back.
Not big points compared to the cut of the collar, and hopefully ones that could be corrected on a subsequent order.
The make of the shirt was OK, but was largely made by machine - so more on a par with Simone Abbarchi of the makers I regularly use, rather than Luca Avitabile.
The hand finishing was also a little rough. The buttonholes were sewn by hand, but were a little ragged in places, with the long foundational stitches running rather wide of the hole.
The buttons on the shirt are mother of pearl, but the cheaper variation (river pearl) and to be honest look just like white plastic. Ashish at Luxire tells me they are planning to upgrade this.
(As with all reviews, I discussed all these points with Luxure before publishing.)
With the trousers, I sent a pair made by Cerrato in Naples, and selected a light-khaki Fresco cloth to make them out of.
The range of cloths is greater with trousers than with shirts, so I'd particularly recommend sticking with brand names here.
The results were similar to the shirt. Again the fit was good. Perfect fit through the waist, lovely line through the leg, and just a handful of things to change: slightly higher rise, slightly more room in the seat, and slightly wider cuff.
There were one or two small points around balance that you might also take up with a bespoke tailor, but still better than most made-to-measure.
The make of the trousers had some good points, like neat work on the 'skirt' of material that runs around the inside of the waistband.
But again the sewing was a little rough in places, as you can see below around the buttons on the waistband.
You might occasionally see work like this from a cheaper Neapolitan tailor, but never from a Milanese, French or English maker.
The hardware on the trousers is also a little cheap: a rather flimsy side adjustor and low-grade YKK zip.
Luxire are beginning to offer entirely handmade products, but I would suggest it might be better to offer a hardware and trimmings upgrade for customers that pick a more expensive cloth.
Other small points that weren't on the same level of the original trousers included the tack stitches: there were plenty of them, but a little long and loose to be functional.
The alignment of things like back pocket: you can see above how it is gaping slightly to one side.
And the turn-ups on the trousers, which were made the slightly cheaper way of not fully folding over the cloth twice, giving you more weight and a cleaner line.
Ashish at Luxire also sent me an entirely handmade shirt on the same pattern as the grey-striped one, to show me that level of work.
This was lovely of him, but does highlight some of the issues with the service mentioned so far.
The collar was rather small (not a style I would wear) and the cloth too rich a blue. Had this been a bespoke shirtmaker I met in person, I would have been able to discuss and correct both points.
And the handwork was not that good. Again slightly rough, and things like the hand finishing on the bottom hem rather basic - a straight running stitch rather than hand-rolling.
Below you can see the Luxire finishing (bottom) underneath a D'Avino shirt (middle) and 100 Hands shirt (top).
Overall, the fit and the value of Luxire is good.
Better on trousers than shirts though. A Simone Abbarchi bespoke shirt starts at around £150, while a Luxire one in Albini cloth is $150-$200. Cerrato trousers, by comparison, start around £550, while Luxire ones in Fresco cloth are $300.
Of course, there is the advantage that anyone in the world can order online from Luxire, while you have to catch a trunk show from a bespoke maker to use them.
But if you want to copy an already good fit, as I have reviewed here, then you need that good bespoke fit in the first place.
Which brings me onto the ethical side of using a service like Luxire.
I don't see anything wrong with taking your own measurements, or copying something from a big brand. But using a bespoke artisan to make something perfect, and then in the future just getting somebody else to copy it, does raise ethical questions.
Few bespoke artisans make much money, and the whole business model is predicated on a long-term relationship with a customer - as so much of the work and cost comes at the beginning.
If readers do value these artisans and their traditions, and can afford to use them, they might carry on doing so on principle.
And of course a personal relationship with a tailor or shirtmaker is a lovely part of bespoke: it affects how you feel about your clothes, makes commissioning them more pleasant, and can lead to great advice over time.
I wouldn't suggest one route or the other, but I do think customers should make a conscious and considered choice. Personally, I'd be more likely to carry on using Luca or Simone for shirts, and say Whitcomb & Shaftesbury for trousers.
Also worn:
Luca Avitabile chambray shirt
Navy cotton trousers (part of a suit) from Musella Dembech
Shoes from Stefano Bemer (review coming soon)
Photography: James Munro