There are some interesting things going on in French menswear.
Although France has generally been the poor cousin to Britain and Italy here, in the last 30 years it seemed to get worse. Most of the good shops closed (Old England, Arnys) and according to friends, men descended more to wearing nothing but black suits and pointy shoes.
Shops were closing everywhere, of course. But London retained most of its traditional outfitters on the back of foreign visitors, and Italy much of its luxury industry on the back of foreign retail.



Recently a few new shops have opened, as they have elsewhere in the world. But interestingly, I think they have more originality and personality than others. There are no Armoury copycats here.
I'd highlight three in this regard: Beige, Holiday and Husbands. Having followed them online for a while, I visited all three (and several others) during a recent trip to Paris. So I thought it was time to update the Paris Shopping Guide, as we did recently with Tokyo.
Below are 13 new shops I'd recommend, then, followed by the original list. That list has also been updated to include the likes of Stark & Sons and Ateliers Baudin.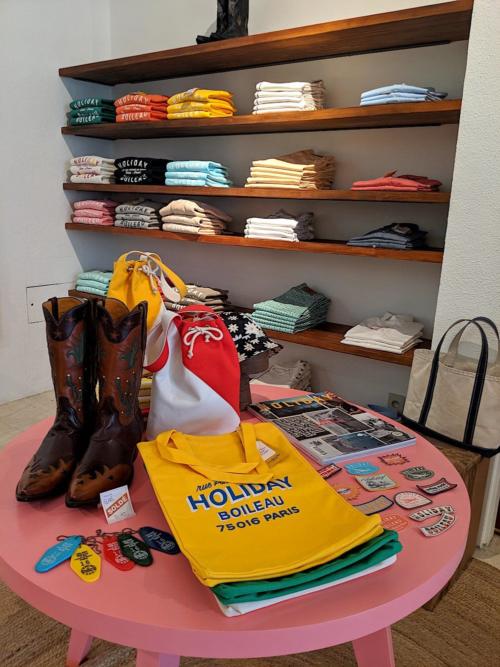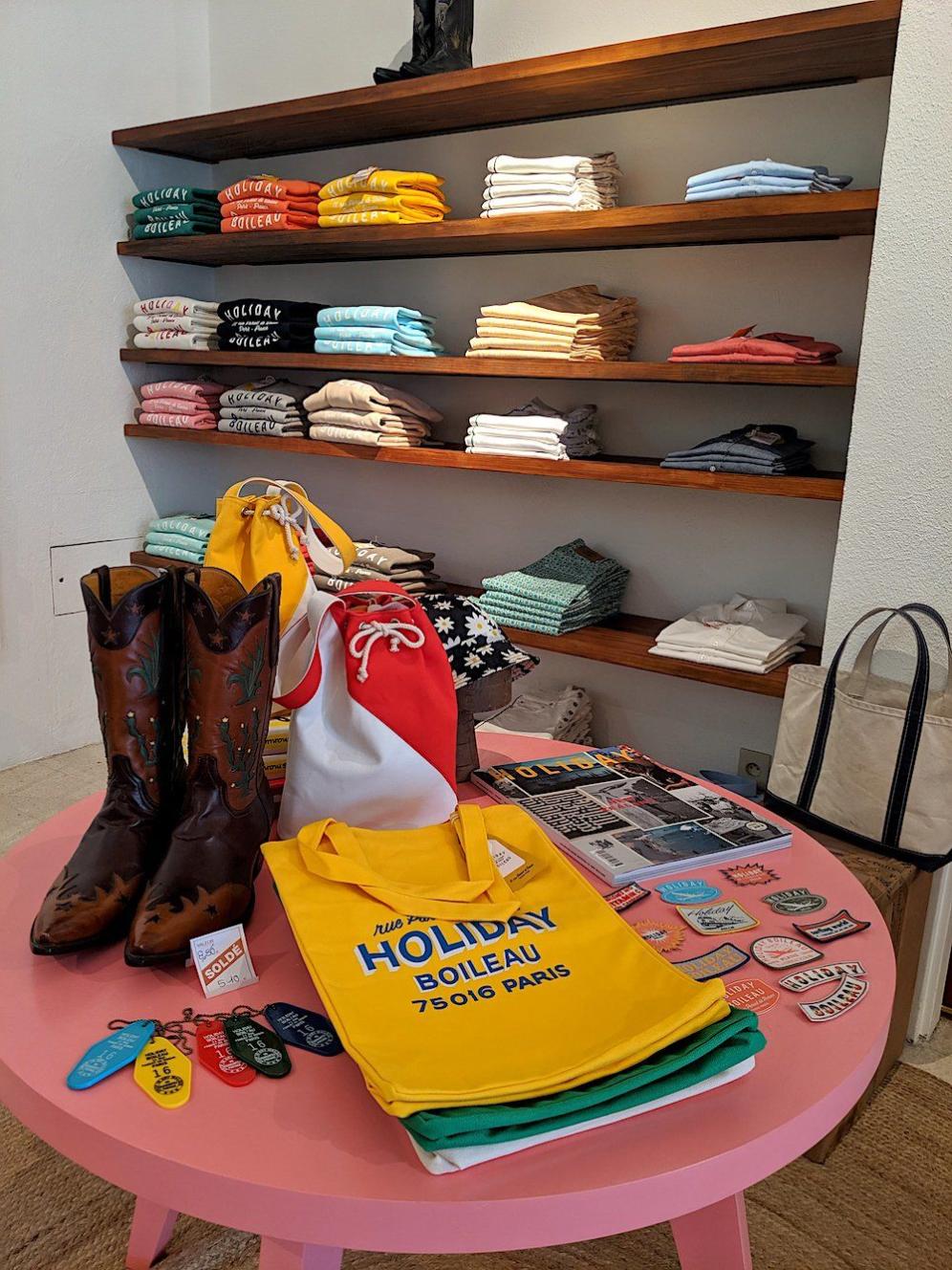 1. Holiday Boileau
www.holiday-paris.fr, 11 Rue Parent de Rosan

Holiday won't be the shop classic menswear fans will find the most attractive in Paris. But I mention it first because it feels like the hub around which many of the best things in French menswear are happening.
Upstairs is the Holiday Boileau shop, which is a contemporary mix of tailoring and casual clothing. Much of it is made with the traditional fabrics and from the traditional makers we love in classic menswear – such as ventile or Fox Brothers flannel – but ready-made and in punchy checks and colours.
There are caps and sweatshirts alongside blazers and chinos, and all beautifully presented. You can buy a patch to sew onto another jacket. Even the roll-top paper bags are worth keeping.
Downstairs is the vintage collection of Holiday designer Gauthier Borsarello, which is rented out to designers and brands; the offices of magazine Etiquette (of which Gauthier is also the editor-in-chief), which frankly is the most interesting menswear magazine around; and the denim alterations specialist Super Stitch. There's also Holiday Cafe around the corner.



2. Beige Habilleur
www.beige-habilleur.com, 83 Rue Chardon Lagache

Beige Habilleur is, like Holiday, in the 16th arrondissement of Paris – a residential area that was historically the home of the richest Parisians, and is full of beautiful houses. In the 1990s many moved to the centre of town, and the 16th became seen as very bourgeois and boring.
But now it's undergoing a renaissance, and Beige has the feeling of a little neighbourhood clothing shop – perhaps rather like Marylebone 10 years ago.
It's a lot better than your standard local shop, though. The brands carried (unlike Holiday, this is a multi-brand store) are some we know well, like Justo Gimeno teba jackets, and Smedley polos. But the colours are interesting and fresh – a mustard-green Smedley, a patched oxford buttondown – and often have a vintage feel.
Then there's great workwear alongside it. Cross-knit Camber sweatshirts – rare outside the US – Barbarian rugby shirts – all made in Canada – and Merz B Schwanen. Drake's currently have a shop-in-shop, and there's a fantastic selection of magazines and books, including some vintage Japanese.



3. Le Vif (and Brut, The Duke)
@le.vif.boutique, 101 Rue Boileau
brut-clothing.com, 3 Rue Réaumur
www.vintageclothingparis.com, 10 Rue de Crussol
Also in the area is small but impressively focused vintage store Le Vif. Started by friends of both Beige and Holiday (obviously) it stocks only American vintage clothing, all tightly edited and well organised into sizes and styles.
It's enjoyable to browse, and I found a pair of vintage cotton Army trousers I've been looking for for ages.
Other vintage stores in Paris I've had recommended to me are Brut and The Duke, but I wasn't able to visit either so cannot recommend them directly. Both are only open by appointment at some times of the week.



4. Husbands
www.husbands-paris.com, 57 Rue de Richelieu

Husbands has a look. That's pretty obvious when you meet Nicolas Gabard, the owner. Tall and slim, he wears suits with strong shoulders, and often a wide trouser. There's some Studio 54 here, a lot of Bryan Ferry, a touch of Bowie.
Nicolas's mission is to make tailoring sexy. To show how a love of suits doesn't have to preclude cowboy shirts or black boots. To demonstrate the drama of an old-fashioned Aquascutum raincoat, tightly belted, collar up.
And yet there are elements of the style that everyone will find appealing – whether it's the cavalry-twill used for the navy blazers, which is achingly sharp; the proportions of a camel wrap coat; or fisherman's sweaters with buttons on the shoulder seam that are actually designed to be used.
The tailoring is made to order, not MTM or bespoke. But it is good value (made by Eduardo de Simone) and feels fresh. And the store as a whole feels fun – whether it's the bright-blue multi-mirrored fitting rooms (pictured top), or the influence of music everywhere.
An antidote to anyone bored with conventional tailoring.



5. Jean-Manuel Moreau
jeanmanuelmoreau.tumblr.com, 3 Rue Chambiges

Away from all this stylised menswear, there is the more familiar offering of Jean-Manuel Moreau – which I've never written about despite it being around for seven years.
Moreau offers made-to-measure shirts and Neapolitan tailoring, plus a scattering of accessories and shoes. The tailoring is made by Orazio Luciano, but to Jean-Manuel's block – which has a slightly wider, rounder lapel, more open foreparts and lower buttoning point. And the shirts are by Mazzarelli.
Interestingly, Moreau is the only shop in Paris offering Neapolitan tailoring at this level, which makes him a destination for businessmen gradually shifting away from the stiff suits into more casual suits and separates. Importantly, Jean-Manuel also uses a local Parisian tailor for alterations and adjustments – which makes the offering both more reliable and speedier.
The team moved six months ago into a larger space, which gives them room for a cosy fitting space in the back of the shop as well as an open, airy front.



6. Anatomica
anatomica.fr, 14 Rue du Bourg Tibourg

I mentioned Anatomica in the Tokyo shopping guide recently, and the French branch has a similar aesthetic, mixing its own workwear-inspired designs with external brands.
There is more emphasis here on the shoes though, and Alden models on their 'modified' last. This wide last has become associated with Anatomica over the years, and is specifically designed for the most comfortable fit. Warning: your current shoe size will be no kind of guide here.
Fit is a general obsession of director Pierre Fournier and designer Tenji Keramoto, and the clothing has a similar ideal of 'proper' fit that enables movement, whether it's a close-fitting waistcoat or a loose coat.



7. Kenjiro Suzuki
kssm-paris.com, 38 Rue de Penthievre
Kenjiro is a tailor who set up his own shop a couple of years ago, having previously been head cutter at Smalto.
There he was joined by his wife, who was working as a coatmaker at Camps de Luca (Kenjiro also worked at Camps previously). They are the first Japanese tailoring outfit in Paris – which is slightly surprising given how many Japanese there are in the city.
Kenjiro's style is very like Smalto, with the fish-mouth lapel shape and beautiful finishing. He is quite versatile, however, and also cuts other styles including one very English-looking lapel he designed with a customer.
His suits start at €4800 – and there is an impressive laminated grid showing all the permutations of those prices. The team recently moved to a new location at 38 Rue de Penthievre – not currently updated on Google so be careful!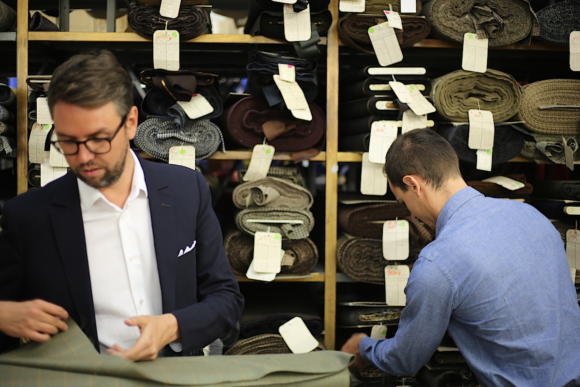 8. Lafayette Saltiel Drapiers
lafayette-saltiel.com, 11 Rue d'Uzès

Cloth agent Lafayette Saltiel Drapiers has become well-known for its stock of vintage cloth (just under 20,000 metres) which it is selling on Instagram (@LafayetteSaltielDrapiers).
They are the agent for most English and Italian mills in France, and have been for many years. In that time they've built up this vintage collection – largely because, given their big office, they simply have room to.
Virgil and Pierre are young, enthusiastic and knowledgeable, and I recommend stopping by. Although this remains a very small part of their business, they love talking about and showing off their vintage cloth.



9. Philippe Atienza, Serge Amoruso and Samuel Gassman
www.philippeatienzabottier.com, 53 Avenue Daumesnil
@serge_amoruso, 37 Avenue Daumesnil
samuelgassmann.com
These three artisans are grouped by area rather than specialisation. They are all in or adjacent to the Viaduc des Arts – a series of arches under a viaduct that was set up specifically to house small shops and makers. It was an even stronger location until Michel Heurtault moved out of town recently.
Philippe Atienza is a bespoke shoemaker who deserves particular mention for recently starting a ready-made line with shoes made to the same quality level as bespoke. The shop is worth a visit for his collection of vintage shoemaking machinery alone.
A little further down the street is leather specialist Serge Amoruso, who makes eclectic designs of wallets, bags and holders for everything from golf clubs to guitars. He is particularly known for strong colours and exotic leathers.
Finally, in the studios at the end of the viaduct is Samuel Gassman, who hand makes cufflinks and jewellery. Quirky and original, Samuel's work is carried by department stores around the world. His studio here is by appointment only.

10. Charvet
www.charvet.com
28 Place Vendôme
Quite simply one of the most beautiful menswear shops in the world. A lovely ground floor stacked with accessories, and upper floors of shirtings and bespoke tailoring. There are very few single-brand, single-location shops left of this type in the world. Much of the style is not to my taste, but the shirts are beautiful and everything exquisitely made. (There are also other shirtmakers if you're looking further afield, particularly Lucca and Courtot.)


11. Cifonelli, Camps de Luca and Stark & Sons
www.cifonelli.com, 31 Rue Marbeuf
campsdeluca.com, 16 Rue de la Paix
www.starkandsons.com, 16 Rue de la Paix
Paris has a small but very good bespoke tailoring scene. The three best-known houses are Cifonelli (now clearly the biggest), Camps de Luca (which recently moved) and Smalto (also has a rather gaudy RTW line). I recommend the first two most highly.
Camps also recently took over the house Stark & Sons, and is using it for a new line of cheaper tailoring with a little machine work – made by a wholly owned workshop in Italy. Worth a look for the original designs as well as the price point.

12. Berluti bespoke
www.berluti.com
9 Rue du Faubourg St Honoré

The Berluti empire is by no means unique to Paris. But it is where the bespoke tailoring and shoemaking are located, with the former a takeover of the old Arnys workshop, and the shoemaking expanded with a few finely chosen names. If either appeals, then, Paris is the place to go for consultations and fittings. (And try to forget the sad demise of Arnys itself, which might well have been top of this list had it still existed.)


13. Corthay, Aubercy, John Lobb
www.corthay.com, 1 Rue Volney
www.dimitribottier.com, 14 Rue Chauveau-Lagarde
www.aubercy.com, 34 Rue Vivienne
www.johnlobb.com, 21 Rue Boissy d'Anglas

Paris has a strong contingent of bespoke shoemakers, although mostly part of bigger houses. There is Berluti, there is John Lobb Paris (part of Hermes) and there is Massaro (part of Chanel). The two most highly recommended however are Corthay, which has an expanding RTW line but still does bespoke, and Aubercy.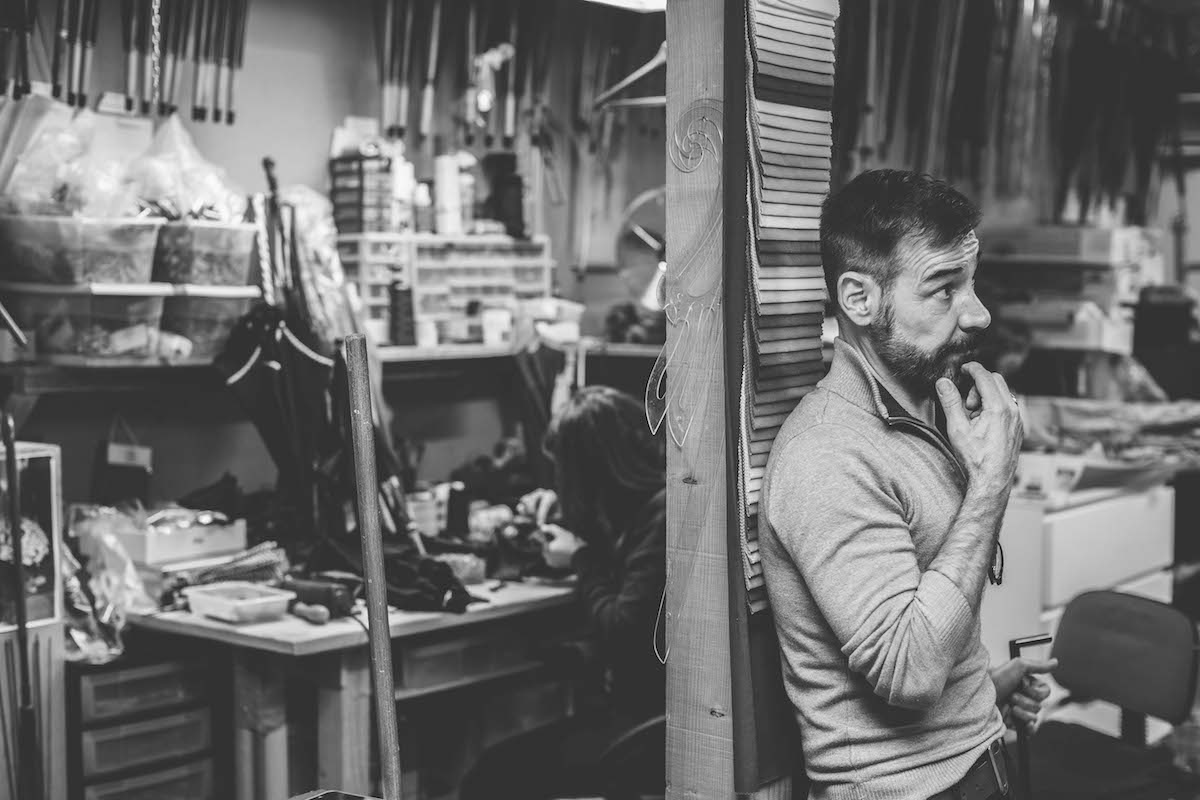 14. Heurtault and Pep's umbrellas
www.parasolerieheurtault.com, now sold at Galerie Fayet, 34 Passage Jouffroy
www.peps-paris.com, Passage de l'Ancre, 223 Rue Saint-Martin
Paris is also blessed with two wonderful umbrella makers – something very few cities have. Michel Heurtault makes perhaps the finest in the world, largely bespoke and largely women's, but with lovely men's examples too. He has now moved out of the Viaduc des Arts and is based in the countryside – but sells through Galerie Fayet.
Pep's is a much more practical, straightforward maker but is great value for money. If you like this area, then cane shop Antoine on Avenue de l'Opéra is also worth a visit.


15. Maison Bonnet, Ateliers Baudin and Maison Bourgeat
maisonbourgeat.fr, 134 Rue du Faubourg Saint-Honoré
www.maisonbonnet.com, 5 Rue des Petits Champs
www.ateliersbaudin.com, 38 Rue de Pentievre
Three eyewear specialists in Paris, of which Maison Bonnet has the strongest and a well-deserved reputation. It is particularly known for its stock of old turtle shells, and recently opened a branch in London.
The others have a chequered history, with Bourgeat started up by Guillaume Clerc when he left Bonnet, and then left Bourgeat in turn to start the next one, Ateliers Baudin. Both are still running.
16. Chapal and Seraphin
chapal.fr, 244 Rue de Rivoli
www.seraphin-france.com, 57 Quai de Valmy
Paris boasts two of the best makers of leather jackets in the world. Chapal is an old name that was made famous for flying jackets (supplying both French and US airforces) and still has its own tannery. Ignore the jeans, T-shirts and goggles and focus on the authentically detailed USAAF and A2 models. Seraphin is a more regular luxury brand, but making all the leather itself in Paris as well as supplying several designers.



17. Mes Chaussettes Rouges
www.meschaussettesrouges.com, 9 Rue César Franck

Two young guys who sell – you guessed it – socks. Not just red, fortunately, but a large range of classic and sporting socks as well as Simonnot-Godard handkerchiefs. The shop is also often the host to trunk shows and events.


18. Camille Fournet and Lavabre Cadet
www.camillefournet.com, 5 Rue Cambon
lavabrecadet.com, 5 Rue Cambon

Camille Fournet makes great leather watch straps – something Paris has a surfeit of, with Jean Rousseau and Atelier du Bracelet Parisien among others. Fournet has also taken over running the glovemaker Lavabre Cadet, and both are now in the shop on Rue Cambon.


19. Hermes
www.hermes.com, 24 Rue du Faubourg St Honoré

Hermes, of course, is in most large cities in the world. But the flagship at 24 Rue du Faubourg St Honoré deserves a pilgrimage – rather like the Rhinelander Mansion in New York, or Armani in Milan. A towering temple to the leather and silk expert, and given how small the runs are of some pieces, there will always be something you haven't seen elsewhere.


20. Cifonelli RTW
www.cifonelli.com, 83 Rue du Faubourg St Honoré
The recently expanded Cifonelli ready-to-wear store is worth a visit. The style is distinctly Cifonelli and the quality high – if expensive compared to the value of bespoke. There is also some beautiful silk/cashmere knitwear.


21. Other flagships….
This guide is strictly about clothing, but it's worth mentioning that Paris also has the flagships of many top-end perfume and luggage brands, such as Caron, Goyard and others.
In the top image taken in Paris I'm wearing, appropriately, a Cifonelli bespoke jacket (Moonbeam cloth) and Hermes briefcase. Photograph: Jamie Ferguson @jkf_man.