What shoes should I wear with brown trousers?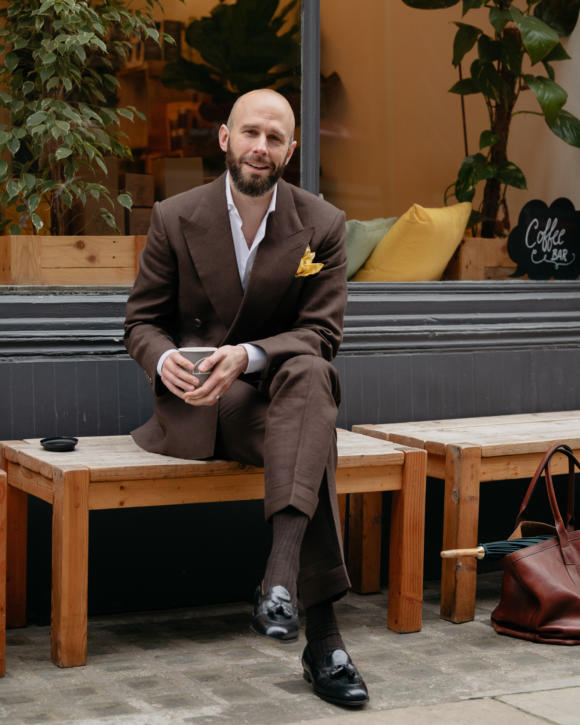 This might seem like a fairly simple question, but it comes up so often in comments that I think it's worth answering in full here, and then directing anyone in the future to this post.
The reason people ask about shoes with brown trousers, of course, is that brown is probably the most common colour of (smart) shoe and that is presumed to be ruled out, being too similar to the trousers.
The classic alternative would be black, and a black shoe looks great with brown - whether chinos, cords or flannels.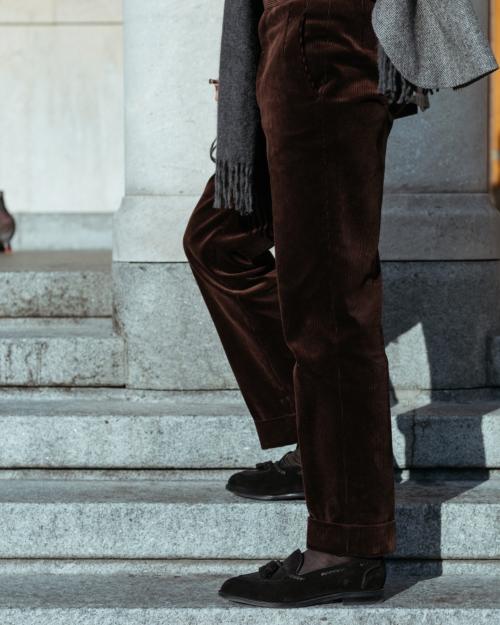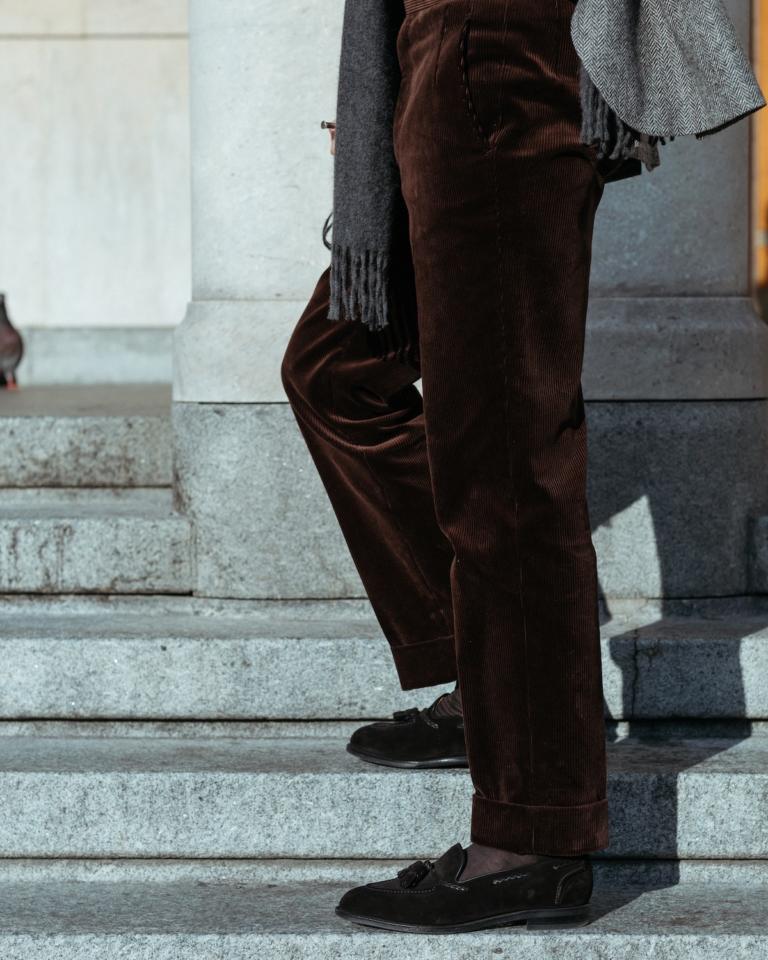 The only problem is that black is also the smartest colour, and for a lot of people it's a shoe they'd only wear to work, or to a similarly smart event.
Personally I think they should give black another chance. As we've discussed before, it's great if you like to wear a lot of tonal, cold colours, as I do. And taken out of a work context, it can look very chic.
Go for a loafer or a boot, rather than a cap-toe oxford, consider different materials like suede, cordovan or grain.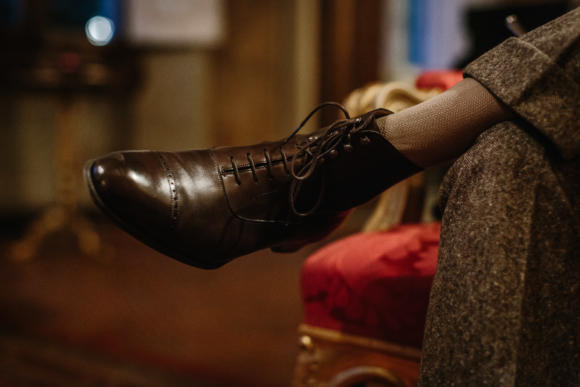 Next, let's talk about brown - wearing brown shoes with brown trousers.
First off, if the suit is a mid- or light brown, dark-brown shoes are fine. With my Dalcuore brown tweed suit above, the shoes are clearly darker than the suit, creating the distinction between the two that's normally the aim with smarter dressing.
It's nice too that the two are differentiated by texture, being shiny calf against matte wool.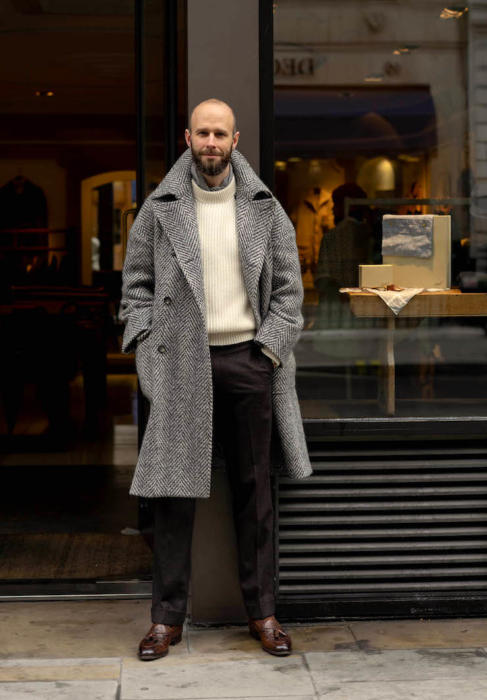 However, if you don't have the same requirement to be smart (and you may not, given black has already been ruled out) then it can be fine if the shoes are a touch lighter than the trousers.
Above, I'm wearing the 'dark oak' colour of leather from Edward Green as a loafer, with the darker brown of Fox 'charbrown' flannel above.
It helps here that the shoes and trousers are, as above, different textures. One is a reflective calf and the other a light-sucking flannel.
It also helps that the loafers contain more than one colour of brown. Burnishing by the manufacturer, and wear and polishing by the owner, mean that the shoe is now almost as dark as the trouser on its heel and toe. This fits in much more easily than a simple, flat mid-brown.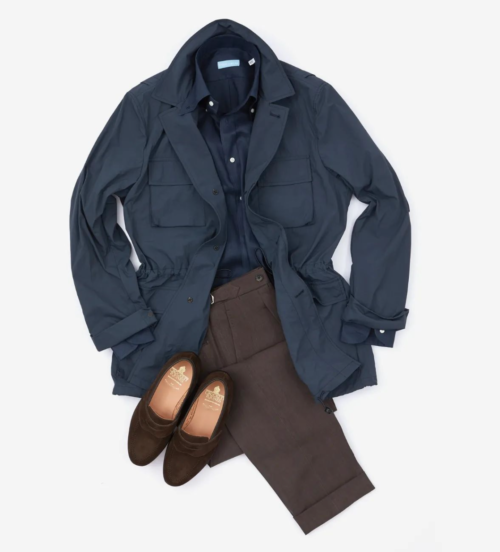 Then having understood the rules, we start breaking them for effect.
As Anglo-Italian demonstrate with their combination above, a brown shoe that is almost exactly the same as the trousers isn't necessarily bad.
It's just a look, in much the same way as the navy shirt with the navy jacket. This is no longer professional, office dressing, and many of the rules don't apply as a result. It's just a pleasing, tonal style.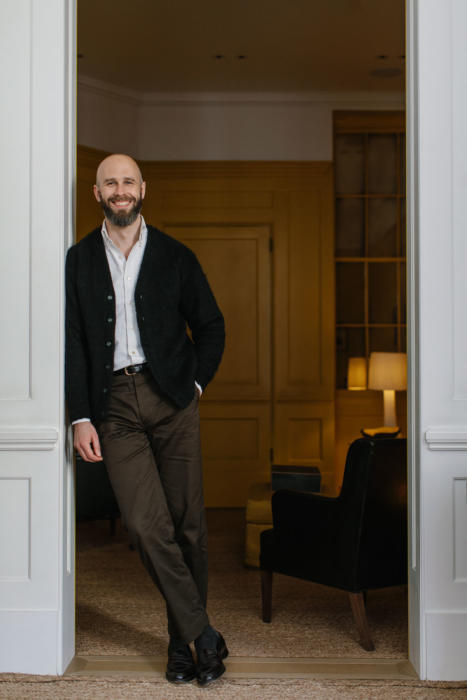 The other option for shoes is a dark colour that isn't brown or black. Horween's Color 8 cordovan is, for me, king in this regard.
Color 8 varies a little naturally, and Alden famously redyes theirs when they buy it from Horween. But you want it to be as dark as possible, and that can be achieved with (tentative) use of black cream or polish if you want.
This colour is so dark that for many people, they don't notice it's not black. And yet it's clearly richer and deeper than black, and doesn't have that office-shoe look.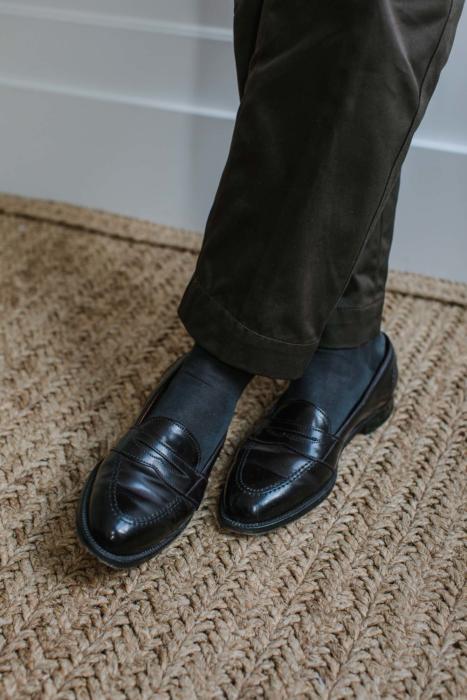 The colour is also quite purple, with some blue in there, which might be why it looks - for me - so much better than most colours referred to as 'burgundy'. Redder tones can be OK with navy, but I like them less with charcoal or brown trousers.
I've never particularly liked burgundy or dark green in shoes. They stray too far into the dandy category a friend likes to call 'coloured shoes'. By which I believe he means everything apart from black, brown and white.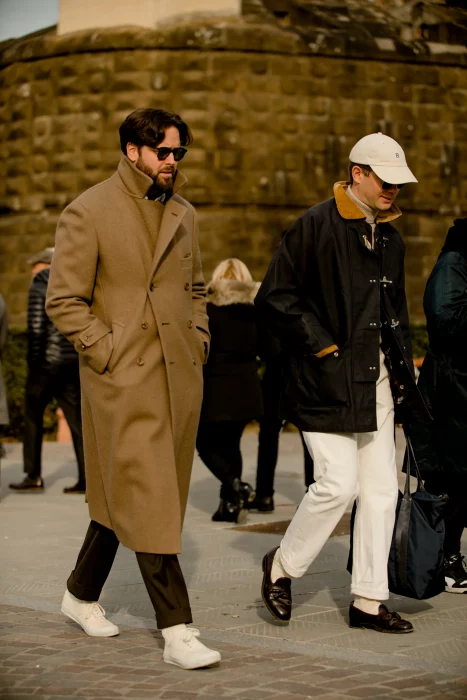 Speaking of white, an ecru canvas shoe can be nice with a casual brown trouser, such as cotton or linen.
And speaking of canvas, black canvas can be great with brown chinos too. Something like the black Doek oxford, but with the black laces they come with rather than white.
I think that's about it. I have seen tan leather shoes look OK with brown trousers, but it's not something I would wear myself.
If black loafers feel a little dull with your brown trousers, maybe try some colourful (but dark) socks, rather than striving for brighter shoes.