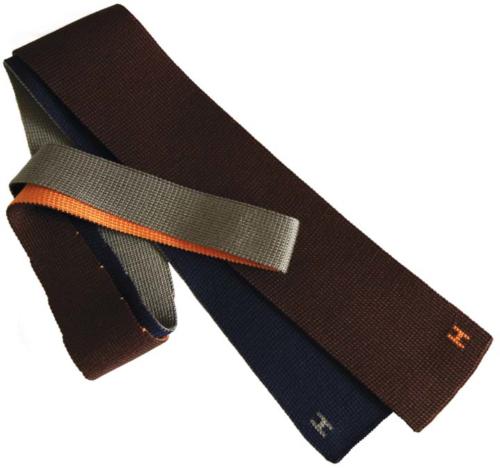 There is a saying that the most luxurious items you own will probably be those you wear least. While I can see why this may be the case (your black tie, patent shoes and dress studs are unlikely to be cheap) it is depressing.
I have always liked a little touch of luxury. But I am at heart a cheap man. So I go to every effort to eschew this rule and buy quality items that I will use frequently. The principle can apply to, for example, a work bag that you use almost every day. To your luggage. To one dark brown belt and probably one dark brown pair of leather oxfords.
If you are going to buy a luxurious suit, why not make it a mid-grey flannel one with two pairs of trousers? The jacket will always be useful to wear with odd trousers, even jeans (normal, worsted suit jackets never look right in this regard). And the flannel trousers themselves are the standard for odd, patterned jackets.
My latest discovery in this spirit is a reversible Hermes tie. Obviously, an Hermes tie is an aspirational item. But the printed variety never really appealed to me – there's something about a grown businessman wearing flamingos on his tie that smacks of infantilism rather than elegance.
But this one, found in the Sloane Street store, is knitted silk. Most importantly, it is reversible. Twice. The two blades are of identical width, and each has one colour on either side. The brand offers various colour permutations, but the most practical – and the one I ended up buying – is black/grey/light blue/dark blue (a slight variant is shown above).
These are surely the four most useful solid ties a man can have. And while you can't wear a knitted tie on more formal occasions, these are fewer and further between today. I end up wearing this tie once or twice a week, which is a lot considering that I don't wear a tie every day.
It's satisfying wearing something luxurious so often. As Will on asuitablewardrobe.dynend.com is fond of saying, the real value of an item is its price divided by the number of times it is worn, plus some multiplier for the pleasure it engenders in the wearer. Which makes this Hermes tie, despite being twice the price of any other tie I have ever bought, pretty good value.
(One last tip – if this sounds like a good idea then try and find the line of ties in duty free. I bought mine in Heathrow airport, and saving 17.5% softens the impact on the bank balance a little.)