I tried to get a friend recently to go into American Apparel. He looked at me askance. "That place?" he asked incredulously. "It's full of leotards, Lycra and hideous colours." I knew what he meant. But I made him go in anyway. Because if I hadn't been driven in by recommendations, hype and word-of-mouth, I still wouldn't have anywhere to buy my t-shirts.
If you walk into American Apparel (now seven stores just in London, and counting) it's easy to be put off by the body suits, printed leggings and high-waisted shorts. Indeed, the caption to the image above the list of London stores on AA's website says it all: Cotton Spandex Jersey Tank Thong. I can see the picture and I still don't know what it is. But it doesn't sound good.
You have to get past that, ok? Find the menswear section and look at the basics – the t-shirts, the sweatshirts, the hoodies. They're all well-made, high-grade cotton, fitted and very simple. No gimmicks, no logos. And best of all with the t-shirts, they are long enough to tuck into trousers.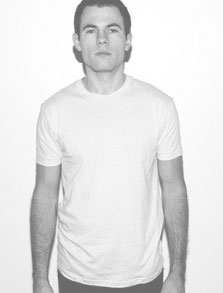 I don't wear t-shirts very much any more. Gone are the Iron Maiden, Pearl Jam and No Fear t-shirts of my youth (each of those a teenage phase, around two years apart). I still wear t-shirts when it's hot, in the summer and often at the weekend. But most of all what I need in a t-shirt is something simple that will go under a V-necked sweater. Ideally it should be soft, lightweight and (most of all) have a long enough body that, like a shirt, it will not become untucked.
American Apparel's The Summer Shirt is all of those things. And not expensive either at just £16. It is a basic item of clothing, like underwear, that I just don't notice anymore. And as someone once said about bespoke suits, that is one of the greatest hallmarks of good clothes.
I also recommend the hooded sweatshirts. Simple and well-fitted, not ballooning around your mid-riff like American college sweaters. Just like the t-shirts, they are fitted without being tight. In a t-shirt especially, that is pretty hard to find.
Just steer clear of the Shiny Bat Wing Hoody, Velour Raglan Sweater and See Thru T-Shirt.