Stefano Bemer is remembered for his generosity more than anything else.
"He had the biggest heart," one shoemaker told me in Florence, back in July. "He was very inventive and a great shoemaker. But he wasn't necessarily the best in the world at either of those things – he did, on the other hand, have the biggest heart of anyone."
One of the reasons he is remembered so fondly is his willingness to take on anyone who wanted to learn – talk to them, involve them, let them stay and work. It's therefore particularly lovely to see how the Stefano Bemer shoemaking school has done since he passed away and the company was taken over by Scuola di Cuoio.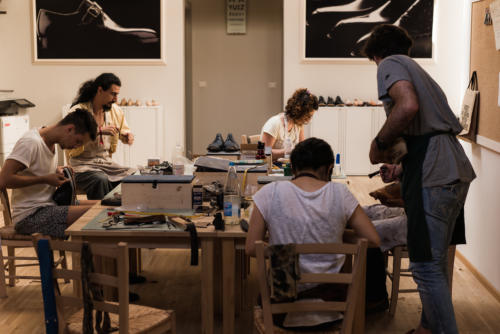 The school was set up at the end of last year, on the top floor of the company's new workshop in Florence. We reported on it back in January, with all the desks neatly lined up awaiting students, each one filled with a collection of shoemaking equipment.
Things have moved on a bit since then. The desks have been pushed together (much more communal), the first lot of students have finished their course, and several others have signed up for 2015.
The course is split into three parts: apprentice (three months), artisan (three months) and maestro (six months). Students can apply for any of the levels of the course, but must pass tests to be accepted onto the artisan or maestro levels. The apprentice course includes all aspects of bespoke shoemaking, from taking measurements and creating a last, to cutting, stitching, lasting and hand-sewing the welt. The artisan and maestro levels then refine and enhance those techniques. It only looks at Goodyear-welting, rather than Blake or Blake-Rapid.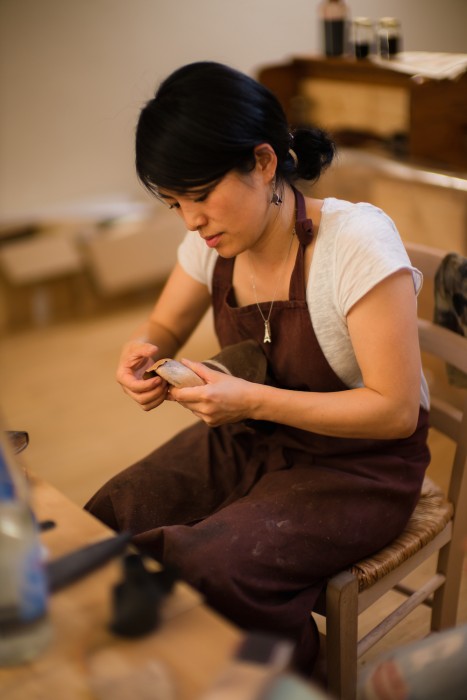 The maestro level is a new addition for 2015. In 2014, the course was six months and there were six students (most of which can be seen above). Two of those were so good that they have been kept on for another 12 months of training, with the intention of adding them to the Stefano Bemer workforce next year. The maestro level was introduced as a result of this experience, and in 2015 there will be 10 students.
Lessons are from Monday to Friday, 10:30 to 5pm with an hour's lunch break. Students also work extensively out of hours on their own projects, and are given specific tasks to work on in their own time. The apprentice level costs €6300. The apprentice and artisan levels together cost €11800, including Italian lessons.
Pictured here: Erion (production manager, below); Kumiko (master shoemaker, above); Maria Sole (student, top)
Photography: Luke Carby