Bryceland's: Sawtooth shirt review and range overview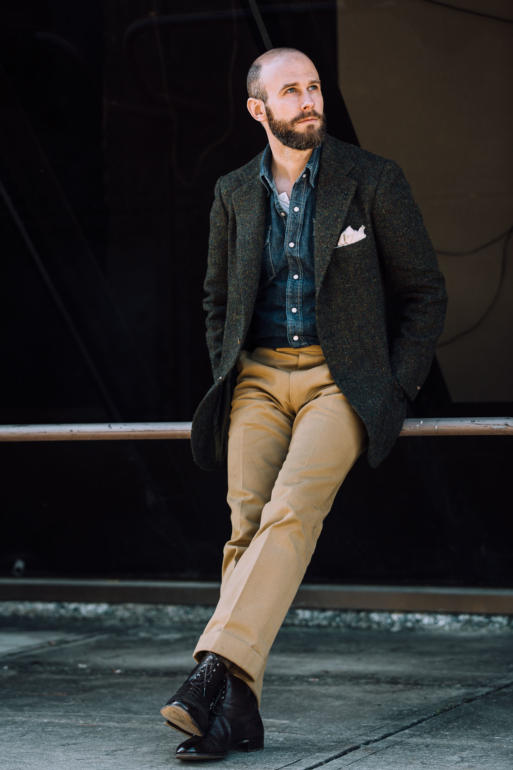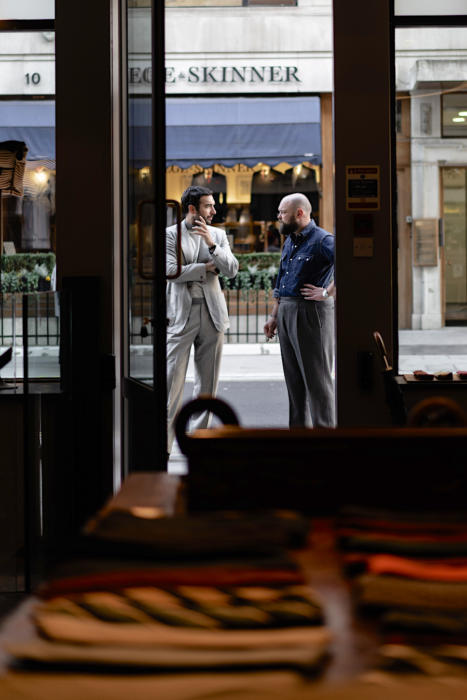 One of the most enjoyable things about having Ethan in the pop-up shop last month was the opportunity to try on the full Bryceland's range.
Ethan was pretty popular with readers during the day, but there would normally be half an hour before we opened - or perhaps in the early afternoon - where I could try stuff on and quiz him about it.
Some of the pieces were a little traditional in their stye for me, but every one had the same thoroughness of thought and quality of materials that we now associate with Bryceland's.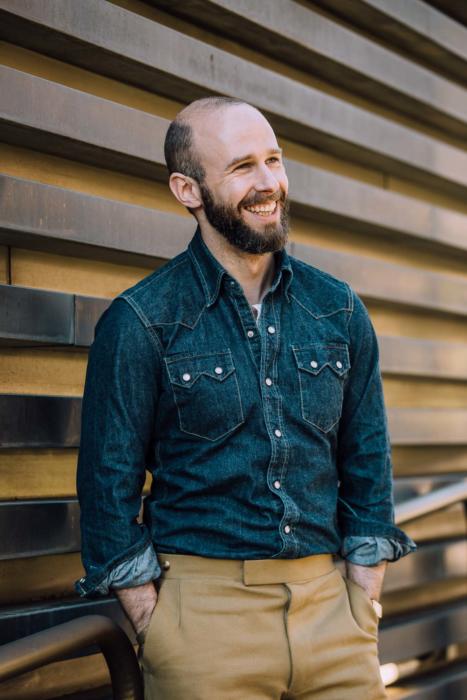 I'll start, however, with the Sawtooth Westerner shirt (pictured above), as it's the one piece I've had for a while and worn regularly.
Designed after a vintage piece (as most Bryceland's things are), the Sawtooth is a heavy denim shirt with western details and long fronts and tails.
The latter detail is a vintage one, but also one that makes the shirt most interesting to fans of tailoring - as it makes the shirt much easier to keep tucked in to a pair of trousers.
The collar is a little low to comfortably sit above tailoring jackets, but it can be folded a little higher on the neck to make this easier, and it has a relatively trim fit, which again helps under tailoring.
I'm wearing a 38 in the images here, which is just about OK on the shoulders, and a nice fit through the waist. The 40 is perhaps better on the shoulders, but a little bulky in the waist.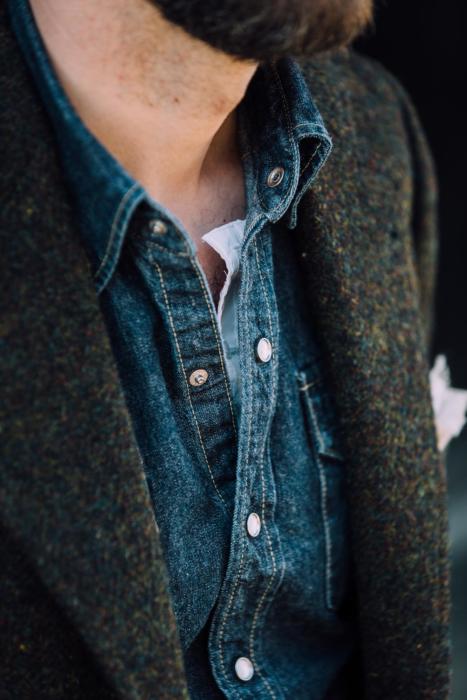 The first thing you notice about the Sawtooth, though, is how stiff it is. It's simply uncomfortable the first time you wear it.
But after 2 or 3 washes and wears, it softens markedly, and only feels nicer and softer over time - as well as starting to fade nicely at the edges and seams.
The process is similar to wearing in raw-denim jeans, which will often feel nicer than pre-washed models over years. A denim that starts stiff like that creases more sharply, creating edges that take more abrasion and expose the white core of the yarn, and leaving the lows deeper and darker.
Mine, pictured, has probably been washed and worn 10-12 times. Ethan's, which he wears twice a week and never bothers to iron - just machine washing and drying - is even better, and had several customers in the pop-up asking if they could buy it.
Interestingly, however, Ethan was keen to produce a shirt that reflects the wearer - how they wear it and wash it - rather than a denimhead's ultimate cloth.
So while the denim comes from a small family-owned mill in Okayama, it is deliberately one without a lot of slubbiness or streaking - often things denim obsessives like - and rather something easy to use and wear.
As Ethan puts it: "The easy care, rugged and no nonsense nature of our cloth choices tends to extend across everything we make. We favour cloth that will age dependant on how it is worn, that is easily washed and dried, and that will get better with age.
"I find myself choosing camel hair or shetland wools over cashmere, oxford cloths over poplins, cordovan over french calf. Our casual range is almost exclusively made in Japan with Japanese woven cloth in weights that err towards the heavier side for durability."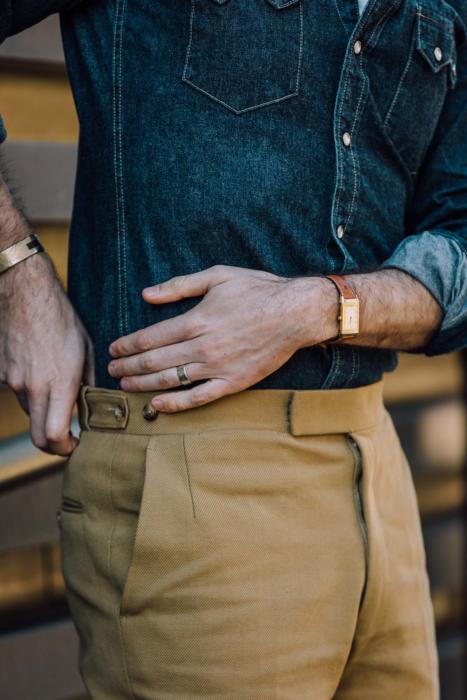 Frankly, at this point the Sawtooth is one of my favourite things to wear with more casual clothing. It feels incredibly familiar, fits well, and is vintage-styled without being over the top.
It's interesting to compare it to some of the other Bryceland's shirts, which while I admire for the make, are too stylised for my taste. The Cabana shirt and Rayon shirt both have lovely details, like the thin band-like cuffs, but have a collar that's too big for me.
And I was interested in the black version of the Sawtooth (a tribute to 'The Man in Black', Johnny Cash) but black would be too hard to fit into the rest of my wardrobe - given it largely consists of brown shoes and other warm tones of classic menswear.
If the fit works for you, though, the more sartorial tab-collar and button-down Bryceland's shirts are nice. And indeed I really liked the styling of the USN chambray shirt - the fit just didn't work.
(Fit matters rather less in a heavy shirt like the Sawtooth, as it's never going to have a clean drape in any fit, and shows tightness less too.)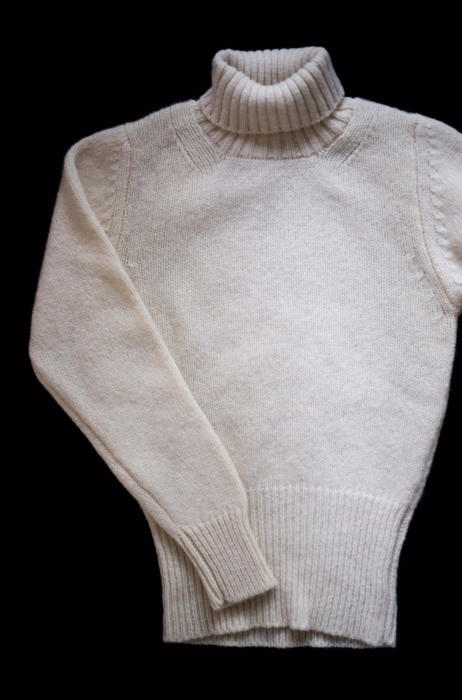 Probably my favourite piece I bought during the pop-up was Bryceland's RAF Rollneck Pullover (above).
This is a deceptive piece. It looks simple: a normal lambswool rollneck, made in Scotland. But the body shape is a vintage one, with a very narrow waist and tall rib.
That rib is super stretchy. Somehow it manages to be a close fit on me, enlarging into a big, flattering chest and shoulders, yet still fits someone like Ethan.
It's the only fit of sweater I've ever found that is nice and trim through the waist, yet roomy at the top, and has enough material to not ride up when you move. The perfect combination.
Of course other vintage-inspired brands have done this cut - I used to have a striped one from North Sea Clothing. But those are usually in heavier, coarser wools, and frankly are only useable as outerwear.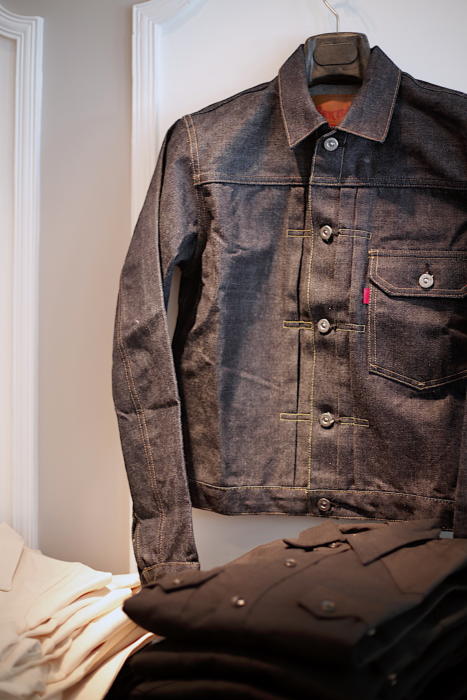 The other pieces I wanted to try at the pop-up, and hadn't done before, were the Chore Coat and Type 1 denim jacket (above).
The Chore Coat I was interested to wear over tailoring. But while the material was great (both white herringbone and jelt denim - a crisp, lightweight denim with natural slubbiness) the fit was too A-line for me.
The Type 1 jacket I would wear over a shirt, as a mid-layer under a coat. This was rather short in the body, and apparently gets shorter when washed. It was therefore marginal whether it would work on me given my height.
But I tried it with higher waisted trousers and the length was OK, so that became my second purchase. I was also taken (as I should have expected) by the exclusive iron buttons, which are designed to rust slightly over time.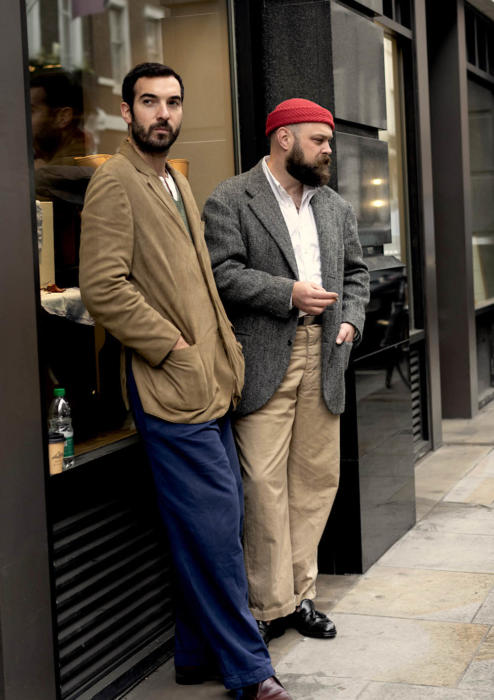 Elsewhere, the Army Chinos I found too oversized in the leg, and a very high rise (just under the ribs). Equally the Gurkha Shorts.
The Denim 133 jeans are less extreme than the chinos - high but not so high, pretty straight in the leg - but I couldn't justify getting any more jeans.
And in the pictures of myself wearing the Sawtooth shirt, I'm also wearing a Lee Kung Man undershirt: a Hong Kong brand that Bryceland's carries.
That I've found to be great, its idiosyncrasy being that it is very tight on the arm and armpit when you first put it on - but this actually stops it moving around at all, making it very comfortable as underwear.
Lastly, I've tried the Bryceland's boxer shorts, which are fantastically made (have a look at the overlapping tabs on the waistband at the back) but have a high rise that I find only works with equally high-rise trousers.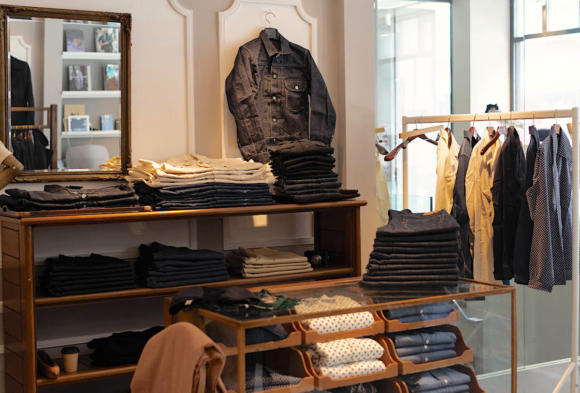 Bryceland's tends to do small runs of products, and individual sizes are sometimes out of stock. Instagram is usually the best place to see what's coming back into stock - although some things, like the Sawtooth and the Denim 133 jeans, aren't usually unavailable for long.
In the pictures of me I am also wearing:
Photography: Jamie Ferguson @jkf_man except those in the pop-up, Buzz Tang.
For background on Bryceland's Co, read about my visit to them in Japan here.