Carmina unlined chukka boots: Review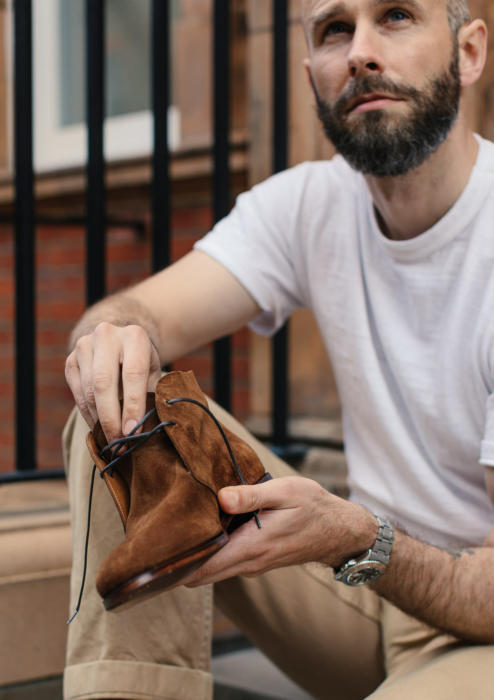 There is one way in which this review is necessarily unfair. The vast majority of my shoes are at a higher quality level than these Carmina chukkas, and therefore my context will be different to many potential customers.
However, I have owned cheaper makes in the past, as well as tried on and seen many similar brands.
Also, most of the points made in this article don't require experience to be established, given they are observations from simply looking at and trying on the boots.
In fact that's necessarily the case with any review that takes place this soon after receiving a pair of shoes, rather than after say a year.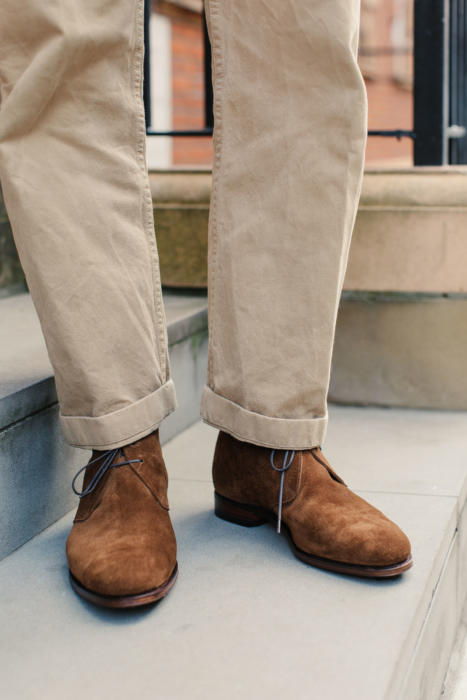 So, given all that, how good are these Carmina boots?
Well the first thing you notice is the softness of the leather. It's a reverse calf from Charles F Stead and feels impressively luxurious and comfortable. I think anyone buying at this level of quality would be pleased with the touch.
(Though, don't put too much store in the tannery. All tanneries have different levels of quality - indeed, more than perhaps any other manufacturer we cover, of raw materials or finished products. Plus, it's notable that only cheaper makers shout about where the leather is from.)
The colour of tobacco suede is also perfect, something some makers (usually English) don't always get right.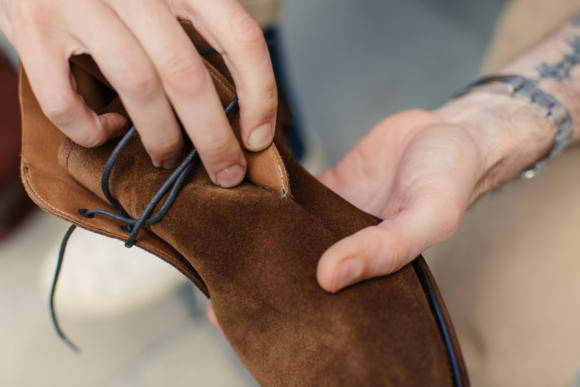 If I compare the leather to my Edward Green 'Shanklin' boots (also unlined chukkas), the feel is similarly soft but the latter has more plumpness and body. It's a tiny bit thicker, but there's also more substance to it.
That won't make much difference to the comfort or support in the short term, but I'd worry a bit about how the less substantial suede would wear in the long term.
Of course, you would expect the quality of leather on Edward Green boots to be better, given they cost twice as much (£760 rather than £378).
But one of the points I'd like to get across in this article, is you do get more - in almost every way - when you make that much of a jump between brands.
When shoes have a £100 or £150 price difference, there is a discussion to be had as to what - if anything - you get for that difference. But not with such a large price difference as this, between what are quite similar companies (manufacturers, not big brands etc).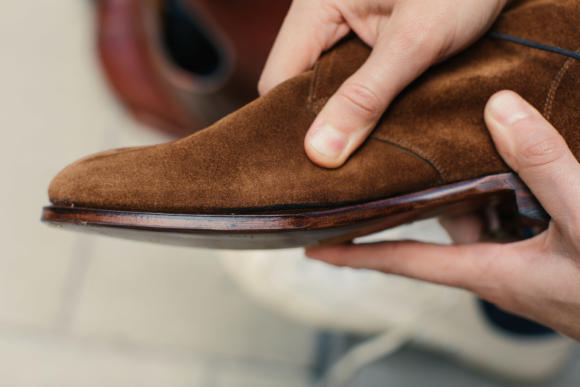 Next point. The Carmina boots are well made, with neat stitching and no hanging threads or loose ends - as you can get on the likes of Alden, for example.
However, there is some marking on the suede where the upper meets the welt, as you can see in the image above.
Making suede shoes and keeping them clean is not easy. It's why you often see shoes lined up in factories with their uppers wrapped in plastic. It's to protect the upper while the messy stuff goes on on the bottom.
However, this kind of marking is not something you'd expect on a high-end shoe, and you don't get on my Edward Greens, for example. I also checked a few Crockett & Jones boots and didn't see that either.
Often, issues like this come through factories producing greater volumes or doing so at greater speed, to reduce costs. Making slower is more expensive, but is also one of the things customers are least willing to pay for. (Their first question might be about the leather, or the construction, but certainly not how many are made per hour.)
It's something I mentioned in a previous article that TLB seem to be doing quite well on at the moment: using fewer bells and whistles, but producing a shoe that is very cleanly made.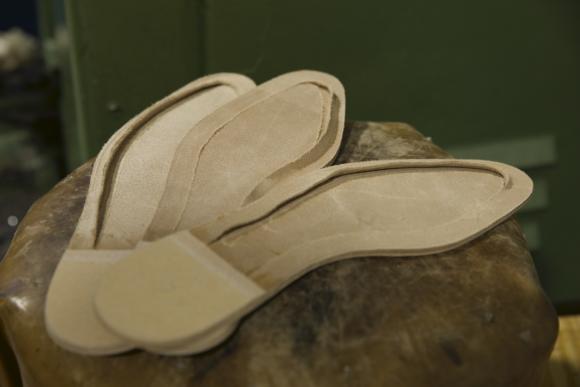 Talking of welts, these Carmina chukkas use what they call a Softwelt construction, where the welt is sewn directly to a cut in the sole (above).
This does make the boots flexible and comfortable, with a similar feeling my Alden chukkas, for example.
The welt is also thin, running close to the upper. From a purely style point of view, this makes them look a little dressy, which is not ideally what I'd want with this style of boot. For me a chukka this casual in colour, material and make is better with a wider welt.
(The welt is actually a little thinner than the image below suggests.)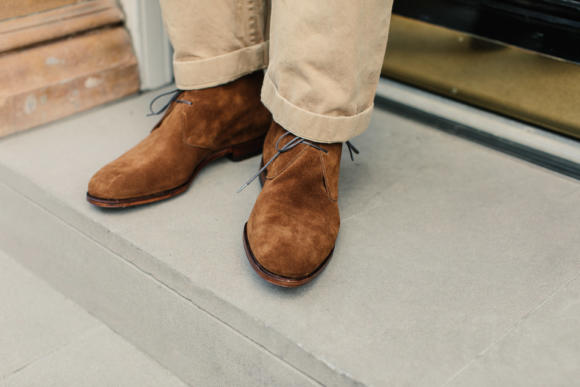 A last point on construction is the reinforcement of the boots around the top.
Most unlined boots include a strip of extra leather running around the top line of the boot, where the ankle is. Sometimes this connects to the extra strip that is needed behind the eyelets.
These Carmina boots forego the first strip (where the referenced Aldens and EGs do not) and they do not sew down the strip behind the eyelets on all sides, relying more on glue.
I found that after a couple of wears, the inner edge of that eyelet strip started to come away slightly.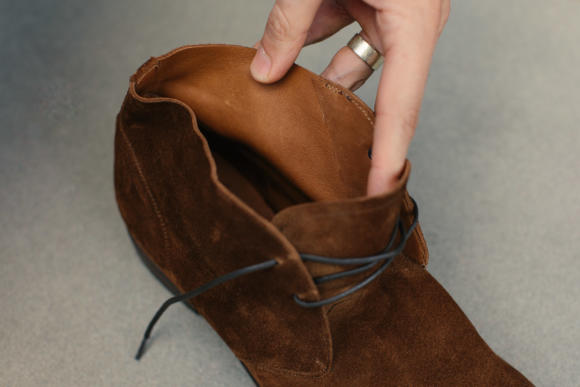 Overall, these chukkas are decently made and impressively soft: I think most people buying at this level would be pleased with both the look and feel.
It's important too, because as people dress more casually, boots such as these - suede, unlined, flexible - will I think become the core of welted manufacturers.
There are, however, a few points of coarse make that either are visible or might be over time. And while the comparisons with Edward Green only illustrate things you get with higher quality/price, some of these points are not found on brands of the same level.
This review, by the way, was requested by Carmina following coverage of some of their peers, and as ever with PS, all of the points made were communicated to and discussed with Carmina in advance of publication.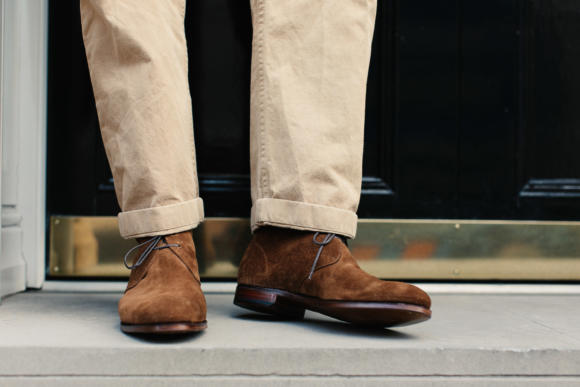 Item reviewed: 80728 unlined chukka boot in snuff suede.
Other items shown: White loopwheeled T-shirt by Warehouse & Co, via Clutch Cafe; chinos from The Armoury (old model); vintage Rolex GMT.
Photography: Carmina and Jamie Ferguson @jkf_man