The style of King Charles: Top-level classic menswear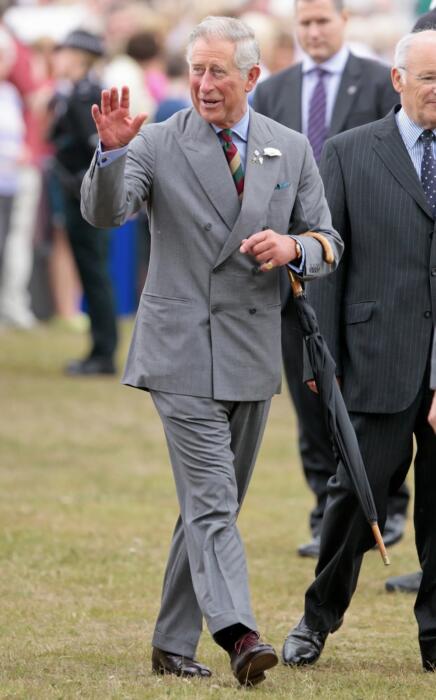 A friend of mine once told me about regular meetings with Prince Charles (as he then was). Assembled at Clarence House, a team of six would wait in a shockingly cold room, to the extent that anyone who was near a window could see their breath. Charles has a reputation for thriftiness - which extends into to clothing - and the heating was rarely on in these meetings.
When Charles entered, however, his slightly bumbling effusiveness always had everyone animated, talking, moving, shaking hands, and the cold wasn't noticed again. "I remember the enthusiasm, that was always what stayed with me," she said.
I have one other anecdote, this time from a tailor that made for Charles: "He brought in an overcoat of ours he'd had for about 10 years, in order to have it relined. The inside was shocking - worn to death, actually ripped to pieces. I think I must have raised my eyebrows or something because he looked at me and said, 'it's done very well'.
"So we were to reline that, but he also wanted to order another, very similar. When we started to discuss fabrics he said he was interested in vicuna. This surprised me as he'd never used vicuna before, but that's what he ended up going with. I'm sure that'll come back in a decade in exactly the same state."
I've talked to tailors, shirtmakers and shoemakers over the years that have made for now King Charles, but that story has stayed with me. I think because it captures something of the 'old money' or 'English country house' attitude: buy the best, look after it well, and then wear it to hell. I doubt many in the current aristocracy are ordering vicuna, but still.
While we're on the subject, this is one thing current enthusiasts for the old-money or stealth-wealth look often get wrong, that it's about quality. The reason the old-money look works is that everything ages well; the reason stealth-wealth does is that the materials look luxurious. That's why they can get away with being so plain.
Returning to Charles, the reason I like these anecdotes is that they reveal something of his character from people who worked with him - and it's very clear he cares about what he wears. It's sometimes questioned how much credit Charles should get for his style - whether it isn't just the valet that has the eye for colour. I don't think it matters who actually lays out the clothes though: it's being done at his behest, to his taste, and he certainly cares what it is.
When Prince Charles became King Charles last year, there was the predictable flood of pieces about his style. I didn't write anything then because (perhaps stupidly) doing so would have felt like climbing on a rather crowded bandwagon.
But it was interesting that a lot of the time the articles focused on his more unusual outfits - like the shot above in a safari suit. These are often nicely executed and he looks easy in them, but they're very specific to the context.
Most other people would look silly in a full safari suit, even on safari (I recently spoke to a reader who did just that). And unfortunately this is a mistake magazines often make: ignoring the context and focusing on the abstract idea of style. One even called the 1980 skiing look above "timeless".
I'd say the same about the third outfit above, as well, shot when Charles was visiting Canada. Yes he deserves credit for pulling off that bolo-hat-western combination, but it's very specific to the person as well as the time and place.
These might seem like obvious things to say, but trust me, there are men out there speccing out a new safari suit with all the bells and whistles (or rather, epaulettes and pockets and belt and bellows) because he's King Charles, and King Charles has style.
Where Charles really shines, where he is the master, is his tailoring combinations - particularly in paler, Spring-like colours.
Take the outfit above from Ascot for example. He knows a mid-grey suit goes well with pinks and purples. He uses a pale purple stripe for the body of the shirt, but also a tie in a similar colour and almost the same pattern density. This is risky - playing at the borders - but the two are saved from being too similar by the tie pattern's horizontal direction, the white collar and a punch of tie pin.
His silk pocket square is in a different shade of purple, which is pleasingly complimentary and makes use of a third pattern, a glen check. But it's the cornflower-blue boutonniere that's the killer - not a colour that picks up on something else in the outfit (as the beginner is instructed to do) but is different and harmonious.
This is top-level stuff, sophisticated dressing as Flusser would say. Six colours and patterns across a little dense locus of style.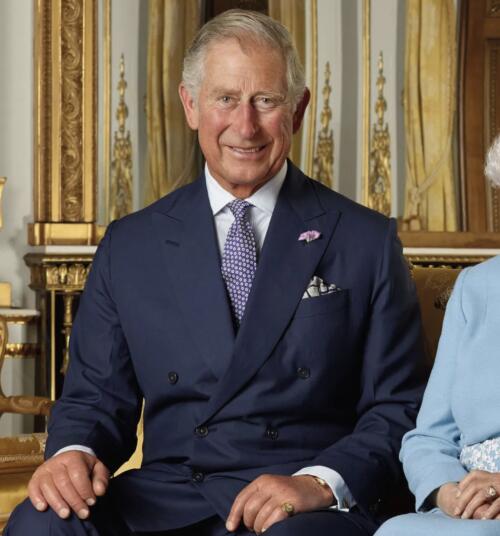 It's the same with other, less formal combinations, like the portrait above. The suit, shirt, tie and pocket square are all different in scale of pattern, with the suit plain, the shirt faintly striped, the tie subtle and the square rather bigger.
The suit is not navy, but neither is it the strong blue that became so popular a few years ago; the tie is purple and white, the flower pink, the square grey and black. It's a lovely combination.
Of course, these kinds of outfits are hardly office wear, but for a special occasion like a wedding they're really exemplary - and the colour choices can also be inspirational for simpler outfits, just for a tie or handkerchief perhaps.
Interestingly, Charles has got noticeably more creative with this over the years. While he's always been good with colour, he tended to wear plain white or cream pocket squares in the past, as in the shot above with Princess Diana.
He's also, I would argue, become better at pulling off those more complex combinations. In the second image above, for example, the shirt/tie/hank combination is a little too busy, the pieces too similar to each other. Forty years later, he's playing with much the same colours and patterns, but doing it better.
Charles has grown into his own style, essentially, as all good dressers tend to do. It's been many years since he switched from the strong-shouldered Turnbull & Asser tailoring to Anderson & Sheppard, and that almost exclusively double-breasted, both of which suit him.
But he's also switched from navy suits and jackets to shades of grey. This is less about becoming better dressed, to my eye, than about recognising what suits him. With grey hair, the grey tailoring is more complimentary, as long as he retains enough contrast in the suit/tie/hank to avoid it washing him out.
Charles's casual attire is perhaps more admirable for its attitude than its style.
The attitude is the frugality we discussed at the start. It's obvious from the tailoring - the famous patched John Lobb shoes, the patched DB suit, the A&S tweed coat that's been going for decades. You can see him wearing the same morning dress to Ascot for almost 40 years, and to Prince Harry's wedding. (All in images above.)
It's only natural that when Charles gets to the countryside, everything is even more battered (yet maintained). Again, photos from different decades show a hunting jacket when new, and then full of holes and patches. His John Partridge coat almost became a fashion sensation for its patching of patches. Even a dressing gown has had the treatment (all below).
The combinations here are done well: a blue shirt, a navy knit, brown checked plus-fours tucked into green socks. All quite pleasing and avoiding the bright colours and loud checks that can beset rural style.
But I wouldn't say any of this elevates the King to someone admirably for his style: that has to rest on the tailoring.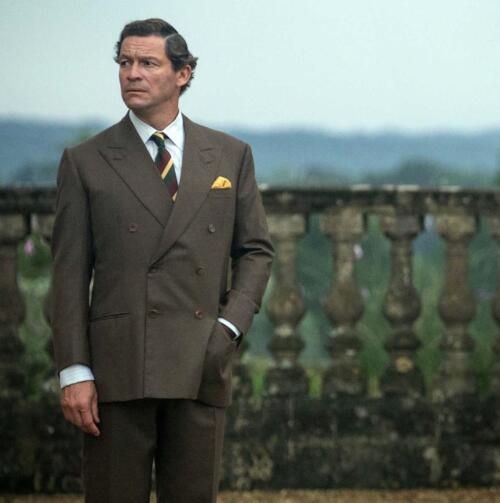 Interestingly, when The Crown dressed Dominic West as Prince Charles, you could see how they got many things right but also several wrong.
In the image above, the eye might be caught by the too-long shirt sleeve, but what's more significant is Charles would never wear a brown suit like that if it wasn't in his beloved tweed. Worsteds are grey and navy, brown and green are reserved for tweed (which he also deserves huge credit for promoting, alongside the Campaign for Wool).
Although I might be wrong, I also can't help feeling Charles wouldn't pick as simple a pocket-square as that - boringly, pedestrianly lifting a colour from the tie. He aspires to more.
One final thing worth saying is much of the King's style comes from the fact he is so at ease in his clothes. This is what he grew up with, has always worn, and the flip side of never having a cool/rebellious style phase is that he makes all that traditional clothing look like a second skin.
When some magazines talk about how great he looked in polo gear, what they're often picking up on is that sense of ease. He's smiling broadly, has the glow of exertion, and has that sense of being completely himself. Even in a skin-tight top and jodhpurs. (Although, GQ, I think that yellow sweater is not from Hermès, but refers to the aircraft carrier he flew from.)
In the end, the reason I personally admire Charles's style is that he wears tailoring very well, and very few people in the public eye do. Look at any best-dressed list and he has no real rivals in this category. I'm no royalist, but from a menswear perspective I'm very proud he's our King.
A few more of my favourites: