Cavalry twill for trousers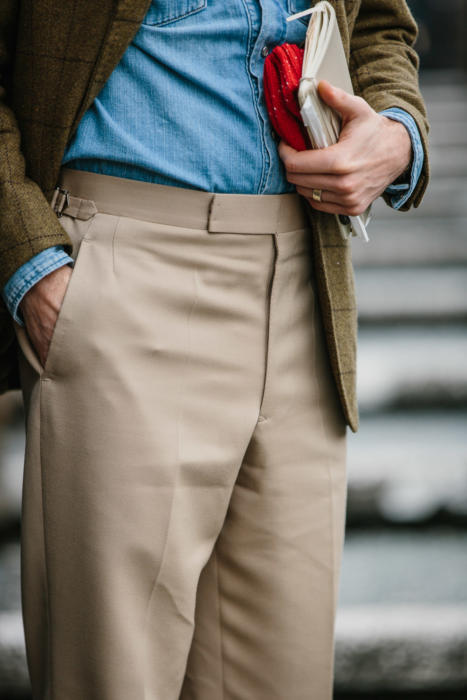 Finding the right material for odd trousers - those worn with sports jackets rather than suits - is not easy.
The kind of smooth, worsted cloths you're used to wearing as part of a suit are too sleek and formal. Many cottons, particularly garment-washed chinos, are too casual.
The most popular alternative is flannel. In grey, it is a menswear classic and very versatile in its formality.
But it has disadvantages - specifically, that it is too thick to wear for much of the year and is terrible at holding its shape: it bags quickly and is awful when wet.
I have a lot of grey flannels - in fact, five pairs in various shades and weights. (And in the warmer months I wear a lot of high-twist trousers like Fresco and Crispaire.)
But I am increasingly turning towards cavalry twill, as a very versatile and functional alternative.
And I would certainly put it above the various other wool twills, like gabardine, serge, covert etc.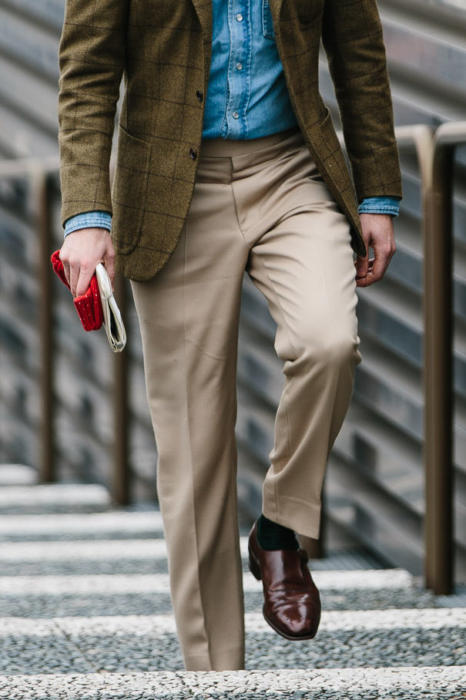 Among wool trousers, twills (those with a diagonal stripe running across the material) are particularly good for holding their shape and draping well.
But usually the first twill a tailor will offer is a gabardine.
This is the more traditional choice for an odd trouser, being more formal. But its formality and sheen make it less useful in a modern environment, when you might want to wear it with everything from a button-down popeline to a cowboy shirt (as pictured here).
Cavalry twill is less shiny, largely because of the double-twill weave that defines it - if you look closely at the surface, you can see two lines running down in parallel, rather than the single twill found on gabardine, serge, covert etc.
This also makes it more robust. (It was originally created for military riding trousers and breeches, hence the name.)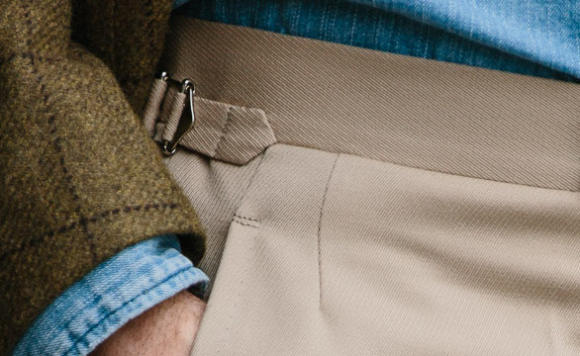 Part of cavalry twill's strength and durability is also reflected in the angle of that diagonal line.
To make a twill line run more steeply - more vertically down the cloth, rather than across it - you put more warp ends in relative to the weft. Of the wool twills, serge usually has an equal balance of warp and weft, gabardine has more warp ends, and cavalry twill has the most of all.
(They do all vary, however, and are usually best defined by other things - such as the tightness of weave with gabardine and the double twill with cavalry twill. More detail on weaves in general can be found on our 'Weaves and Designs' post, part of the Guide to Cloth.)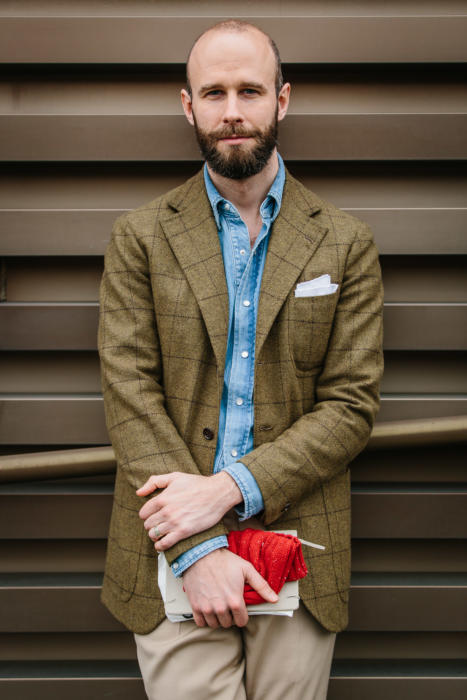 The trousers, by the way, were made by Richard James as part of a three-part commission last year that also included a mid-brown cashmere jacket (yet to be covered) and Harris tweed waistcoat (which I covered here).
Both the fit and the make of the trousers was superb. Beautiful straight line, snug fit at the waist, and lovely pick stitching - around the fly, for instance.
Savile Row tailors are not highlighted enough for the quality of their trouser work, largely because they will often be more expensive than Neapolitan specialists like Cerrato or Ambrosi.
But the work is just as good, just often focused more on things like a precisely fitted lining to the band, rather than dozens of tack stitches.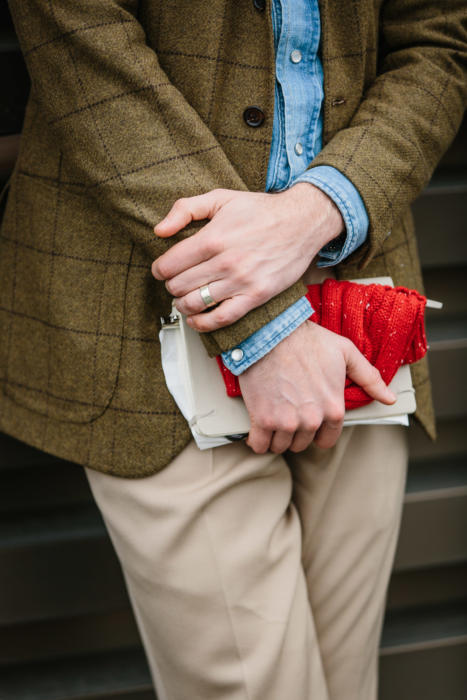 The cloth of the trousers is the Holland & Sherry cav twill I highlighted on my favourite cloths from them, last year.
The jacket is my Escorial-cloth piece from Solito, seen in review here.
The shoes are my old Edward Green Oundles.
The cowboy denim shirt is from Niche via No Man Walks Alone.
And the red-donegal beanie - which provides a nice pop of colour - is from Cappellificio Biellese (or CB1935 for short).
Photography: Jamie Ferguson @jkf_man