Cerrato bespoke trousers, Naples
Over the past few weeks I've been talking to Neapolitan trouser makers Marco and Massimo Cerrato, and commissioning the pair in cotton drill pictured here.
I'm pleased to say that it looks like we have a reliable, good-value maker at a very high quality level who - best of all - effectively has a permanent branch in London.
Marco and Massimo come from an old trouser-making family in Naples. There are a lot of these, as you might expect, mostly located around the Spanish quarter. But the Cerrato family are one of the best-known, alongside the likes of Ambrosi and Pasquale Mola.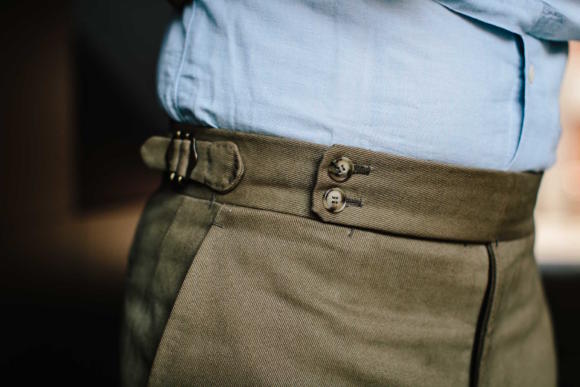 It was founded by Ciro Cerrato, who began work as a presser in the workshop of Antonio Mola at the age of 13. Ciro would eventually marry one of the hand-sewers there, and the two of them left to set up their own workshop when Ciro was 20.
That same year (1974), their first son Carmine was born. Three more sons would follow - Marco, Massimo and Antonio - with only Carmine not in some way joining the family firm (he became an engineer).
"Back then the workshop was small," Massimo says. "There was just my father cutting, and perhaps five ladies sitting around a table, each doing a different stage of the handwork. They did perhaps 5 or 6 pairs a day."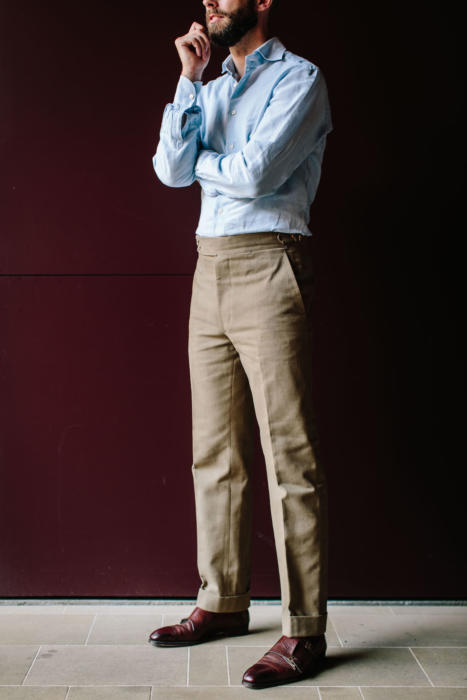 Today, the workshop is larger. Ciro and Marco do the cutting (Marco mostly new customers, especially international ones), there are seven ladies doing the handwork, two on the sewing machines, and one just doing basting. Uncles, cousins, in-laws - largely family.
Cerrato produces up to 20 pairs a day, both under its own label and for a handful of tailors in Naples. Interestingly, the amount under its own label has increased steadily.
"It used to be that men just wanted trousers with suits and other formal clothing," comments Massimo. "Now more are wearing separate trousers, more casually, so the demand for our work has increased."
Massimo trained as a trouser cutter, but now lives in London. He wanted to travel, to be somewhere other than Naples. So he worked as a chef while improving his English and looking to establish a UK branch for the family business.
It was Massimo that measured me and fitted me for the trousers you can see here. There is clearly a strong link between brother and brother ("we sound so similar - often people can't tell us apart on the phone," Massimo says) because with a few measurements and a phone call, the order was made and the result as good as meeting the cutter himself.
[It's interesting this passing on of measurements from one cutter to another - or indeed from salesman to cutter/shoemaker. Generally it's a bad idea, but when people have been working for a long time together (eg Brian Lishak and Richard Anderson) the result can be seamless.]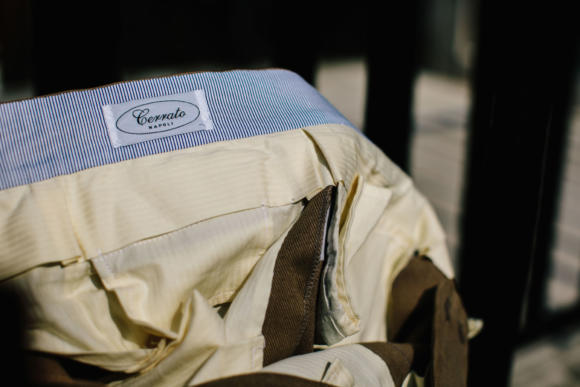 So what of the trousers?
They were made in a relatively heavy English cotton drill - 15.5 oz from Drapers' Melrose bunch (6632). It's an olive-coloured cloth that has softened wonderfully in the wearing, and I'd certainly recommend.
They were made with a deliberately broad waistband (partly for aesthetic reasons, partly fit) that is fastened with two buttons, with a 5cm turn-up. The larger, antiqued-brass side adjustors were required to fit the thick cloth.
The fit was superb. Almost no adjustments were needed at the fitting - and those largely around personal taste, eg a tighter waist and slightly slimmer thigh.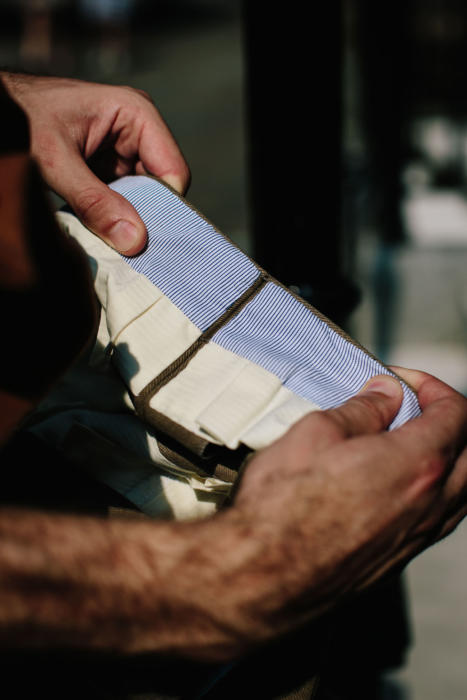 As to the make, the obvious comparison is with Ambrosi, whom readers will likely know well and we reviewed earlier in the year.
The construction is essentially the same, with just a few more hand details here and there on Ambrosi.
So there 18 hand-sewn tacks around the top of the Cerrato pair, for example: reinforcing the top and bottom of the side pockets, of the coin pocket, of the join between fly and waistband; whereas Ambrosi has 20.
And those are not necessarily two extra. Rather, they differ in where they put them: Cerrato has one at the top and bottom of the join in the back of the waistband, and Ambrosi only having one.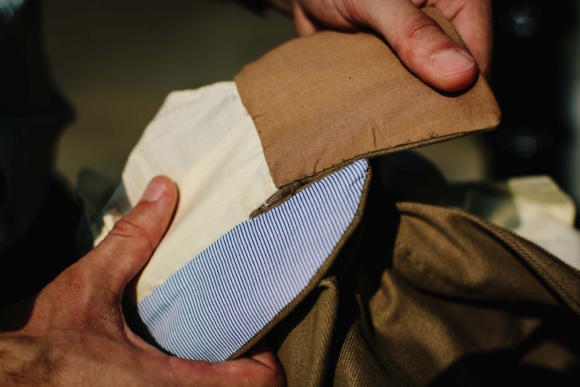 Inside, the hand-work around the curtain on the waistband is equally neat and all hand-sewn. The significant difference is that the bottom edge of the curtain is all hand-sewn on Ambrosi, and merely folded on Cerrato.
Ambrosi also pick-stitched the external long seam on the trousers, where Cerrato did not, which is a lot of work.
It's important to remember that these are all aesthetic, and relatively small, differences. The work is all far more than you would find on English bespoke trousers, and indeed more than Parisian ones - although the work on Cifonelli, for example, is neater and more precise.
Cerrato can also do the extra handwork (or any designs) if asked. Most Neapolitan trouser workshops are used to working for different clients and have little house style.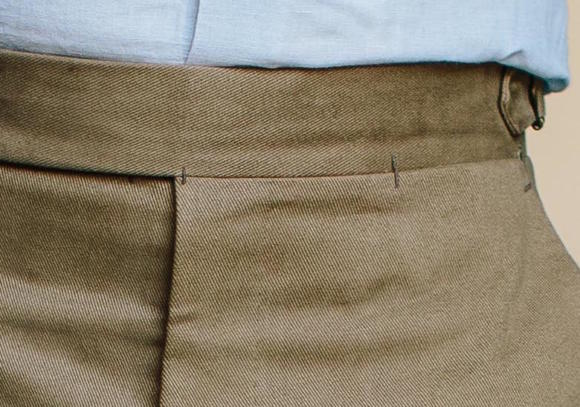 For us in London, the most important thing is that Cerrato trousers are relatively cheap (from £550) and with Massimo based here, there is no need to wait for a visit from Italy.
Massimo is currently taking appointments around his other work - so after 4pm during the week, and at weekends. He visits clients in their offices and homes, with arrangements made initially through Naples (Marco at [email protected]).
There are also tentative plans for Marco to come to London occasionally, but for the moment readers can see him during our trunk show in a few weeks.
Note: As with all the photography on this site, the trousers were shot as naturally as possible, after several days wear (sitting down in an office for long periods). I do not believe in shooting freshly pressed clothes, or artificially pulling/tugging/arranging them to make them look perfect. It's not realistic and it's not useful.