Brown chalkstripe suit from Fred Nieddu/Taillour: Review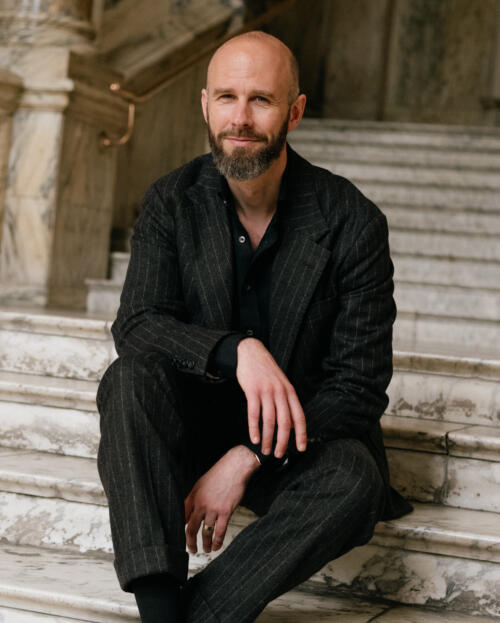 There are two parts to this piece: one, Fred; two, chalkstripes. Given it's a review, let's do the first one first.
This is the first piece of tailoring Fred Nieddu has made for me, having previously made a more unusual piece, a belted suede jacket, in 2023.
I was keen to try Fred's tailoring largely because of the style, which I had seen on others and admired. There is a modernism in his cut that includes a good degree of self-awareness, but is expressed in small things like shoulder width or body fit: there is no striving for a more obvious style, and it's not just a combination of two or three other cuts, like a Florentine top half with a Neapolitan bottom one.
Fred also just has style himself, which helps a lot. He's interested in clothing, and might be in the cutting room wearing a knee-length shirt from 45R, or be wearing the fireman's coat from Real McCoy's over his tailoring.
It would be easy to see this as simply liking and buying too much clobber, but it's striking how many tailors (even craftsman as a whole) have little interest in style.
We had three fittings and most aspects went very smoothly. There were, however, fairly significant issues with the right shoulder.
This is a part of my body tailors often struggle with, as they tend to underestimate how much lower it is than the other, and its forward rotation. That rotation was always the area John Hitchcock at A&S had problems with.
Fred raised the shoulder at our second fitting, and this improved the situation but didn't fix it. In the end a little extra padding was put in on that side to get to the final, solid fit shown here.
I don't notice the padding, and some tailors would even want to put extra on that side anyway, to make them even. I prefer not to, but it's not a big issue.
It's an example of the kind of thing that should be anticipated and perfect on a second suit - and then from then onwards, for evermore. Which as I always say, is why bespoke makes by far the most sense in the long run.
Those smaller aspects of the fit are also less important to me than the style of the suit, which was superb and exactly what I hoped for.
The jacket has a relatively broad lapel (4 inches, measured horizontally from the lapel point) but this is underplayed by the fairly small notch - proportionate, perhaps, on a 3 inch lapel, but a little smaller on this larger one.
The shoulders are very natural, with a very thin pad and just that little extra at the end of the right one. But they're a little extended, with the padding helping them reach just a centimetre or two beyond the point of my shoulder bone.
I can see how someone would look at a straight-on picture of the cut, and think it had no shape. That the shoulders should be squarer, the waist cut closer to eke out as much of a contrast with the shoulders as possible.
But as soon as you see the suit from a natural angle, I think the flattering shape of it becomes apparent. Look at the image below, for example - the width across the shoulders, the fairly loose back, and then the neat skirt finishing just at the bottom of the seat. This is a cut that is doing everything for me - making me much more than I actually am - and wouldn't be improved by higher shoulders.
The finishing on the suit is also very good - some of the best you'll see among English tailors.
Neat, hand-sewn buttonholes, with a similarly neat Milanese buttonhole on the lapel. Nicely top-stitched lining inside, with the extra effort made to cut the facing in an attractive loop around the inbreast pocket.
I even like the small 'Taillour' label sewn below that inbreast pocket. I can see some purists preferring to not have any visible label - as most Savile Row suits traditionally had - but when it's this subtle and hand-done it's attractive. Plus it's a person and a brand I feel a connection to.
So why a chalkstripe, and a brown one at that?
I've remarked in the past that chalkstripes are a little showy, and they are in the context we have usually talked about - in an office, dressed fairly conservatively and professionally.
But as the scope of the clothes we've talked about on PS has expanded, so has the variation in contexts, in situations, and so the significance of when and where things are being worn.
This would be a terrible choice for a business suit, as it would draw too much attention. Even though business offices themselves are changing, the principle of clothes not being any kind of focus remains.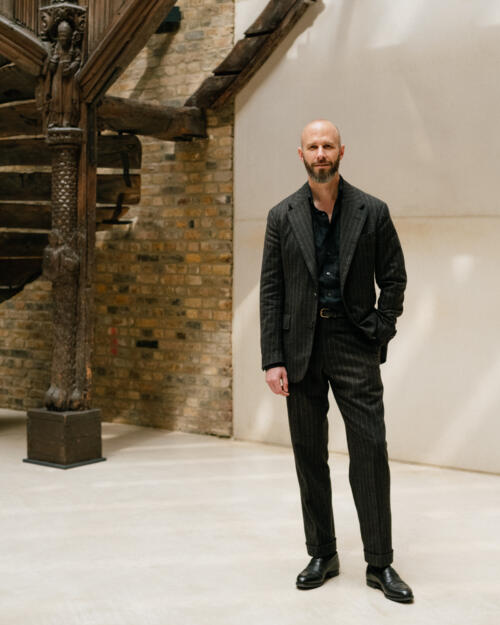 But if you're in a much more creative field, and want something to dress up in - something that reflects and even expresses your creativity - this grey/brown chalkstripe would be great.
It's unusual but it hardly shouts across the room. On the subtle-showy scale it probably ranks a 4, if the charcoal business suit is a 1, and that lime-green thing you saw at the Oscars is 9. (I know readers love numbers.)
It puts a spin on traditional clothing - particularly worn with black, as here - and gets more interesting the closer you get. At which point you start to notice the texture of the fabric, the draped cut, or the hand finishing.
Of course, it's also just great if you're not dressing for work at all. In which case it might be nice for evening, again particularly with black. (Though in retrospect I think a black Dartmoor would have looked nicer, more relaxed than this linen shirt.)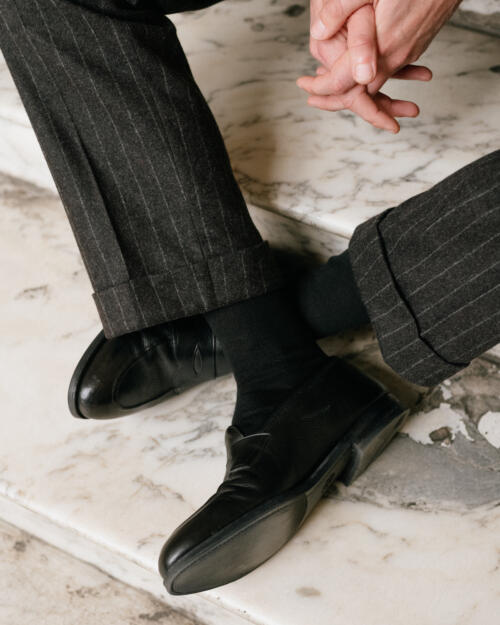 Other clothes shown:
Black linen shirt, bespoke by D'Avino
Black crocodile belt with brass buckle, Rubato
Yellow-gold Reverso watch, Jaeger-LeCoultre
Black 'Piccadilly' loafers by Edward Green, in 'utah' leather
Taillour is Fred Nieddu, a bespoke cutter in London, and team. More background here. They recently moved to a lovely new dedicated space at 2 Pecks Yard, Hanbury Street in Spitalfields.
Suit prices start at £4800 (including VAT) and jackets £3480, while My suit cost £5400. The cloth is VF10 from the Vintage Fox bunch, weighing 370/400g.
Photography: Alex Natt