The work of Fred Nieddu, 'Taillour'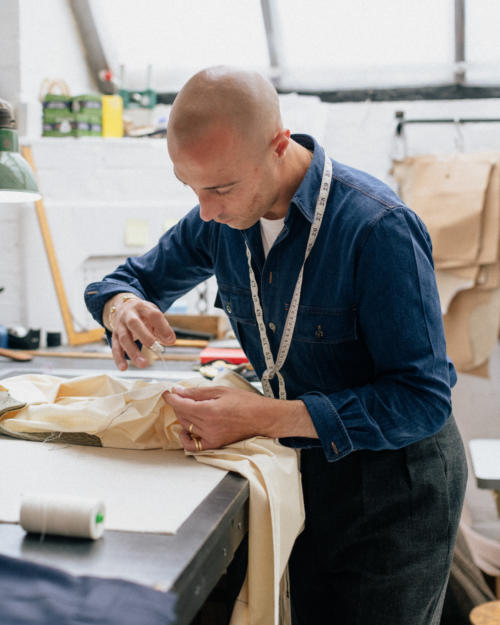 Fred Nieddu (above) recently set up on his own under the name 'taillour' (an Old French term for tailor), having previously been the bespoke cutter at Timothy Everest in London.
However, chances are you will have seen Fred's work around for a while, as he's made pieces for friends like Aleks Cvetkovic, Tony Sylvester, Alex Natt and others, most of which have appeared online.
I recently started on a suede-jacket project with Fred, based off a jacket he originally made for The Crown (Fred has always done a lot of film work) and was then adapted as an MTO piece for the shop Beige Habilleur, in Paris.
But Fred is also a very talented cutter of suits and jackets, and I wanted to show a little bit of that first.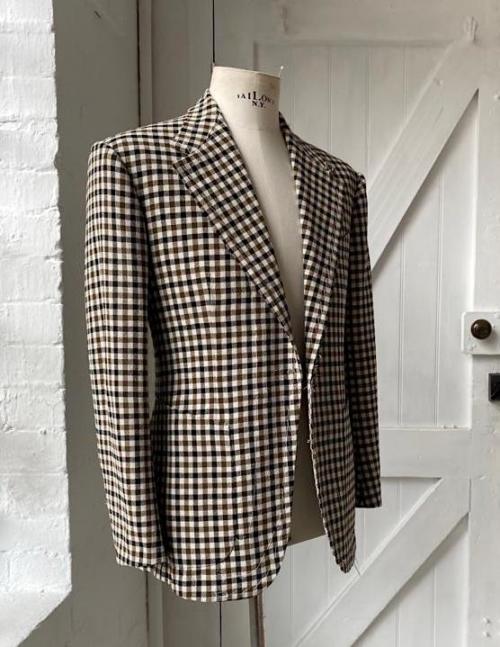 Fred cuts an English jacket, but with a very soft make and a natural shoulder.
The lines are sharp, but there is only a very thin shoulder pad and one layer of canvas in the body – often without demette (felt) on top.
In that respect he is similar to the direction a few English tailors have taken in recent years, such as Thom Sweeney, Whitcomb & Shaftesbury and Ben Clarke at Richard James.
The differences are that he does not offer an inset or Neapolitan shoulder (unlike TS and W&S) because he'd rather a client went to a Neapolitan for that. And his structure is always this lightweight, unlike others where it's part of a broadening of their services (like W&S and RJ).
Fred is also more design-oriented. He studied illustration, has made various casual pieces over the years, and has to come up with new designs constantly as part of his film work. In this respect he's more similar to other tailors I've covered over the years like Davide Taub or Michael Browne.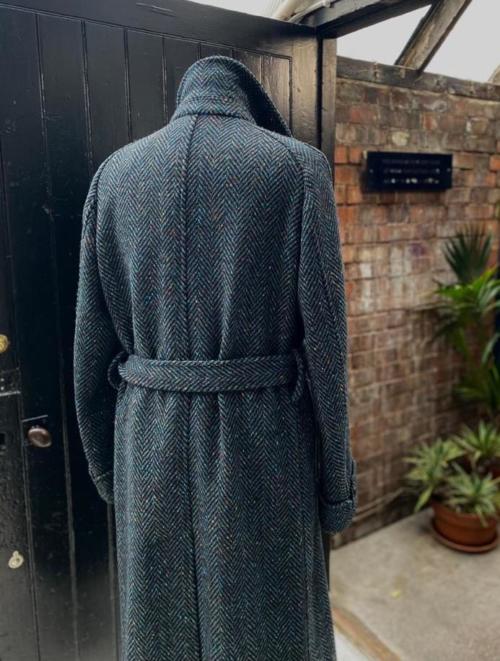 I don't know Fred as well as either Davide or Michael, but his creative approach is clear from his work. Pieces like the MTO jackets for Beige involve original design but also different approaches to construction, such as machining everything except the hand-sewn buttonholes.
"You often need a balance with casual pieces," Fred says. "It's good to keep the authenticity of the originals, but you also want to make to a high level. If a customer wants hand-sewn buttonholes that's fine, but I don't think I would do anything else by hand."
Fred is also working on a project for a ready-made raglan coat, based off one he made for Aleks (above). That will be RTW and sized, but made to a bespoke level. This is what Greg at No Man Walks Alone wanted (they will be selling it) but it could also have been made more simply.
My jacket started life as a piece made for The Crown when Fred was at Timothy Everest. The team made actor Ben Daniels a replica of a suede safari-style jacket worn by Lord Snowdon (above), which only appeared in one scene in the end – when he rushes past on his motorcycle.
That proved popular with Everest customers, and versions were made in brown, yellow and orange for customers. It is currently being offered RTW in green cord.
Then when Fred and Tony went to Beige Habilleur in Paris for a trunk show, they adapted a version for Beige (first image below).
This was simpler in design and more generous in cut. More French Arnys than English safari. It had a notched jacket collar, a tied belt, and larger squarer pockets. And it was made in end-of-line tweeds.
For my jacket, I've gone simpler still, returning to the brown suede of the Snowdon original (toile fitting, second image below) but removing the chest pockets entirely, as well as the bellows from the remaining hip pockets. Being in suede also necessitated removing the pleats in the back.
The result, I think, will be something that is easy and relaxed. Despite being an unusual design, I don't think it will stand out.
We added internal ties that will make it easier to tie the belt in the back, and leave the front at least partly open. I'll cover that in more detail when the jacket is finished.
It should be obvious that this process, too, shows Fred's creativity. As if to emphasise this, at the end of our fitting Fred mentioned that he's working on a new film where each character only wears one colour - so he's currently making suits and overcoats in all green.
"A nice thing about working on my own now is that I can take on smaller pieces of work like that," Fred says. That's because he's now cheaper and more flexible than other teams – sometimes working in the costume department itself, alongside their tailors.
The only downside is that he can't make large volumes, which is needed if you are costuming, for example, a lead in an action movie. That often requires dozens of the same suit, for the star and all the stunt men. "The most I've ever made is seven of the same thing," says Fred, "and that was tough."
But to return to the tailoring. For a while Fred wasn't sure what his business would be after he left Everest. Most of his work was for film, but he didn't want to lose the bespoke side.
"There was a moment when I was enjoying developing a bomber jacket, and I thought I'd love to just work in a factory doing pattern development," says Fred. "But I always come back to bespoke."
Some of the inspiration for that comes from his father, who was Italian. Fred remembers in particular his Dad coming to watch him play football. While the other fathers would all be wearing sportswear, his would be smart in yellow cords and a cashmere knit. "He was pretty flamboyant – liked having his initials on the cuffs of suits, that kind of thing."
Fred's taste is more understated, but there's still a love of clothes in common: "I remember in particular this brown chalk-stripe suit he had. I thought it was the loveliest thing. A dark-chocolate brown with just a faint cream stripe."
Fred has made his father several pieces of tailoring over the years too. He made him a suit at Meyer & Mortimer (where Fred trained) but that was rather stiff: "He likes a roped shoulder, and a close waist, but the chest was too solid for him."
Fred's since made him two coats and a blazer in a softer make, of which his favourite is a Black Watch-like tartan.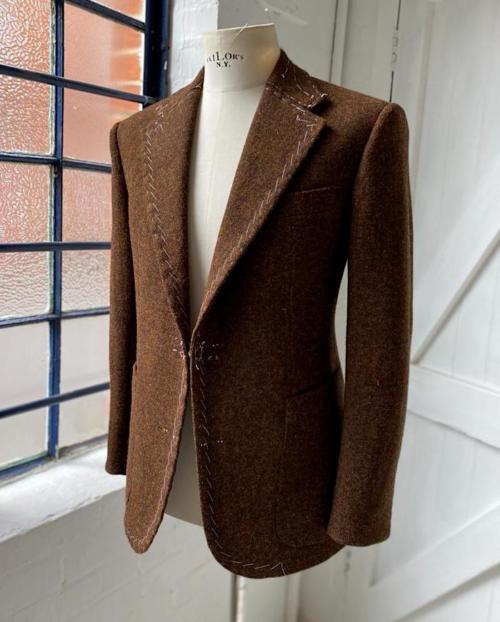 Other things worth noting on Fred's cutting are that he is open to almost any idea, what he calls "old-school Everest, where we are there to discuss ideas and inspiration"; and that he likens the lines of his cut to those of Sexton or Chittleborough & Morgan – just with very different shoulders.
"I can really see the appeal of that style," he says, "but personally I'd just feel too self-conscious sitting having dinner in it."
He is also known for a patch pocket with a slanted top, and likes good shape in a jacket. "I don't like tailoring that's too shapeless or sloppy," he says. "But I do put a lot of my shape in the front and side body, so the back isn't too close."
He's also always open to working with customers' cloth: "It makes sense, with Crescent Trading just down the road. There's often something really nice and unusual in there."
Fred works out of a workshop in Shoreditch, where he has recently added a showroom downstairs - since setting up on his own. You may find you know others in the area: Scott Simpson is downstairs and Charlie Borrow is just round the corner.
His prices for bespoke are £3500 for a suit, £2400 for a jacket, £2800 for an overcoat and £1100 for trousers (including VAT). Oh, and yes that jacket above is in Permanent Style tweed.
More on my jacket in a couple of weeks.
Photography: Alex Natt and Fred Nieddu