Fred Nieddu belted suede jacket: Review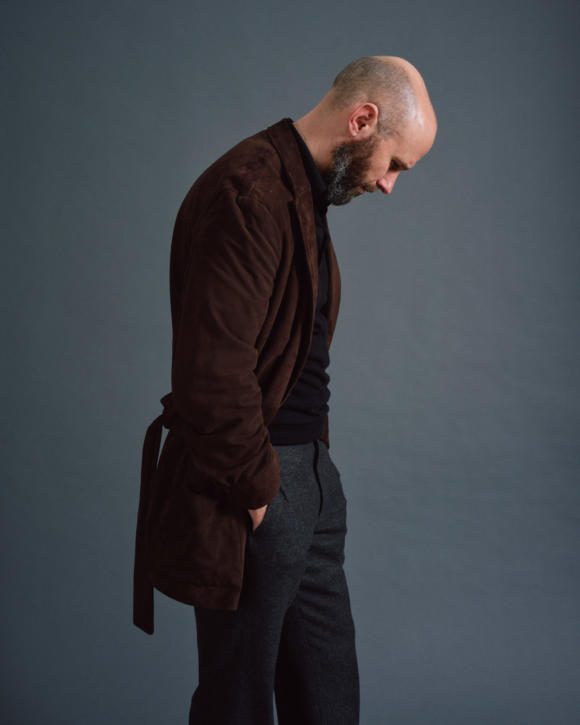 This is the belted suede jacket I had made earlier this year by Fred Nieddu, based on film and bespoke pieces he had made while cutter at Timothy Everest.
It's quite an unusual style, but after a couple of months of wearing it in different permutations, I'm now quite used to it.
Although its roots were in a safari jacket made for The Crown, the design is better thought of as a belted smoking jacket, I think, just with a wide notched lapel.
To the man on the street, it's perhaps simply a suede jacket with a belt. But it's cut with a slight overlap on the front - as a short robe or house coat might have - and it's this that gives it a particular character.
Belted, the wrap gives it more of the appearance of a robe; unbelted, with the fronts left to hang, that half DB gives the whole front a slouchy look, with excess material in the chest and hips.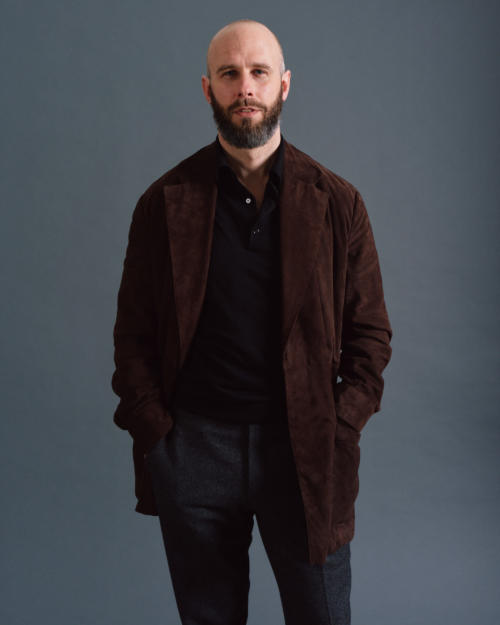 That's accentuated by the shoulders, which we deliberately cut a little wide, as I usually prefer with my tailored jackets.
There's also relatively little structure - no shoulder pad and only canvas in the collar, not the lapel. The suede is also relatively heavy.
So if the jacket is simply worn open, the belt loose, it looks almost shapeless. Only the craft and structure of the collar saves it from being baggy.
I've found I need to use the belt actively as a result: either to cinch the back a little, so the fronts are pulled back a little; or to wrap around and tie, keeping the fronts overlapped.
As I said, it's taken a little time to get to this point, but that's half the fun of an unusual design. And it's an original one, in the sense that Fred has never made this particular design and cut before.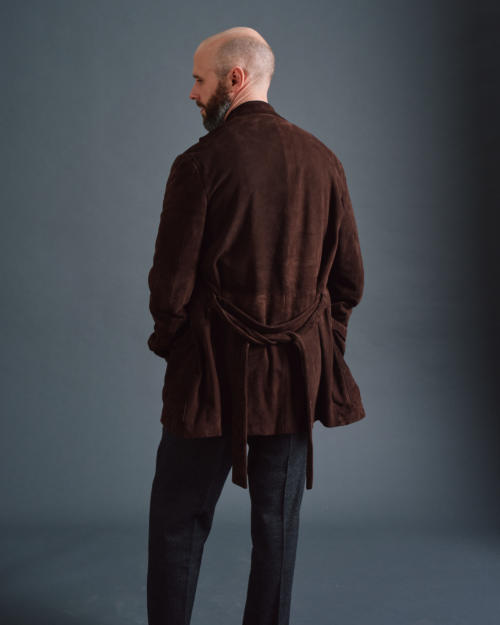 In fact, it's worth pausing a moment to reflect on the various unusual projects I've taken on with bespoke tailors over the years.
There were one or two with Graham Browne, the wrap coat with Whitcomb & Shaftesbury, the suede blazer with Cifonelli, and most notably the gilet and leather jacket with Davide Taub at Gieves & Hawkes.
I'd say overall, my success rate is less than 50% - if we define success as still wearing and liking a piece now, several years later.
That's not great, though right now I think Fred's jacket falls into the successful half, as far as I can tell after a couple of months.
But I also think all the projects contain the same lesson, which is that creating something from scratch is very risky. Particularly with someone who is a trained craftsman, but not necessarily a trained designer.
That's not to say the tailors do anything wrong. Just that they don't necessarily know how the final result is going to turn out; and even if they do, they might not be able to communicate that completely. You're probably even less equipped to imagine, sketch out or communicate yor vision.
It can be very rewarding, and it's certainly interesting and absorbing. But it's a risky and expensive game to play. I feel I can only recommend it to readers that have that money to play with.
But back to Fred's jacket.
The decisions we made during the fitting stage - described here - were all correct I think. It was good to remove the two chest pockets, good to add to the length and to raise the collar.
The unexpected element was the suede, which as I said has proved quite heavy. This make the pockets bag a little, and the belt more tubular than flat. Fred was forced to source from a new tannery, which made this a bit uncertain, and of course with a suede jacket the fittings are usually in a toile rather than the final material.
If anyone is considering making a piece like this, I would recommend trying to find somewhere you can try on a sample garment first, in the final material. Someone like Sartoria Melina in Naples, for instance, usually works with one type of nubuck and has samples of most designs to try (at least in Naples).
This is no guarantee - I still managed to order a surprisingly bright shade of orange nubuck from them. But it does substantially reduce the risks.
The handwork on Fred's jacket is beautiful, particularly because I know how hard it is to work in suede. Many, many thanks to Zoe for working through the pain.
One of the nice things about putting the collar up is that it shows all that handwork underneath: the swirl of machine stitching keeping the canvas in place, and then hand stitching of the collar to the body (in order to create more curve, and hug the neck).
One thing I might change is to move the belt upwards, as currently it doesn't cover the seams on the front and back, where the different panels of suede attach.
The internal tie that fastens the two sides, helping the belt, has also proved a little flimsy. But both things are easy to change and I know Fred will be more than willing to do so.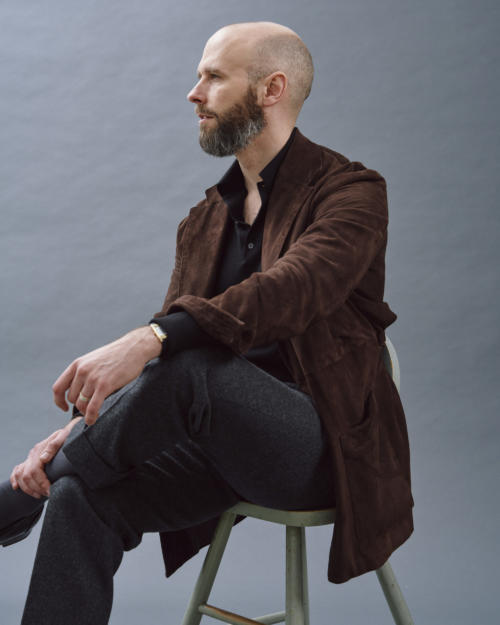 I really like this jacket. Often that doesn't come across in a review, once you've listed all the little things you're going to change, or would do so if you commissioned it again.
But I do. I love how unique it is, yet how the dark-brown suede means it's almost as versatile as a bomber in the same colour.
I just feel compelled to warn readers thinking of undertaking a similar project, because mine haven't always worked out that well. It would be a lot, lot safer to buy a ready-made suede jacket, or perhaps an MTO or MTM version. Even just to have a RTW one altered.
At £2500 for a suede jacket like this, going to a bespoke tailor for something experimental is personal, wonderful, enjoyable, but not cheap.
Most of Fred's work is making much more conventional tailoring. Some lovely examples can be seen on our initial article on his work, here. His bespoke tailoring starts at £3500 for a suit, and £2400 for a jacket (both excluding VAT).
For the images, I took advantage of some studio time photographer James Holborow had, which is always fun. James is now back in the UK, after a couple of years in New Zealand, and his website is here.
The other clothes shown are a black Dartmoor knit, flannels by Whitcomb & Shaftesbury and Belgravia loafers by Edward Green.