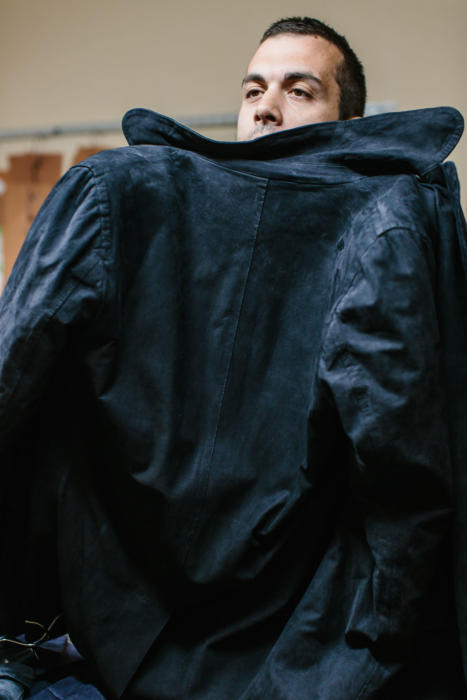 As regular readers will know, I am a big fan of leather and suede outerwear - whether from the superfine Seraphin, historic Chapal or uber-modern Stoffa.
I have tried, used and love them all.
When it comes to tailored jackets, however, I want to stick to tailors who can render a fit similar to bespoke suits.
I have done so with Cifonelli, which produced superb results (details at that link), and others such as Camps de Luca also work in leather.
But the number of tailors that do so is small, and as a result there aren't many styles to choose from.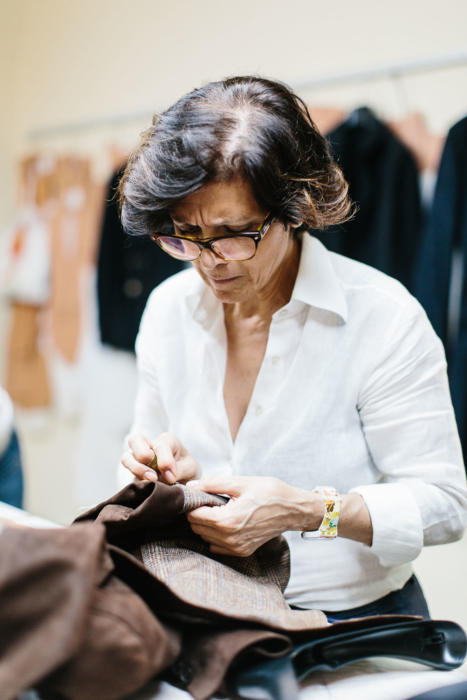 This is why I was excited to see Sartoria Melina when I was in Naples over the summer.
Melina is a small one-family bespoke leather operation, based in Sarno (about an hour's drive from Naples).
Jolanda Caruso and her mother Carmela (pictured above) set up the operation last year, when Carmela left the larger and better-known leather house Rifugio.
Rifugio also makes bespoke, hand-sewn leather garments, but had expanded into some machine-made pieces, and the Caruso family wanted to focus solely on bespoke.
Now, when I say bespoke, this is very different to the product offered by the likes of Cifonelli.
Most importantly:
It has no canvas in the chest, let alone a hand-padded canvas, and is therefore not shaped like traditional bespoke.

It emphasises hand finishing on the outside, with pick stitching around all seams, hand-sewn buttons and buttonholes. This is something Cifonelli, for example, could do but generally doesn't.

The pattern is drawn from scratch and hand cut, but is based off standard patterns and sizes, and is therefore closer to some made-to-measure in fit.
Given all this, I could understand if someone said it was best described as made to measure.
But given how much MTM leather outerwear there is, all machine sewn and based on small alterations to existing jackets (length, sleeve etc), I think perhaps bespoke is a more useful term.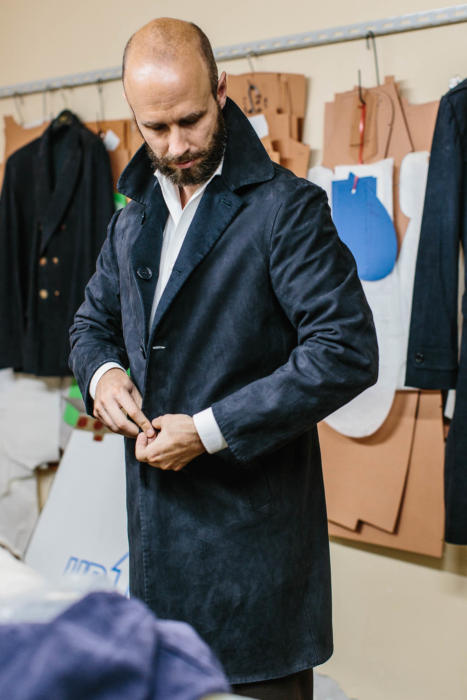 Sartoria Melina offers a wide range of styles.
Their classic and most popular is a single-breasted, two or three-button jacket. But they also do blousons, reversible coats (above), trench coats, and double-breasted jackets.
I have included photos of some of them here.
They work in a few different leathers and suedes, but the most popular is a baby calf with a nubuck-like finish - a lightweight and very soft leather that is also nice and matte.
Not only does this feel lovely, but the texture is very subtle - a world away from the shininess we might associate with tailoring-style jackets.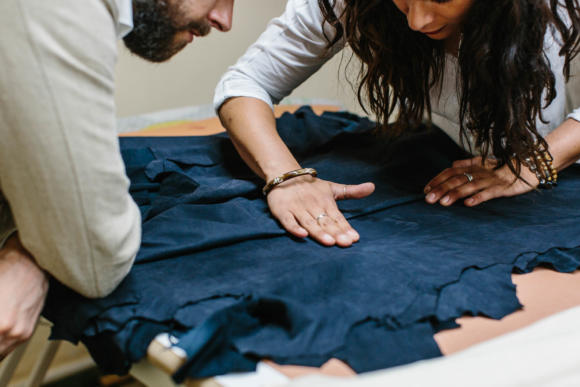 Most other leathers they use are exotics such as alligator and ostrich, which of course are more showy.
They're experimenting with washed leathers (below). And there are linings in both cashmere and furs, such as mink.
The central attraction of the product, however, is that pick stitching.
This is beautiful stitching to watch, as we did with Caruso senior as she worked on a navy jacket.
"It's a very difficult process, because you can't afford any errors," says Carmela. "Once you've made the hole, that's it - you've left a mark.
"This makes it particularly hard to train up young people, because it takes them a long time to be good enough to work on a real garment."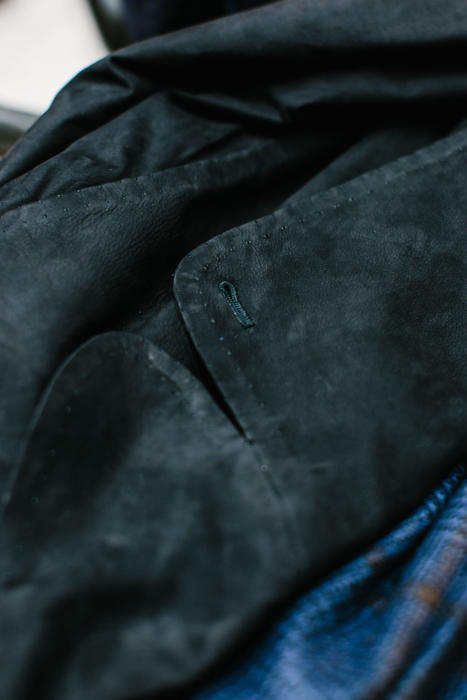 With hand craft generally, there is a delicate balance between something that looks handmade, but is not sloppy; that approaches the precision of a machine, but doesn't lose the character of craft rendered by an individual. This stitching gets that just right.
Interestingly, a three-sided needle with sharpened edges has to be used to cut through the leather.
Cutting on such leather is a challenge, because it moves and stretches easily.
And before the cutting begins, a good hour needs to be spent working out how the pattern can fit on the skin.
This is rather like a jigsaw puzzle - as the colour varies slightly across the skin, and pieces that will be next to each other (eg along the side seams) need to be of a similar shade.
In other construction points, the only thing used apart from the leather is a lightweight fusing that is ironed to the inside of the fronts, and taping around the bottom edge and vents (below).
This is fairly common in ready-made jackets that use very soft materials like suede.
The back of the tailored jackets is made out of two pieces of leather, rather than four, which makes them look more like tailoring than most ready-made leather.
The buttonholes are also cut with a hammer and chisel, before being hand-sewn, which is nice.
A single-breasted jacket in baby calf costs €2900, much of which is of course the cost of the leather itself.
Prices rise from there for bigger pieces such as coats, and there are small additional costs (€150 or so) if a customer wants them to copy an existing jacket.
I'm having a three-button jacket made in dark-brown leather, with patch hip pockets and a welted outbreast pocket.
There will be a fitting in canvas first, before the final piece is done.
I will report back on both, but if the result is good enough I hope to encourage Jolanda and her mother to come to London for a trunk show.
Jolanda's English is not perfect, but her brother works in London and is fluent, so hopefully he can help out.
They'd certainly be offering something different.
Photography: Jamie Ferguson @jkfman