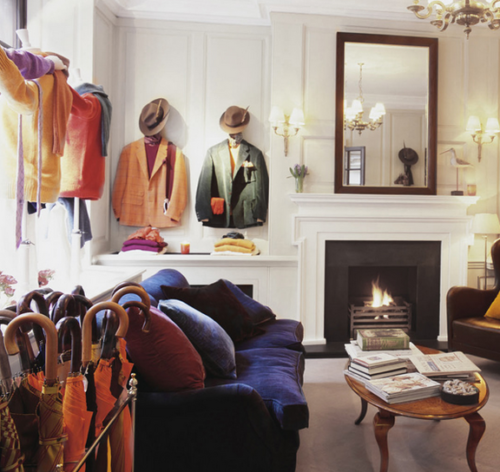 I've had quite a few requests by readers over the past year for city guides, so this is the first in a series.
In London, there are so many options that it makes sense to group some together. Also, if I leave too many out I'll get in trouble.
The guides have several key principles:
They are guides to quality. Only top shops with well-made products are included
They only cover menswear, and largely sartorial menswear
Perhaps most importantly, they only cover shopping experiences that are pretty much exclusive to the city. There are fewer and fewer of these, and they should be celebrated

1. Anderson & Sheppard: The haberdashery
www.anderson-sheppard.co.uk/haberdashery
17 Clifford Street
Probably my favourite shop in London. Very strong on knitwear, which Anda and Audie designed almost entirely themselves, and trousers, which they did entirely themselves. I recommend the Shetland sweaters, handkerchiefs and everything in linen.


2. Trunk Clothiers
www.trunkclothiers.com
8 Chiltern Street
A trailblazer when it first opened, stocking Incotex trousers, Boglioli jackets and Common Projects trainers. Still the best shop in London for quality casual clothing with a classic aesthetic. Now with a second shop on the same street, Trunk Labs, stocking luggage, footwear and homewares.


3. Drake's
www.drakes.com
3 Clifford Street

The British tiemaker's only shop, but good for a lot more than ties. Favourites include their shawl-collar sweater, nicely styled jackets and a new, strong shirt offering. Also the only place in the UK where you can try Saint Crispin's shoes.


4. Gaziano & Girling, GJ Cleverley and John Lobb
www.gazianogirling.com, www.gjcleverley.co.uk and www.johnlobbltd.co.uk
39 Savile Row, 13 The Royal Arcade and 9 St James's Street
The only shops in the world for these top-end shoemakers. All worth a visit: G&G for the range of bespoke and ready-made shoes, and patination; Cleverley for its workshops upstairs; and John Lobb for the rabbit-warren nature of the place. Other shoe shops are less interesting or replicated elsewhere in the world.


5. Henry Poole, Richard Anderson, Chittleborough & Morgan, Anderson & Sheppard…
15 Savile Row, 13 Savile Row, 12 Savile Row and 32 Old Burlington Street
There are perhaps a dozen bespoke tailors it's worth visiting in the centre of London. But you're not going to visit them all, and they are not really shops – you go in for a polite inquiry, and perhaps an explanation of house style. Most are pretty welcoming. If you're looking to commission a suit, pick out a few likely candidates. If you're after history, visit Henry Poole, Gieves & Hawkes and Huntsman.


6. Gieves & Hawkes
www.gievesandhawkes.com
1 Savile Row
Gieves deserves its own listing for the superb ready-to-wear clothing that Jason Basmajian has designed in recent seasons. There is also the archive on display – as mentioned above – and a nice bespoke room.


7. Private White VC
www.privatewhitevc.com
73 Duke Street
A long-time British manufacturer that recently set up its own menswear line. Well-made jackets and coats at very reasonable prices, particularly distinguished by the functional aspects of the designs and copper hardware.


8. Lock & Co, Bate's and Christy's
www.lockhatters.co.uk, www.bates-hats.co.uk and www.christys-hats.com
6 St James's Street, 37 Jermyn Street and 16 Princes Arcade
Nowhere else in the world would you find three great hat companies in such close proximity. Lock & Co has the history, of course, and beautiful hat boxes, but if you're actually shopping for a hat then the other two are worth visiting as well.


9. Nigel Cabourn and The Real McCoy's
www.cabourn.com and www.realmccoys.co.jp
28 Henrietta Street and 15 Henrietta Street
These two casualwear brands both set up their first shops in London this year, on opposite sides of the street. Both specialise in recreations of old styles, with McCoy's aiming for precise imitations, and Cabourn more inspiration and modern improvement. The latter also does more seasonal designs, and I highly recommend the coats and knitwear.


10. Son of a Stag
www.sonofastag.com
9 Dray Walk
Possibly the best shop in London for denim and leather. Stacks of imported Japanese brands, leather jackets from around the world and chain stitching on site. If you like the workwear style, also worth checking out Present and Albam in this area of east London.


11. Turnbull & Asser
www.turnbullandasser.co.uk
71-72 Jermyn Street
The scale of the Jermyn Street shop is what will impress most people. Quality menswear and accessories in almost every department, with bespoke round the corner. Getting more of a designer edge, but still with one of the broadest offerings to sartorial men in London.


12. New & Lingwood
www.newandlingwood.com
53 Jermyn Street
Across the street from Turnbull & Asser is another unique outfitter, again across two shops. In contrast with T&A, however, I would recommend N&L for the unusual – both in terms of colour and design. Few other places stock cloaks. Few have so much in green and pink. Plus the dressing gowns are beautiful.


13. Bentley's Antiques
bentleyslondon.com
91 Lower Sloane Street
A lovely antiques store specialising in luggage, bags and men's accessories. Run by Tim and Julian, with a well-curated and revolving collection. Recently re-housed in a new shop on Lower Sloane Street.


14. Harrod's and Liberty's
www.harrods.com
87-135 Brompton Road and Regent Street
If you simply want the greatest range of luxury clothing, Harrod's is the best department store. But most brands in there wouldn't get in this list. Liberty's, meanwhile, is worth visiting for its superb perfume section. The best-curated collection you'll find anywhere. Avoid Selfridge's.


15. Edward Green, Mackintosh, Tricker's, Smedley etc…
There are a lot of shops in London, probably more than in any other city, that have their sole retail outlet in London. I wouldn't necessarily recommend the shops for any other reason, but if you're a fan of those brands, they are likely worth visiting.

There are many, many more places in London I would recommend, but there simply isn't room. It seems criminal to leave out Cordings, Budd shirts, Sunspel and Thom Sweeney. In fact, writing this post has made me realise afresh what a diverse and innovative menswear destination London is. Let's hope it stays that way.
Please feel free to leave your own recommendations in the comments.