Introducing: The Rider's Raincoat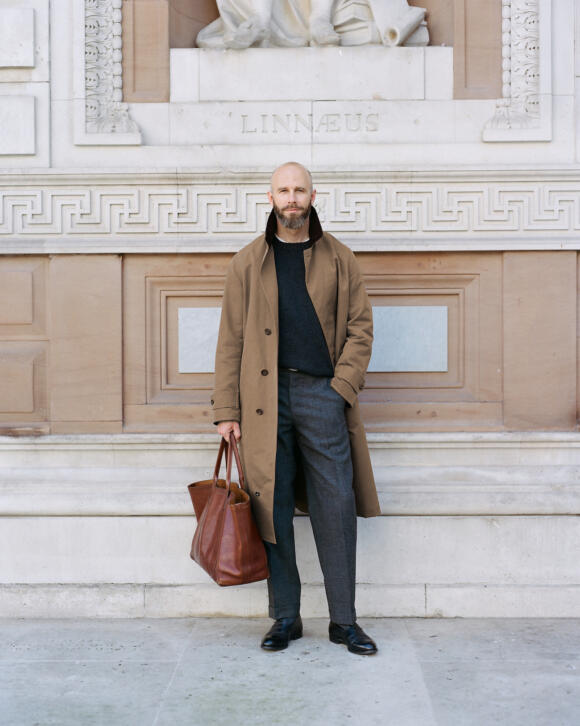 About eight months ago we made the decision to discontinue our trench coat in favour of something simpler and subtler. A few conversations with friends had brought up the issue, repeatedly, of not being able to find a really stylish but understated, single-breasted raincoat.
I had one coat in my wardrobe that fitted that description, but it had been designed by Drake's back in 2017. It had a lovely shape to the body, straight and clean, with a relatively large collar that framed the face nicely.
I wore it mostly with casual outfits, but it worked equally well for a knit and flannels too. The simplicity made it the coat I reached for on a warm but wet day in particular - it was the only one that felt right over something like a T-shirt and jeans.
So I began talking to the Drake's team about bringing in back, as a collaboration. They were keen, which was lovely, and the result is the 'Rider's Raincoat' we're launching today, available on the PS Shop.
I called it the 'Rider's Raincoat' because I knew from talking to the design team at the time, that the shape had originally come from a vintage horserider's coat. That was what gave it the long, straight cut and high vent at the back.
It had been changed and updated of course, and in many ways this was symptomatic of why I liked the piece - it reflected one of my favourite periods of Drake's, when it felt like so many parts of a traditional man's wardrobe, from shetland sweaters to cord trousers, were being made contemporary again: made to be and shown to be relevant.
The material of the coat is a super-compact cotton twill, from an Italian mill that specialises in technical outerwear. It has a similar waterproofing effect to the Ventile we've used in the past, but it's denser and sharper, contributing to the silhouette.
Although, over time I've found the material mellows and softens, rather like a dense pair of workwear chinos. One of the advantages of having worn this coat for many years is I can speak from a little experience.
There was one significant way in which I departed from my original, however, and that was the colour. Rather than go for a standard beige, I wanted a darker shade that felt more contemporary, and which I knew would work with a full range of readers' outfits, from smart to casual, brown shoes and black.
I'm really pleased with the resulting grey/brown. As I've tried to show with these pictures, it works well with black and greys (and dark navy too) making it a great office coat.
But it's also good with jeans, a T-shirt and a cap, as shown in the more casual outfit. As I mentioned in passing when we redid the trench coat, a good reflection of the versatility of a men's coat is when it works with both black and brown shoes - it means it does smart and casual, on duty and off.
Even tan is nice against the coat, certainly in accessories. My beloved 'chestnut' tote bag from Frank Clegg is carried in images above, while a lighter, more English tan is shown in the alligator case below.
The material is highly water-resistant, both because of the dense weave and an immersive treatment (no spraying, no PFCs) that never needs to be reapplied. As we've discussed in the past, there's always a trade-off between attractiveness of material and waterproofing, and no one commuting to the office really needs Gore-Tex. That's for camping or hiking, when you're out for long periods of time and it's harder to dry out.
This dense twill has kept me dry even in heavy downpours - as we've had in London recently - even without taped seams. Again, it's nice to be able to speak from experience.
You can also button the coat up to the chin, use the throat latch if needed, and belt for warmth.
I personally wear the coat open, fastened with the top two buttons, or with just the second, depending on the protection required. Using those two upper buttons is particularly satisfying. The throat latch I rarely use, so in the pictures I've removed it and buttoned it inside the coat.
It is important to use the belt in some way. I've watched so many guys try on raincoats and think they're too big in the body. The whole point of a belted raincoat is to cinch it with the belt.
It's big in the body so it fits over everything, but most people don't want that much of an A-line - so belt it around the front in the traditional way, or cinch at the back with a simple knot (eg over-and-under, twice).
And play around with it - cinch more and less, find what gives you some shape without being anything close to tight. There's a lot to play with in a raincoat; it's a fertile ground for 'how to wear' as much as what to wear.
Another reason I always liked this coat was the pocket set-up.
The angled hip pockets have a double entry, so you can put your hands in the outer pocket but also reach through to the internal pockets to get something. I tend to have things like a hat, a wallet or keys in those pockets, and can get them easily if needed, even in the rain.
But then there's also a phone-sized pocket behind the fly front, like the Wax Walker. So you can more quickly reach a phone or something else.
That reminds me, one of the little style things I love about the coat is the big, wide fly front.
Something about its width gives the coat such character. It belongs in a group of design touches that includes:
the dense rows of stitching on the belt

the similar rows on the collar stand

the reinforcement around the sleeve seams

the zig-zags on the collar

the sharp overlapping vent

and the locker loop on the back
They're all little things, but they build up into a uniquely appealing design. And like the best menswear, they're all driven by function.
I can see some people disliking the locker loop, but I really like its personality, and like using it to hang the thing after a walk in the rain, perhaps on a hook inside the door of a pub. It would be too much on a complicated piece like a trench coat, but on this simple style it's both practical and characterful.
We decided not to do a lining with the coat largely on economic grounds. Having one in the trench coat always made it expensive, and some readers had said that they'd have preferred to pay for just the coat and make it more affordable. I wanted to keep this as close to a thousand pounds as I could, and this was the best way.
Other things to note are that Drake's are stocking the coat, so it's available to try on in the London store. It will also be with them when they hold their pop-up in Paris this week, at 47 Rue de Montmorency, October 5-7. And it will be in the New York and Seoul stores early next week.
Of course, we always appreciate it when people buy from us and we will have it with us when we come to New York for our pop-up in mid-October, and the London pop-up in early November.
The coat is not part of the PS outerwear available to try on at William Crabtree, who are holding try-ons of all other coats through October.
The Rider's Raincoat costs £995 plus VAT (£1195 in the UK) and is available to buy now on the PS Shop, in sizes XS to XXL.
Details:
Outer material 100% ultra-dense cotton twill

Tattersall lining in 100% cotton heavy shirting cloth

Corduroy lining on collar and cuffs

Sold-brass belt buckle

Dark-brown horn buttons

Removable throat latch

'Pass through' double hip pockets

Phone pocket in the fly front

Made in Italy
Sizing:
Simon is wearing a Medium/38 (UK chest size, 48 European)

He could also wear a 40 (it would just be a little more cinched in body)

We recommend looking at the chest size and comparing to a raincoat you own (more than the shoulders or waist)
Size chart:
| | | | | | | |
| --- | --- | --- | --- | --- | --- | --- |
| | X-Small (34) | Small (36) | Medium (38) | Large (40) | X-Large (42) | XX-Large (44) |
| Chest | 56cm | 58.5 | 61 | 63.5 | 66 | 68.5 |
| Shoulder width | 45.6 | 46.8 | 48 | 49.2 | 50.4 | 51.6 |
| Hem width | 76 | 78.5 | 81 | 83.5 | 86 | 88.5 |
| Centre back length | 116.5 | 117.5 | 118.5 | 119.5 | 120.5 | 121.5 |
| Sleeve length | 63.2 | 64.1 | 65 | 65.9 | 66.8 | 67.7 |
Note: As with most garments, tolerance is around 1cm. Including measurements to the nearest millimetre does mean greater accuracy
Alterations:
Not the easiest coat to alter, or one you'd want to change the style of much, but some changes are possible:

Body can be shortened by a good tailor, but not lengthened (though given the length, hopefully not required by many)

Sleeves cannot be lengthened, but could be shortened (same restrictions as with other coats with wrist straps: can only shorten a bit or would need to remove strap)

Body can be slimmed through the side seams, but again wouldn't recommend as would change the style, and you can cinch as much as you want with the belt