Introducing: The lightweight Friday Polo
Lovely as our Friday Polos are, they're not really built for Summer.
The classic Friday Polo uses a luxurious piqué cotton from Caccioppoli which, while noticeably nicer than other polo cottons, is relatively thick and best suited to the other nine months of the year.
So I tried to find a lighter weight piqué to use in a Summer version. Turns out this isn't easy.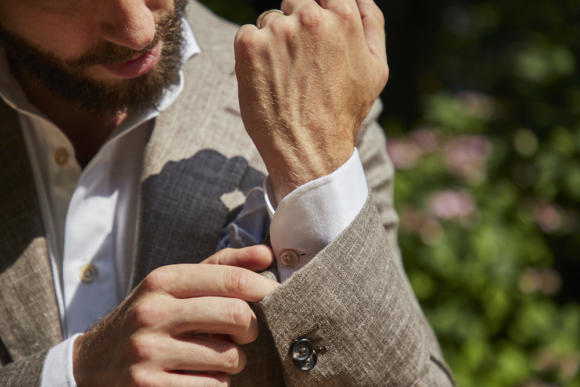 The market is dominated by cheap, relatively coarse cottons that are used by all the high-street brands. High-end cottons, meanwhile, come in small ranges of odd colours and can be rather fragile.
We finally found this white piqué, which is lightweight, fine and very breathable.
And yet it is less delicate and sheer than other fine piqués - chest hair will only be visible if you are particularly hirsute.
Importantly, I also updated the construction of the polo to improve the stability of the placket. This now sits much straighter and cleaner, helping the collar to stay upright under a jacket.
All other details are the same as our classic Friday Polo: cut long to be worn tucked in, made with a collar stand like a proper shirt, and with handwork in the shoulder, collar and buttons. (Shoulder work visible below.)
We only have 50 of these pieces across the four sizes, as it's an experimental run. They are also a little more expensive than the classic Friday Polo (£165 ex-VAT), reflecting the cost of the finer cotton.
More details and availability on the Shop site here.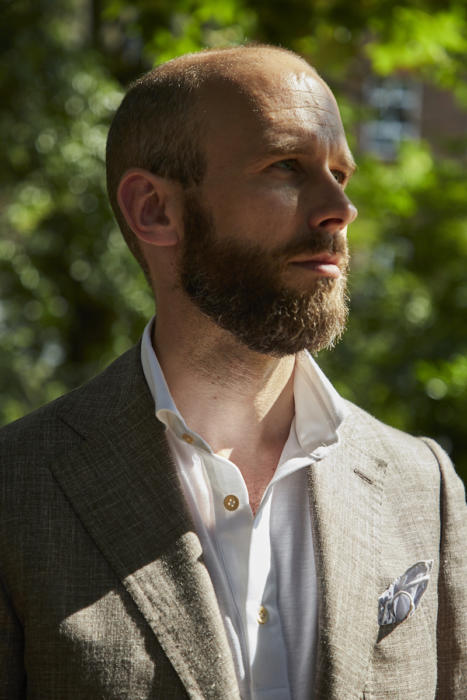 Also pictured:
A pale-brown wool/silk/linen jacket by Biagio Granata (review coming when I receive the trousers that go with it)
Charcoal Crispaire trousers from Luxire (they made me a second pair to show they could correct the fit points - which they did, very well)
Brown-suede unlined Dovers from Edward Green (a recent acquisition and now the most comfortable shoes I own)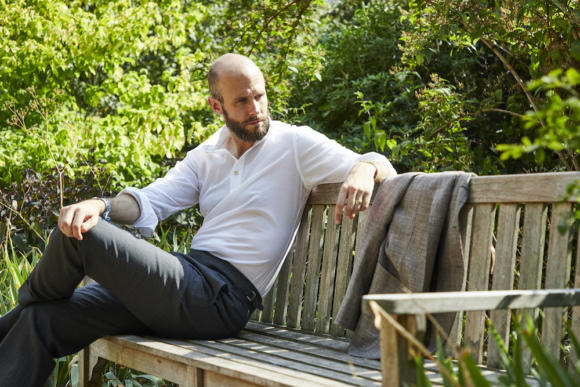 For anyone that is new to the site (hello!) further details on the Friday Polo below:
Project started with Neapolitan bespoke shirtmaker Luca Avitabile, who has been making my shirts for a few years.
Concept was to use the best materials and as much as possible make them in the same way as Luca's bespoke shirts.
Everything is hand cut, and there are five points of handwork: hand-inserted sleeves, buttonholes, buttons, gussets, and ends of the cuff placket.
Mother of pearl buttons and slots in the collar for shirt-stays
Stand collar, like a shirt, to help it sit under tailored jackets
Long tail and front, as the polo is designed to be worn tucked in
Other useful details:
Shirts will not shrink when washed, but should expand slightly in the waist. Do wash cool and line dry
Sold at below the normal retail price. With a standard retail mark-up these would be over £250
Four sizes: Small, Medium, Large and Extra-large.
Shirts have a moderately slim fit. In the images I am wearing a medium
Details on sizing and measurements available on the Shop page
If you are unsure about fit, we recommend comparing the measurements to a polo shirt you currently own.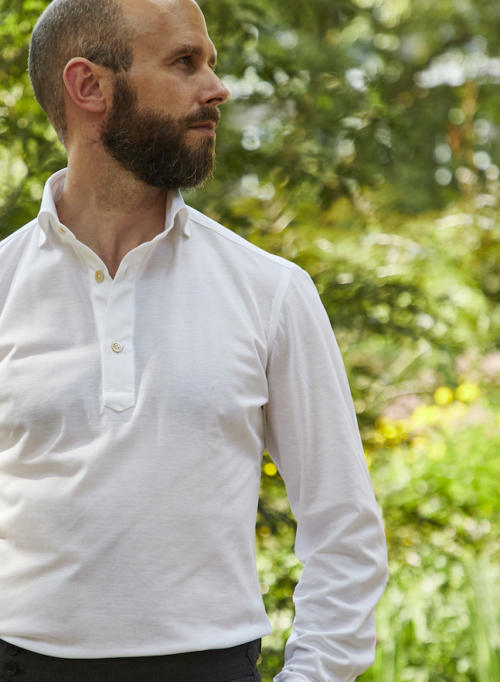 Photography: James Munro