Frieze art fair: How the rich collector dresses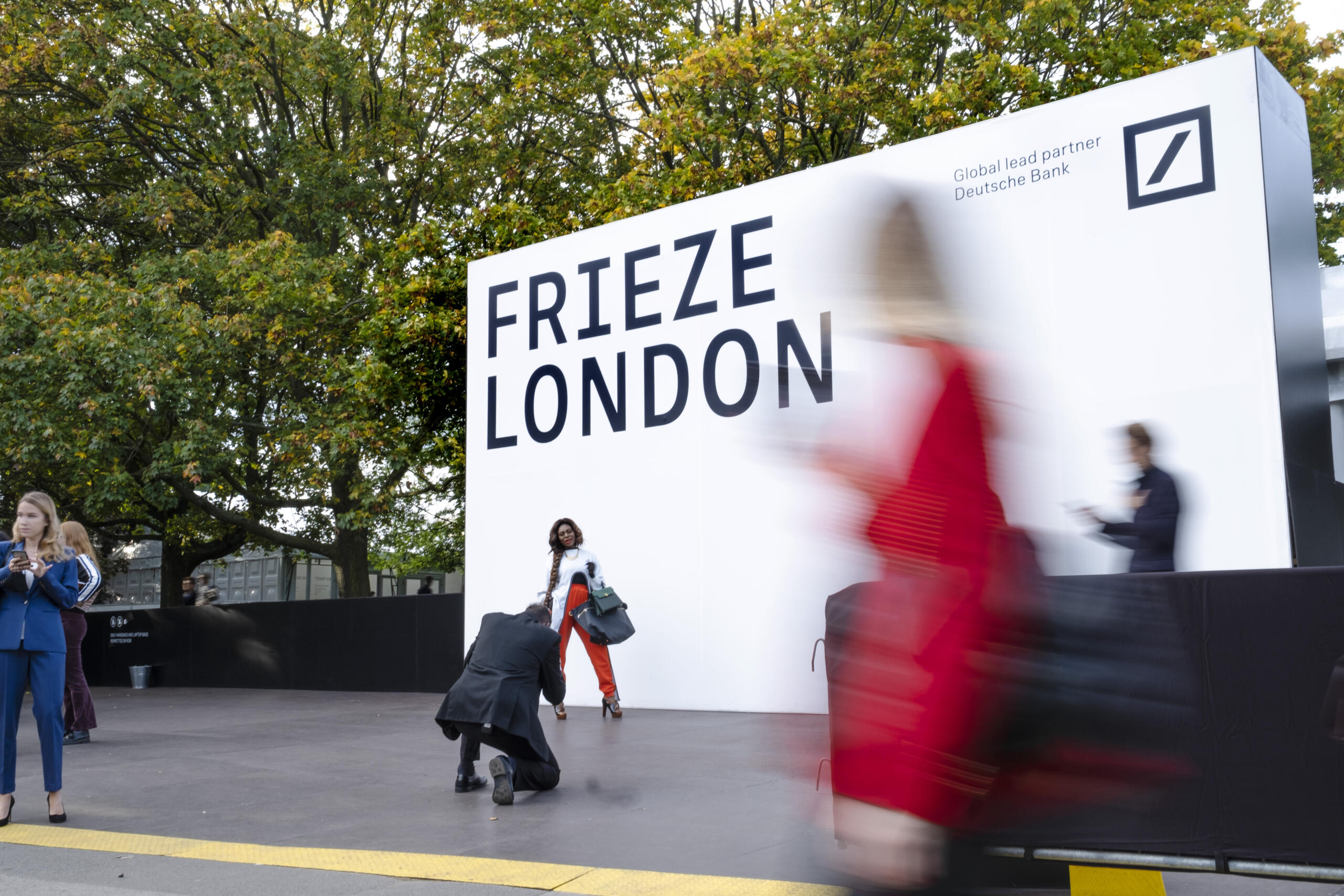 Frieze, the contemporary art fair in London, makes for great people watching. The art world brings in such a broad spectrum of types, of tribes. Although from a clothing point of view there always seems to be one consistent theme, which is a specific mix of lots of money, and dressing up.
In fact, you can spot people going to Frieze around Baker Street station not because they're wearing a particular style (it could be tailoring, fashion, streetwear) but because they're so clearly making an effort.
Perhaps it's connected to the money. The clothes often look new, shiny, unwrinkled. But there is also a sense that people know they're going to be on show, and so are dressing up for the occasion.
The interesting question then is, what does 'dressed up' mean to this particular international rich set?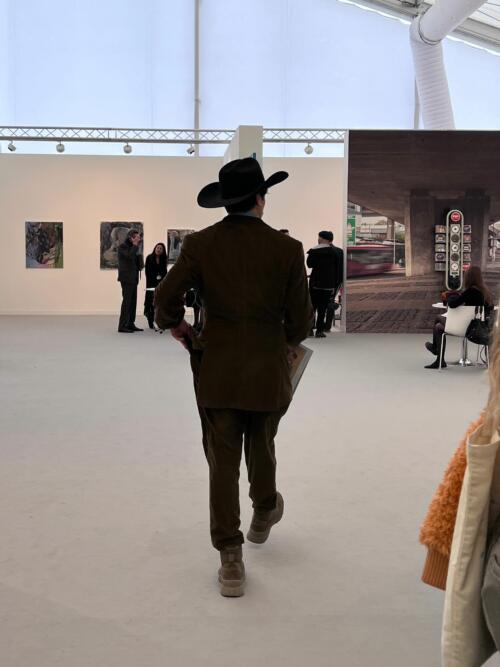 Sometimes it means going full bore on a particular genre. A tall man sat down next to us at lunch wearing an actual 10-gallon hat, complete with leather jacket and leather trousers. Of course, he also didn't take the hat off when he arrived, which was predictably impractical in a crowded restaurant.
Walking around, your eye will often be caught by someone in a full-on heavy-metal look: black faded T-shirt, black jeans, black boots, perhaps studs somewhere around the place. Or a full-on Canadian tuxedo: denim jacket and jeans, with a bolo tie. These are often well executed, but at the same time it's hard to feel there's much individuality, given they're such set looks.
You can understand the temptation though when you see what other men fall into without clear direction. It's that familiar menswear problem: suits and ties are out, you can't just wear a T-shirt and jeans, so what do you wear?
The worst is a suit and sneakers. Not because it can never work, but because the execution is often poor. Trainers with tailoring is not my style, but I can see it can be done better or worse. Most obviously, you need enough clearance between trouser and trainer that they never touch or, the other extreme, a wide trouser that puddles all over on the shoe.
Either can be its own, consistent style, but few men were doing that. More common was skinny jeans, chunky trainers and some kind of ill-fitting jacket substitute, like a chore. It's not the three pieces of clothing together that's the problem - it's the fact there's little understanding of how they should work together, particularly around fit and proportion.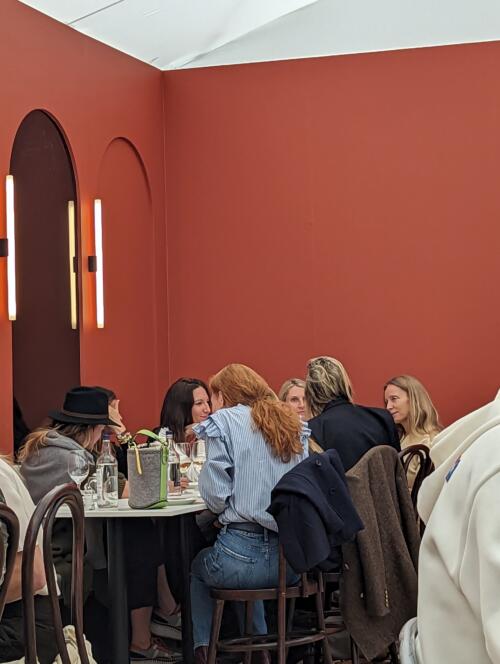 It's glaringly obvious this can be done better, because the women are everywhere doing it better - and often in boyish combinations.
If you wanted to see how a tweed-jacket-and-jeans could be done well, you only had to look at the women. If you wanted to see a velvet jacket worn in a modern and informal way, again there were plenty of examples.
One table at the wonderful Maison Francois, where we had lunch, was taken by a group of seven women, all of whom I would have taken style points from. One in an oversized shirt, jeans and boots; another in navy blazer with pegged chinos; another in a tonal combination punctuated by bright-yellow heels.
As ever with women's clothing, the key is not to lift any of this wholesale, but to learn little things here and there - how proportions compliment and contrast, or how similar colours are broken up with a scarf, a belt.
This lady below was wearing a loose but flattering indigo-dyed linen suit, with a black blazer worn over the top. And wonderful old leather sandals.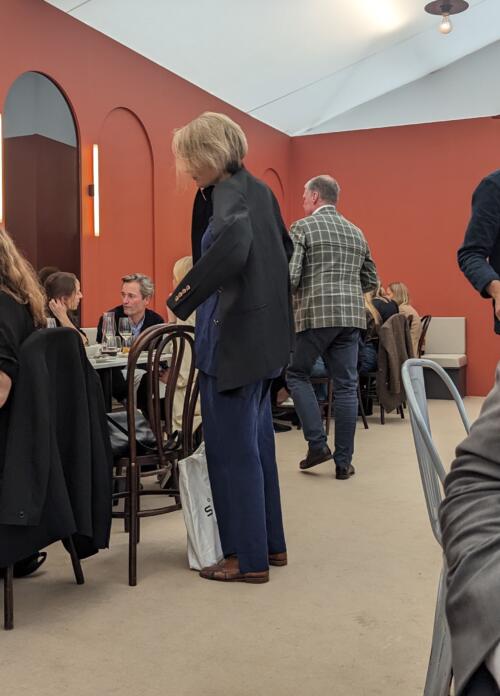 One more negative, before I move onto outfits we liked: the male tendency to focus on an item rather than an outfit.
We see this in classic menswear with shoes, but in this world, with no limits of money or (almost) propriety, it's more the top layer. A middle-aged man will wear an Issey Miyake pleated jacket, but pair it with a bog-standard T-shirt and jeans. The same with a silk pjyama shirt, or a black leather jacket, or a streetwear denim jacket with shouting written all over it.
I can see the appeal of each, but the thought process just seems to stop there. As if you've bought the shiny thing the salesman was showing you and thought that was it - you never have to think about clothing again.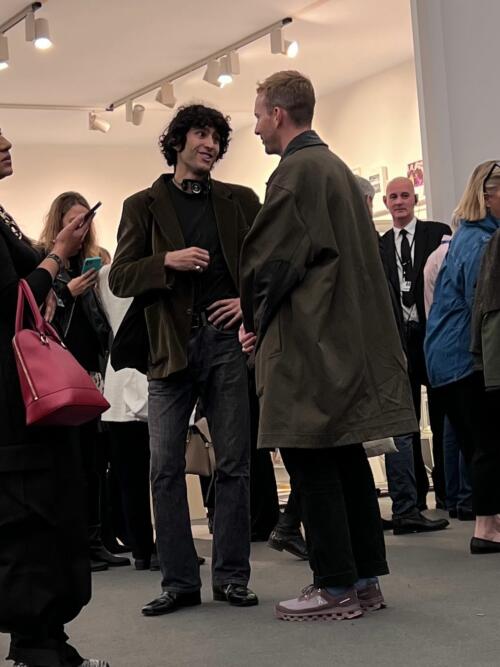 OK, no more negativity. I did find this a little depressing, but also interesting sociologically - how common these menswear issues are across society. And there were also some nice looks around - ones that had both clear personality and were well-executed.
They often weren't my style, but if you find clothes interesting, that shouldn't be a limitation.
Take the two chaps above, for example. On the left is an effective mix of brown and black, shiny and matte, with balanced fits: longer length on the jeans suits the looser, larger jacket; the colour palette suits him; the headphones are a nice touch.
I don't think anyone reading would wear the coat on the right, but it fits the look, and the colour of the trainers is a nice match to the muddy/country palette elsewhere - almost like a trainer version of a lug-soled boat shoe.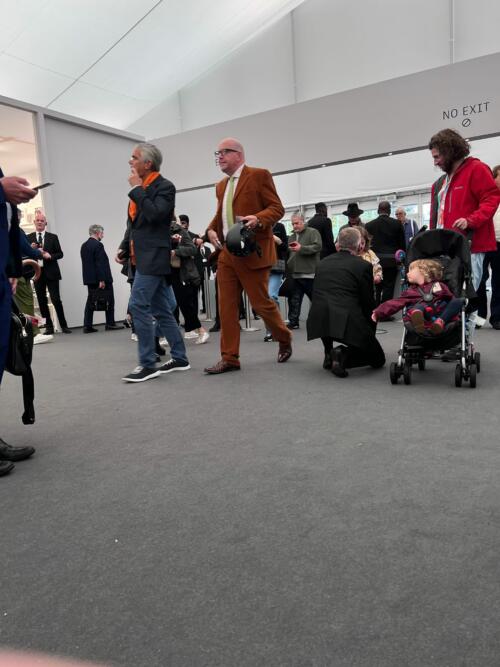 Here, the russet corduroy suit and green tie of the gentleman in the middle are lovely together. The guy on the left is a good example of jacket/trousers/trainers not really working.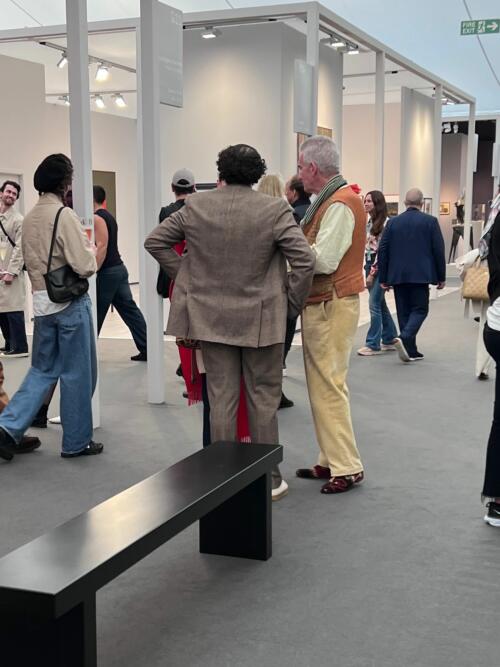 Orange waistcoat, beige cords, carpet slippers, and a looped green-stripe scarf. Pleasingly old-school artist, and nicely done. Behind him, another navy suit with chunky trainers that isn't working.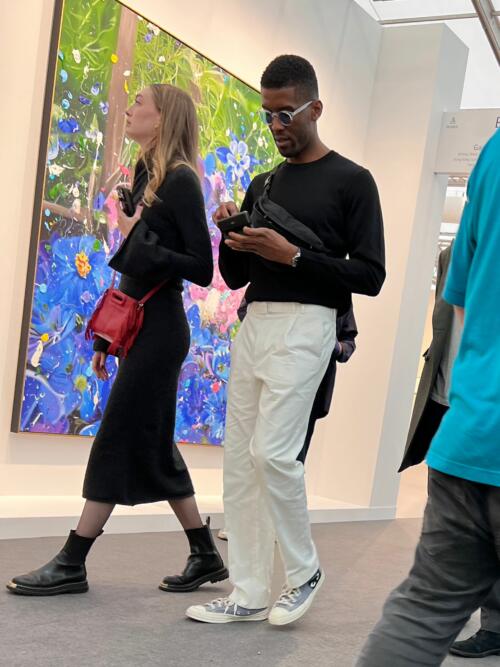 Clean, simple, individual. Nothing extraordinary but a cut above many others by just executing those things.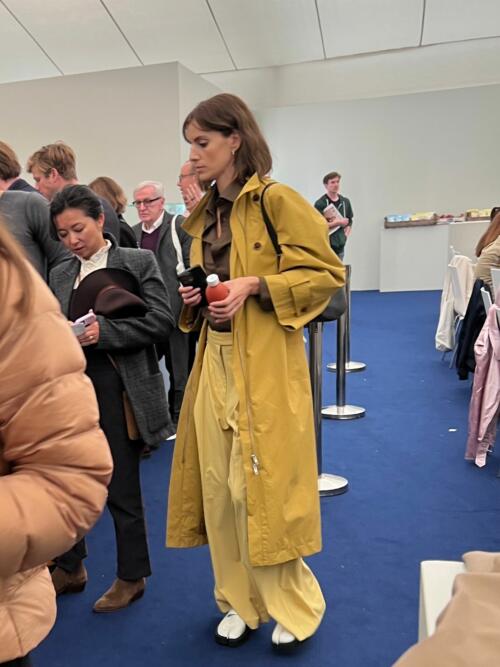 A woman thrown in for the colour combination. Looks like this always made me look twice, to see exactly what the different shades were. And pick up on the tabis.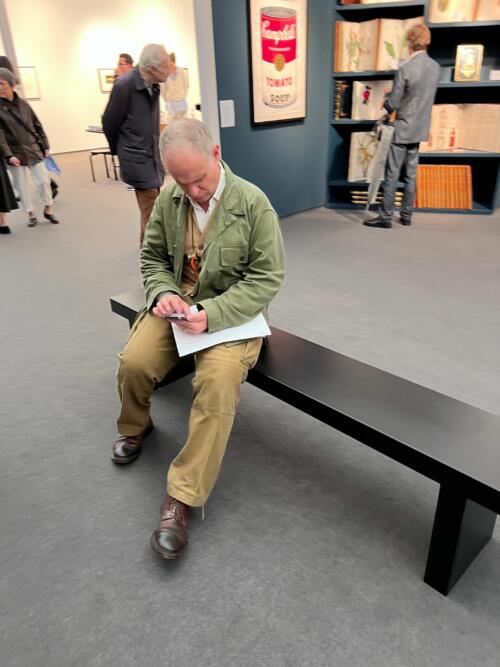 A nicely done workwear look - all in pieces that look perfectly worn in and therefore personal. Such a range of types and tribes.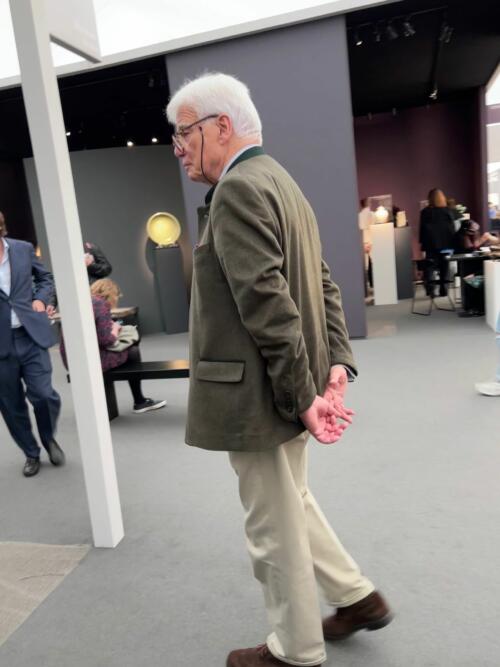 It was nice seeing a sprinkle of older Spanish men in Tebas, and examples of traditional Bavarian or Austrian jackets - generally better executed than the other tailored-jacket-substitutes around. It helps if everyone you know has always worn one.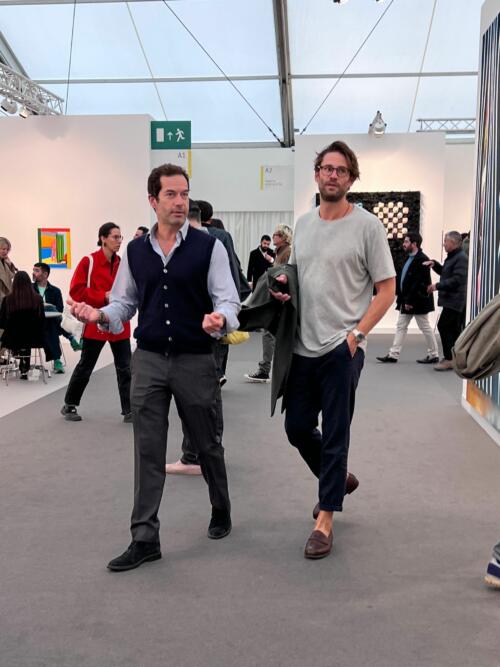 If you're going to do relaxed tailoring, do it with a neat cardigan and a suede shoe. If you're going to do a very loose tee and trousers, have the physique for it. Both of these guys know what suits them.
A full-bore suit style, but with more personality than most and well executed.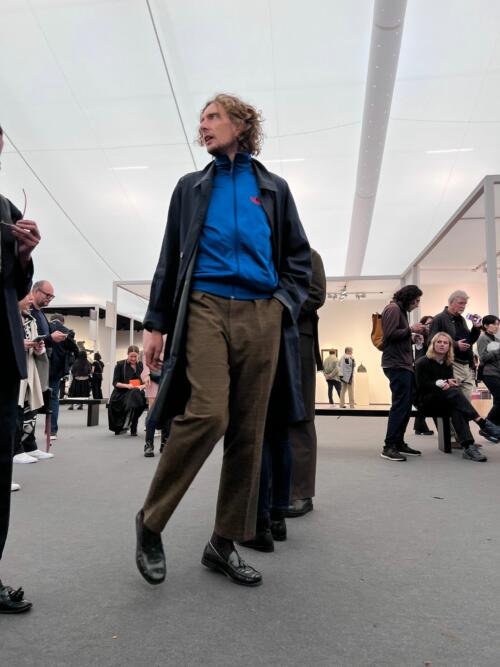 Something about the colour combination was very pleasing here. Helps that the fits are all quite clean.
Just loved the matching trainers.
Although there were many exceptions, this Guardian article gets it right about how the art felt. The clothes were more interesting.