Introducing: The PS linen overshirt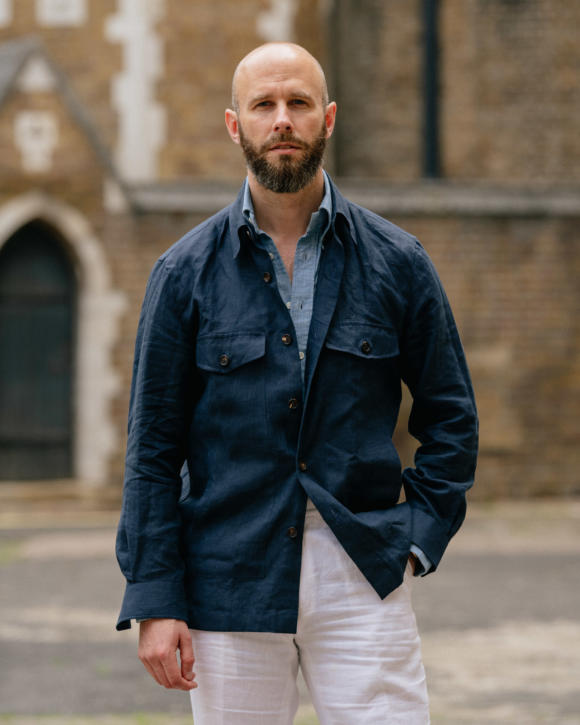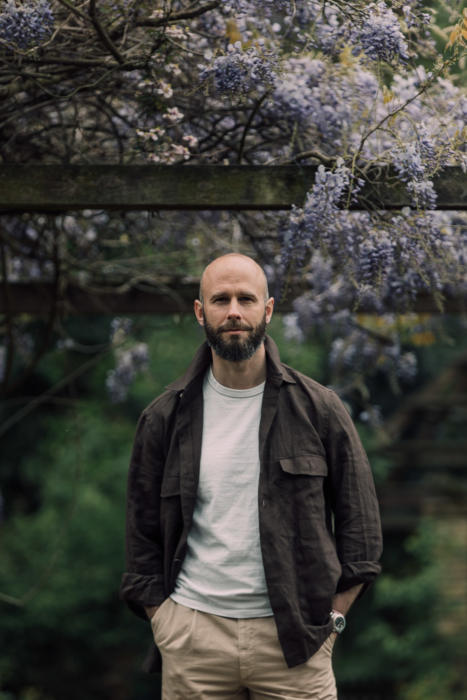 For a long time, my favourite linen overshirt has been an old model from Drake's - readers will have seen it previously here, and it's been worn continuously and lovingly since.
One of the reasons I liked that model was that it had just two chest pockets, with no hip pockets.
The inclusion of hip pockets - as well as other design details, like epaulettes or bellows - always pushes designs towards the Safari jacket for me, which is not the subtle or modern look I want.
After Drake's discontinued the design, I tried the 'Valerio' overshirt from shirtmaker Luca Avitabile. This actually improved on my old favourite, because while there were only two visible pockets on the chest, two side-entry pockets were hidden in the same piece of material, just below.
This seemed to be the best of both worlds. The design was outwardly simple, but there was a pocket at the waist if you ever did need more.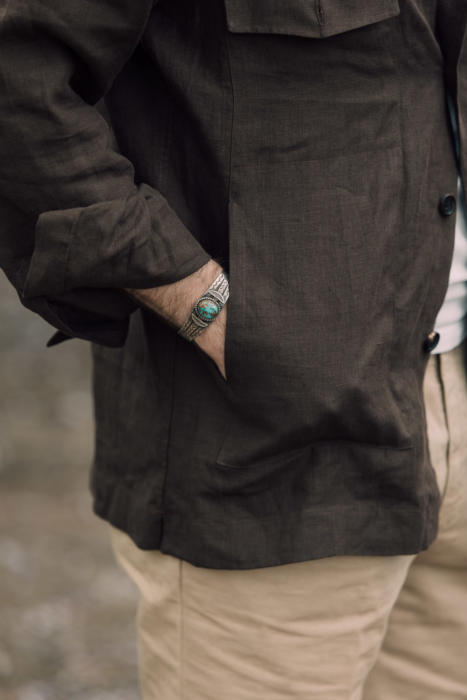 Still, there were a couple of points that I wanted to change on Luca's design, and so I asked him to make me a bespoke one with these tweaks.
As has often happened in the past, this led to us collaborating on a ready-to-wear version, which is what is on sale on the PS Shop today.
The main design change I made was to enlarge the size of those breast pockets. Because nice as they were, the shape was rather shallow and wide. It wasn't big enough to accommodate a mobile phone, and even with a small wallet the horizontal shape was rather counter-intuitive.
It took us a few iterations to get this right. The pocket couldn't be too deep, or it would start interfering with the side-entry pocket below; but it needed to be large enough to hold most mobiles.
In the end we settled on 13cm wide and 17.5cm tall, which seems to fit all but the biggest phones.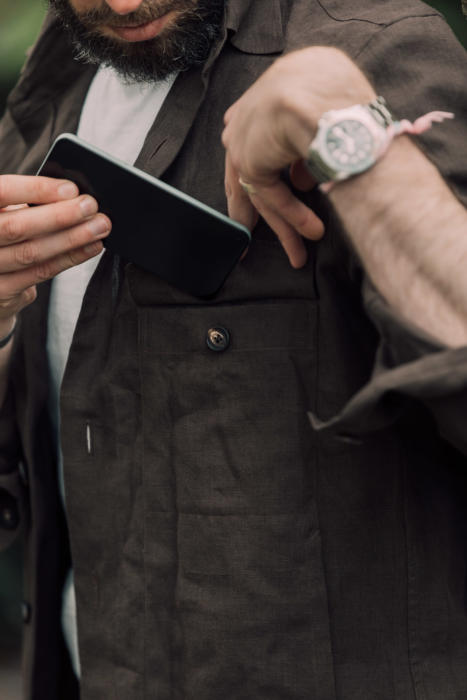 The other change was fabrics.
I've found it difficult in the past to find the right linen in ready-to-wear overshirts. Even the bespoke one I made with Budd back in 2014 proved to be too soft and not have enough body.
The issue I had with some of Luca's ones was colours in the Summer and finish in the Winter.
The wool ones, for Winter or at least Autumn, use a worsted that is too shiny and smooth for my tastes. The linen Summer ones, on the other hand, come in two shades that are too strong - a mid-blue and a bright tobacco - while the navy and olive use a heavier, hopsack linen.
These might seem like small differences, but I find material is absolutely crucial in an overshirt, given that's all there is. It's even more important than with a shirt, as it has to hang and drape nicely too.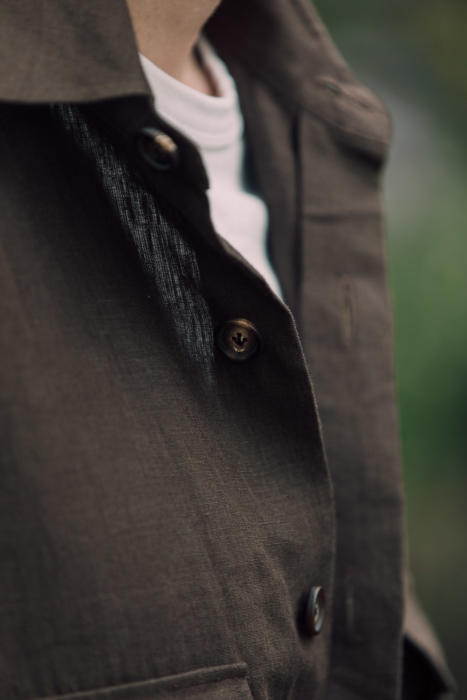 For our overshirts, therefore, I used the same Irish linen as the two bright colours, but in a classic dark navy and deep dusty brown.
These two are the easiest, most useful colours of Summer overshirt for me.
It's easy to be attracted by lighter or brighter colours, but as you're unlikely to have a whole wardrobe of these (unlike sports jackets) they do need to be versatile. And dark layers on top are more useful Summer trousers are more likely to be pale.
One reader already asked which of the two I consider to be the most useful.
To be honest, I think they're just different. I find I wear navy the most, but it has the limitation of not being good with navy chinos or shorts. Brown is definitely better in that regard, but still I find I like and wear navy more.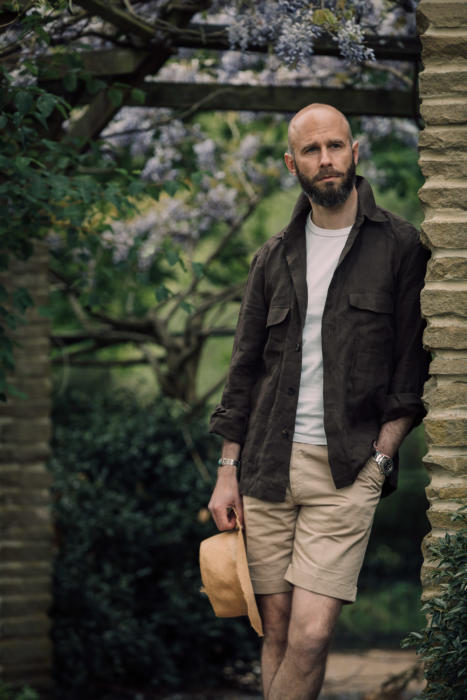 The image above is taken from our recent shorts article, and shows the brown overshirt effectively. That dark, dusty shade is particularly nice with khaki, white, grey and cream.
And then below, the navy is pictured with a slightly smarter combination: a chambray shirt and white-linen trousers.
White trousers with navy is immediately quite smart, showy, perhaps even redolent of the Riviera. But it's toned down by the texture and softer colour of the chambray.
A navy overshirt can of course go with any colour of trouser apart from navy, just like a blazer, from pale green to biscuity brown. I quite like it with the pale green of these linen trousers, for example.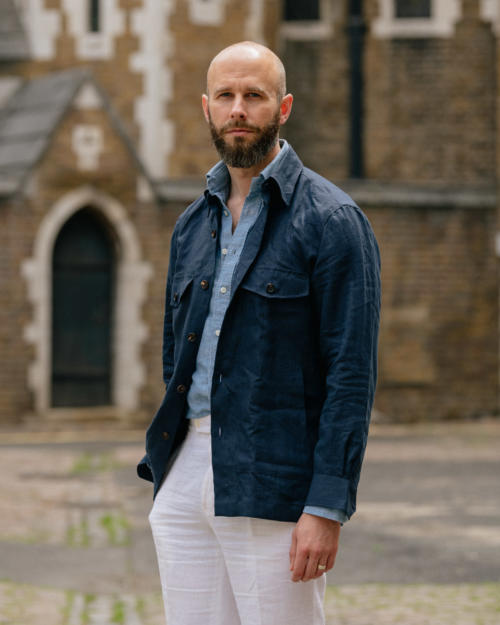 The other outfit I've shown the overshirt with, is the same trousers with a dark-brown knitted T-shirt (from The Anthology). This is useful to demonstrate a halfway house between shirt and tee: something casual, but knitted so more refined.
Like the shorts outfit above, it also shows how someone that doesn't normally wear T-shirts (perhaps because they're less flattering) can put an overshirt over the top to give them that collar at the neck.
Plus of course, the shirt gives you a better place to put your wallet and phone.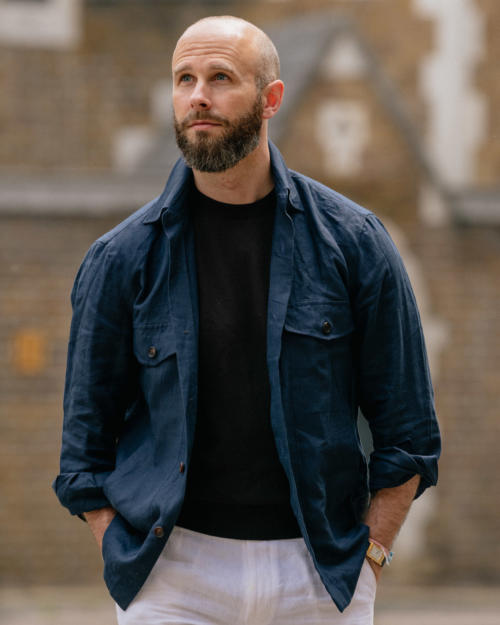 The best geometry for a collar is something Luca and I definitely agree on.
It must lie cleanly on the neck, but stay standing at the back when you put it up (as I often do with a T-shirt underneath). Once popped, the points of the collar should fold gracefully downwards, touching the body of the shirt.
It's not an easy combination, but generally it comes having more structure in the collar stand, and less in the collar itself.
The sleeves, by the way, have a decent length placket, which makes it easy to roll them up if desired. It's probably the most effective way to make the overshirt look more relaxed.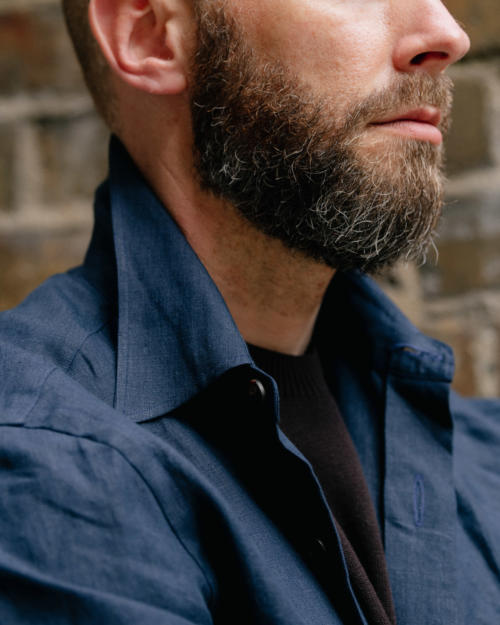 Elsewhere, the overshirt is cut a touch longer than most - 78cm on this size Medium - but as it's just linen, could be easily shortened - perhaps around 3cm before the hem gets too close to the waist pockets.
The body is cut fairly straight, but it's also a little slimmer than some, perhaps vintage-inspired chores and overshirts. Check the measurements below against a shirt you already have to get an idea. It could be slimmed further if required.
Oh, and I forgot to mention there's also another, internal pocket, on the left hip. Also mobile-phone sized.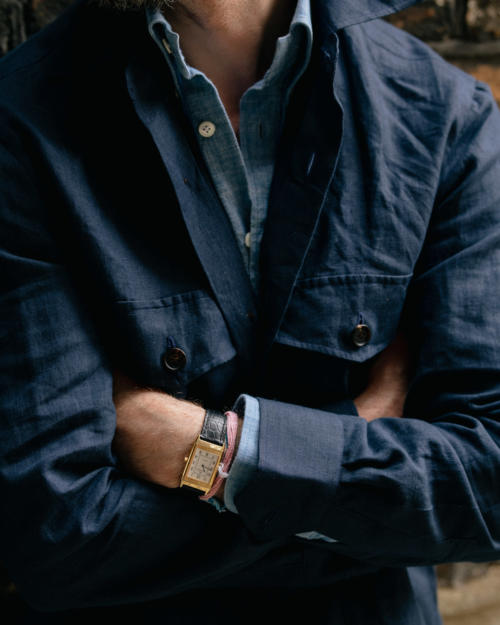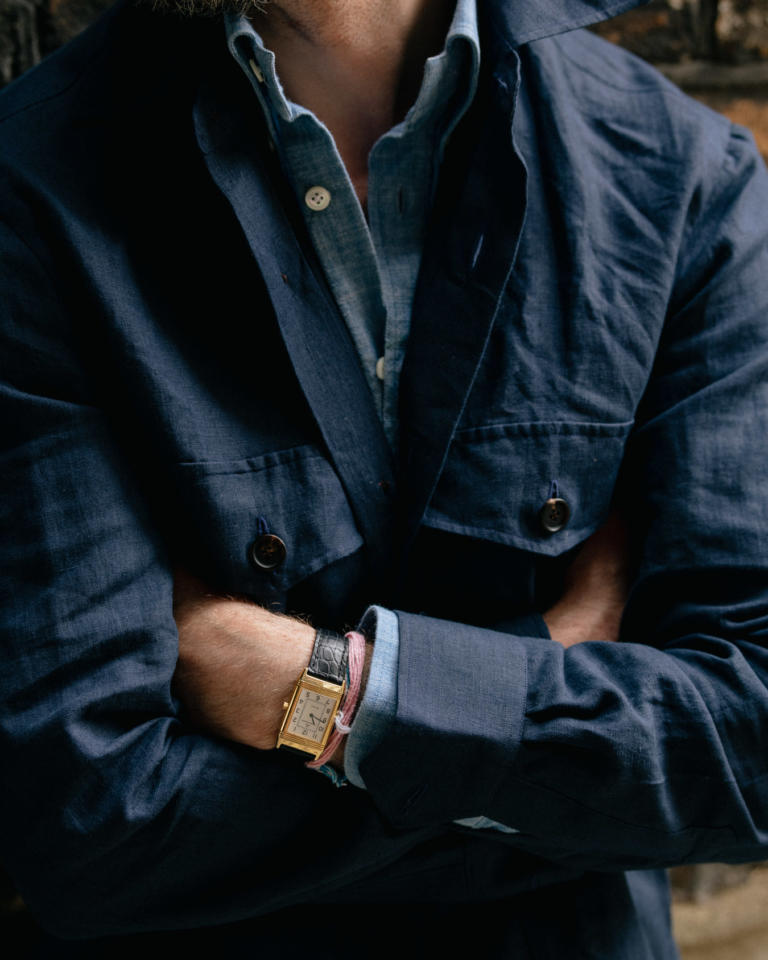 Product details:
The PS Overshirt is made in 100% washed Irish linen, 290gm

The buttons are dark-brown horn

It is made in the Luca Avitabile atelier, Naples

It is a clean machine make: no handwork other than handsewn buttons, unlike PS shirts

The shirt has two breast pockets, two hidden waist pockets, and one internal hip pocket

It can be washed cool (30 degrees) and hung to dry, as with a fine linen shirt

It is available in dark navy and dark brown
Sizing:
In the pictures, Simon is wearing a size Medium

The body is cut straight but slightly slim compared to other chores and overshirts

It is relatively long. Generally, an overshirt should reach somewhere between the bottom and halfway point of your seat

Alterations, as on a shirt, are easy. The only limitations are the waist pockets, if shortening the body, and reducing the length of the placket, if shortening the sleeve.
Size chart:
| | | | | | | | |
| --- | --- | --- | --- | --- | --- | --- | --- |
| | Neck | Chest | Waist | Shoulders | Back length | Sleeve | Cuff |
| Small (44-46) | 38.5cm | 112 | 102 | 48 | 76 | 60 | 24 |
| Medium (48-50) | 40.5 | 118 | 110 | 50 | 78 | 62 | 25 |
| Large (52-54) | 42 | 124 | 116 | 52 | 79 | 64 | 26 |
| Extra large (56-58) | 44 | 130 | 124 | 54 | 81 | 66 | 27 |