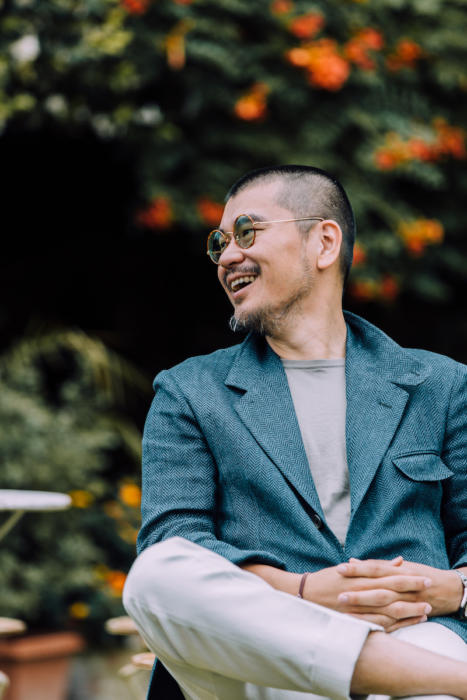 One point that was particularly popular in a recent video chat – 'How can I dress up without a suit?' – was the idea of an unstructured or shirt jacket, to wear at home.
Something that you can throw on for a video phone call, in other words, but doesn't feel odd if you continue to wear it around the house. Very relevant during the lockdown recently, and perhaps increasingly so in the future.
One of the issues with such a jacket is that the cloth is absolutely crucial. As there is no structure in the jacket, you're effectively wearing just cloth. It's purely pieces of material sewn together in whatever shape and size you desire.
So I thought it would make sense to add a brief chapter to our Guide to Cloth, looking at which materials are most suitable.
The Guide is nearing completion now, having covered every type of cloth from summer trousers to the venetian weave, and we're filling in a few gaps here and there. Black tie is another one we'll add soon.
If you read this and the other chapters, and feel there are any more gaps, please do let me know. It's already the most comprehensive reference source out there, I think, but that doesn't mean it can't be better.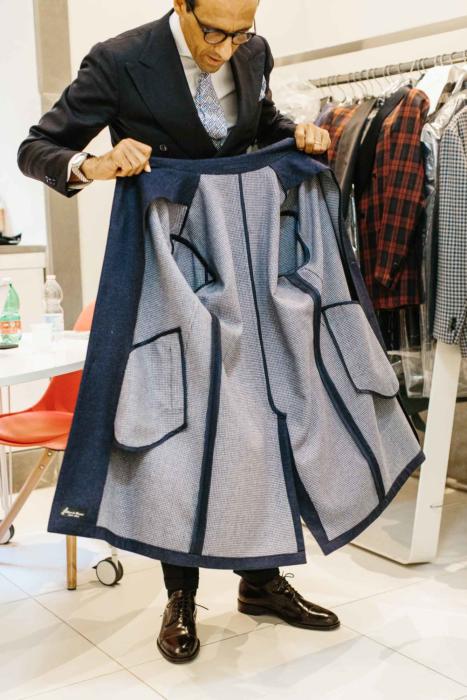 The word 'unstructured' is used in tailoring to describe a range of makes – from a jacket with no shoulder pad or lining, to something with nothing inside at all. Basically, anything that has less structure than the tailor's normal make.
Here, we mean the latter, the entirely unstructured. No shoulder pad, no canvas, no lining. Just cloth. It is probably doubled up on the front of the jacket, to form some type of inner layer, but still – cloth is all there is.
The key characteristic this cloth needs, as a result, is body.
It needs to have enough strength and density to hold a line without the support of structure inside. It needs to drape well: something more commonly discussed in womenswear, but crucial in a menswear piece like this.
If the material is too soft, or too loosely woven, it will crumple as soon as it comes under pressure. The inside of the elbow will squash and fold, distorting the sleeve. The skirt at the back will be crushed as soon as you sit down, leaving a concertina following you around.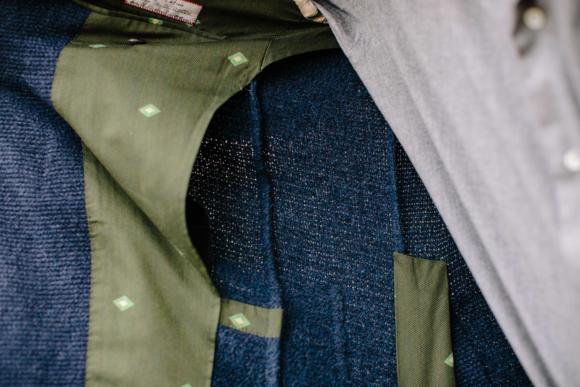 So, what kind of materials have this body?
Well, it's an area we have touched on in other chapters. We know that trousers need this body, for example, and it's a reason a twill weave is so commonly used in trousers.
We also know that soft fibres, such as cashmere, aren't any good without the support of another fibre in the mix. That's something an unstructured jacket has in common with both suits and trousers.
And we know that weight will help. Hence our discussion of light and heavy versions of linen (with linen being, perhaps surprisingly, often cooler in a heavier weight – as it flows more and sticks less).
So denser weaves, stronger fibres, and heavier weights.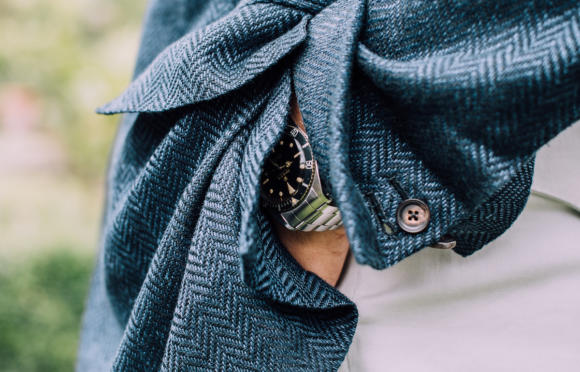 If we start with the more luxurious, and perhaps more formal, type of jacket, then silk and worsted wool will be the things to watch out for.
A lightweight jacket, perhaps 220-280g, in a worsted wool twill, will look sharp and luxurious yet still hold a good line. If something soft like cashmere is used, then silk is helpful in the mix to add body.
A piece like this, if a tailor can make it, will have the wonderful light feeling of a 'giacca-camicia' – a shirt-jacket – with the seams around the shoulders pressed flat and almost invisible. A lovely, cool thing to wear in the summer.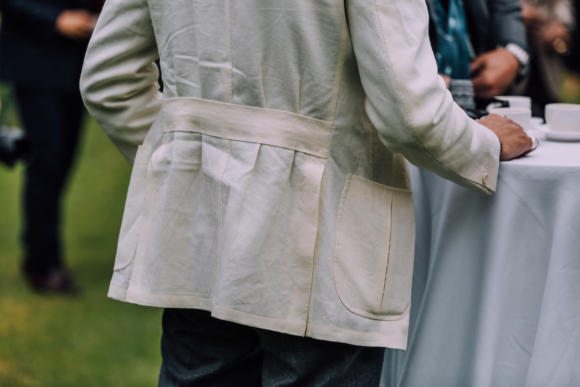 The alternative for an unstructured summer piece is pure linen, perhaps cotton.
This will have less body, and will wrinkle. But it's a conscious choice we've made. We accept the disadvantages because want the cool-to-the-touch feel of linen. Or indeed because we want a different style: a relaxed, rumpled look. The aim is no longer an elegant, clean drape.
Still, if we want to minimise that wrinkling we can. By using a heavier, more densely woven linen: Irish, rather than Italian, in a twill rather than a plain weave, and around 10 or 11oz in weight. The same goes for fine cottons.
The next alternative is a rougher, tougher look: a workwear cotton jacket.
Again, we know that the cotton will not drape well. Cotton just doesn't. But we can still keep a nice shape by using more robust cottons, most likely in a twill weave.
Some heavier, tougher worsted wools can have a similar feeling as well.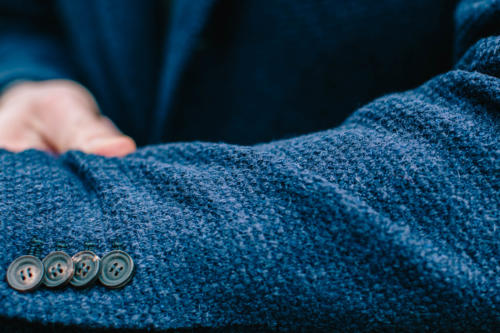 Finally, there are knitted fabrics like jersey.
The advantage here is that they will have natural stretch, so they will feel comfortable in a similar way to a shirt, even if cut closer (the exact opposite of cotton, which usually has no natural stretch).
The downside is drape, and therefore wool is the best fibre to use, and ideally the fabric should be fairly heavy. Otherwise the jacket will look more like a piece of knitwear.
It's also worth investing in good-quality jersey, as cheaper versions have a tendency to stretch and bag-out over time. That elasticity slowly fades away.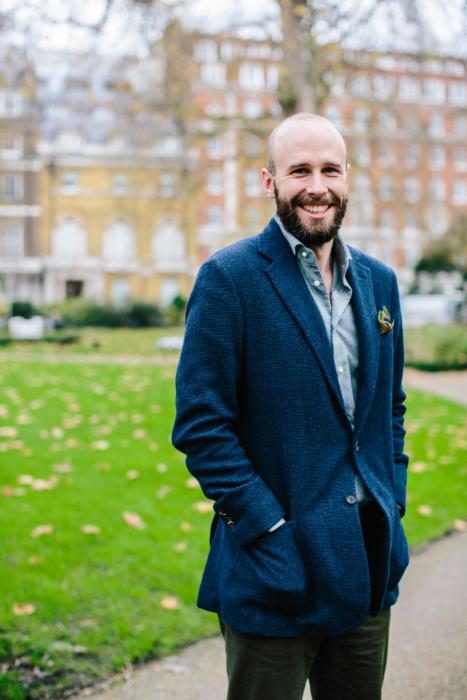 In the end, the key thing about an unstructured jacket is to be clear what look you're after.
A linen jacket will look and feel very different to a fine wool, and again to a rough cotton. There is no structure, so the cloth choice becomes even more important, and they all create very different looks.
You can even have pure cashmere, and it will feel lovely. It will just look more like a blanket hanging off your shoulders than a tailored jacket.
The method of construction makes a difference too of course. A worsted wool piece might be made more like a jacket; a cotton workwear one will probably be rather different, with lapped seams, patch pockets and no doubling of material on the facings.
Also, it is less likely that a bespoke tailor will be able to make something akin to workwear. For that, you will likely be doing made-to-measure, or made-to-order from a brand using a factory – someone like Stile Latino that made my unstructured jersey jacket above.
But cloth choice is important there as well, even if it's more directed by the brand. And indeed if you're choosing between a handful of ready-to-wear jackets.
Jackets pictured, from top, are: