Building a wardrobe: Neapolitan tailoring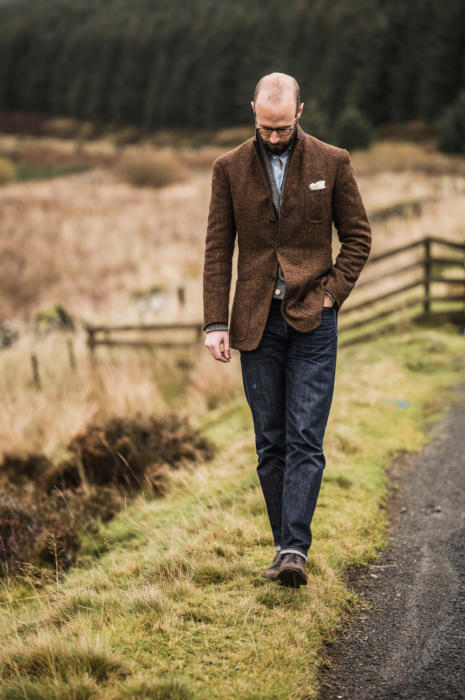 In recent months a few readers have asked for a breakdown of how I built my wardrobe - my plans, my process and my lessons learned.
Doing so across all types of garment and even styles would produce a very long, unwieldy piece, so I thought I would focus on one aspect at a time.
The first, examined here, is Neapolitan jackets.
As time as gone on, I revert more and more to Neapolitan tailors for casual jackets and the occasional casual suit; and stick to English tailors for more business-like and formal suits.
It depends on your work environment and lifestyle of course, but I generally need a 50:50 balance of these two styles.
In the descriptions below have focused on my cloth and style choices, why I picked them and how they have built into a versatile wardrobe. Choices between tailors is covered in more detail on individual posts.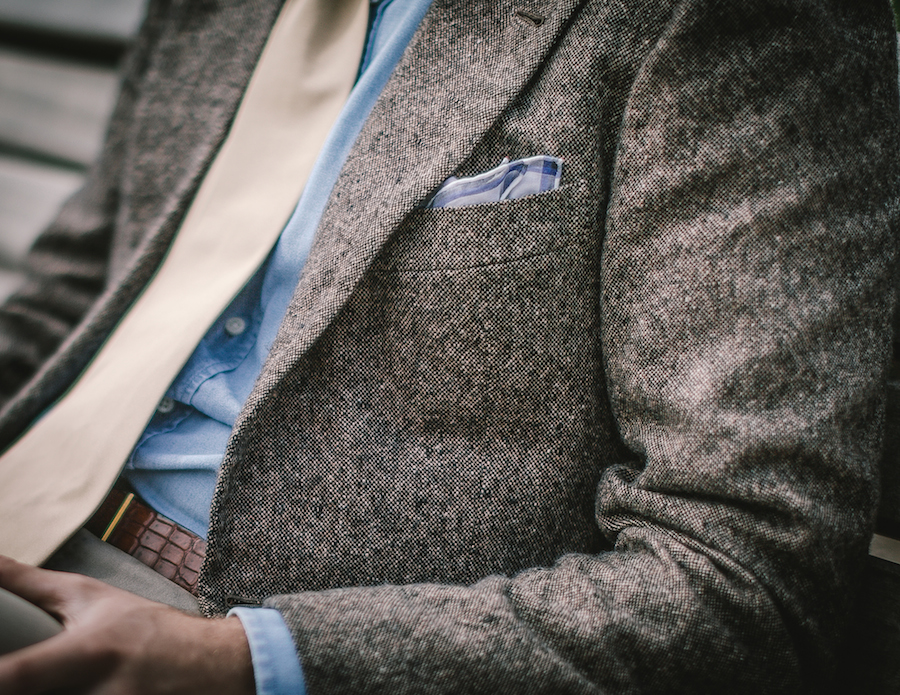 Rubinacci donegal cashmere
June 2011
www.permanentstyle.com/2011/06/rubinacci-cashmere-jacket-4-first-fitting.html
My first experience of Neapolitan tailoring was at Rubinacci, in the (then) new store on Mount Street. I had got to know Luca Rubinacci and was particularly interested in his style, which had applications to the more subtle clothes I wear most days, as well as his louder pieces.
I wanted something very versatile but also with a little interest to it. The brown donegal-patterned cashmere we picked from the Rubinacci archive was, in retrospect, perfect:
The muted brown colour was both suitable for the office and casual enough for denim or chinos

Being an archive piece, the cloth was unusual and had an interesting story

Although more common now, cashmere cloths in a donegal pattern were unusual generally

I restrained myself from having a bright, silk-scarf lining, which was a Rubinacci trademark, and went for a nice shade of olive-green instead. Definitely the right choice.
As with all the pieces listed here, the jacket is pictured above, and the link above goes to more information on it.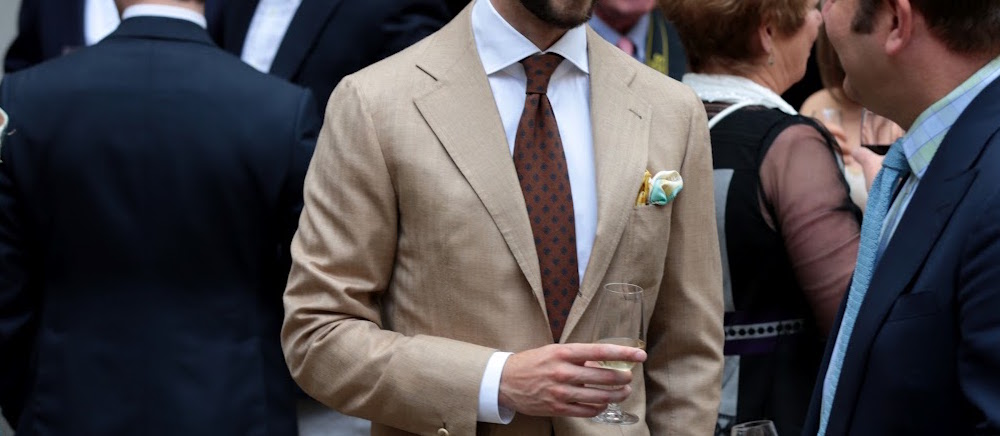 Caliendo summer jacket
July 2012
www.permanentstyle.com/2012/07/elia-caliendo-jacket.html
The Rubinacci jacket was perfect for the UK - wearable seven or eight months of the year - but Neapolitan jackets are particularly helpful in the summer, so I was keen to try something lightweight next time.
When I began working with Elia Caliendo, therefore, I selected a Loro Piana summer fabric that was a silk/linen/wool mix, in a pale straw colour.
I've never seen such a great colour in a summer fabric since, and I even have fears of somehow damaging the jacket and not being able to get hold of anything similar again.
Most light summer colours are too pale or too strong to be versatile, but this muted yellow with brown in the weave was spot on, with the herringbone providing a touch of surface interest.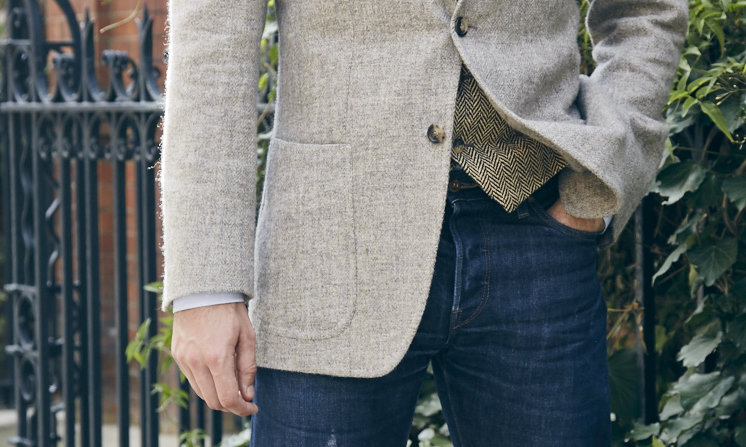 Caliendo grey tweed
October 2012
www.permanentstyle.com/2012/10/elia-caliendo-tweed-jacket.html
When we created a Permanent Style tweed with Breanish in 2012, I really only had Elia in mind to make it. The rough nature of the material was perfect for denim, and it therefore needed a Neapolitan make.
It also felt like a nice combination with the summer jacket and the cashmere Rubinacci.
All three fitted into distinct pockets, with the tweed being by far the most casual of the three, more likely to be worn at the weekend.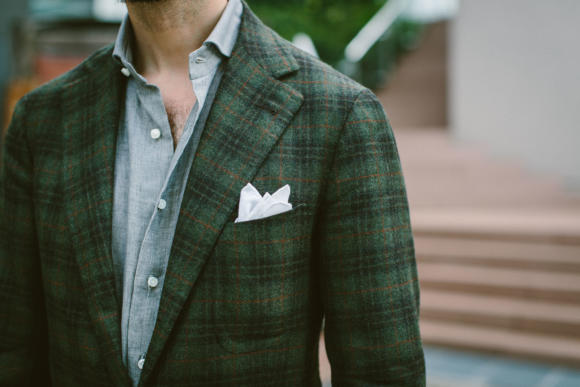 Solito green lightweight wool
May 2013
www.permanentstyle.com/2012/10/solito-jacket-naples.html
So far, my choices seem to have been pretty deliberate and effective. I can take no credit at all, however, for this selection.
I originally wanted a grey glen-check cloth with blue and brown overchecks. I had seen a Sartorialist photo including something similar and wanted to replicate the look.
(Many of my early commissions were influenced by this - including glen-check suits at both Anderson & Sheppard and Henry Poole. Both would in retrospect have been better as Neapolitan-made jackets.)
When I visited Solito in Naples, it turned out the grey glen-check was sold out. So I went with the same pattern in a different colour - this green with black and orange. It was an interesting combination and both dark and subtle enough to not be too risky.
It turned out to be one of my best decisions. Something unusual yet highly versatile is hard to find, but this hit the spot perfectly.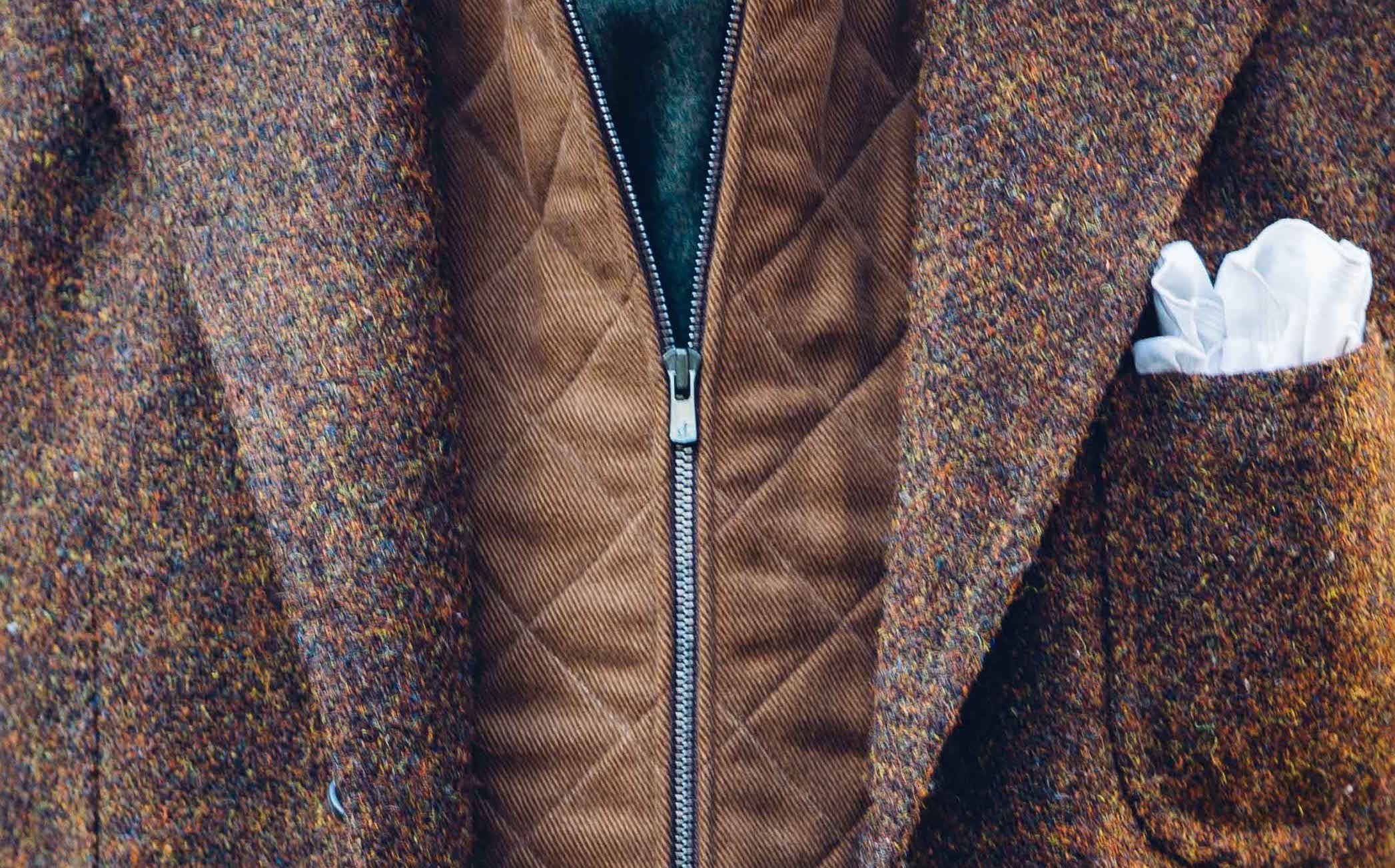 Caliendo brown Harris tweed
February 2014
www.permanentstyle.com/2014/02/neapolitan-tweed-jacket-elia-caliendo.html
This brown tweed might be my favourite jacket of all. But again I can take no credit for it.
Elia, having seen how pleased I was with the Permanent Style tweed jacket, showed me this archive tweed when he met me in London on one trip.
I loved the colour combinations, and since then I've become particularly enamoured with Harris tweed in general - its combination of plain colours made up of such bright, crayon-like threads is uniquely appealing. (A very similar tweed is available through Holland & Sherry.)
It may seem, by the way, that there have been precious few mistakes on this journey through Neapolitan tailoring. And that would be correct: coincidentally, there have been far fewer here than in English tailoring.
But it's also worth noting that I started down this road a year after having my first bespoke suit - at Graham Browne. I had learned the lessons of having too-unusual styles (DBs) or colours (camel-hair overcoats).
Solito navy cashmere blazer
June 2014
www.permanentstyle.com/2014/06/clothes-for-travel.html
If this five-strong collection of Neapolitan jackets lacked something (and God knows I'm always looking) it was a more formal jacket.
Not to replace the English suits, but as a more relaxed option around the office.
If I have any kind of uniform, it is such soft-structured or drapey jackets (so they can be worn at a desk all day), an open-necked blue shirt, flannel trousers and brown shoes. A Neapolitan but smarter option here would be good.
A navy-cashmere is as useful as it gets in that regard, and it has proved to be the heaviest-worn of all of the jackets listed here. Perhaps even of all the jackets I own.
When you like wearing polo shirts, grey shirts or denim shirts under a jacket, something simple and versatile like navy cashmere comes out a lot.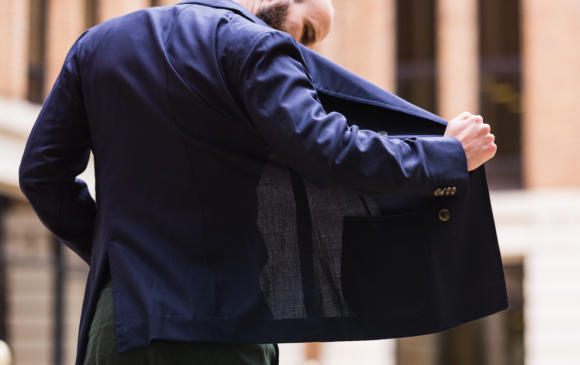 Caliendo hopsack DB blazer
May 2015
www.permanentstyle.com/2015/05/hopsack-blazer-the-perfect-summer-jacket.html
The navy cashmere was such a success, in fact, that my next commission was a summer version, in hopsack.
In one way it could be seen as my first mistake, however. I had never had a double-breasted jacket from a Neapolitan maker before, and couldn't resist trying it.
Much as I like Elia's DB style, and have worn the jacket regularly, a single-breasted version would have been even more useful and would have been worn more.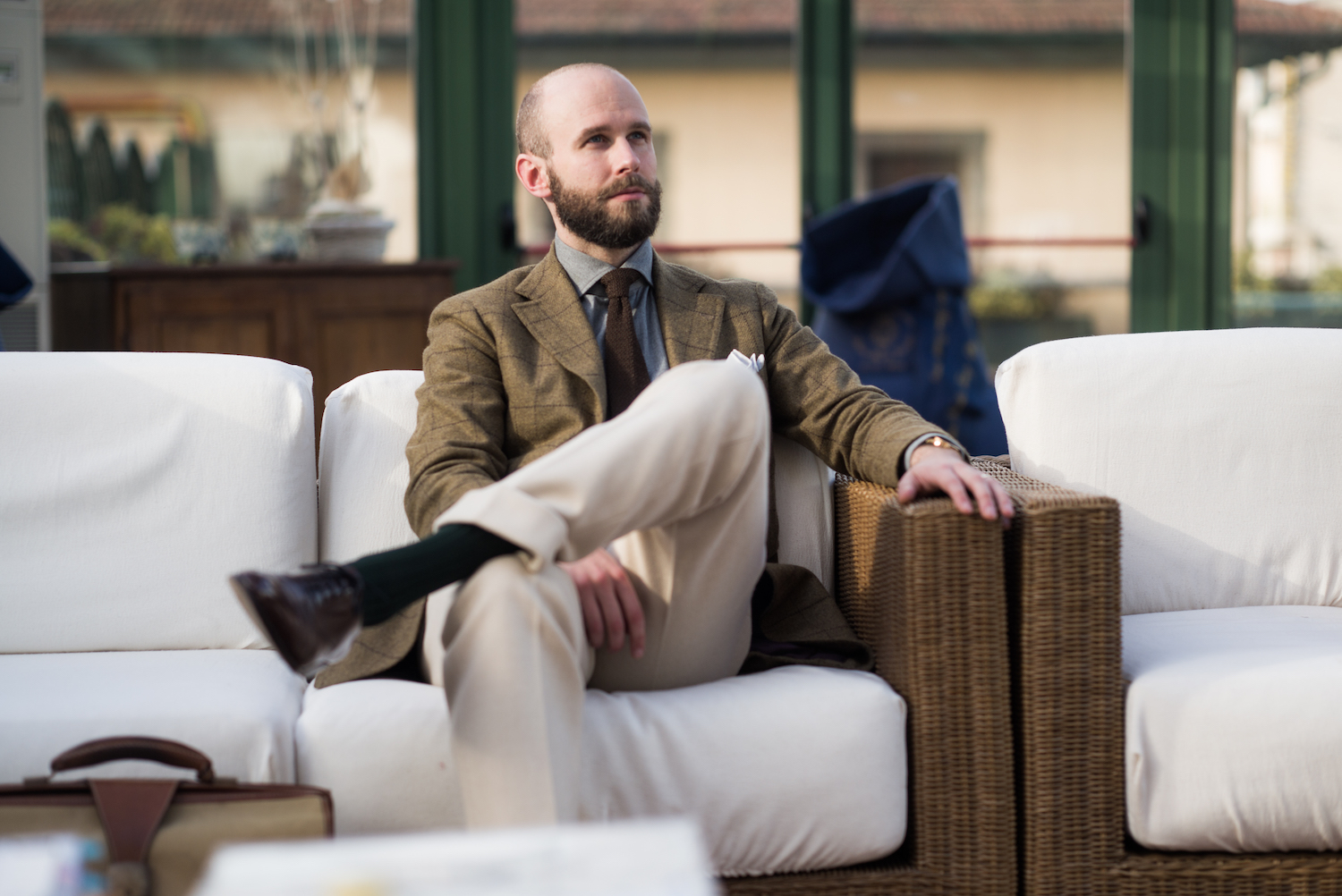 Solito Escorial blazer
March 2016
www.permanentstyle.com/2016/04/escorial-jacket-the-modernity-of-muted-colours.html
Three stages led up to this commission.
First, meeting the guys from Escorial and loving the softness and natural stretch of the wool. Second, seeing that Ralph Lauren carried it for jacketings and had a great muted green with very subtle purple overcheck. And third, asking Escorial if they could get me any (which they could, and which others can now too).
I had made mistakes with windowpane checks before.
I have a lovely Thom Sweeney jacket, for instance, which is navy with light-blue windowpane, but find it surprisingly bold. Everything else has to be toned down, to go with a piece that was meant to be quite versatile.
This Escorial has had no such issues. The check is so subtle (dark as well as faint) that it is just as useful as a plain green.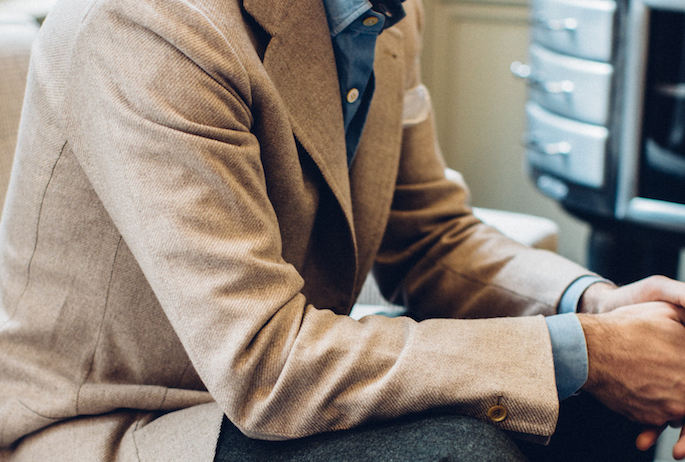 Caliendo Oatmeal cashmere blazer
April 2016
www.permanentstyle.com/2016/04/your-next-sports-jacket-oatmeal-cashmere-from-elia-caliendo.html
Although the navy cashmere jacket was extremely useful, I wasn't that impressed with the lightweight Zegna cloth, which started to wear and fade at the elbows and collar rather quickly.
For a Neapolitan jacket the following year, therefore, I picked a Loro Piana cashmere, and that has performed much better. It is slightly heavier, admittedly, but even accounting for that it has held up better.
As discussed in the post on the jacket itself, I also found the colour very interesting.
Having built up a collection of blues, greys, browns and greens, it was good to find something that was sufficiently different to the rest and had a genuinely new appeal: not a classic navy or grey, but plain and muted enough to suit most business environments.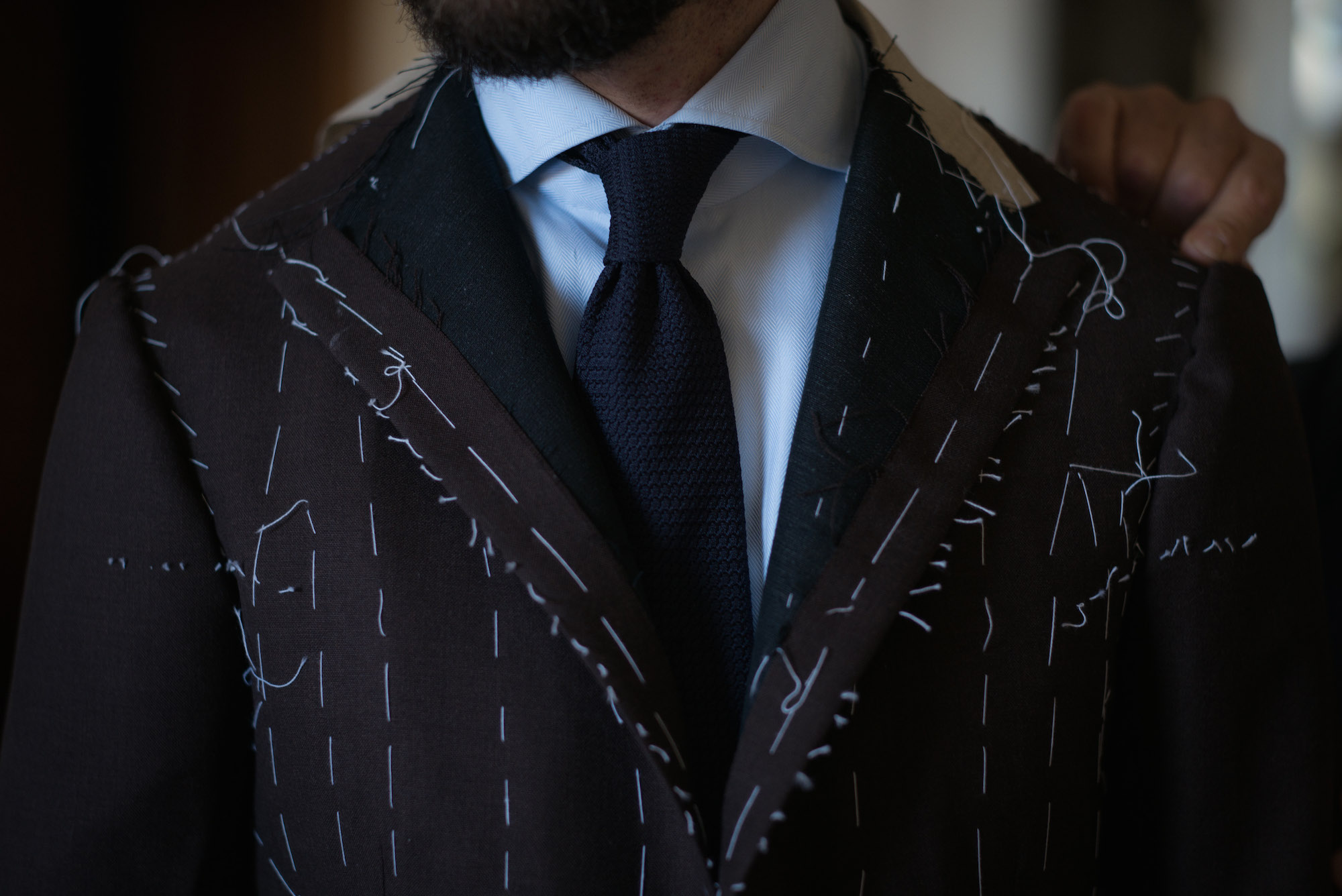 Dalcuore brown Crispaire suit
June 2016
www.permanentstyle.com/2016/06/dalcuore-bespoke-brown-crispaire-suit.html
This was a plain copy.
I don't think anyone should be embarrassed about copying their peers. So many senior people in the industry admit to doing so. No matter how many things you've seen, someone will see something you haven't.
I saw Yasuto Camoshita wearing a dark-brown summer suit, with a white shirt and dark-grey tie, and loved the look.
This Crispaire suit from Dalcuore achieved the look very well, though (as again often happens) I found it difficult to wear in many situations. Nice with those monotone accessories and black shoes, difficult with much else.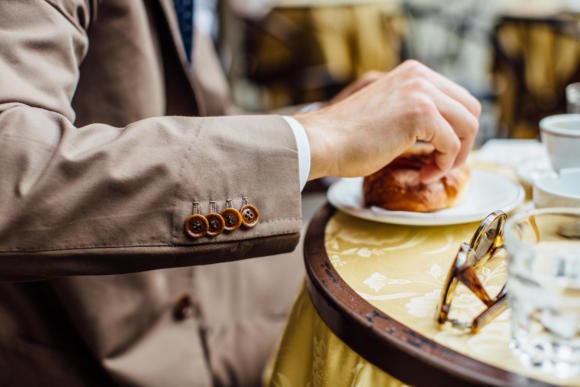 Caliendo cotton suit
July 2016
www.permanentstyle.com/2016/07/the-appeal-of-the-cotton-suit-bespoke-from-elia-caliendo.html
Looking at the last three commissions on this list, it occurs to me that I am increasingly moving towards different tones of brown in my tailoring.
It honestly hadn't occurred to me before, but along with a caramel-brown jacket and brown cord suit in the works, there is a serious trend here. Huh.
I had loved cotton for a long time, but made the mistake years ago of having one made by Choppin & Lodge in a structured, English cut. The suit was great, but the material was much better suited to a Neapolitan make.
That remained at the back of my mind for five years and was finally realised with Elia last summer.
I had considered a navy cotton, as the Choppin one had been, but as the suit was specifically made for the Young Tailors Symposium in the summer, navy seemed a bit too boring. So light brown it was.
I had hoped that the jacket would soften up enough to be worn casually with denim and so on. It hasn't done so so far, but I know its first dry clean will take some of the stiffness out (as happens with linen) so we'll see.
For anyone that is interested in more detail on these commissions, please click on the links under each one.
Photography: Luke Carby and Jamie Ferguson