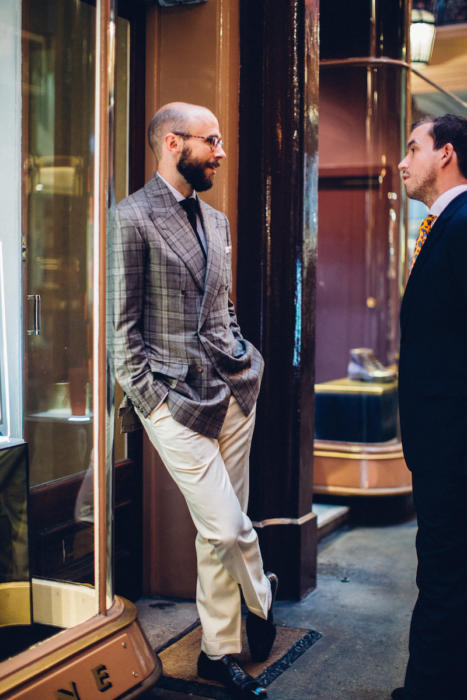 A couple of readers commented on the collar of my Anderson & Sheppard suit in our recent video, 'How to look after your suit'. A&S have always cut a particularly thick collar (1.75 inches at the back for me), and John Hitchcock (who cut all of them for me, but is now sadly retired) particularly so.
The thickness of the collar means less shirt shows above it on the neck, but it does have the advantage of keeping that collar more firmly attached. It becomes harder to stick to the neck, generally, the lower it is on the body.
In the side-on shots above and below, you can see how thick that collar is – particularly in relation to the lapel. The point of the lapel only extends 5/8 of an inch beyond it. Combine that with the belly (roundness) that the lapel itself is cut with, and the effect is almost that of a shawl collar.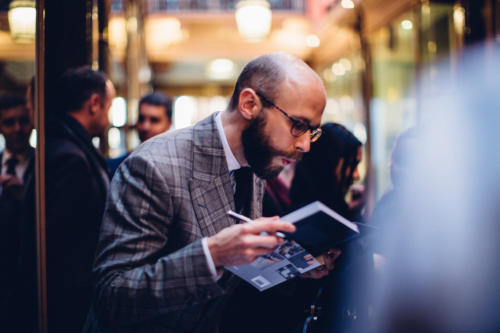 This sounds quite technical, but it is these small things that make a difference to the style of a bespoke tailor. The Anderson & Sheppard double-breasted style is one I have always found particularly flattering. I put it on and I feel bigger, stronger. Yet this is achieved without much padding or structure.
You can see the 'drape' in the jacket in the picture in the top of this post. That slight excess of cloth, sweeping down into a close waist, gives me the full chest I lack. The thick collar and rounded lapel emphasise this effect – without having to resort to the big, high lapels of some double-breasteds.


The outfit was worn for the launch party for my book, The Finest Menswear in the World. As it was hosted by Anderson & Sheppard and Cleverley, I wanted to wear them head to toe – so this A&S check jacket, trousers, and my brown bespoke Cleverleys.
I've always loved the pattern of the jacket (Loro Piana) but made the mistake of only ordering it as a jacket. By the time I thought it would be nice to wear as a suit as well, the cloth had gone. Lesson learned.
Grey shirt by Luca Avitabile.
Brown tie (with textured stripes) by Drake's – also displayed on the evening
Cream gabardine trousers from A&S. Better shown off during the day, but hey I love them and they don't get many outings
Photography: Jamie Ferguson @jkf_man