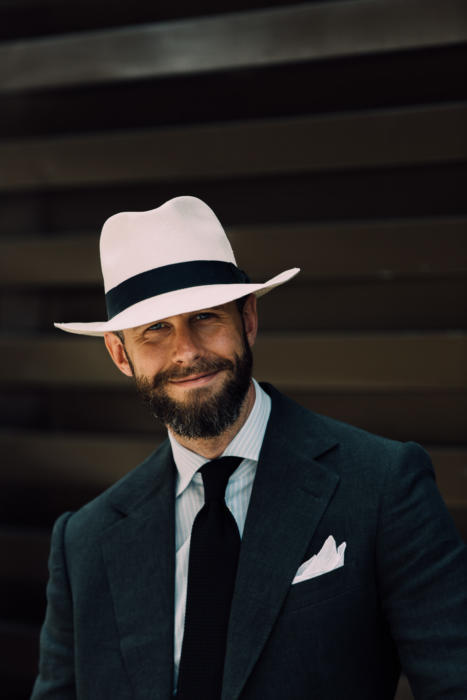 This dark, muted green linen was a risk. I had never had anything like it before, let alone seen it on anyone else.
But I think it's worked out very well. I'm pleased as well as relieved.
The colour is unusual yet subtle. Indoors, it looks more like a dusty black - little of the green cast comes across. But outdoors, it's definitely green, and looks good with other dark accessories.
It's smart, but definitely not corporate. Even, perhaps, a little rock 'n' roll - a little like Davide [Taub, the cutter].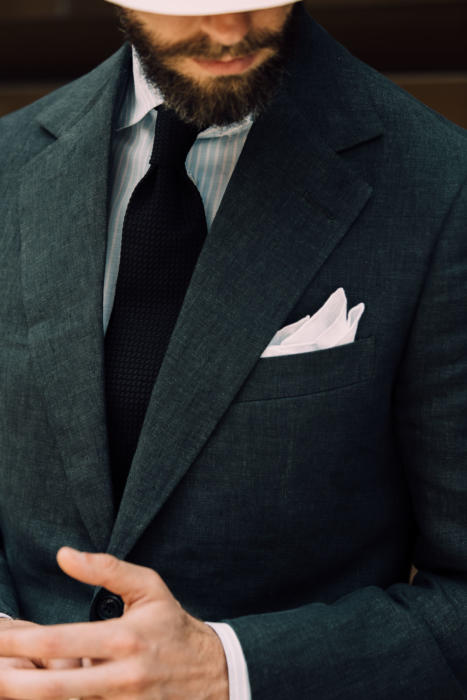 There is something of the evening about the colour, and I think some might consider it better suited to events after 6pm rather during the day.
It would certainly work well in that environment, and with black shoes and neckwear as it is pictured with.
But I like this sombre, serious look during the day - and if I wanted to brighten it up, I've found colours like yellow and pink also work nicely. They just have to pale, as equally muted as the green. (This tie from Drake's works, for example.)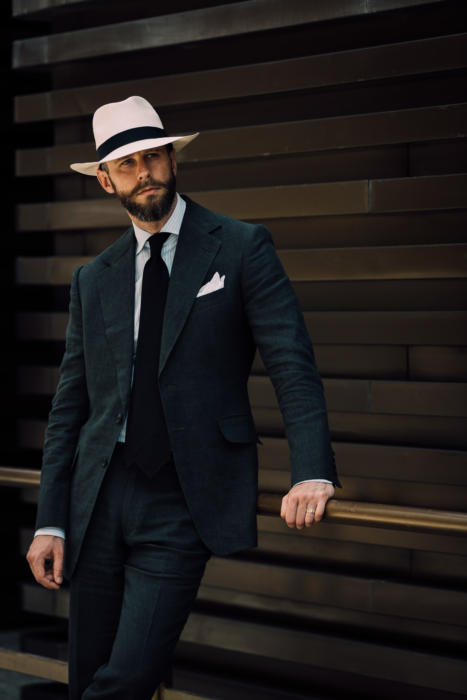 One thing that certainly wasn't a risk was working with Davide.
As I mentioned on the previous article on this suit - covering its fitting - Davide and I have worked on a few things over the years, but this was our first suit.
I completely trusted him, making occasional suggestions around buttoning point or the trouser width, but that was it. I wanted his style as well as fitting.
That meant only a very light padded shoulder, with a touch more at the ends and in the sleevehead to give the shoulder line some lift.
It meant a relatively high buttoning point for me; fairly wide, slightly bellied lapels; and a sharp notch.
Quite narrow trousers too, which I was unsure of when we had the fittings, but I think work well (19 inches circumference at the knee, 15 at the hem).
Indeed, I might consider this width of trouser for suits more in the future.
It would be a little against the trend, given how many wide-leg trousers there are at the moment. But I do think over time it's more likely to make a suit look younger and contemporary than the other way around.
The shoes are the black-cordovan Greenwich from Edward Green.
I like occasionally wearing black casual shoes like these with casual trousers and shirts (eg a white button down and dark-brown trousers).
As here, the colours need to be fairly cold, but it feels different without being showy.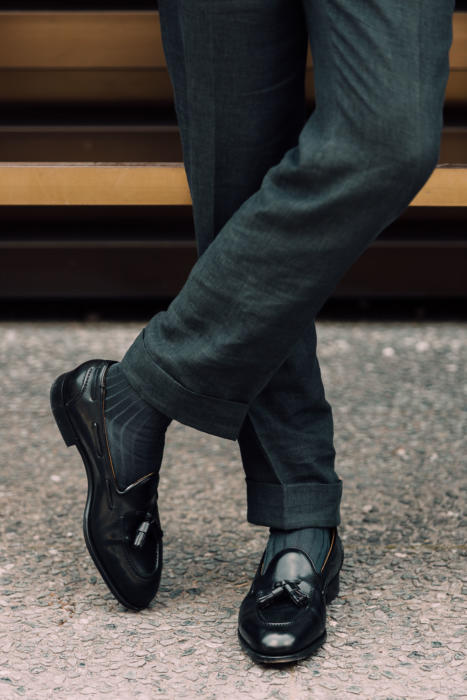 There's little to say here from a fit point of view. It's just very good, and exactly what you should expect from a Savile Row suit.
There's nothing I'd pick up or change in terms of fit, which is all the more impressive in a very light linen with lightweight padding and canvas.
Even that little kick below the waist button is nothing. The mere flap of the breeze.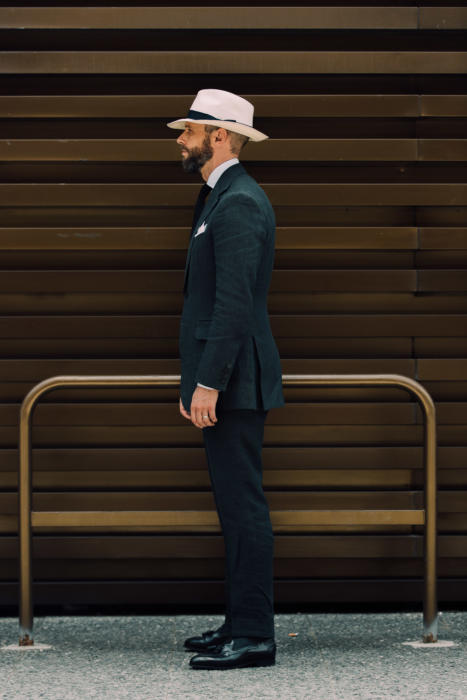 One interesting thing is that, in my experience, there is a correlation between the price of bespoke and the quality of the fit and cut.
There are many exceptions. Cheap ones like Whitcomb & Shaftesbury can be excellent. Expensive ones like Rubinacci can have issues.
It's not a very strong correlation, but it's definitely there. I wouldn't say it means you'll always get better fit with bigger, more expensive houses. But I would say that men buying cheap bespoke should be aware that it's a risk.
It might be because the cutter is inexperienced, or because they're not incentivised to spend as much time as they should getting the fit right. But either way it's something to keep in mind.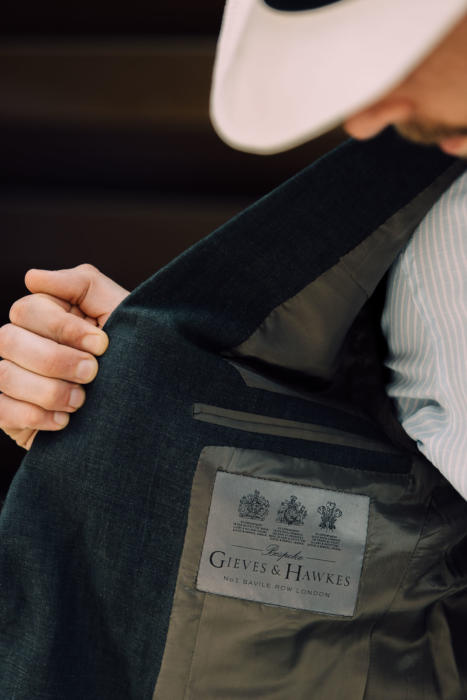 The make of the suit is extremely good: beautiful fine buttonholes, neat finishing on the inside, and jacket cloth running all round the in-breast pockets, making them stronger.
I also rather like the Gieves & Hawkes bespoke label. Generally I'd prefer the Savile Row approach of having no label visible, but the dark grey of this is nice. Sophisticated.
Looking at the suit in the pictures now, the only thing I think I would change if I ever made another suit with Davide is the buttoning point.
It could be a tad lower, and indeed Davide himself mentioned this when looking at the completed garment. As with the first suit with any tailor, it's the beginning of a journey.
Not many start in as good a place as this one though.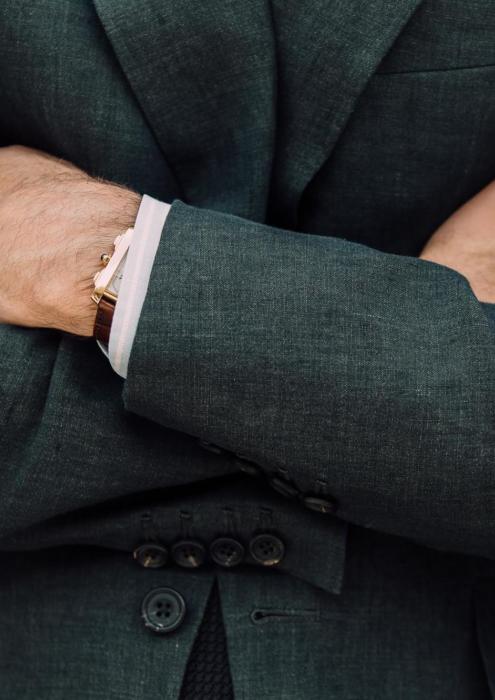 The shirt shown here is a favourite: cotton/linen from Luca Avitabile. The stripe helps give a little pattern to the overall outfit, which otherwise would be rather plain.
The black grenadine tie is from Drake's, as is the white linen handkerchief.
The panama hat is from Anderson & Sheppard. I remarked last summer how I had bought a sisal one from them in a pale brown, and liked the more casual nature of it.
That's still the case, and that brown definitely gets more wear. But this smarter cream looks better with a sharp suit.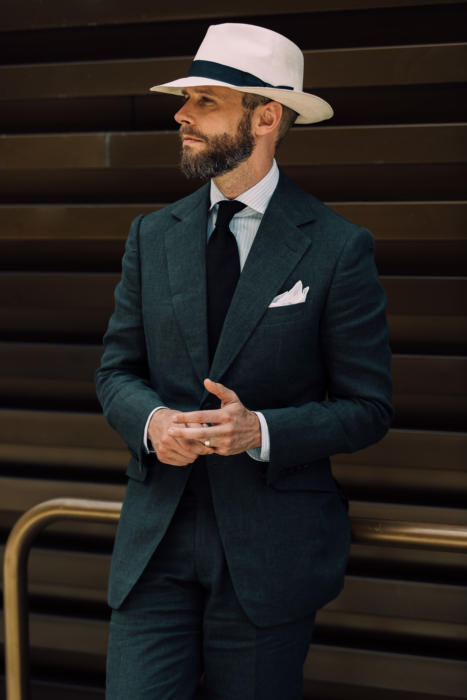 You can see the first fitting in this series here, while you can see all my previous projects with Davide on the dedicated Gieves & Hawkes page here.
Gieves bespoke suits start at £4420 plus VAT. The cloth is 250g Scabal linen, number 802258.
Photography above: Jamie Ferguson @jkf_man. Photography below, Milad Abedi @milad_abedi