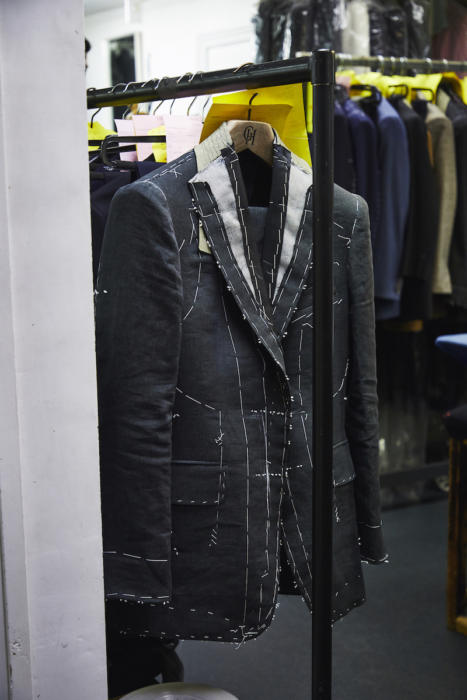 Relief, and relaxation. Those are my abiding memories of this, my fitting at Gieves on a new suit.
Readers commented on a previous post that it was nice to know what I was thinking and feeling during a fitting. That it felt more immediate and personal.
Here I immediately felt relaxed with Davide (Taub, below, head cutter). This is primarily because Davide has made three things for me over the years, beginning in 2013: a leather jacket, a pea coat, and a gilet.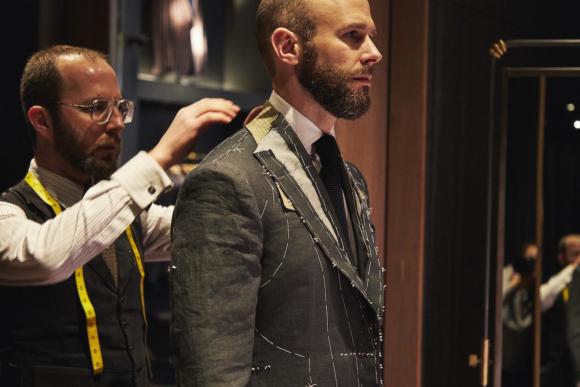 As a result, I was at ease - there was a relationship. Indeed, the kind of relationship most people don't have these days. Not just between a craftsman and a client, but something more personal, necessitated by discussions over your lifestyle, tastes and wardrobe over a period of time.
The primary advantage of this is that I find it easier to tell Davide what I want, and when I don't like something.
It seems ridiculous, but even though I've done this scores of times, I've never found it easy to tell a tailor what I think.
I used to think it was me; then that it was being English; now I realise everyone feels like this. It's just not easy to create potential awkwardness.
The second, related feeling was one of relief. Because the suit fit well from the start. Davide is a professional, he has done this every day for years, and he knows how to do it.
This isn't always the case. There are so many start-up tailors today that they often don't have much experience. There are fairly large issues to steer around early on.
It's not as simple as saying that Neapolitan tailors, for example, are not as good. It's more that there is more variation in other places: the cheaper tailors that largely died out in London in the 1980s and 1990s still exist in Naples, and in other smaller cities. They haven't been replaced by ready-to-wear to the same extent.
Also, because bespoke tailoring is so expensive, men are always searching for something cheaper. And the thing they often sacrifice without realising it, is experience. A cutter that's been at the top of his game for 20 years just costs more.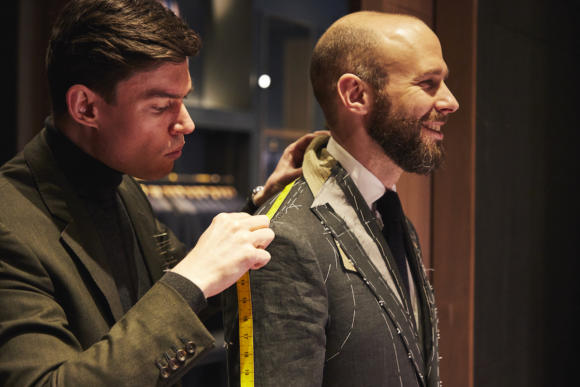 But I digress. Having felt that initial sense of relief, I let Davide and Oliver (Spencer, above) busy themselves checking, chalking and noting.
Long-term readers might recognise Oliver from Anderson & Sheppard, back when I used to run their in-house blog The Notebook.
He is now at Gieves, and building on the trouser apprenticeship he did at A&S to add every other aspect of tailoring.
I had few comments on the fit, other than that the back felt a little tight and the trousers a little narrow (although on sitting down in them, they were actually perfectly comfortable).
Most comments were about style. I find it consistently interesting, for example, where the waist button is placed.
Most men today would rarely say that this buttoning point is too low, but quickly point out when it seems too high. This is of course very much subject to fashion, and we are more influenced by what we see around us than we like to admit.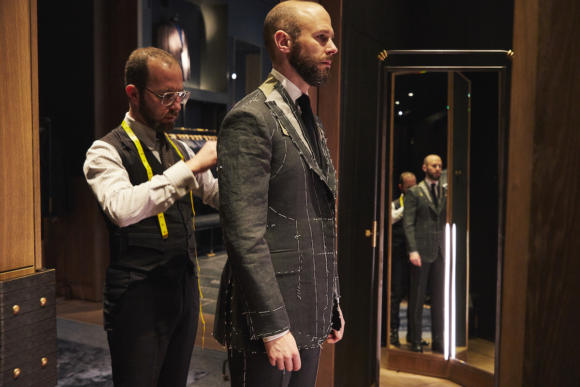 As with most things, the interesting thing is to not to throw out judgments about such subjective, aesthetic choices, but rather to enquire what lies behind them.
So with the buttoning point, many men feel that lower is better because it lengthens the opening in the jacket, creating a flattering 'V' down the chest.
It certainly does this, but always a little at the expense of the skirt (the jacket below the waist). This can be very stylish, angling outwards over the hips and adding sharpness as well as flare.
This is often particularly obvious in WW2-era officers' jackets, with their belt around the natural waist and big skirt, emphasised by bellows pockets.
That is, of course, not what Davide was aiming for here. But the aesthetics of that cut play a lot into the style of English structured tailors such as Gieves, Dege, Huntsman and the like.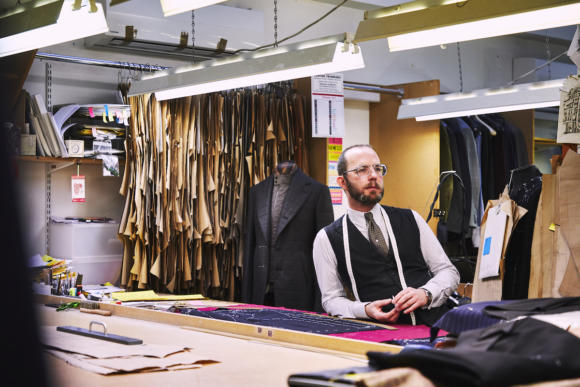 Although having said that, it might not be accurate to call Gieves 'structured' any more.
The actual interlinings that Gieves uses has been getting gradually lighter in recent years, even before Davide joined. Today he uses three weights of body canvas and two of horsehair, and varies them depending on the cloth and the customer.
Some even leave out the horsehair entirely, such as the sailing jacket below, which is made to be much more casual, in a jersey cloth.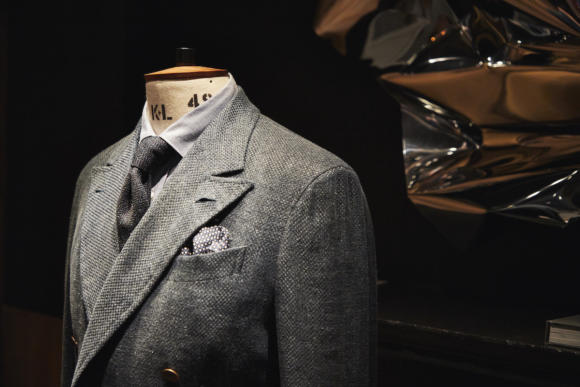 Most of the time the structure is the same (body canvas, horsehair, domette) and only the weight varies.
With mine, this was the case, and it was impressive how different it felt. Almost as light as the Neapolitans, and certainly more than the Dege & Skinner linen I had two years ago (though that was also a heavier linen).
Davide says that both younger and older customers have reacted well to this: younger ones because it's more similar to the Italian ready-to-wear they have, and older ones because it makes them realise a Savile Row suit doesn't have to mean just one construction.
The way he puts it, there are customers that have a strongly built Row suit, understand its value and strength, and are proud of it. But they don't necessarily order their whole wardrobe like that - they want lighter things too.
This variation in canvas allows Davide and the team to do that.
All of which musing on tailoring technique is to ignore the first question readers will have asked, which is: what's the cloth?
It's a 250g Scabal linen, number 802258, and I can only describe the colour as charcoal-green.
It looks dark, like a dusty black, under artificial lights, but quickly shows its green cast when outside.
I was after something smarter to wear with black shoes, but still lightweight and summery, and wasn't sure that could be done in linen. In general, linen looks better in stronger or warmer colours. I've never liked it in navy, for example, where it usually just looks like a tired worsted.
More on the cloth, the suit's style and everything else in the next post, which will likely be part of the Style Breakdown series.
Photography: James Holborow