The (17) made-to-measure tailors I have known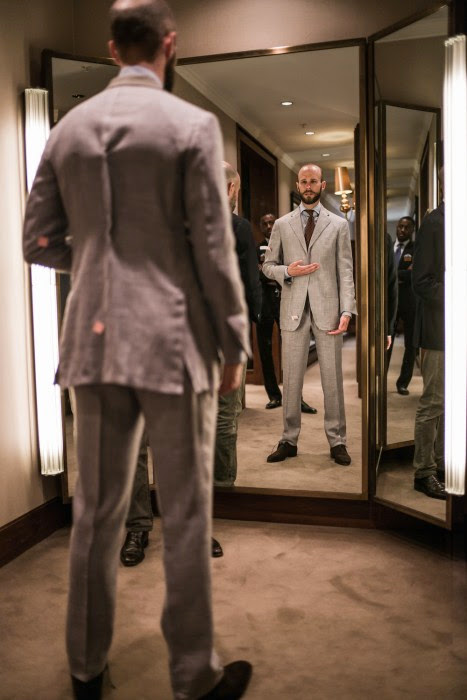 Although I haven't covered the same number of MTM tailors as bespoke ones, Permanent Style has steadily accumulated a good range - from Kiton to Gieves, P Johnson to the Armoury.
And really good made-to-measure is increasingly what younger readers are asking about. They want good quality, but also a focus on style. They may well move to bespoke later in life, but right now MTM is their best option.
Still, the MTM companies featured here are not cheap. They're all over £1500, many over £2000. Personally, I think this is what someone that regularly buys PS-recommended products should be looking at. There's much more to be gained from investing in good tailoring (and shoes) than there is knitwear, shirts or jeans.
These, then, are the 17 makers I have reviewed, or are in the process of commissioning with. Plus a list of MTM trouser makers.
All are linked to the original coverage on Permanent Style, where you can go for more detail. I will endeavour to keep this list up to date every year or two - please do remind me if I forget.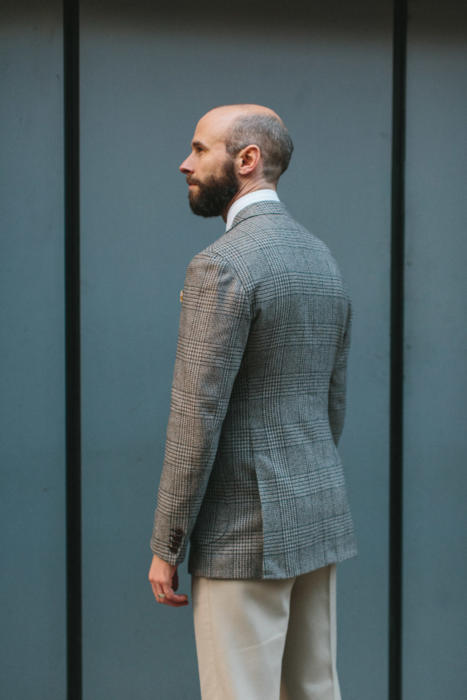 Probably the two strongest experiences I've had with made-to-measure tailoring are Saman Amel from Stockholm and Jean-Manuel Moreau from Paris. Both produced excellent fitting pieces for me, through trunk shows in London.
Both also offer a quality level that has a large amount of functional handwork in it - such as a hand-padded chest - which brings it closer to the level of bespoke. It's not bespoke of course, in ways of both fit and make, but it's a step change on other MTM.
This is only the case with Saman Amel's top line, the 'Napoli' level, but the lower Toscana line has the same strong fit. The only thing I'd like to change (but can't on their style) about the jacket is the height of the notch, which feels a little fashion-y in how high it is.
My experience with Saman and Dag has been a little mixed in other areas, but my experience of the tailoring was very strong.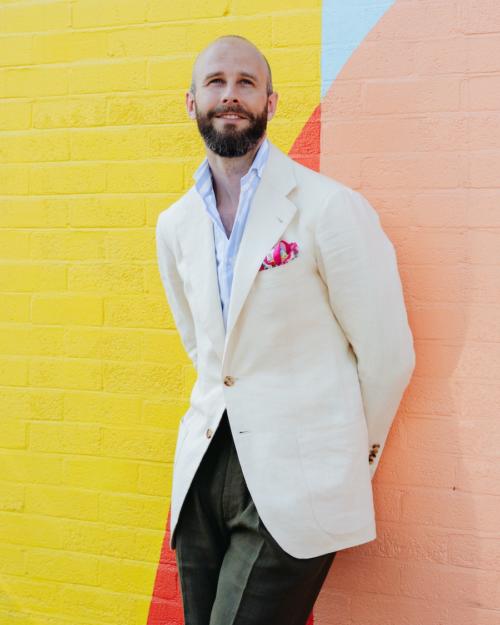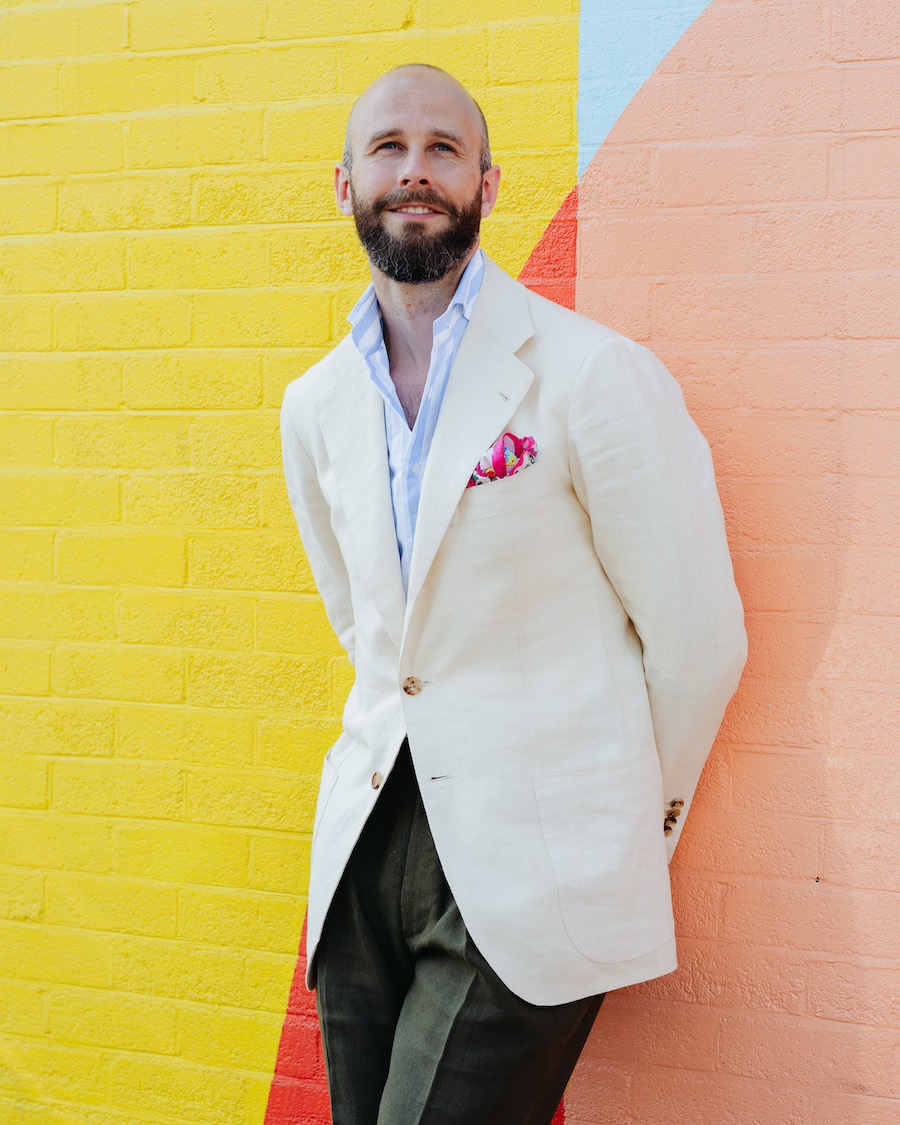 Adding to my general points above on Jean-Manuel and his team in Paris, they have their tailoring made by the Orazio Luciano workshop in Naples - but to Jean-Manuel's own style and pattern.
So while the make and quality is the same as Orazio, the style is for a slightly more classic, longer and more comfortable jacket, compared to the close-fitting Orazio jacket I have - and cover in this article further down.
The cream-linen suit JMM made me was lovely, and I wear both trousers and jacket separately often in the summer, as well as the suit occasionally all together.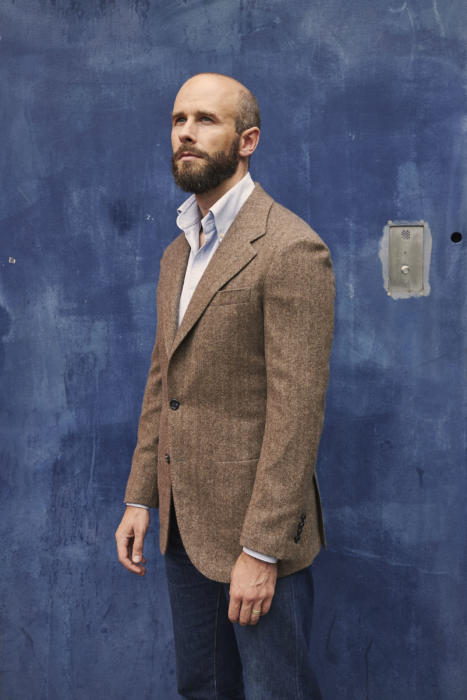 Eduardo de Simone runs a suit factory in Naples. He makes for other brands, mostly, but also offers his own tailoring under the name Edesim. Plus he has a small bespoke workshop, used for himself, friends and visitors.
He made me two jackets, one bespoke and one MTM, as he was interested in talking about and comparing the differences. You can see the article doing that here. The MTM service itself was good, if not clearly better than others around the same make and price.
Eduardo is also one of the harder brands here to use, as he travels less. Still, if you like the style, he is still someone I'd recommend.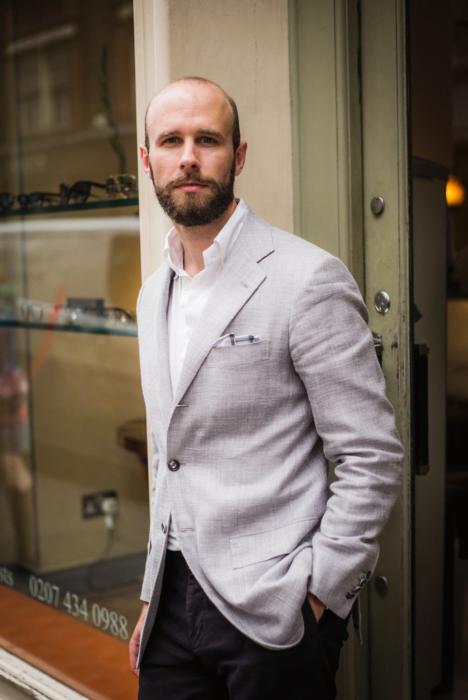 Kiton made me a made-to-measure suit through their programme at Harrod's back in 2014. It was the top line or 'Lasa' service.
The overall experience was not that great, particularly given the price, and I think it shows the price inflation that happens with bigger designer brands. Three different people conducted the measuring, first and second fitting, which caused some confusion. And the overall fit was good without being outstanding. For over £4000, it should be better really.
This level of make had a hand-padded chest, though not collar. This sets it above most of the Kiton MTM, which doesn't not have any hand padding, but is made the same way as the RTW product - hand cut and with hand buttonholes etc, but using pre-made canvases. More on that in my factory visit piece here.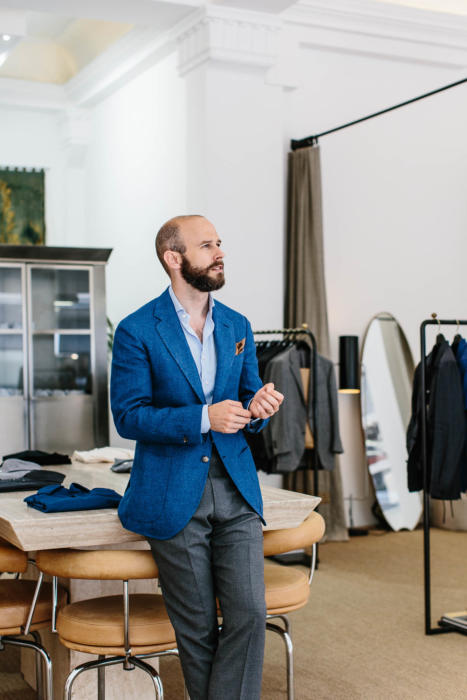 P Johnson is perhaps remembered unfairly by regular readers of Permanent Style. The jacket and trousers the team made me were both a good fit. The issues were with disclosure of where things were made, and readers' reaction to that.
The jacket was good, and I still like the P Johnson attitude - less the more casual pieces they've been doing recently, but certainly the relaxed approach to tailoring, and colour combinations.
The only issue with the jacket was some parts of the style, like a higher buttoning point and small, bellied lapel. But if you try a jacket and like this style, I can still only recommend it, based on my experience. They also have more stores and therefore are easier to access than many of the brands mentioned here.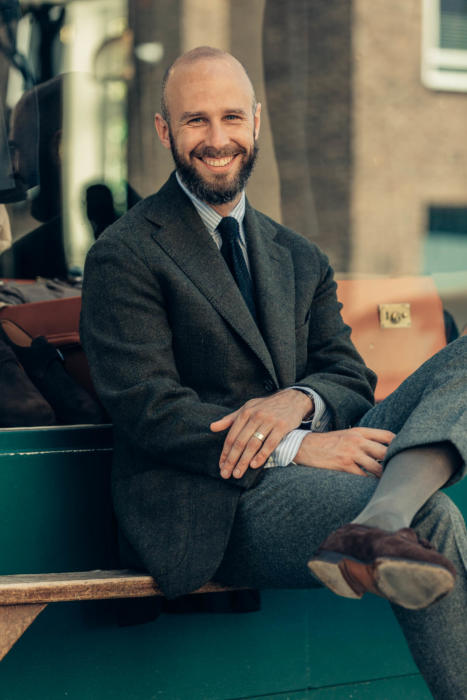 My Anglo-Italian MTM jacket was a solid product - without the extra handwork of some brands, but a firm basis for the biggest reason I like what Anglo-Italian are doing, which is their style.
The green checked jacket I had made was distinctive in its Anglo colouring, all murky and subtle. And that for me made it feel much more contemporary than similar jackets or materials (Anglo also develop, and sell, their own cloth).
One thing that is less obvious though, or expected, is that the cut of the Anglo MTM product is quite different, with a low buttoning point, roomy fit and good amount of low drape. It can be quite flattering, and is certainly comfortable. But it's something that does need to be considered alongside other aspects of the style.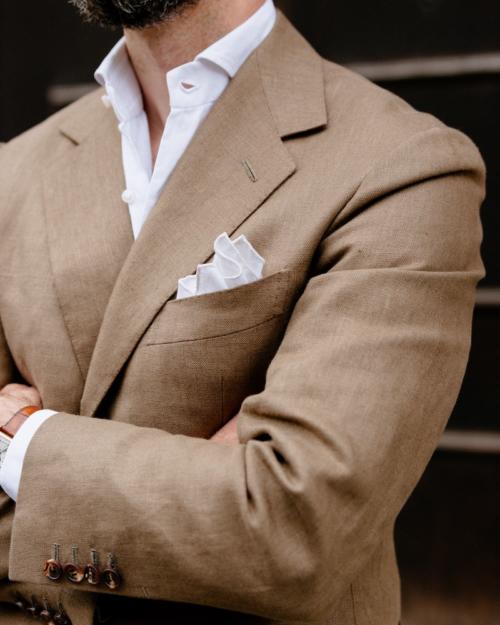 The Armoury made me a very nice suit as part of their '100 Series'. It was beautifully fitted and beautifully made - though again, without the hand padding or similar of Saman Amel or JMM mentioned at top.
However, the suit was interesting for how well it was finished, and the feel despite that lack. This is largely down to the fact that this series from The Armoury uses the excellent Sant'Andrea workshop in Italy. The downside is that this makes it rather expensive.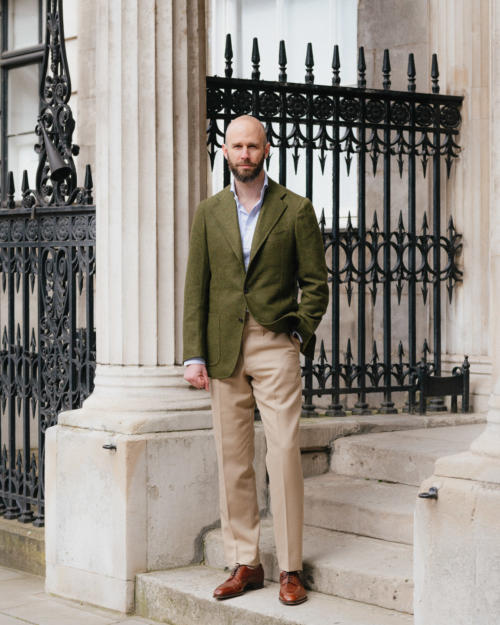 Massura is a German brand run by Moritz Kossytorz, based in Munich but using a tailoring workshop in Naples. The style and make of the tailoring is not much different to other Neapolitan tailors, but is worth highlighting because of the lack of German makers (Moritz serves Cologne and Dusseldorf as well as Munich, Zurich and London) and the price - handmade made-to-measure starts at €1600.
Moritz made me a green tweed jacket in a lovely cloth from Abraham Moon. The result was good in many respects, but there were substantial issues with the balance and shoulders at the back of the jacket. Part of this might have been due to doing some fittings remotely, though we did also do one in person.
Moritz has promised to correct the issues when we get a chance to see other in person next, and I will report back then - as well as update this listing.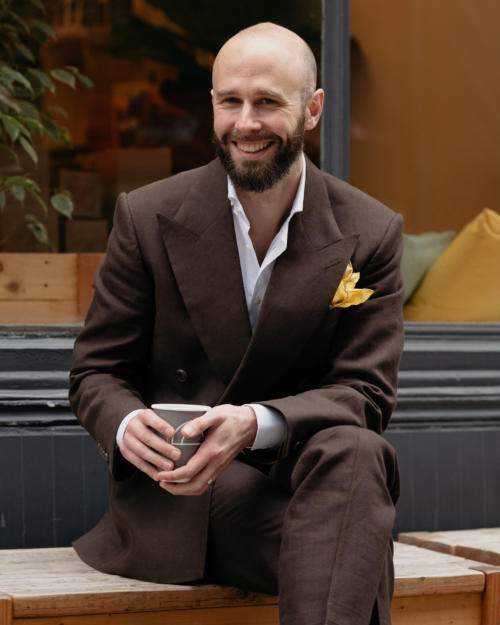 Bespoke tailor Edward Sexton also offers an 'offshore bespoke' system, where the patterns are cut in London but most of the making is done in a Chinese workshop. I've included it under MTM because although the cutting is by hand, the chest and collar are not hand padded, so the making level is significantly different to the full bespoke service.
The team made me a brown-linen double-breasted suit, similar in style to the grey-flannel DB I already had from them that was fully bespoke. It was a good fit, though not quite at the same level as the full bespoke. The make in the chest is also pretty solid, and you feel that.
I wouldn't say the result is comparable to Sexton's full bespoke - unlike, for example, Whitcomb & Shaftesbury - but it is a solid way for people that like the Edward Sexton style to get a well-fitted suit in that cut.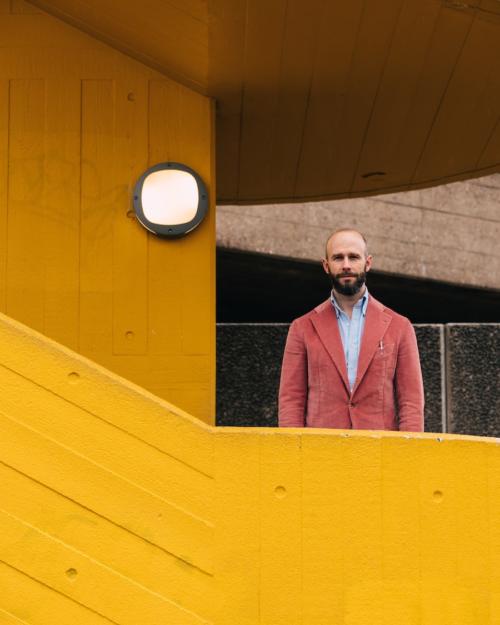 Orazio made me a pink corduroy jacket, which was a decent fit, albeit with some issues. From the start, it was fitted quite closely, and with the slightly shorter cut that Orazio himself favours and has always worn.
It's important to separate these two things. We did have some pure issues of fit, mostly in the back and the sleeve length. But other things are more a question of house style - and readers should consider whether these work for them, rather than considering them faults.
Orazio do also hand pad the chest and lapels of their jackets, which puts them above most other makers here in that respect. And that's reflected to an extent in the price. Although it's worth noting that the hand finishing is better on something like the Armoury suit mentioned above. Neapolitan make is rarely that fine.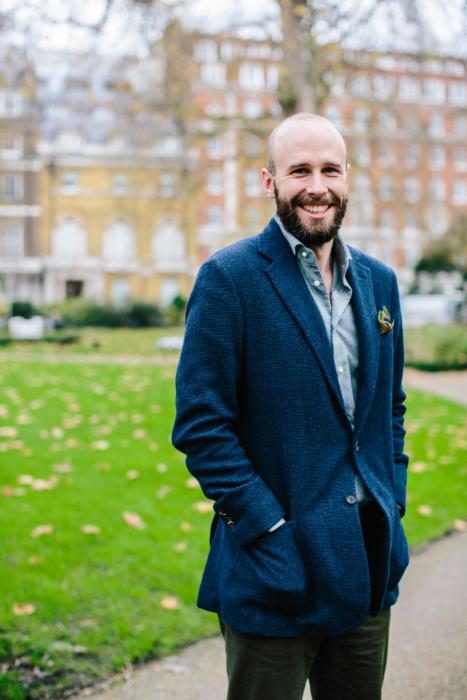 Stile Latino is the Neapolitan brand run by Vincenzo Attolini, who split from the better-known Attolini to start his own, rather brighter and more experimental brand.
Stile Latino is really a RTW company, and MTM is not offered that widely. The tailoring is also not something that aims to compete with formal bespoke, or be any kind of substitute for it - unlike many of the brands here.
But having said that, if you like the brand's style, the MTM they made for me was good. And not many places do this type of completely unstructured jacket with an MTM service.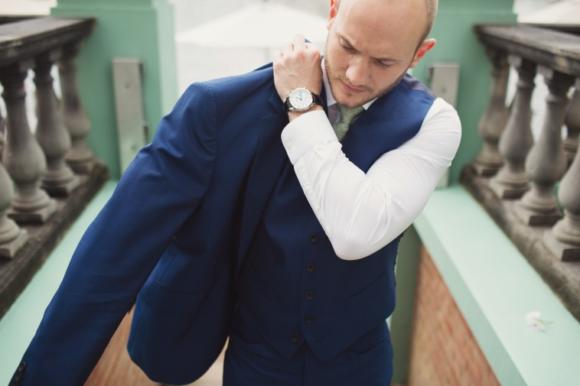 This famous Savile Row name has been through a few different permutations in the past 10 years, and changed its tailoring supplier multiple times too. It never seems to be able to decide whether its RTW and MTM should be closer to the Row, or to Regent Street.
I reviewed the service in 2014, even though the suit was made for my brother-in-law. I was present for every appointment and saw the suit in action, so felt able to still write a review.
The suit was good for basic made to measure, but no more than that. It successfully gave him a fit that would have been impossible off the rack, but otherwise was the same quality level as their fairly low-level RTW.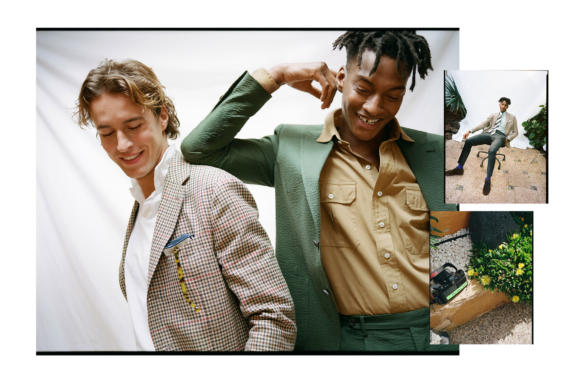 Henry Herbert and Hemingway Tailors
In the early years of writing Permanent Style, I covered some cheaper services that I probably wouldn't use today. One of those was Henry Herbert, a visiting service that I couldn't really recommend - the lack of tailoring experience seeming to be the biggest issue.
And the other was Hemingway Tailors, run by Toby Luper, who had his suits made at the Cheshire Bespoke factory. Toby's suits were well made and a decent fit, but I wouldn't recommend them today for the price point.
Jake Mueser, Drake's and William Crabtree
This is more a holding note that anything else. I am in the process of making a jacket with Jake Mueser, and plan to cover the service at Drake's, given how many readers ask about it - though I think it's far to say they are aiming to offer a solid MTO option on their RTW tailoring today, rather than a MTM offering that will compete with full tailors.
I am also in the process of making a suit with William Crabtree, the brand recently set up by agent James Priestley. I covered his MTM chore suit in a previous article here, but haven't included it in this list as it's not tailoring. When I have tried the tailoring, I'll add it in.
If you're interested in made-to-measure trousers, the makers we've covered are:
Please note, all prices include VAT and are correct at the time of commission - some may have risen since then. Please check dates of the original coverage.