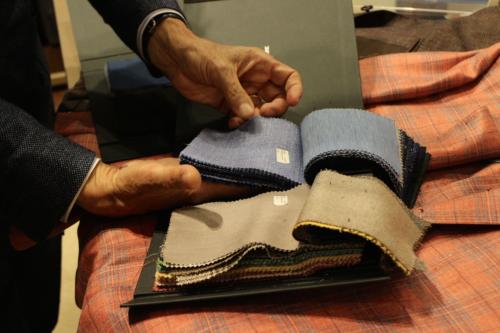 Regular readers will remember the video I did for Harrod's last year, to help them promote their quarterly made-to-measure events. At the same event this quarter, I took Kiton up on a longstanding invitation to try their MTM offering.
The product – Lasa – is actually somewhere between bespoke and MTM. A unique paper pattern is created, but there are fewer measurements than with any bespoke tailor. There is a fitting with an unfinished garment, but only one. This is somewhat similar to the RTW suits, where each is cut by hand even if dozens are being made in the same material and size.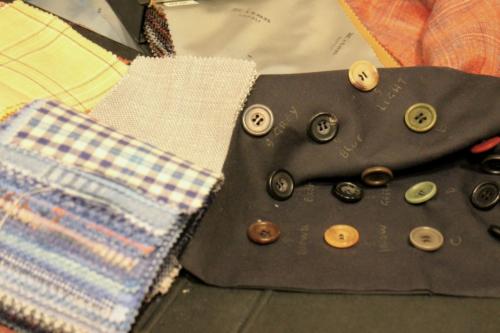 One significant difference from the RTW suits is that the chest of the Lasa suits is hand-padded. Kiton, unusually, uses machine-padded chest canvasses for its RTW suits, despite all the handwork going in elsewhere (the buttonholes, pick stitching, lining etc).
Following the conversation around Caruso's MTM suits on a recent post, it's interesting to note the range of buttons, linings and cloths on offer at Kiton. Many of the cloths won't be to everyone's taste, but they are nearly all unique to the brand. And the lining book puts bespoke trimmings suppliers to shame. No tacky iridescence, no union jacks or skulls-and-crossbones, just scores of finely variegated colour tones. Eleven greens; seven yellows; nine reds. It makes you wonder why other lining books are so poor.
My choice of cloth is shown above: grey hopsack with a little silk in the mix; grey horn button; silver lining. Pictured below, with Francesco Trabaldo-Togna (left, tailoring buyer at Harrod's) and Gabriele Napoletano (right, Kiton's master tailor).