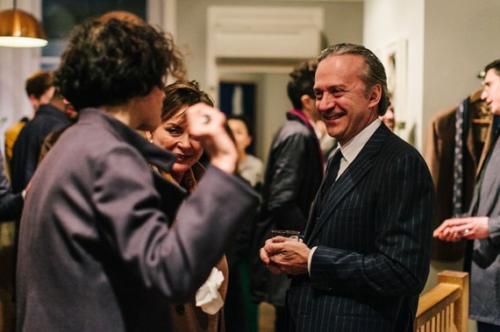 Last week Caruso held its first made-to-measure suit event in the UK – at Trunk Clothiers. It was an interesting experiment for both sides. Caruso has never done MTM in the UK before, just in Italy and one or two other European countries; and Trunk has never done trunk shows – despite that being the behind its name.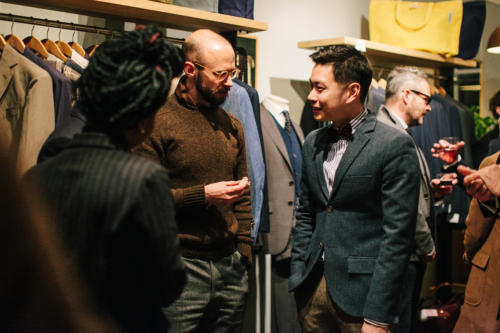 High-end made to measure has increased markedly in the past year, particularly among Italian brands that don't do bespoke (Brioni, Pal Zileri, Canali, Cucinelli etc). Harrod's just had its second quarterly MTM event, including several of these brands (the first featured video profiles, such as the one I presented on suit types). Even Boglioli is introducing MTM later this year.
At Trunk there was a party on the Thursday night, with Caruso providing culatello, parmesan and red sparkling wine – all specialities of the Parma region where they're based. CEO Umberto Angeloni (pictured top, and interviewed on Permanent Style) presented the offering, describing it as a natural extension of personalisation, rather than a substitute for bespoke.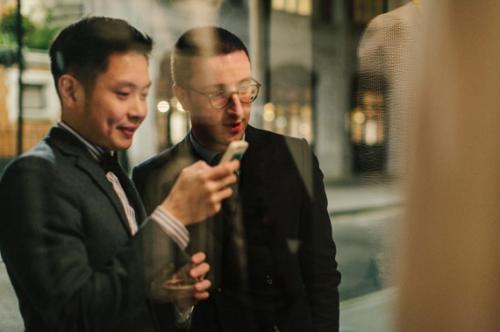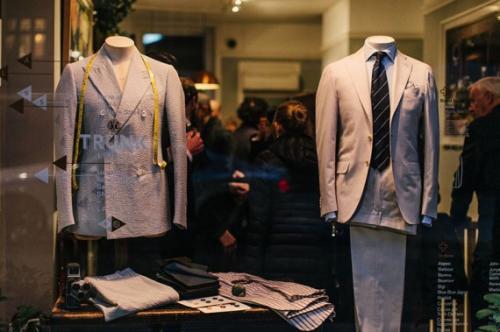 There were then two days – the Friday and Saturday – of taking orders. The styles are all pretty soft, light and short, although never with the Neapolitan spalla camicia. For Umberto, that just looks messy. Perhaps too contemporary for me, but there will be plenty of men out there that want something with this level of quality but more fashion-forward styling.
One interesting aspect of MTM is the cloth, buttons and other trimmings available. In some ways, the offering is wider than that of bespoke. The cloths are more original than most of the bunches mills supply to bespoke – because the MTM brand is closer to RTW, where cloths are usually more experimental. The button selection at Caruso was vast – a big ring binder with scores of corozo, horn and metal options. And the lining book at Kiton, for example, puts the paltry little bespoke ranges to shame. A cornucopia of colours.