The T-shirt under tailoring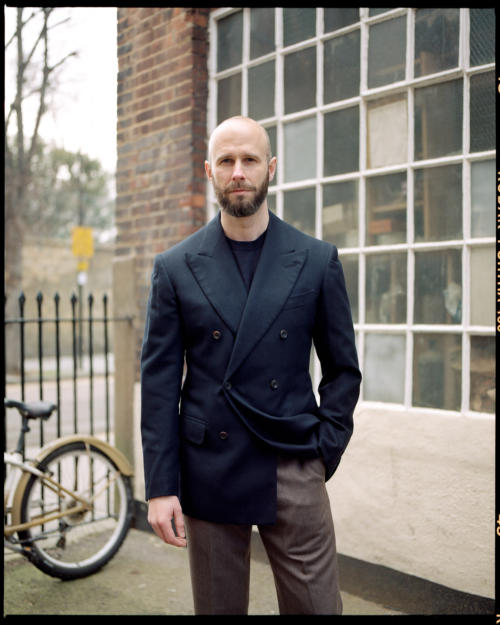 I've never actively disliked T-shirts under tailoring. I just tend not to wear them myself and, when I have seen them worn, I think it can be done quite badly.
Done well, wearing a T-shirt rather than a collared shirt can pleasingly subvert the formal expectations of tailoring.
Done badly, it looks like someone trying much too hard to be cool. They're clearly striving - obviously, consciously - and that's rarely a good look.
One helpful way to think about it, I find, is to treat the T-shirt like a crewneck sweater.
So get a T-shirt that is knitted together (fully fashioned) like knitwear, so the collar will look smarter. And wear colours that are similar to knitwear that works well on its own - cream, navy, grey, brown - as well as standard white.
(There's a feature on those knitwear colours here. We need to think of a phrase for knitwear worn like this though, on its own, without a shirt collar. Perhaps 'solo' knitwear?)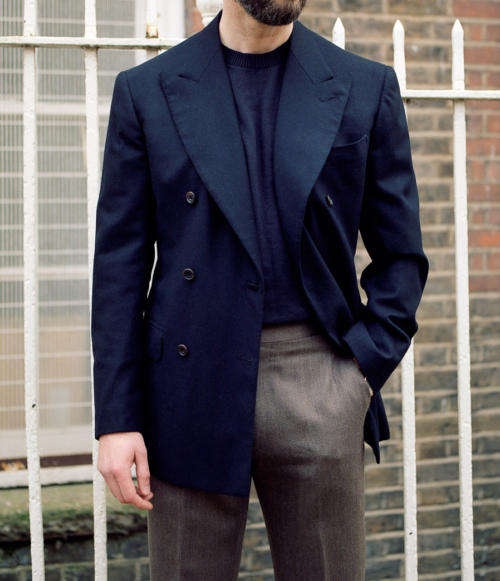 In fact, there's no reason it couldn't just be a sweater under the jacket.
In fine-gauge merino, it would be just as thin as a T-shirt but look smarter. And the long sleeves could avoid that strange feeling of having bare wrists peeking out of jacket cuffs.
In the outfit above, I'm wearing a navy Anthology cotton T-shirt under the DB blazer. Navy on navy is the easiest combination there is of 'solo' knitwear and a jacket, and the T-shirt looks quite smart, being knitted.
But looking at it now, the look would have been even cleaner with a fine merino crewneck. The collar line would have been finer, and the body smoother. A cashmere could be nice in the winter as well.
I think it's generally good advice when wearing a T-shirt under a jacket to stick with one of two extremes. Either this smart look of mine - where the T-shirt is basically doing the same role as a formal shirt - or something more casual like Yasuto Kamoshita wears above and below.
With the casual look, it's less that you're swapping a shirt for a knit, and more that you're wearing a T-shirt and chinos - just with a jacket on top in the same material.
This is why those suits are often cotton. The T-shirt may be plain, but it can also be coloured or patterned. It's more likely to be worn in the summer. And the shoes will be similarly casual, either Belgians or trainers.
I like Kamoshita's colour combination below (even if I want to tuck that T-shirt in) and it can also work well with completely unstructured suits, like the Drake's Games blazer below.
One thing I didn't notice until I started thinking about this piece, is how many well-dressed men do this look with double-breasted jackets. I thought I was largely alone in thinking that worked better than single-breasted.
It does make sense though. It's subtler when a relatively small amount of T-shirt is shown, which is inevitable with a DB jacket.
Something else that can help is wearing a scarf under the jacket, to fill the neckline. This also adds a touch of dressiness, and is something you could add for a smarter appointment, like drinks outside on a warm Summer evening.
My favourite pieces for this are my silk Hermes scarves, one of which is shown below. This is also more effective with a double-breasted jacket than single.
Adding a pocket handkerchief would also add some interest.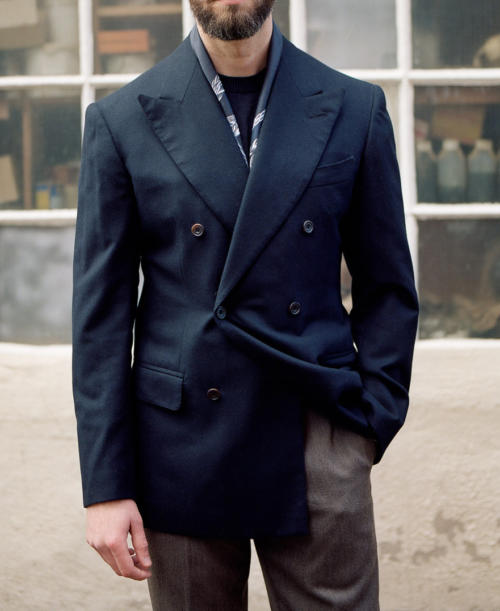 Most other points will be pure intuition to PS readers - or at least, obvious once they look in the mirror.
You don't want a white T-shirt that's so thin it's transparent. Oddly, that seems to be a mistake celebrities often make.
Those actors also have a tendency to wear V-necks, which have the same problem as thin tees: they make you look like you're wearing underwear. And in any case, unless you have a particularly strong neck and shoulders, a crewneck will be more flattering.
Lastly, don't worry about getting the collar of the jacket dirty - something often put to me as the main problem with this look.
Unless you're wearing it every week, or do so with only pale-coloured jackets, it won't be a problem. And any small blemishes can be dealt with by dry cleaning.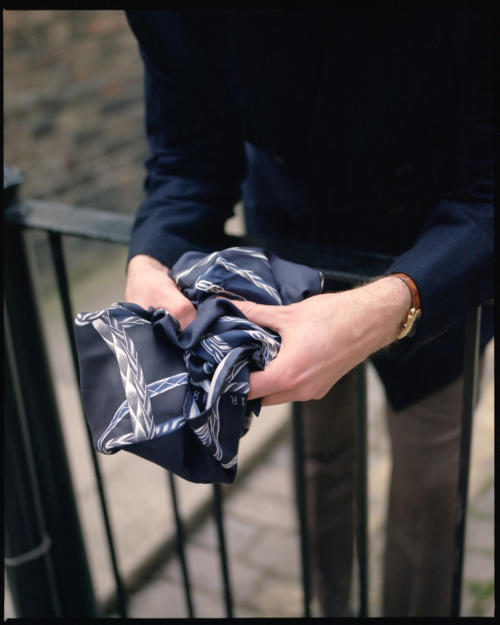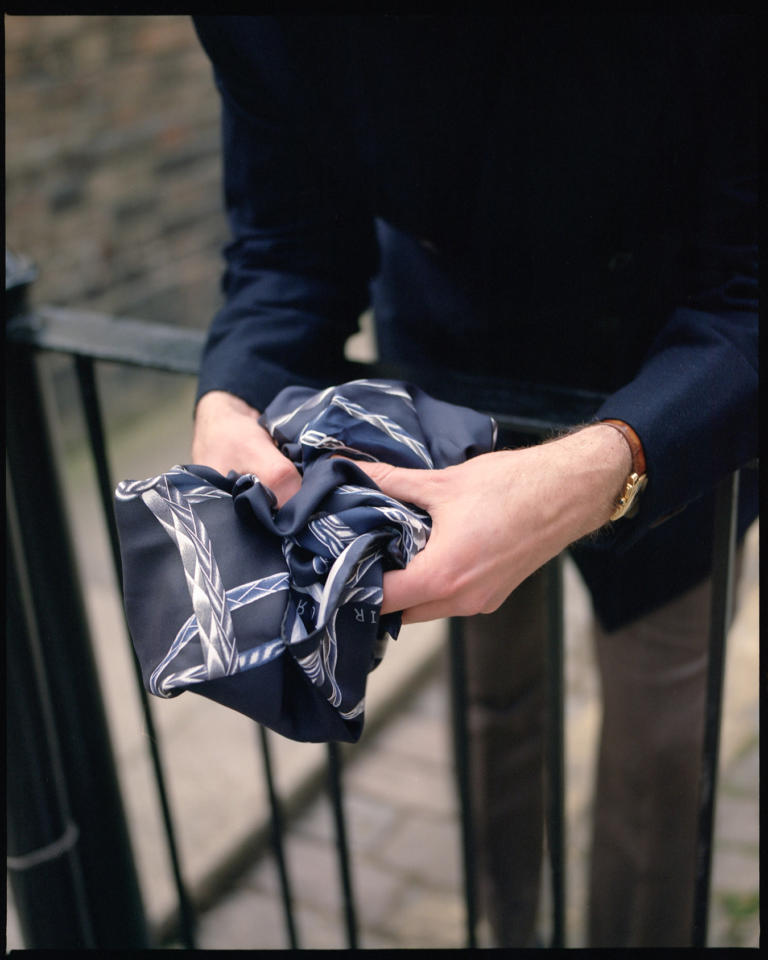 Having played around with it, I think I might wear T-shirts under tailoring more. But I'll wear knitted tees more than regular ones, and knitwear colours more than T-shirt ones. Both will make a difference.
If I'm honest, I also thought a T-shirt under a jacket would be less flattering on my long neck. But the high collar of the jacket actually means a T-shirt (or crewneck knitwear) looks better on me than otherwise.
Another good candidate will be double-breasted casual suits, such as my Musella Dembech suit.
Clothes pictured:
Bespoke vintage-wool/cashmere jacket from Ferdinando Caraceni (a recent addition, exact same cut as my vintage cotton)

'Mink' 13oz Holland & Sherry whipcords (

9518502

, Dakota bunch)

made by Whitcomb & Shaftesbury

Black-suede Sagans from Baudoin & Lange

Silk carré from Hermes
Photography: Alex Natt @adnatt