So how shall we review a suit? Let me count the ways.
One: style.
Still the most important thing, as much as we encourage men everywhere to care more about quality and fit.
[Read my first post, with the background on Musella Dembech and its style, here]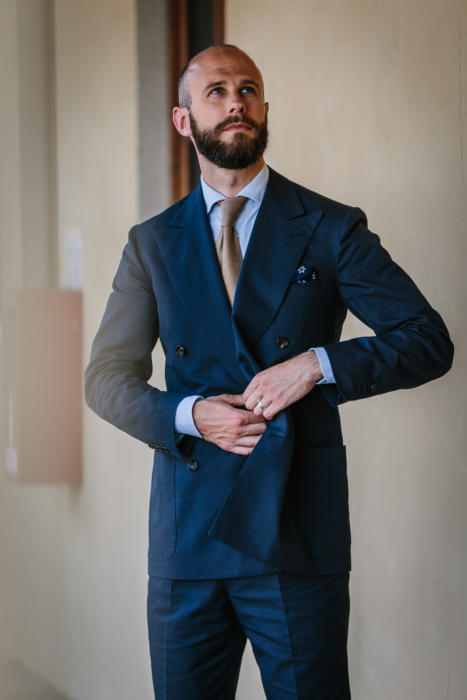 I adore the style of this, my completed Musella Dembech suit.
I'm not such a big fan of the Musella single-breasted cut, but the lapel of the double-breasted is just beautiful.
A lot of belly, but not to excess. A high peak, but not so it's floating off the shoulder. A slightly flatter gorge (where collar and lapel meet) that gives it a slightly vintage feel. (Of course, the gorge also helps the peak from being too high).
The wrap is not too narrow, emphasising width in the body rather than height. The shoulder is soft, finished in a 'shirt' sleeve construction, but with the tiniest lift in the sleevehead at the end.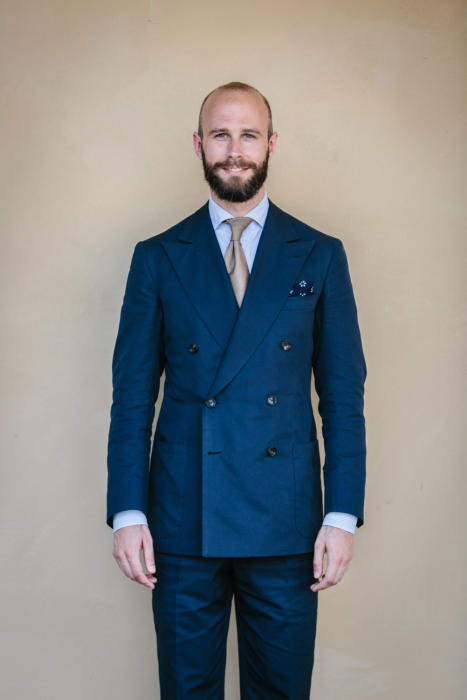 Other things are largely in moderation: a sleeve that is full and masculine, but not messy; a subtly suppressed waist; a skirt that is relatively close in the hips but does not visibly curve inwards.
The only things I would change are perhaps a touch more on the length (a centimetre at most) and a trouser that is slightly narrower in the thigh.
I think here Gianfrancesco was trying to make absolutely sure the trousers didn't pull and open the pleats. He partly succeeded, but perhaps at the expense of that leg line.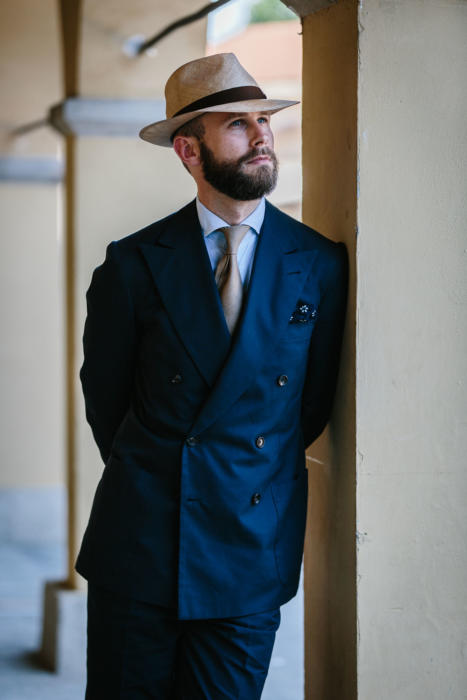 Two: fit.
This is not perfect, but it is very important to bear in mind the limitations of lightweight cotton. It has no line and no drape. It does not have the body or weight to hang straight.
Cotton is not a material for tailoring puritans, and many tailors dislike it for that reason.
I like it because it is fiendishly comfortable, and subtly casual. Not a business suit, but not country clothing either.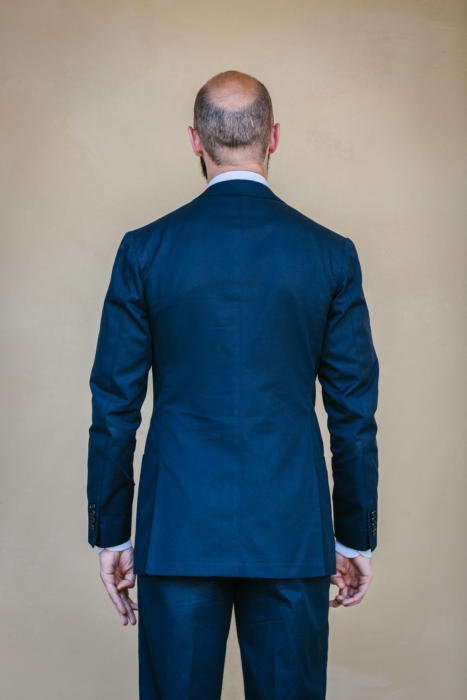 The sleeves are about a centimetre too short.
This is partly my fault, as Gianfrancesco suggested keeping them a little longer to compensate for the wrinkles in the elbow that would come with wear, and inevitably shorten the sleeve.
I decided against that. But a centimetre is easy to add without making the button position look odd - and if done now before the end of the sleeve develops a line through wear.
The shoulders could be lifted slightly, just at the ends, but it's marginal.
The pitch of the sleeve is fine, but ruined by the rumpling of the cotton.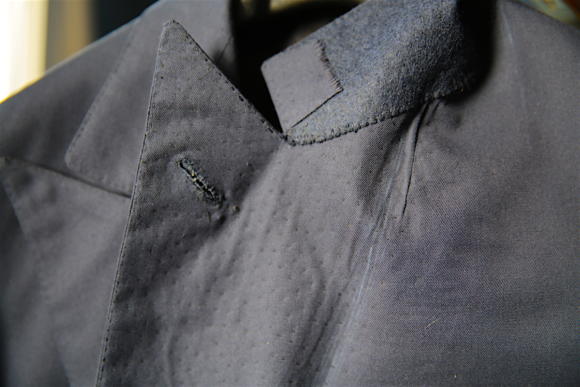 Three, quality.
I've deliberately separated this from decorative sewing and handwork.
Quality is about all the basic things we know and love about bespoke - the hand padding of the collar and canvas, particularly. Which you can see from the image above.
It's about accuracy in the finishing. So straight seams, even if done by hand. Rear trouser pockets being straight and closed (whether buttoned or not) and nothing falling off or falling apart.
This quality is what a few southern Italian houses sometimes fail to deliver - and indeed even smaller tailors elsewhere.
But it's something bigger, established houses are nearly always better on - through practice, and good management.
Part of that is also service and reliability. Always delivering on promised timings; not getting anything wrong with the order; no silly mistakes.
On all these quality points, Musella Dembech is more like a big tailoring house than an at-home operation. And increasingly that's something I'm happy to pay for.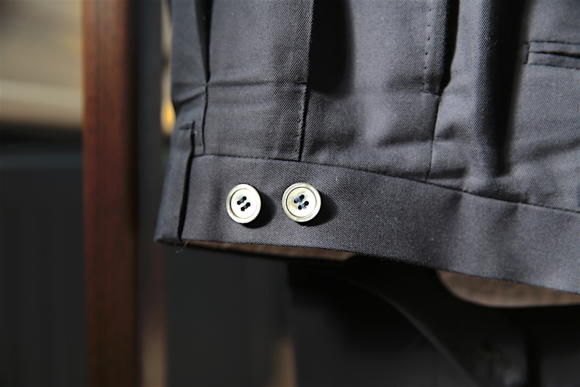 My only caveat would be Gianfrancesco's preference for not having side adjustors on the trousers.
He dislikes them as he says they never work well, and the two buttons for the waistband mean you tighten there if you need to.
Those buttons do work fairly well, but for me not as well as a side adjustor, and I will ask him to add them on.
Four, decoration.
Here Musella also excels. As you can from the images, there is fine and consistent pick stitching along almost every edge and seam, by hand.
The sleeves were unlined, and the finishing of these seams inside was also wonderfully neat.
The lining is not hand-sewn in and then top-stitched over the top by hand, as only the aesthetes at Cifonelli or Camps de Luca would do.
But the edges of the lining (it is only half lined) are turned and sewn by hand, which is nice - even on the pocket bag where it peeps out of the lining.
The buttonholes are finely wrought - although as noted on the first post, I don't particularly like the relatively large hole at the end (sometimes known as a keyhole buttonhole).
It's easier to sew if the hole is bigger, but of course that doesn't mean it's the reason it's done.
Other largely decorative things (or perhaps they belong under style?) are the grey mother-of-pearl buttons on the waistband - and the thinness of that waistband. Both of which I like.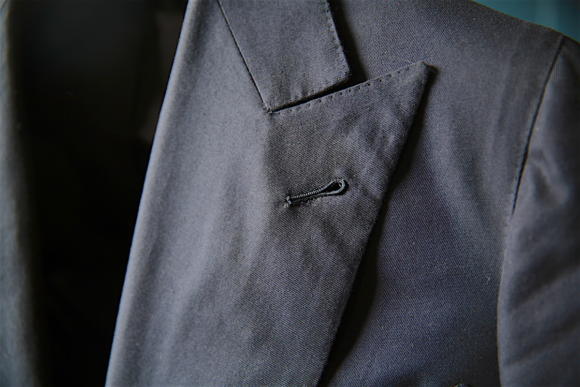 Overall, a very good suit that succeeds in making something wonderful out of a cheap, unruly cloth.
I can understand readers who commented Musella is too small to be charging €5,000 for a suit, but the product is certainly beautiful.
I just need to find a way to afford the next one, in a harder, more sharper-edged material.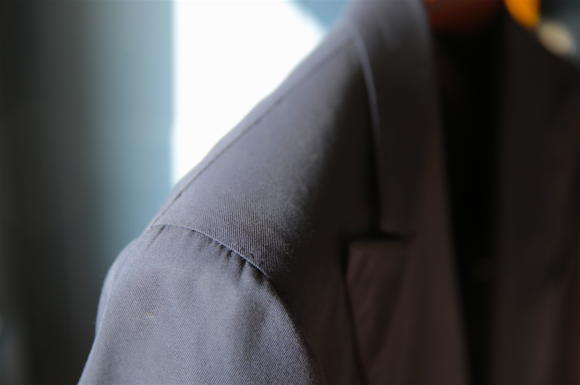 Background on Musella in my first post here.
Gianfrancesco is based in Milan and currently only travels to Hong Kong (with The Armoury).
I am also wearing:
Bespoke cotton shirt, Luca Avitabile

Matte silk tie, Paul Stuart

Indigo bandana (as handkerchief), 45rpm

Linen socks, Bresciani

Bespoke suede slip-ons, Gaziano & Girling
Photography: of me, Jamie Ferguson @jkf_man. Detail shots: Permanent Style