The appeal of the cotton suit – bespoke from Elia Caliendo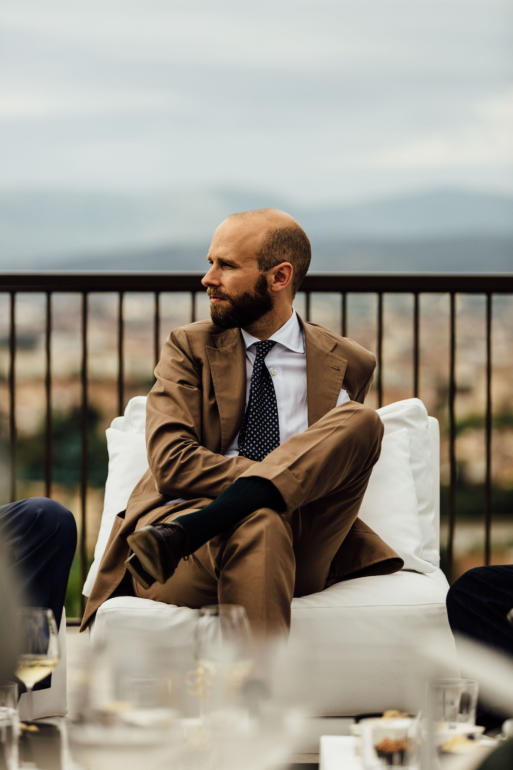 I've always found cotton very appealing for summer suits, but historically haven't had much luck with them.
I had a navy one made by Choppin & Lodge, but the make was really too English and structured for the material (my fault, not theirs). And I had a green one from Madrid's Reillo last year, which had an issue with the shoulders (their fault, not mine).
This summer, I planned for a suit and a jacket in cotton - the suit from Elia Caliendo (pictured here) in a soft Neapolitan style, and the jacket in a double-breasted Milanese style from Ferdinando Caraceni (details next week).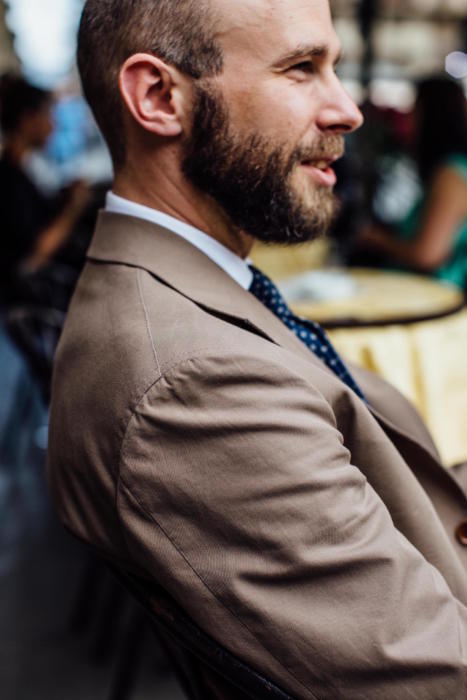 Cotton is very cool in the summer, particularly if fine and lightweight like this 9oz from Holland & Sherry (276009).
It will wrinkle, but not as much as linen of the same weight. And it is very comfortable, perhaps more so that most linens.
The sartorial disadvantage, of course, is that cotton won't drape or hold a line well. It is disliked by tailors for this reason - it is not really considered something you can 'tailor' in the same way as linen or wool.
Cotton's other big disadvantage is that it has no natural stretch. A tight fitting cotton suit can be pretty uncomfortable, and this Caliendo was cut a touch bigger in the waist and thigh to accommodate that.
(Cottons with cashmere mixed in, like my A&S cord suit, alleviate this problem somewhat. But then the cashmere also makes the cotton even more shapeless and liable to bag.)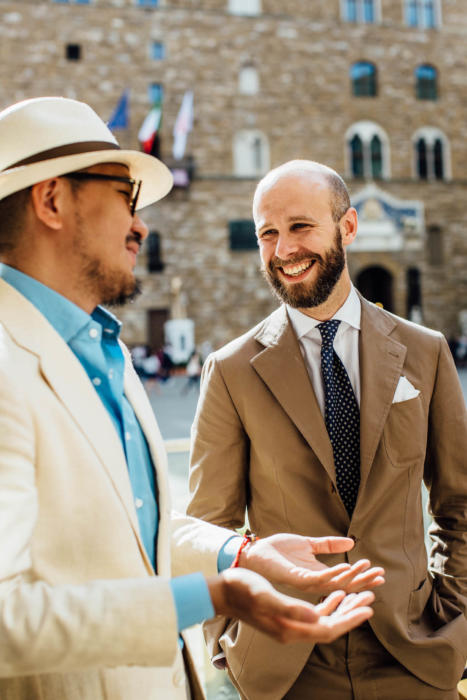 So several disadvantages. But there is one more - something a cloth merchant or mill will often list as a disadvantage, but I consider anything but. Cotton is rubbish at holding dye.
Wool is great. Absorbs it, holds it, won't let it go. But cotton is not. This is why jeans fade, why denim shirts look great around the seams, and why chinos are usually garment washed.
That resistance to dye is annoying for a mill - it makes the colour harder to control. But for the consumer, it means the particular suit or jacket will age beautifully, developing a patina around the exposed areas and seams.
And given that one of the big themes of Permanent Style is making tailoring relevant to a modern, more casual audience, this ageing is very appealing.
You can accelerate the process with how the suit is pressed, too. Some Savile Row tailors used to press cotton suits when they were damp, in order to lift out some of the dye out of the folds and seams.
I wouldn't necessarily recommend doing this on a full suit at home, but you can see the effect if you dampen the crease on a pair of cotton trousers (perhaps with a sponge) and then iron them (always best to start with a tea towel between the iron and the cloth).
The crease will lighten slightly, and do so more the more times you iron them.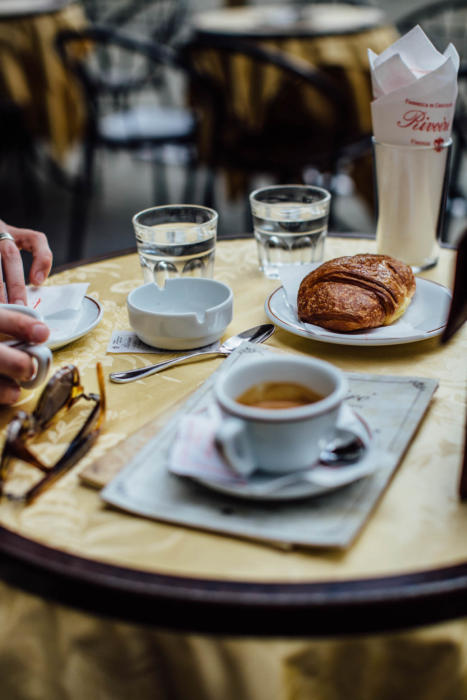 As to this suit, it was beautifully made by Elia Caliendo especially for our Young Tailors Symposium last month. It was only quarter lined, with a piece of bemberg across the top of the back. And the sleeves were left unlined (something I wouldn't recommend on many cloths apart from cotton).
You can see below how the cotton of the sleeve has been turned back inside, and without the lining in between, the pick stitches show through slightly on the exterior. Like a join-the-dots gauntlet cuff.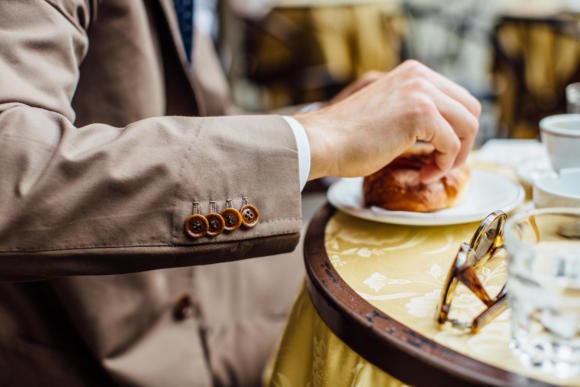 Elia also convinced me to go for corozo buttons, which I normally avoid. The Italians usually default to them, but generally I think they look too plasticky - without the textural appeal of horn.
But lighter colours of corozo like this tan have more texture - the 'waves' are much more visible. And tan worked nicely with this suit.
Photos in Florence by Jamie Ferguson, taken during a meet up of the 'Ten most Rakish men'. George Wang of Brio above, and Ethan Newton or Brycelands in the background below.
Tie from Drake's, shirt from Luca Avitabile, handkerchief from Simonnot-Godard.