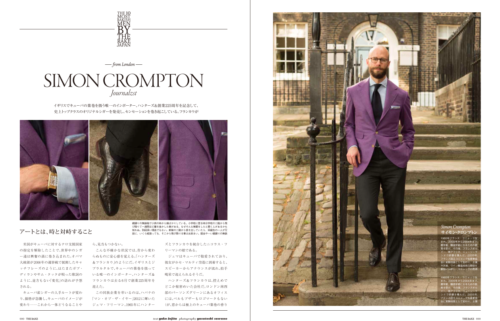 Nice to be included in The Rake Japan's list of the 10 most Rakish men in the world, and alongside some lovely company.
As ever, the Japan arm of the magazine is particularly geeky, and concentrated on accessories, collections and cloths in the interview.
I'm wearing:
Liverano & Liverano jacket in vintage purple flannel
Chittleborough & Morgan charcoal trousers
Luca Avitabile linen shirt
Drake's navy tie
Simonnot-Godard pale-blue handkerchief
Gaziano & Girling dark-brown alligator shoes (benchmade on my bespoke last)
Jaeger-LeCoultre Reverso watch in yellow gold with a plum-coloured ostrich strap
I will do a fuller piece on the Liverano jacket at some point using these photos that Mark Cho took, as I realise I've never done anything in detail about it.