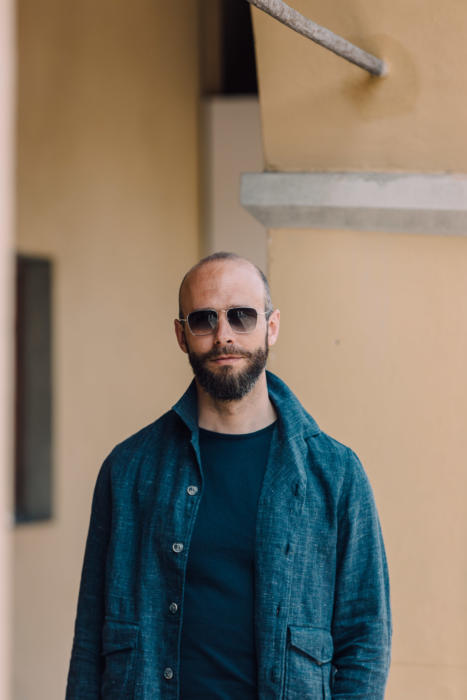 When I travel, my default these days is a blouson over shirt and trousers.
It makes a nice switch from tailoring during the working days – perhaps a little more comfortable, but more importantly just a change that feels as good as a rest.
The weight of the blouson can be varied for any weather. A heavy fur-lined suede in winter, something reversible when it threatens rain, and in summer a featherweight piece like the linen/cotton 'giubbino' pictured here.
The advantage of a casual jacket to travel in, of course, is that it's easier to fold up and store than an overcoat, yet also has the pockets that knitwear would lack.
The example pictured is from Connolly, and its material is so light that it was comfortable in the 40-degree baking, valley-trapped heat of Florence.
I like the slubbiness of the material, the high but floppy collar, and the fact the hem can be cinched in or not – turning it from a tight-waisted blouson into something longer and straighter.
There is also a covetable version in red corduroy.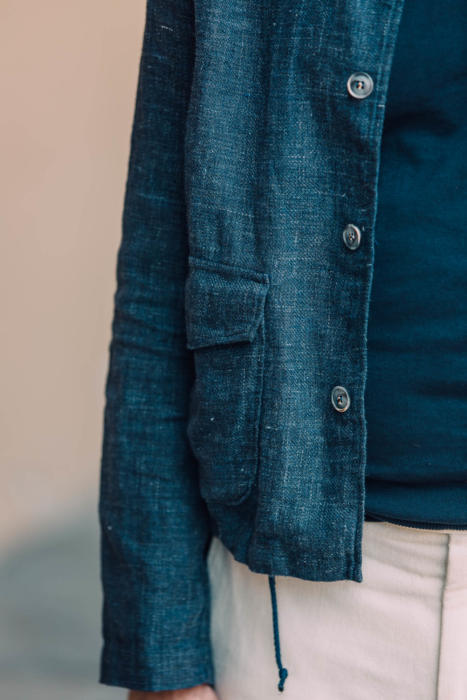 The thing I wanted to focus on in this article, however, was the fully fashioned T-shirt underneath (also from Connolly).
I've written before how much I like T-shirts like this – short-sleeved but fully fashioned like knitwear, in a fine cotton or wool.
But I don't think I've ever used images to illustrate. So I thought I'd use these shots from Pitti in June to do so.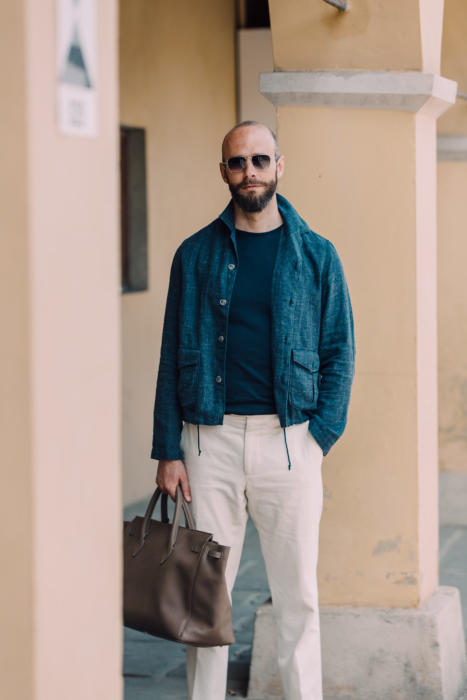 Wearing the neckline of a T-shirt under something, rather than a collared shirt, has an immediate and significant impact on how smart or casual it looks.
I think the effect is similar to wearing trainers rather than welted leather shoes.
Swap leather loafers for white trainers under a suit, and the impression is hugely different. It's greater, I'd argue, than similar changes like swapping a jacket for knitwear, or flannels for jeans.
This effect, of course, is why so many like the idea of a T-shirt under a suit. Like trainers, it immediately dispels any stuffy or business associations the suit might have.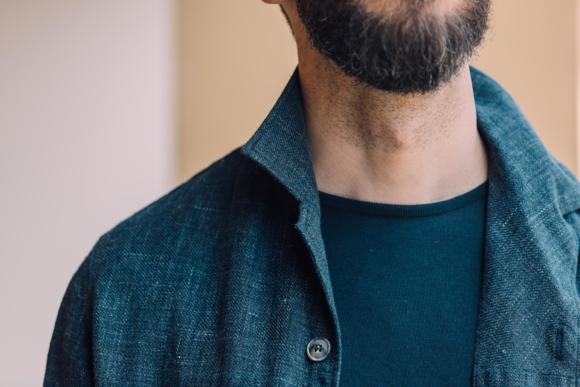 T-shirts under tailored jackets don't suit everyone, however. Personally I think they require a certain physique – stronger shoulders, perhaps slightly shorter neck. A beard helps; age and wrinkles do not.
Magazines write too many articles about 'how to wear' a T-shirt under tailoring. The fact is, it just suits some body types – and therefore some people – more than others. Not something magazines are usually happy telling you.
As a result I tend to wear T-shirts under things with higher collars: shawl-collar cardigans, safari jackets and blousons.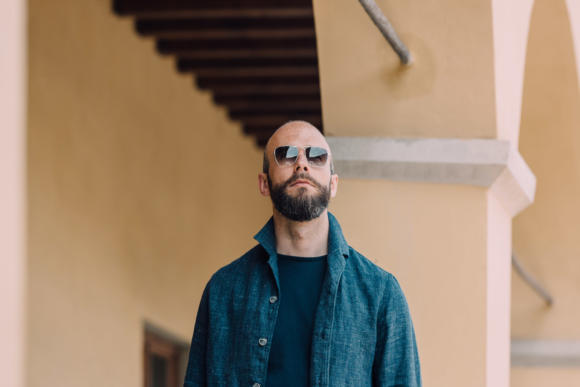 The advantage of a fully fashioned T-shirt rather than a cut-and-sewn one is that it looks a few degrees smarter.
(Normal T-shirts are also knitted, just like sweaters. The difference is in how they are put together: cut into panels and sewn along the edges, or knitted together into the seams you see on knitwear.)
A regular T-shirt would certainly have been OK with this outfit. But the neckline would not have been as clean and sharp, and nor would the small amount you can see of the body.
Given the cream-cotton trousers are fairly smart, as are the brown-suede Sagans and the blouson, a smarter T-shirt felt more complementary.
A regular tee would have been better with jeans, a chore jacket and canvas trainers, perhaps.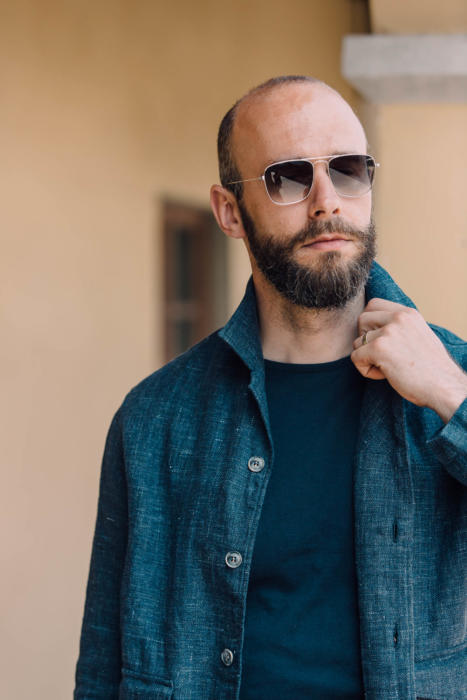 This T-shirt is a better substitute for a collared shirt – and indeed, that's one reason fully fashioned ones like this are useful when travelling, as they tend to work with more of the tailored wardrobe I'm also carrying.
Connolly's tees are luxurious but also expensive. More affordable (and in a greater range of necklines and colours) are those of the ever-reliable John Smedley.
I'm wearing one in this piece on layering knitwear here.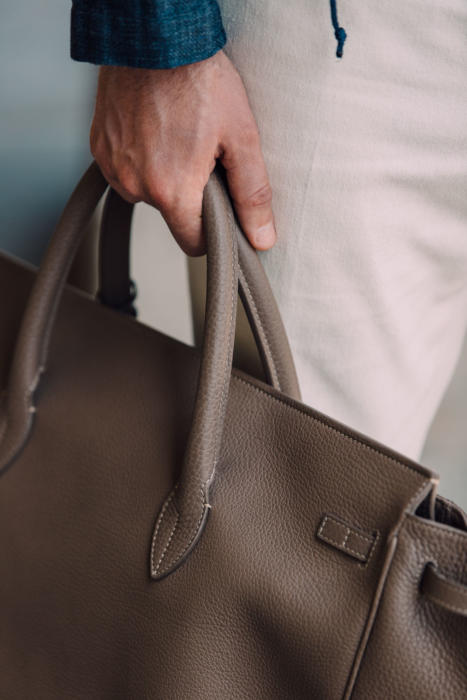 The bag is from Acate Borsa – a Japanese brand I visited in Tokyo earlier in the year, which sells high-quality pieces made in Italy.
The leather of this one, for example, is a real shrunken calf, where some just copy the texture (made popular by Hermes) by printing a standard calf leather.
The work, including inking and small points of hand sewing, is well done, and it's lined in a lovely Alcantara.
I've always loved this warm-grey colour, and don't find it effeminate as some do. It looks particularly nice against navy, such as a worsted suit.
The only thing I'm not sure of is the tassels. But they can easily be taken off and on as my mind switches back and forth.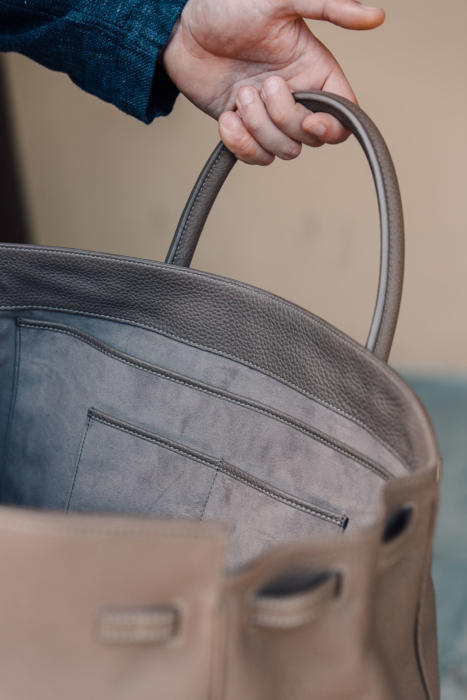 The sunglasses are 1950s Ray-Ban Caravans in filled 12k gold-filled wire, from Retrospecs.
More on those here – and of course Retrospecs will now be at the pop-up in September, so anyone can come and see their range there.
The made-to-measure trousers are from P Johnson, in Loro Piana denim.
Photography: Jamie Ferguson @jkf_man