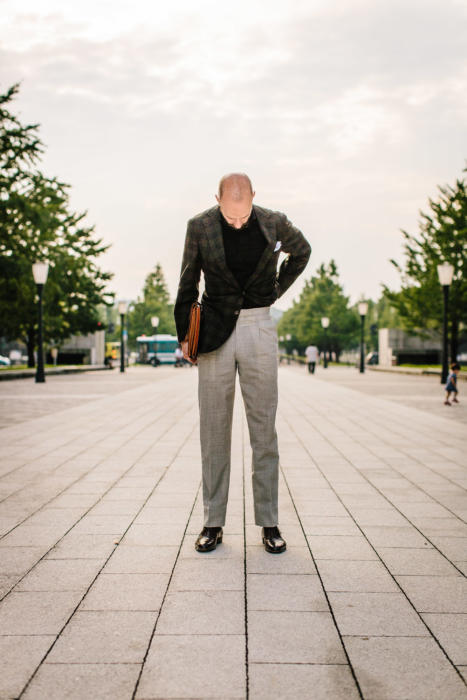 Of all the articles I've written in our Wardrobe Building series, this might be the hardest.
Even if we're just looking at smart trousers, the pairs that suit somebody will vary hugely with lifestyle and with taste. A pair of whipcords is probably smarter than a pair of flannels, but the difference is just as much about which look someone prefers.
Still, there are certain areas that are less controversial, and we'll start with those before branching out into specific looks or how flash or fuddy something is.
The assumptions I'm making for everything in this list are:
the wearer is looking for smart, separate trousers, probably for work
they still want some range of formality (eg for a meeting and not)
and they want to wear them with a jacket and without.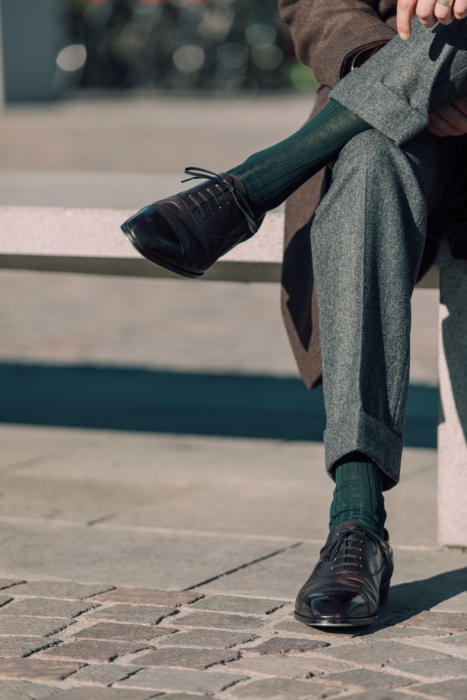 1 Grey flannels
I'm always confident putting trusty mid-grey woollen flannels top of the list because of the reaction of a good friend of mine, when his office was transitioning from suits and ties to trousers and shirts.
He couldn't believe how different they felt to everyone else in the office (who had, of course, just removed their suit jacket) and yet how smart and even sophisticated too.
Flannel remains unique among trouser materials for the place it holds between smart and casual (there is no real summer equivalent), and mid-grey is the most versatile colour, happy with black, brown and tan shoes, with black-and-white and with strong colour.
Bunch: Fox Classic Flannel. Fox is a great, dense flannel and the 370g mid-grey is my go-to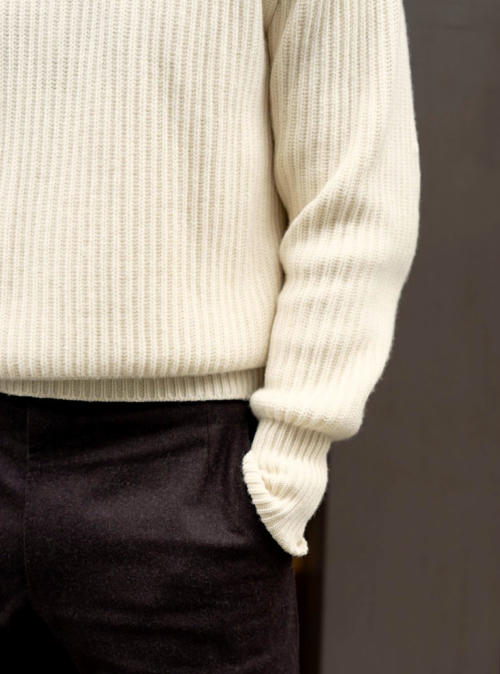 2 Charcoal or dark-brown flannels
Charcoal is for the formal dresser who wants something a little smarter than mid-grey. Or for someone who wears a lot of black and cold shades of brown and olive.
Dark brown flannels are similar, just without the office/business applications. I love both, and I'd suggest them as a second option to anyone that has loved flannel and is looking to expand.
This is the point where I think the first subjective, more personal angle comes in. A whipcord or cavalry-twill trouser in either of these colours is just as nice and almost as useful. I wouldn't say it's quite as home with something casual, like a denim shirt and a crewneck, but it's not far off. Feel free to go for a sharp wool twill at this point instead of more flannel.
Bunch: Fox again for the flannels, with their char-brown (pictured above) the kind of colour few others seem to do. For whipcord and cav twill, try the Holland & Sherry Dakota bunch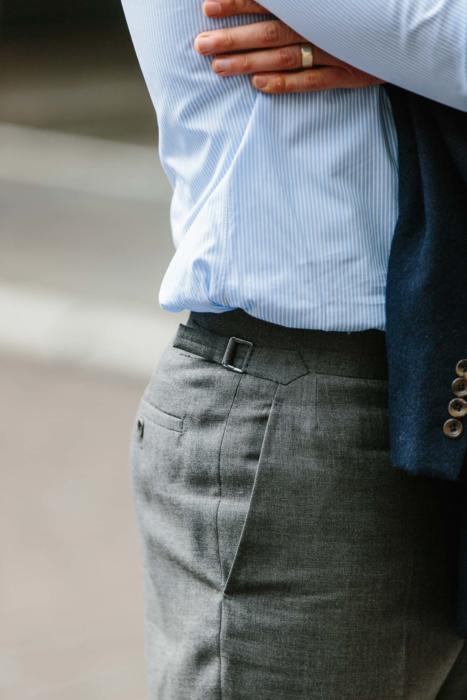 3 Grey high twists
A central problem with this list is that most people will want different trousers for summer and winter. Unless you're in a tropical country, or a very cold one, you won't be able to wear most of the fabrics year round.
So here we have to recommend trousers in a similar shade of grey to the flannels, but in a smart summer material like high-twist wool. It's very breathable, and it doesn't look like the orphaned bottom half of a suit.
On the topic, by the way, suit trousers (usually fine worsted) aren't so bad with just knitwear on the top. It's when you try to wear them with separate jackets that they usually start to look odd.
Bunch: The classic here is Fresco, but I find it a bit too harsh. Crispaire from Holland & Sherry is good, but my favourite is probably the Drapers 4-ply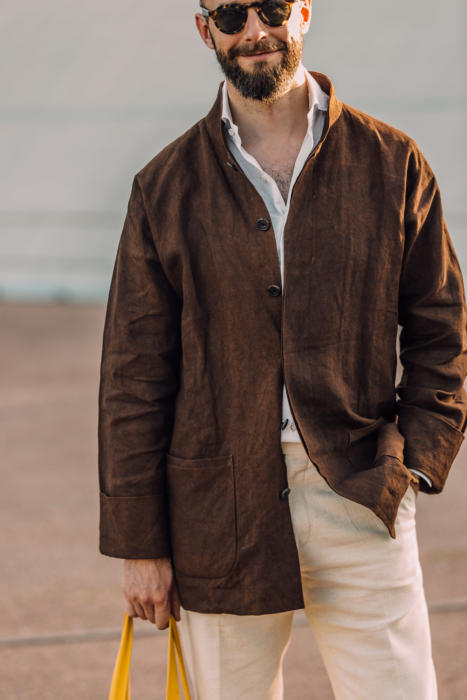 4 Cream or dark-olive linen
The summer requirement also means we need something a touch more casual than high-twists, which is linen. A heavier, Irish linen will usually look smarter, stay sharper, and be more professional-looking.
Navy and greys usually aren't great in linen, with the former looking old and the latter rarely being the right shade. They might be what you'd go for instinctively, but it's good to consider cream, or if that scares you, a very dark olive colour.
Bunch: Most mills don't develop their own Irish linens, buying them in from mills without much variation. It's more important to make sure it's Irish, and the heavy end of the range. More on that here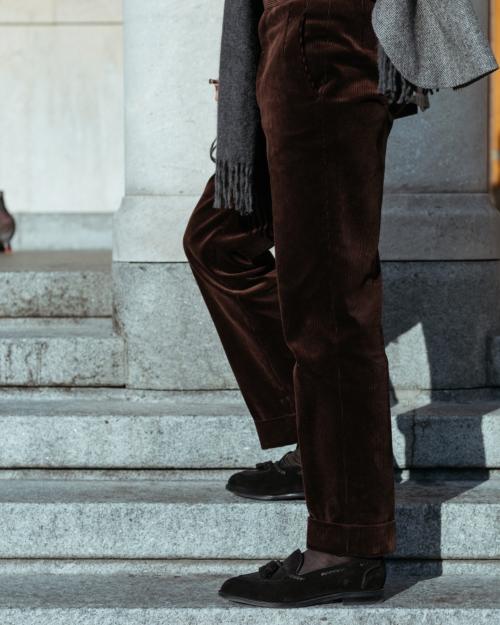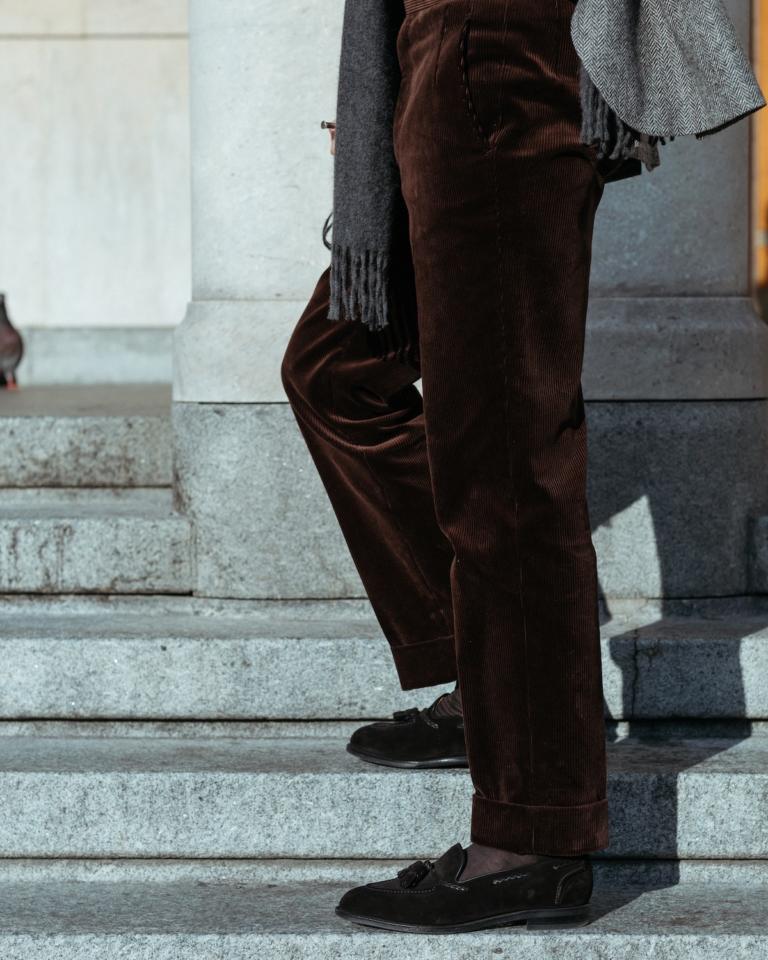 5 Grey, olive or dark-brown cords
In order to add something slightly more casual than any of these, I'm including corduroy but in relatively smart colours like very dark brown, olive (basically, a darker and browner shade of green) and grey.
I've never worked out why grey (either charcoal or mid-grey) looks better to me as smart cords than navy does. Neither are the conventional colours, but somehow navy always seems to look more wrinkled and dustier than grey.
It might also be that I find navy trousers in general not as versatile with jackets as people expect them to be – largely limited to greys on top. (See article, and much dispute, here.)
Bunch: Everyone does cords, and even though many buy in from Brisbane Moss, if you want something softer or with more variation (eg a wool or cashmere mix) look to non-English mills like Scabal or Loro Piana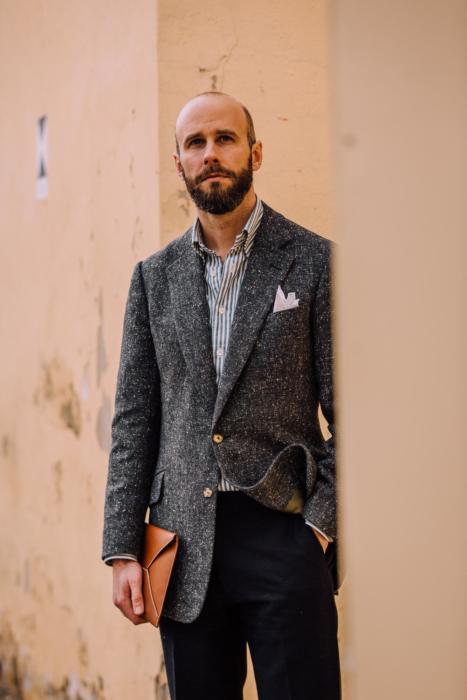 The next five
Have aimed for the most useful, the most comprehensive and versatile, these are five more types of options to consider, particularly based on taste.
Whipcord/cav twill/serge
The nicest materials that are not a suit trouser but still sharp. Serge from Fox is great (above), as is the Dakota bunch from Holland & Sherry. Avoid the country colours and try something like charcoal. The charcoal in the Porter & Harding Thornproof bunch is a purist's version of that – very tough yet sharp.
Wool or cotton gabardine
These have the same name, but in reality are rather different. Wool gabardine is particularly smooth and sleek, and I'd recommend it more for formal events. Cotton gabardine is nice, the smartest cotton gets and if you like cotton like cord or moleskin, this has the same cotton touch, but smarter.
Chinos and other cotton twills
I haven't really included chinos because even when smart, I don't think they're the best with jackets. (Even if a smart chino such as this is a great office option with just knitwear.) There are other cotton twills around, however, which can be nice. They're hard to define because the only thing that unites them really is using finer cotton and a smoother finish. But if they're in a tailoring book, it's usually safe to say they fall into this category, rather than being a chino.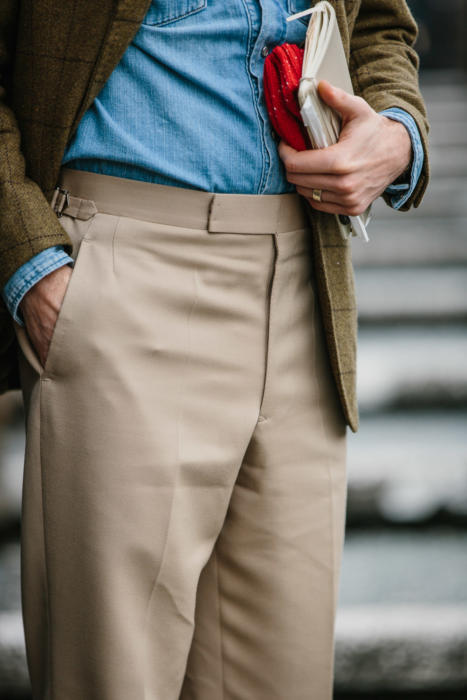 This is of course by no means a complete list. Rather, it's a selection you can pick and choose from – including multiples – to suit your workplace and lifestyle.
A guy that works in a smart office five days a week, for example, and wants more of a uniform, might have three pairs of grey flannels – with maybe a charcoal and a brown for variation. Another, who moves much more around different places and meetings, might want a mix of cords, flannels and a pair of smart chinos.
Colours can vary similarly. The most important thing to remember there is just navy and grey will always be smarter than green and brown. It should be obvious when you think about it.
I've recommended some bunches above, but if anyone has any questions about other things, such as weights, please do ask in the comments below. I'm sure readers will chip in too.
Next up: Casual trousers