Fox re-weave my ecru cavalry twill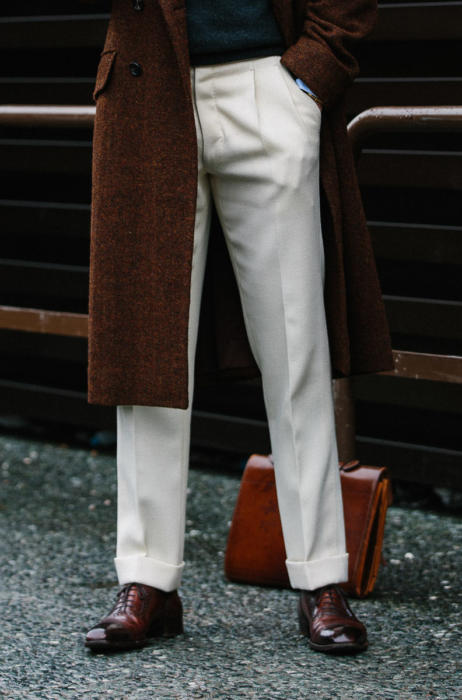 *Cloth now sold out. Fox are taking pre-orders for the next batch*
At our pop-up shop back in April 2017, Fox Brothers brought up some vintage bolts to offer readers, including a rather beautiful ecru cavalry twill.
I bought a length myself, and subsequently had it made up into some plain-front trousers with Pommella. Those trousers have proved very popular, with inquiries to both myself and Fox about the possibility of getting more of it.
So late last year we decided to go ahead and re-weave the cloth, and I'm happy to say that a limited run is now available on the Merchant Fox website.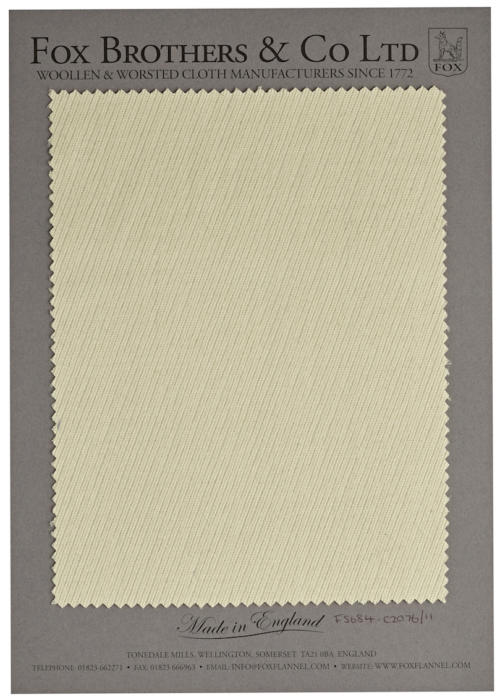 There is only 14 metres available, so with men needing on average 1.5 metres for trousers, there will only be about 10 cuts on offer.
However, Fox have been careful to make sure they have access to the yarn, so another batch can be woven relatively quickly.
If you find the cloth is sold out, therefore, please follow the instructions on the Fox site to be on the list for the next batch. They will then be in touch with details. We're waiting to confirm when that next batch will be ready.
There is a drop-down menu where you can select the length you require, but if you want other options (or want to ask further questions) you can email Amy Haines at [email protected].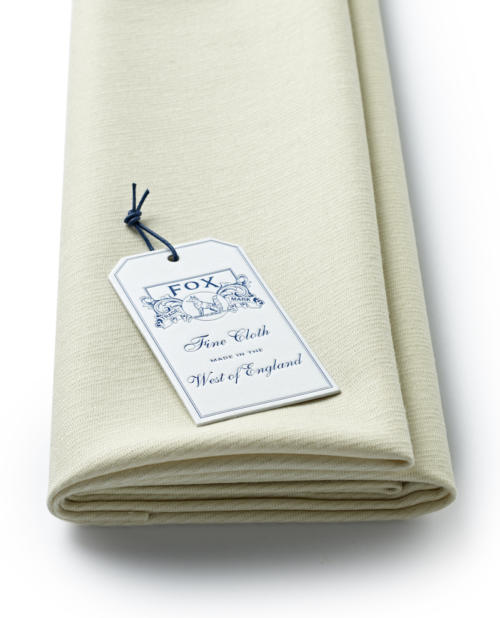 I love my trousers, in particular the slightly unusual double twill and the super-sharp creases it produces.
They are heavy, at 16/17 ounces, and are therefore really only for Autumn/Winter. (Think sunny, chilly days.)
And of course cream is not the most practical colour. But if you have most other colours in your wardrobe, cream is a lovely addition. It's a way to make a statement without strong patterns or loud colours.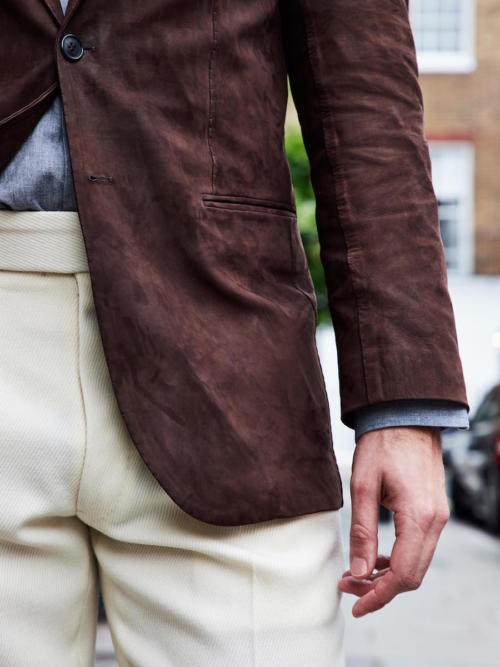 I tend to wear mine with dark, simple colours elsewhere - in particular greys.
In the image above they work well with a grey brushed-cotton shirt and brown nubuck jacket. It's all about texture and contrast of tone.
And in the outfit below the combination is actually quite similar - with a charcoal rollneck on top and my brown-tweed ulster coat over it.
Again, texture and contrast.
Finally, in my piece 'How to wear trainers' I wore the trousers with a denim shirt (which I think works particularly well, subverting the formality of the trousers) and a navy cardigan.
The lack of pattern is not coincidental.
The cloth is 450/480g (16/17oz), 100% pure new wool, code FS684-C2076/11. It costs £140 a metre.
I had my trousers half lined, and I'd recommend that - the wool isn't coarse, but it's not super-soft either.
Cloth on the Merchant Fox website here.