Shop update: Sartoria Solito and Luca Avitabile shirts will be in the shop today and tomorrow for a trunk show.
They're pretty full already, but if you want to try and make an appointment, please contact [email protected] or [email protected]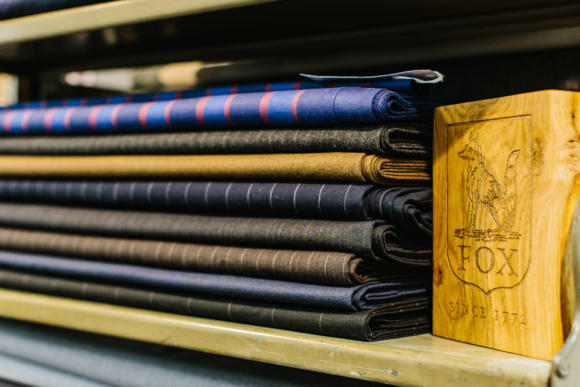 I was keen to have a cloth company as one of the exhibitors in our Savile Row pop-up shop.
There's nothing like picking cloth from a full bolt, where you can drape it around yourself, get a real feel for the handle, or simply see how a check looks at scale.
Fox Brothers were perfect, both because I could get another look at the vintage bolts I last saw back in 2011 (and made up into a green-flannel suit) and because the Merchant Fox has some finished products for non-bespoke customers as well.
Those Merchant Fox products include a range of cloth caps, shown above.
There are three designs: flat cap, peaked flat cap, and eight-piece. They are all in Fox cloth, some pretty heavy, and range in price from £95-£110. My favourite is the dark-grey eight-piece tweed.
There are also some blankets (£120-£210), and cloth-covered notebooks (£40-£45, shown below).
The star of the show, however, has to be the cloth.
This falls into two categories:
'limited editions', of which there is good availability but it won't be made forever - unlike the pieces in the permanent collection
and vintage cloth, which is the odds and ends from decades of production, and of which there is no more than a few metres
In the images here, the limited-edition cloth is broadly the thicker bolts, while the vintage pieces are the thinner ones.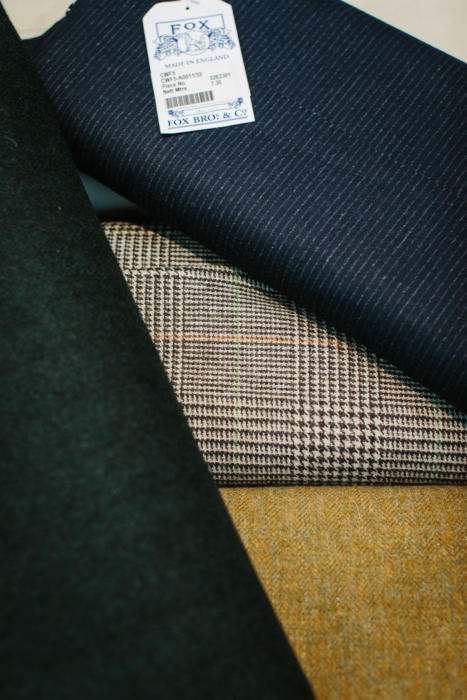 I've picked out two of each as my favourites - pictured above.
There is a deep-green overcoating with a large black herringbone pattern, weighing 680/710 grammes. It's quite unusual and has a real strength of colour, but is dark enough to be quite wearable.
That's a limited edition, as is the tweed jacketing in a large Prince of Wales check (a British wool weighing 470/500 grammes).
As with many PoW checks, it will be the overcheck that will determine its appeal most - in this case in green and orange.
The two vintage bolts are a yellow-green herringbone jacketing - Shetland wool weighing 530/560 grammes - and a chalkstripe merino flannel, at 370/400 grammes.
Both are lovely, the former for its blend of grassy colours, and the latter for its visual texture but smooth handle.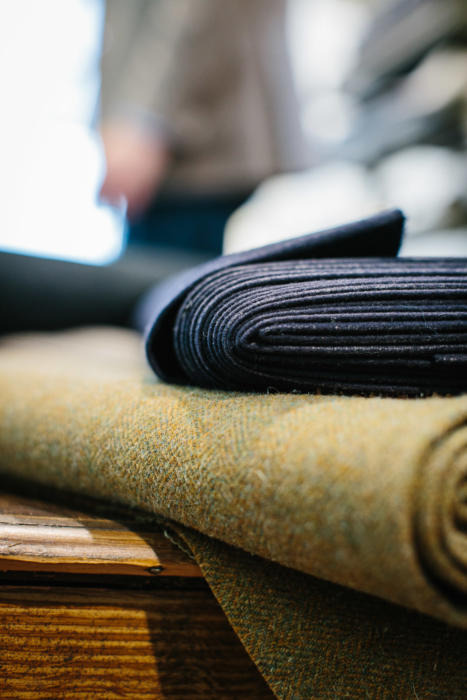 The Fox Brothers team have a cutting table downstairs, and some lovely branded paper, so do come and have a length cut if you want.
The cloth ranges from £82 to £92 per metre.
The furniture in our pop-up shop, by the way, has been lent by the wonderful design and reclamation house Retrouvius in north London.
If you don't know them already, their Kensal Green warehouse is well worth a visit.
Photography: Jamie Ferguson @jkf_man