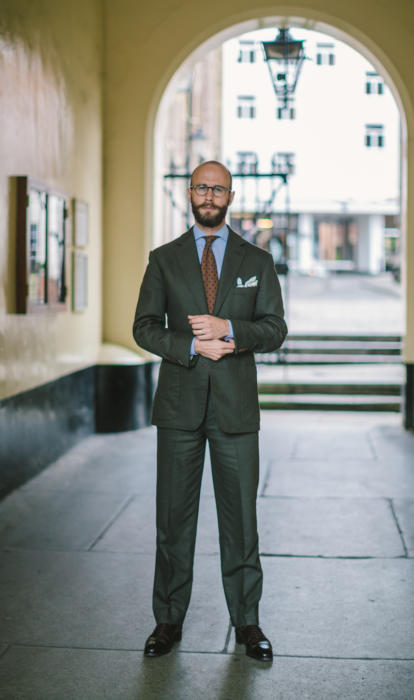 Few readers will be surprised to hear that I like a nice green suit. Green is a wonderfully versatile colour, going with every autumnal colour you can think of, plus really strong browns, purples and oranges that few other colours could support. (It is also apparently rather fashionable. Who knew?)
However, the difficult thing about green is that the shade has to be bang on. It can't be too strong a colour in its own right – it has to be either fairly muted and pale (like my Reillo cotton suit) or dark and deep, like the flannel pictured here.
Several readers had asked for pictures of this suit, going back to my post 'Green is the third colour' two years ago. My apologies for not doing it sooner.
It was made in a particularly nice vintage Fox Flannel that I picked out while visiting the factory back in 2011. Unfortunately, it is no longer available. Not because Fox cannot weave it, but because the colour is not offered by the yarn supplier.
This fairly deep green sits well with a burnt orange wool tie, a mid-blue shirt and a silk handkerchief with green shoestring (the rolled edge).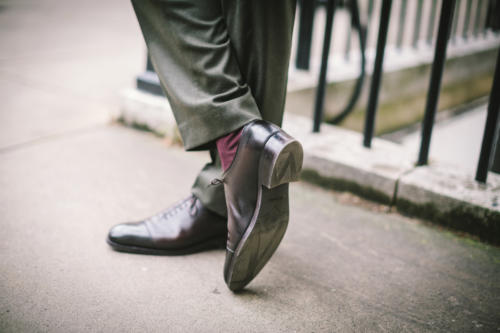 On my feet are JM Weston dark-brown cap toes, which have a thin rubber sole and are my go-to shoe for wet weather. The upper has also been patinated, which helps with water resistance (in the same way as several layers of polish do).
The burgundy socks from Bresciani demonstrate another good colour with this green, though that shade wouldn't work quite as well as a tie or handkerchief.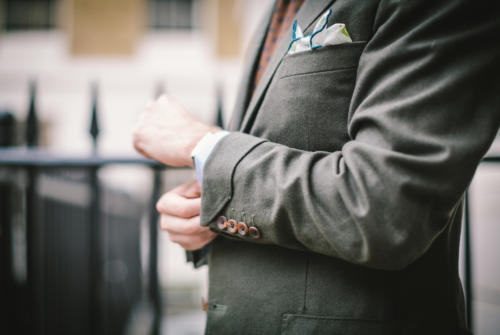 The suit was made by Brian Smith, an Anderson and Sheppard-trained tailor who works out of the Fox Flannel factory and makes suits for Fox's ever-dapper salesman, Douglas Cordeaux.
It is a drape cut, as you would expect, with soft extended shoulders, a small armhole and generous sleeve. Brian also cuts quite a high, sharp gorge. The fit, however, isn't perfect – I've been meaning to take it back to Brian or another tailor in London for a while.
The shoulders are a little low, leading to a slight collapsing under the arms, and the seat isn't quite right. There are also one or two points where the workmanship could be better. The pale-green thread is showing through in one or two places around the patch pockets, as you can see below.
Having said that, Brian is good value (see full prices below) and does all the tailoring himself. He also visits London every week or two, so there's no need to go down to Somerset for every fitting. I'm sure working consistently with him on a pattern – as Douglas has done – would lead to some great suits.
Two piece suit: £1100 plus cloth [in Somerset] if the fitting is in London add a further £200
Jacket: £750
Dinner Suit: £1250
Tailcoat: £1200