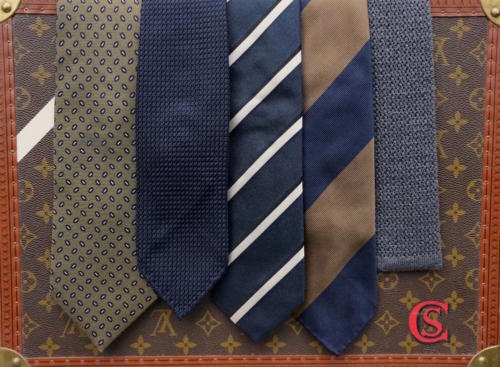 Readers often ask for 'capsule collections' of types of clothes – shoes, suits, ties etc.
There are many reasons such a list is useful. It can point to the 'essentials': those things that provide the foundation of a wardrobe. It can suggest investment pieces. Or, if you commute by bike, it can make up a small, versatile wardrobe at work that can be recycled in different ways.
I keep most, sometimes all, of the ties pictured above at my office.
I find them the most versatile, most useful, most practical. Even, perhaps, the most pleasurable. Because nothing pleases me more than dressing simply but well.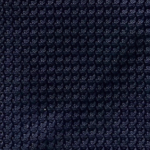 1. Navy silk grenadine
A plain navy tie is extremely versatile, going with almost all colours and patterns of shirts and jackets.
Grenadine is the most versatile tie material in terms of formality, going with all but the smartest suits and all but the most casual knitwear.
I wear this untipped model from Drake's so often it's embarrassing.

2. Grey knitted wool
Grey is not quite as versatile as navy. While navy ties go with navy suits, grey ties often aren't the best choice with grey suits.
Still, grey is very useful, and a square-ended knitted wool tie will go with casual jackets and dress up some quality knitwear.
I tend to wear this one from Hermes with my Anderson & Sheppard shawl-collar sweaters.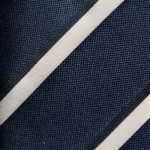 3. Navy club stripe
I argued a while ago that this is the most useful tie in a man's wardrobe. If we stay with relatively formal suits and jackets, that might still be right.
The nice thing about a club stripe is that it is big enough to go with any pattern of shirt, from a micro-stripe to a butcher's stripe.
As a general rule of thumb, patterns in ties, shirts and suits work when they are not too close in size to each other. A club-stripe tie always avoids that problem.
This particular one from Drake's is given a subtle bit of a punch by a black edging to the top of the silver stripes. And while I don't have a club, it is the colours of my college, which is nice.

4. Navy-and-bronze block stripe
The pattern is so useful, I would include two in the capsule collection. Well, a block stripe rather than a club stripe, but the benefits are similar. A nice simple pattern that goes with everything.
Having a brown-toned stripe helps the tie to go with slightly more casual outfits, specifically those with brown accessories.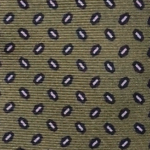 5. Olive printed tie with black geometrical pattern
This, from Isaia, is perhaps the most interesting tie of the lot.
It's not an obvious choice: a green background, with small black motifs filled with lilac. Fairly unusual colours; yet it is extremely useful.
The reason is how muted those colours are. Classic Hermes ties have always been popular for that reason – they're nearly always in muted, simple colours that go with anything.
Most brands don't design ties like that. Subtle ties don't jump off the shelf, don't sell themselves from across the room. But they're always the most useful, and it allows you to get away with colours like green, black and lilac.
If you want a useful printed-silk tie, pick a muted colour with a small, geometrical pattern.

Ties pictured on my vintage Louis Vuitton Alzer case, with hand-painted initials.