Wearing warm and cold colours
Being able to judge the relative formality of an outfit is a key component of dressing well in modern, variable working environments.
Many things contribute to this formality:
Most obviously, formal items of clothing such as a suit, tie, or handkerchief

Next, perhaps, colour and pattern (a brightly coloured checked jacket compared to a plain navy one)

Third, shape and line (sharp, clean suit trousers compared to bulky jeans)

And fourth, texture (tweed v cashmere).
This is something we've covered fairly consistently in recent years, in posts including:
However, a useful parameter that we rarely discuss is the relative warmth or coldness of an outfit.
This is similar to the consideration of colour, but also brings in relative tone or shade (how strong, dark or muted they are).
It is also something you can communicate easily to someone, and judge instantly - making it a useful rule of thumb.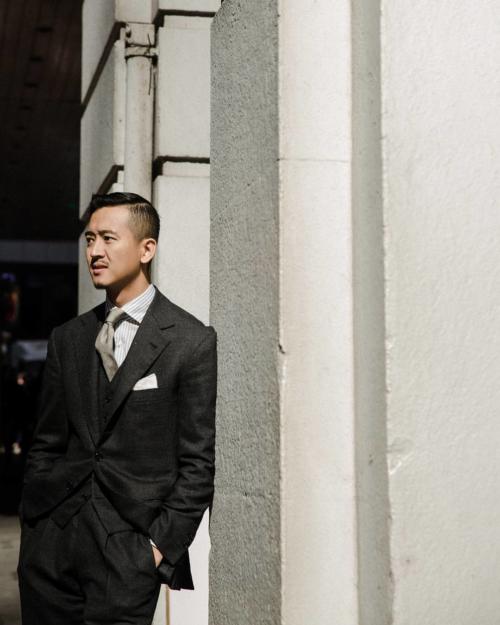 To take an example, Alan in the image above is very cold and formal. There is nothing warm to grab onto here.
Traditionally, formal daywear and evening wear was limited to these kinds of greys, creams and blacks.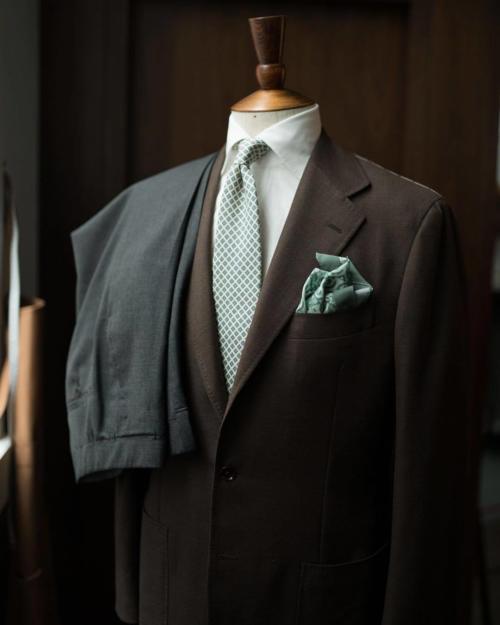 Obviously that outfit also had little colour, pattern or texture.
The next image, above, has more: brown, blue and green, as well as some pattern.
Those colours are muted, however, and the whole, again, feels cold.
This doesn't mean it's immediately a formal combination, but it does mean it's smarter than a similar outfit in warmer tones.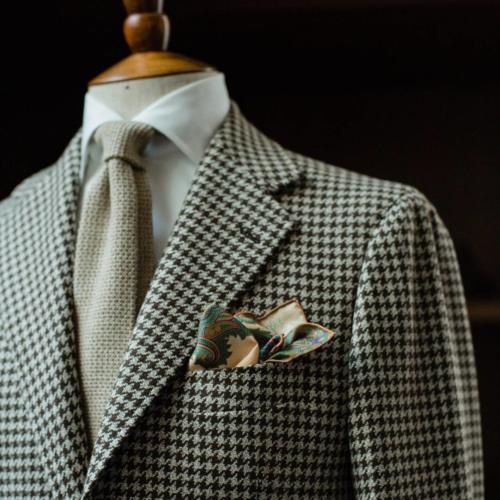 This next has a lot of pattern and texture going on - particularly the knitted tie and houndstooth check - but again its relative coldness make it seem relatively smart.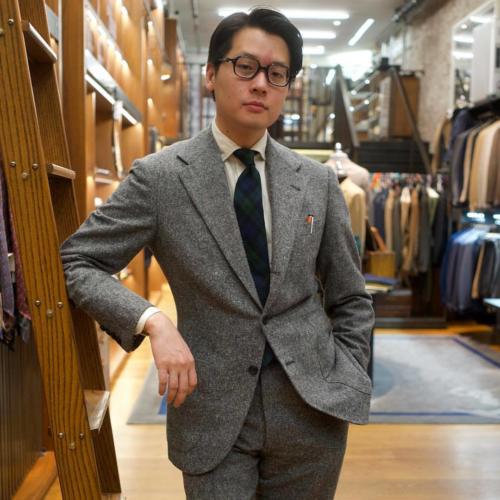 Mark's outfit, above, is a little warmer but not much.
Replace that grey donegal with a brown in the same texture, and the pale-yellow shirt with a blue one, and the combination would be a lot warmer and more casual.
Next, compare Jim on the right in the above above with Taka in the centre.
Jim is wearing a suit and Taka a sports jacket; both have a tie and handkerchief; and if anything, Taka has more pattern going on. But the coldness of the colours make him appear smarter, Jim more casual.
(Equally, imagine swapping Jan's tie, on the left, with a navy one and consider the effect.)
Warm colours often come in more casual materials, like corduroys or other cottons. And they are far more common in casual clothing like knitwear and chinos.
But you do still see them in tailoring, and the relative warmth is an easy thing to judge at first glance.
So with Rick, shown above, his brown suit and tan overcoat feel very warm (although, a blue shirt rather than white would make the whole even warmer).
And as a sports jacket combination, Amechi's above is very warm: rich tan trousers, blue shirt, mid-blue tie and green jacket.
The warmest combinations often feel very autumnal.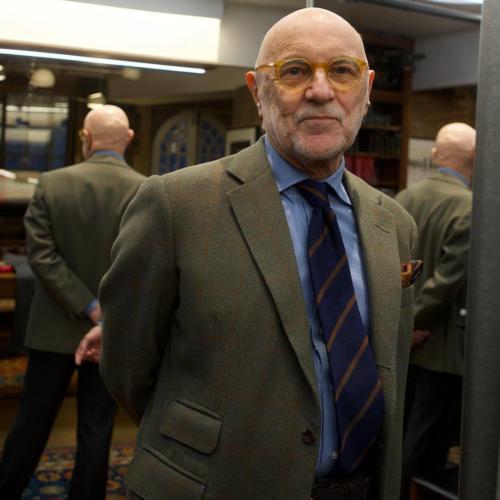 And as a last example, writer Bruce Boyer is invariably in warm colours - again here, with blue shirt and mid-blue tie, and a burst of orange handkerchief.
(Although the reflection reveals charcoal trousers on the bottom half, which cool it down at touch.)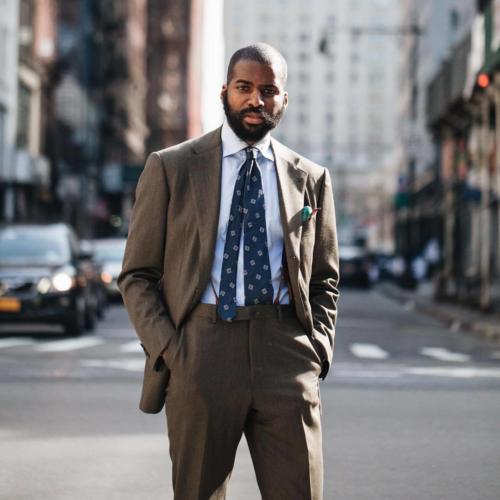 Most outfits, of course, are neither of these extremes, but somewhere in the middle.
Amechi, above, is an interesting example. His tie is a mid-blue, which is warmer than navy, and he is wearing a brown-covert suit, which is warmer than navy or grey. But the white shirt and lack of really strong colours make the whole relatively muted.
-
Relative warmth or coldness is by no means the most important factor in judging the formality of an outfit.
Removing the tie from any of these combinations, or swapping the trousers for jeans, would make a far bigger difference.
But it is useful, and I find myself using it more and more in considering jacket-and-tie combinations.
(All images of Armoury staff unless otherwise noted - and taken from their Tumblr.)