The Armoury really inspired me (as it did many others) when it started out in Hong Kong, and I still get particularly excited about having them in the pop-up shop.
I was in there yesterday, looking through everything with Dick (Carroll, pictured bottom) who has come over from New York to manage it.
My favourites were the college cardigan, the Coherence-collab 'Marc' coat, and the Real McCoy's-collab T-shirts.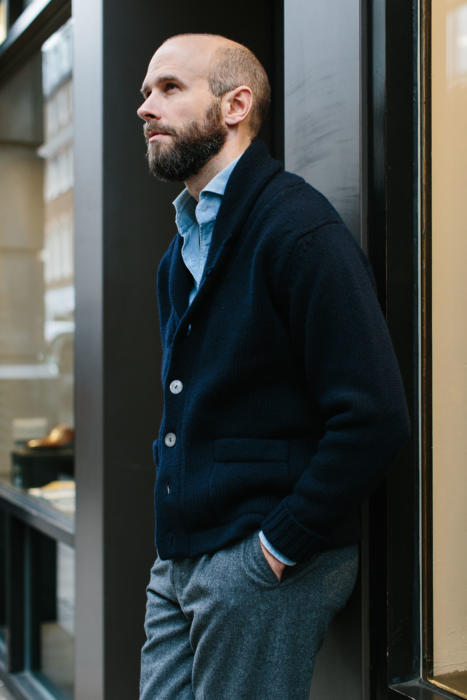 The shawl-collar college cardigan (£342, above) is a new piece for The Armoury, aimed at emulating vintage varsity pieces.
It is cut relatively short and square, with a small shawl collar and big mother-of-pearl buttons. It's lambswool, made in Scotland, and also has a long chunky rib on the cuff.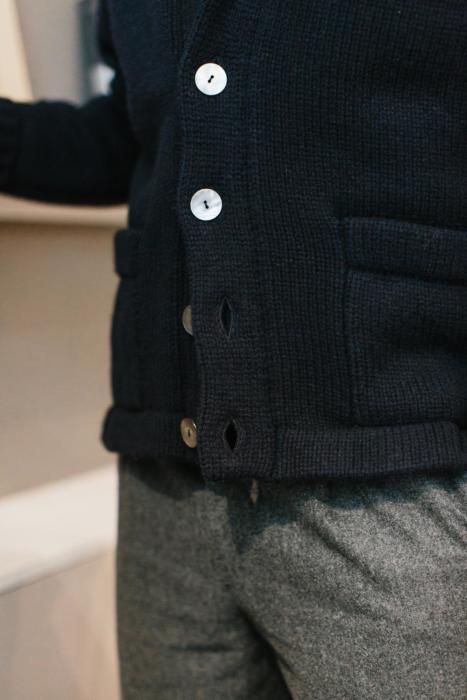 What sets it apart from the other shawl cardigans we know, however, is the finish of the bottom edge.
Here you'd normally have ribbing - as on the end of the sleeve - but instead it's a clean, square line finished by folding back the knit.
A subtle difference, but one that immediately makes it feel more like outerwear, and recalls those old American college pieces.
The 'Marc' (£2100, above) is an adapted version of the 'Mutt' by Coherence, with a simplified belt system and a few other changes.
The original had two buckles and other complications, and even this combines an inner catch, a nicely hidden button and then a single, central buckle.
The belt and waistline has also been lowered slightly, to modernise the shape (which was originally taken from a vintage dispatch coat) and a turn-back cuff added (which can easily be removed to alter the sleeve length).
The core appeal for me is the lines of the Marc though - a raglan shoulder that runs up into a surprisingly striking collar, and then a belt that accentuates the length and wide skirt.
It's striking but in the most pleasing and subtle of ways. Line, curve and proportion.
Lastly, I was intrigued to see the Real McCoy's collab pieces, as I've long been a fan of the brand and its London store.
Unfortunately only the T-shirts (£90) are available in the pop-up (everything else is largely sold out), but they are enough to show an interesting melding of the Real McCoy's approach and more modern, wearable styles.
I have a lovely loopback tee from Real McCoy's but it is too thick to wear under anything; The Armoury is in a lighter cotton but still slubby and with body you rarely find in modern T-shirts.
The collar, equally, is thick but not so much you couldn't wear it under knitwear. And while I'd always want a slimmer fit in the body, it's not as wide or short as some vintage pieces either.
Elsewhere, The Armoury also have their new shoe line (around £450, made in Northampton, lasts by Yohei Fukuda) in a decent range of sizes, as well as the Citi Hunter jacket (£636) we featured last time in a new olive colour.
There are cardigans (merino and cashmere) cut in the house style - short, to go with high-waisted trousers - as well as shirts, lapel chains and the Frank Clegg collab bags.
Plus Ring Jacket sports jackets and trousers, Nakata hangers, and tweed safari shirts.
A lot, in other words.
Remember, the plan is for The Armoury only to be here until Sunday, with Drop93 swapping in next week. So not long!
More details on all these pieces on The Armoury website. Linked to in the text above.
Photography: Jamie Ferguson @jkf_man