It's been so fun swapping in brands every week or two during the pop-up shop.
A lot of work, but fun: it feels like a different place, a slightly different atmosphere, every weekend.
On Wednesday this week we exchanged The Armoury for Drop93 - the pre-owned and consignment store from the Armoury team.
And we welcomed in Edward Sexton.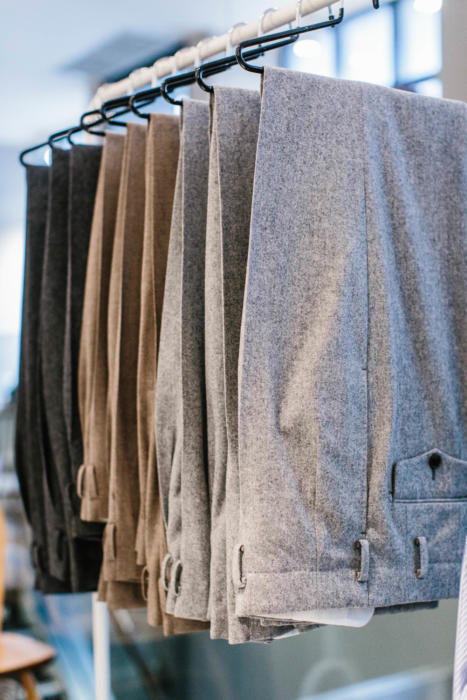 This is a significant launch for Edward Sexton as it is the first time they have done ready-to-wear trousers.
Fortunately, the Hollywood-top style (above) is meant to be loose in the leg and cinched slightly at the waist, so it is easy to fit a range of body types.
For anyone that isn't familiar with the Hollywood-top style, it is a relaxed, high-waisted cut with what's called a 'grown-on' waistband. Basically, it looks like there is no waistband at all, and inside there is less structure than a normal band.
A series of belt loops then run a touch below the top of the trouser.
Sexton started cutting them bespoke last year, and you can see my review of my bespoke ones here.
The RTW styles are cut like a traditional high-waisted trouser - so sitting on your natural waist, above the hip bone - unlike mine which were a little lower.
They are in three different VBC flannels, all 11oz, and cost £420.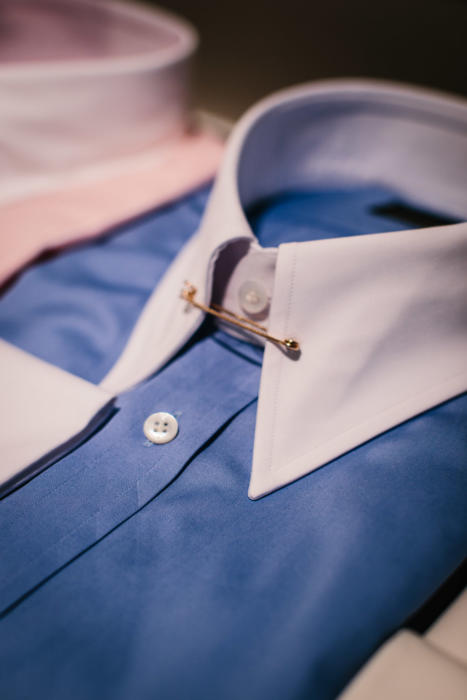 Sexton's other offerings are the pin-collar shirts they've had for a while (£190) and silver and gold pins for them (£140 to £510).
There are three-fold and seven-fold ties made by Bigi and designed by Edward and Dominic (£110 and £190) and some other accessories.
The knitwear is new this year - cashmere and wool rollnecks, and a chunky cashmere cable-knit. I've always associated Edward with rollnecks under tailoring, so it's nice to see those in their collection.
A few readers on Instagram have asked about how to access these things if they can't get to the pop-up shop.
As with all the brands, Edward's things are available on his website - EdwardSexton.com
The concept of the pop-up shop has always been to bring together brands that you can't normally access in London - either because they're online only, or because they are based abroad.
So the brands tend to have everything available in their web shops as well as the pop-up - and these pieces are relevant to everyone, not just those that can wander down to Savile Row.