As with most of my reviews, I wrote a first, introductory post on P Johnson last year, after they opened in London.
My apologies that the full review, here, has taken so long.
In that time John, James and the others have moved from the pop-up in Soho to a permanent location just north of Tottenham Court Road.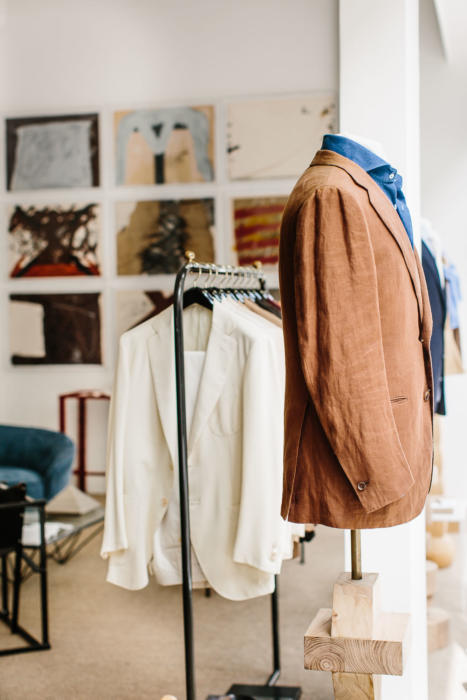 They have also rebranded - dropping the word 'tailors' from their name, among other things, which I heartily welcome.
P Johnson are not tailors, although some like James Johnson have had training at Andrew Ramroop's Savile Row Academy.
They are, rather, an interesting and potentially good-value option for made-to-measure.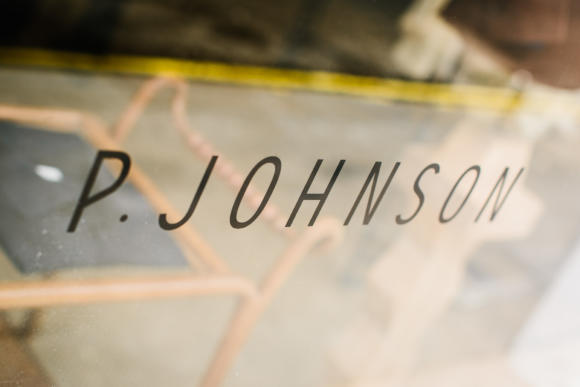 Patrick offered to make me a jacket and trousers (for free - not the norm, but it does happen) in order to review.
I opted for a linen jacket in denim-like blue from Solbiati (S01049) and a pair of white cotton trousers in a denim-like weave from Loro Piana (LP641006).
The jacket had the middle of P Johnson's three structuring options.
You can see the three pictured on my original post: essentially a slim shoulder pad and two layers of canvas, a very thin pad and single layer of canvas, and no pad just a touch of canvas in the shoulder.
I'd recommend either of the first two, but the latter only in a shirt jacket or similar.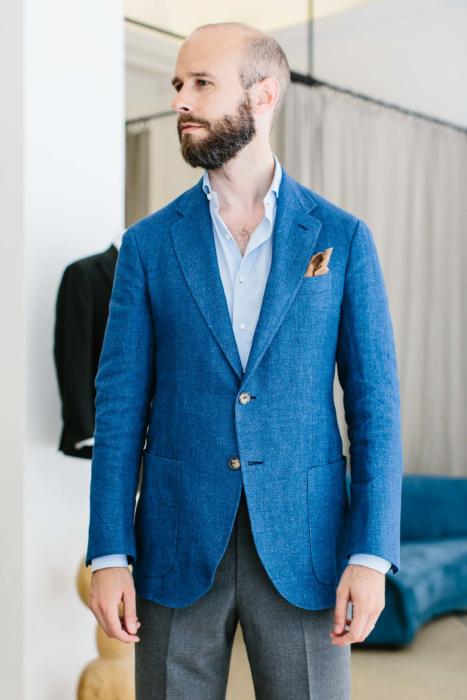 The jacket was strong in the fit, but less so in the style.
James took the original measurements and then conducted the fitting, and the result was good for made-to-measure.
The shoulder line and chest were clean, as was the fit through the waist and hips. The pitch of the sleeve was also good, as was the length.
The back is pretty clean (bear in mind this is linen). The only small issue was with the vents kicking out a little over my seat - always a difficult point for made-to-measure tailoring, and something we did try to address at the fitting.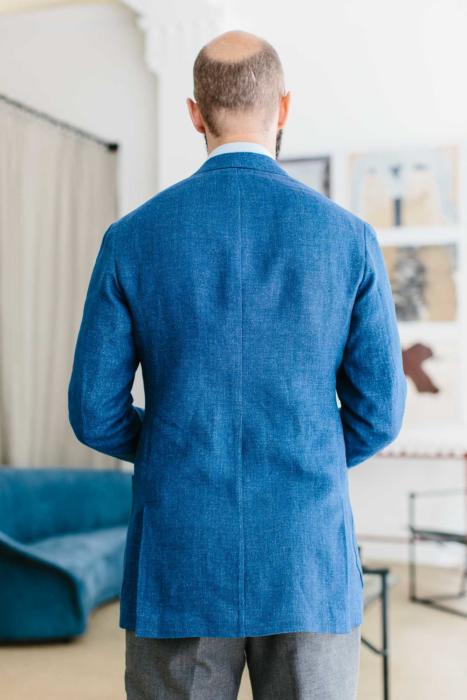 The bigger issue was style. As you can see, the jacket is a little shorter than I would normally wear - perhaps 2cm. And we already lengthened the standard jacket by 1.5cm to get to this point.
The buttoning point was also lowered by 2cm - so proportionately, lowering it a little compared to the length - but it still feels a tad high.
I'm also not a big fan of the lapel line, which is a little narrow and has perhaps too much belly on it, curving up towards its tip.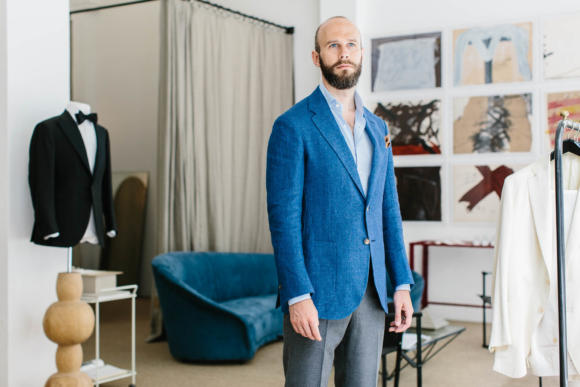 Of course, this is the lapel I chose, but with made to measure there aren't infinite varieties of style.
P Johnson offer two standard lapel widths, of which this is a slightly widened version of the narrow one. And with MTM you can't start re-drawing the lapel line - the changes have to be regulated enough to be fed through a system back to the factory.
It's for this reason that I focus on the style of the jacket here, and consider it important. I'd also say, on balance, that the P Johnson style is more suited to younger guys that want a shorter, more contemporary cut.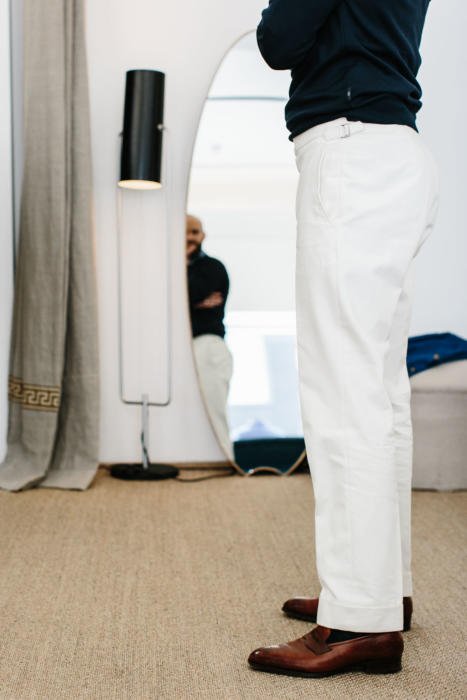 The trousers, on the other hand, were great.
The waist needed to be taken in a little at the fitting and the thigh narrowing, but that was about it. Nice fit through the seat, clean line down to the shoe, and perfect length.
Style is of course less of a factor with trousers, but there was no hint of making these too tight or too short.
I try hard also not to be influenced by choice of material, but the Loro Piana cotton is beautiful (soft and comfortable, but with a touch of the hardiness of denim) whereas the Solbiati linen is a bit too saturated for me, and lacking depth in the texture.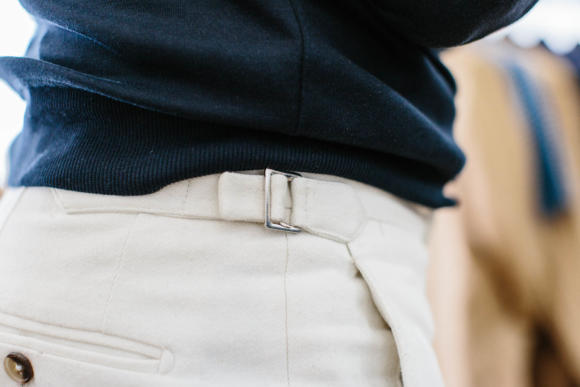 Neither jacket nor trousers are made to the highest quality level, but that is reflected in the price to a certain extent.
The jacket does not have a hand-padded lapel or collar, which is fine - that's what you'd expect with MTM. (Although God, it does make you miss bespoke.)
But the collar is also not attached to the jacket by hand.
The top stitching is by hand, which is nice, and from what I've seen it is all cut by hand, but overall there are higher levels of make in MTM.
That goes for the trousers too, which are fine but don't have the hand-tacking or other sartorial details of some MTM.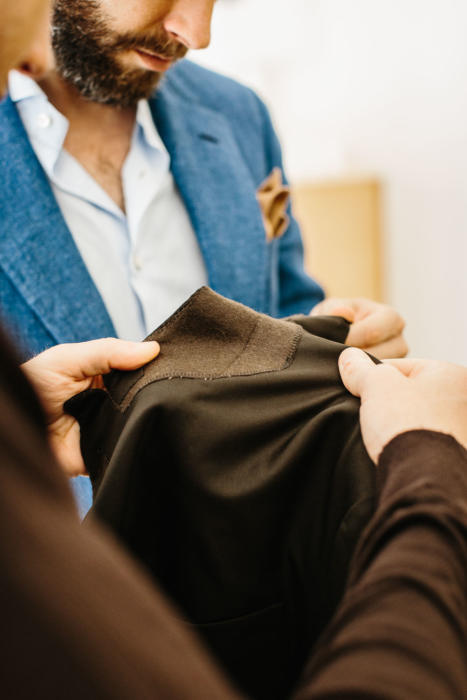 As I said, this is reflected in the price.
The starting price for a P Johnson jacket is £960, which is pretty good. And trousers on their own start at £265 - which is what most top-end ready-to-wear trousers cost in London.
For anyone looking for that perfect pair of flannels for winter - and with a big range of cloth to choose from - P Johnson could be a good option.
These are definitely starting prices, however. My Loro Piana ones would have cost £450, and the jacket £1100. Worth clarifying the range of pricing before going through all the bunches.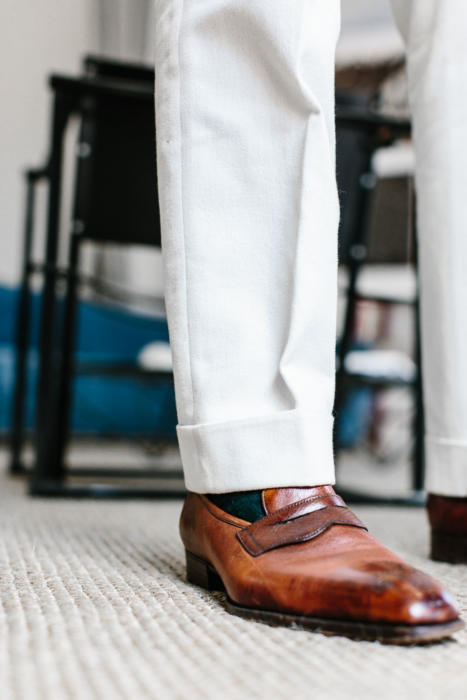 On the subject of quality, it's also worth saying that P Johnson are moving all their tailoring production to the factory in Carrara, Italy, but historically pieces have been made elsewhere, including China.
There is also potential confusion with the fact that their cheaper line in Australia - Suit Shop - is made in China, as is some of the new ready-to-wear clothing (such as linen shirt-jackets and trousers).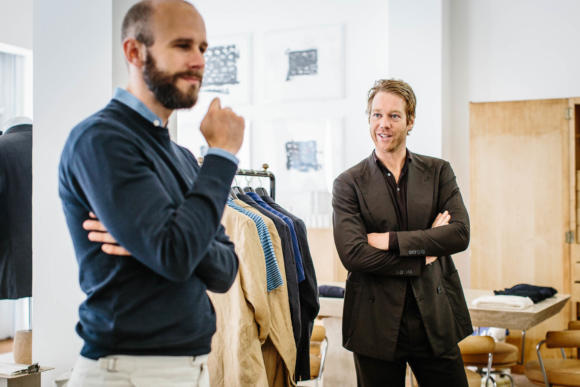 Now I have heard P Johnson salesmen being a little misleading about manufacturing - suggesting that pieces are cut on site, or that chests and hand-padded, for example.
But I know this is not the aim of Patrick, John (Glass, pictured above) or anyone else. They want clarity and consistency across the team, and across the stores.
I also think we should be a little tolerant of how brands grow and develop.
It is natural to think that brands are born fully formed, with a clear mission and a consistent product. But that rarely happens. Most take a few years to find their feet, be 100% confident in the style and make of their product, and their communications.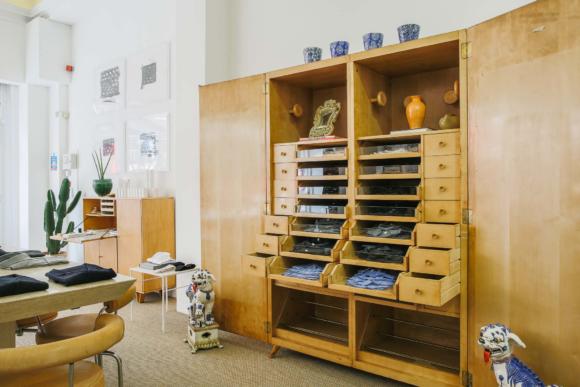 One of the things I found most interesting about having MTM at P Johnson was the way it made me appreciate bespoke - particularly that lovely hand-rolled lapel line.
But this is not bespoke and should not be compared to it. Rather, it is well executed MTM with a strong, contemporary style.
I'd certainly recommend exploring the trouser option, and the more casual pieces such as the shirt-jackets, in linen for summer (below) or wool/cashmere for winter.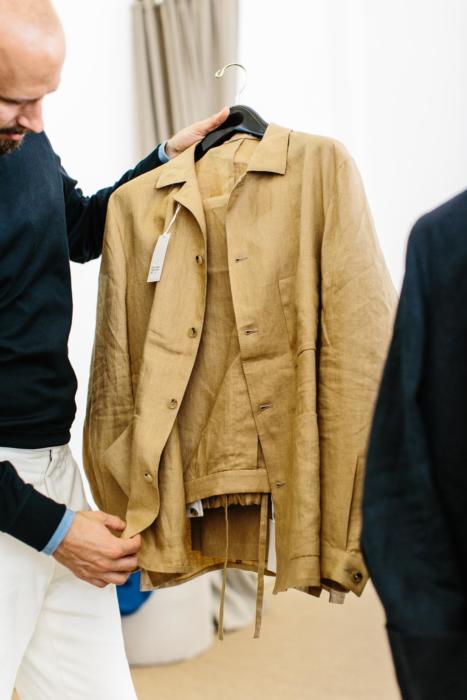 In the images I am also wearing:
With the jacket:

Button-down chambray shirt by Luca Avitabile
Oatmeal cashmere pocket square by P Johnson
'Crompton' model bespoke hatchgrain loafer by Gaziano & Girling

With the trousers:
Photography: Jamie Ferguson @jkf_man