P Johnson: Contemporary, made-to-measure tailoring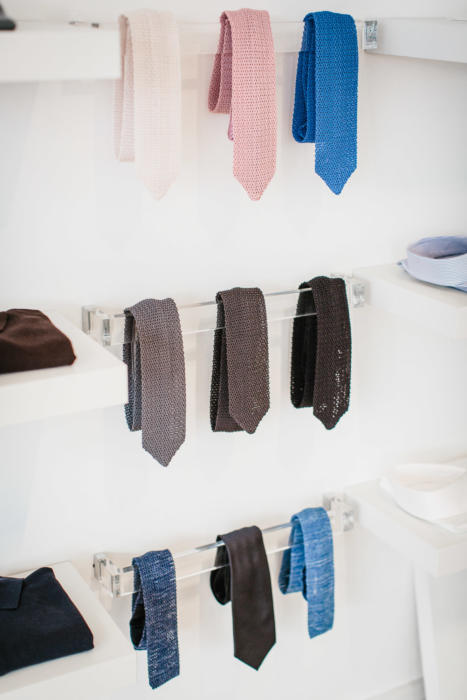 In a similar way to Stoffa (covered recently here), I loved the aesthetic of P Johnson tailoring before I ever got to see any in person.
We are all - in our various ways - battling to show how useful, beautiful and relevant tailoring can be to the current generation.
P Johnson, the brand and the style, are fighting this good fight.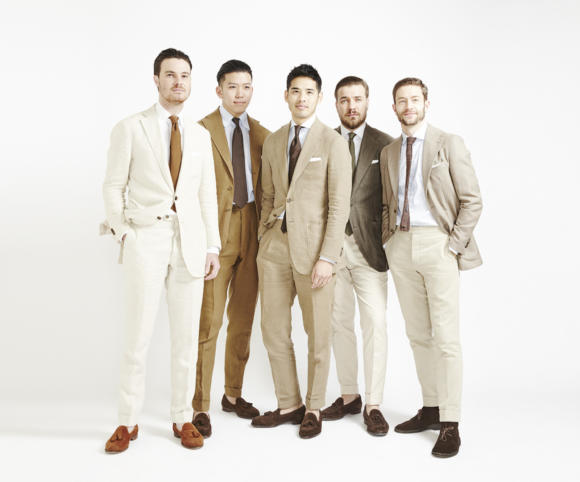 The colours are very natural: creams and tans, beige linens and slate-green cottons.
The make is soft, casual: paired with collared knitwear as much as a shirt.
And it all has a relaxed elegance that you feel - indeed, the brand's following shows - helps its relevance for that new generation.
It's a great aesthetic. So what's the product like?
The tailoring is all made-to-measure - there is deliberately (currently) nothing available ready-to-wear.
Appointments are made for the various showrooms (London and New York, plus four in Australia).
There are sample garments to see and try on; there are further sample garments to be measured in; and then pieces are made for delivery in 6 weeks.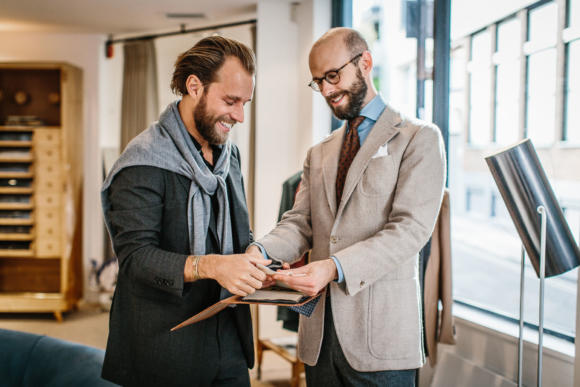 There is quite a lot of flexibility with the fit, although most style points are fairly fixed (only two real options with the width of the lapel, for example).
The style is also quite 'contemporary' - shorter jackets, narrower trousers and so on.
Not to any extreme - there is a clear knowledge of the benefits of traditional tailoring - but there's also a desire to serve a broad range of customers, including the more fashion-focused.
"We have some guys who come in wanting extremely short jackets - women's length, really - and we spend time educating them on why a jacket is a certain length. But still, they want something that is going to feel current," says UK fitter James Johnson.
Of course, made to measure means you can theoretically have any length you want.
But the designs and the models are set to certain proportions. If you lengthen the jacket too much - more than 3cm, say - a lot of other things have to change, and the risk of it going wrong increases substantially.
I'll go into more detail on this in my next post, where I'll review the jacket and trousers I had made.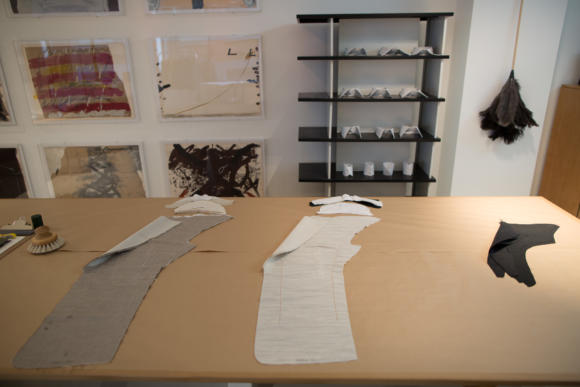 Interestingly, P Johnson jackets have three options for a jacket's structure - its chest canvas and shoulder padding - shown above.
These range from just a couple of pieces of small cotton canvas (black, far right) to a double layer of full-length camel and horsehair and a decent shoulder pad (far left).
However, even the heaviest structure is only equivalent to Neapolitan tailoring in the bespoke world. There is nothing close to British structure.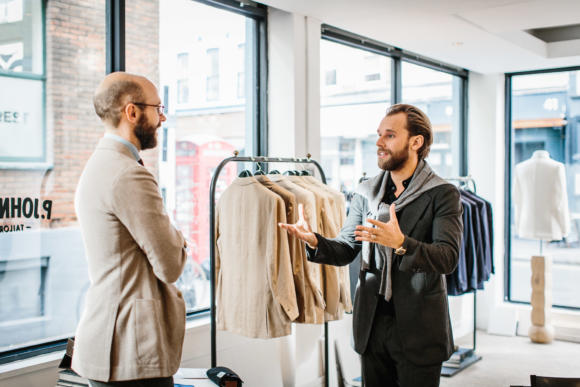 The tailoring is nearly all made in Italy now, in a factory that the brand co-owns.
"That's not necessarily what we would have chosen, but it has given us much more control and consistency," says Patrick Johnson (pictured above).
It had been made in different parts of the world historically, but as the company grew Patrick realised the benefit of being able to manage and control more.
James Johnson (who trained in Andrew Ramroop's Savile Row Academy) now travels out to Italy regularly to oversee production.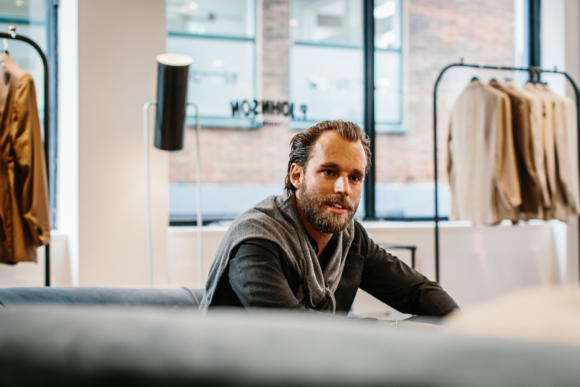 Patrick started his career at Emmett in London, helping to develop a tailoring range there.
When he moved back to Australia, he spent set up his own brand by buying a load of cloth and then spending months on the road, meeting individual clients around the country.
Eventually he opened a showroom in Melbourne, which he and his wife lived above. And then when they opened one in Sydney, they lived above that one too.
"We funded the whole thing with cash," Patrick says. "No loans, no investors - we wanted to do everything ourselves. It means things have grown slowly, but also organically."
Patrick originally planned to open a London showroom before New York, but the New York opportunity came along first.
Even now, the London space is only a temporary one - they're moving around the corner in Soho to a permanent location next month.
"We've had to adapt the colour palette slightly for London," says Patrick. "The creams and tans work better in Australia - and even New York and London are different in terms of their light."
So in the London store there are more greys and navy, but often with a distinctive view on the cloth - lots of high-twist wools in the formal suiting, for example.
I had a denim-linen jacket made with the mid-weight structural option, and a pair of cream cotton trousers. Full review at the end of the month.
The starting prices for P Johnson in the UK are:
Suit: £1200

Jacket: £960

Trousers: £265

Shirts: £145
For discussion of the sweater worn over the shoulders (using Patrick as an example) see post here.
I am wearing:
Oatmeal cashmere jacket by Elia Caliendo
Green flannel trousers by Elia Caliendo
Burnt orange wool tie by Church's
Denim shirt by Luca Avitabile
In-store photography: Jamie Ferguson @jkf_man. All other other photography: P. Johnson
Sanforised cotton car-coat. Worn with a navy merino knit and Japanese 360-gramme cotton trousers.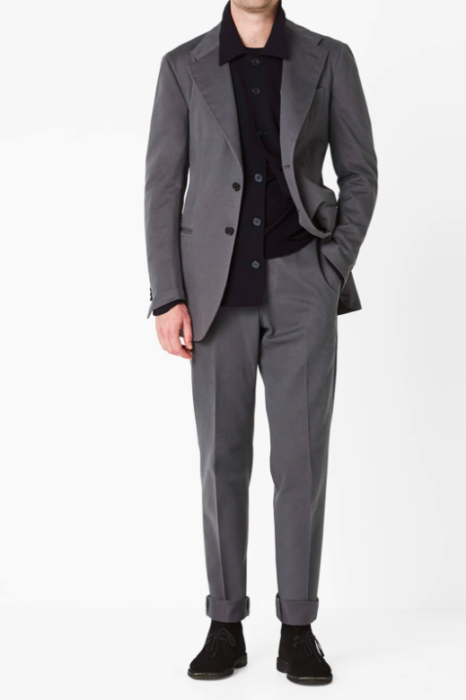 Unconstructed 360 gramme cotton suit, with low-angle gorge and wide-notch lapel. Worn with a merino Milano knit collared cardigan.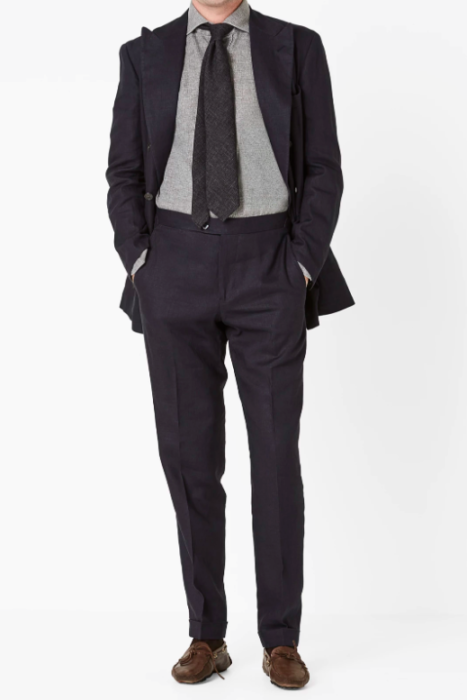 Unconstructed 300 gramme indigo double-breasted linen suit. Worn with brushed-cotton shirt and wool-silk grenadine tie.