Sartoria Formosa – bespoke-made RTW and MTM tailoring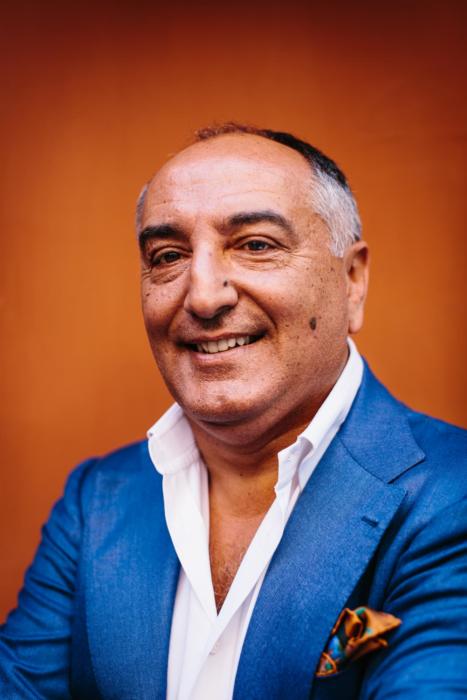 Sartoria Formosa - led by Gennaro, above - is similar in some ways to the likes of Dalcuore or Ambrosi, in that it is a traditionally bespoke Naples house that has expanded into ready-to-wear in recent years.
Five years ago it did no RTW or made to measure; today they are 50% of the business.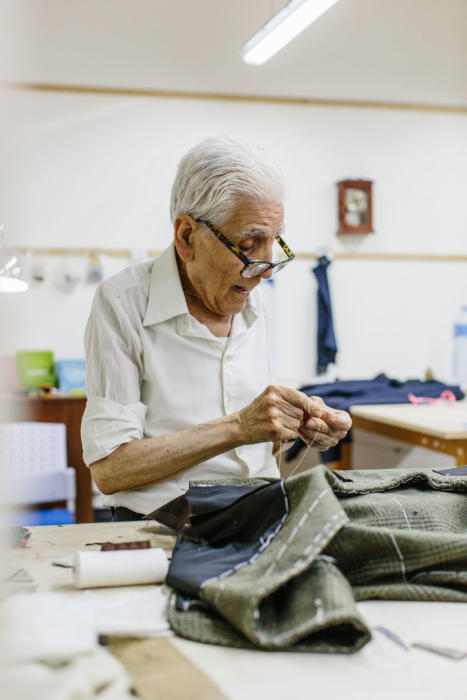 The big difference is that, unlike the vast majority of tailors, Formosa RTW is made to the same level as bespoke.
Those are RTW jackets you can see hanging up below - waiting to go off to No Man Walks Alone in New York.
All made in the same workshop, hand cut and with hand-padded chests and collars. Just on a standard block rather than a bespoke pattern.
It seems like an odd approach, but it does give Formosa an immediate USP.
And it's the only way RTW or MTM garments could be made in this workshop. (Consumers often forget the inertia created by the need to invest huge amounts of money in machinery.)
Readers that came to our pop-up shop earlier in the year might also have seen the made-to-measure suiting that Gennaro was offering, which I was very impressed by (both for fit and for that bespoke-level make).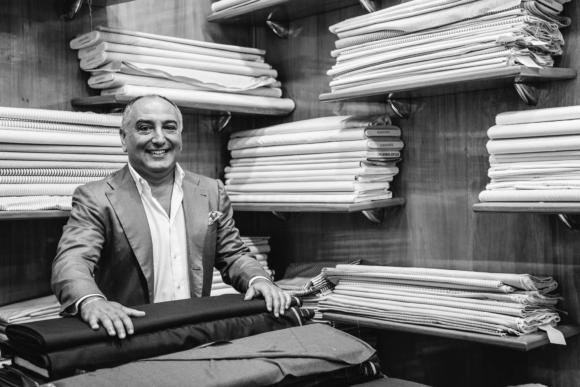 The workshop itself is in a lovely courtyard, off Vico Cavallerizza in Naples.
Formosa actually has three buildings here: a showroom for the tailoring, a showroom for shirts (stacked with bolts, above) and a basement workshop.
There is also another, larger tailoring workshop outside the centre.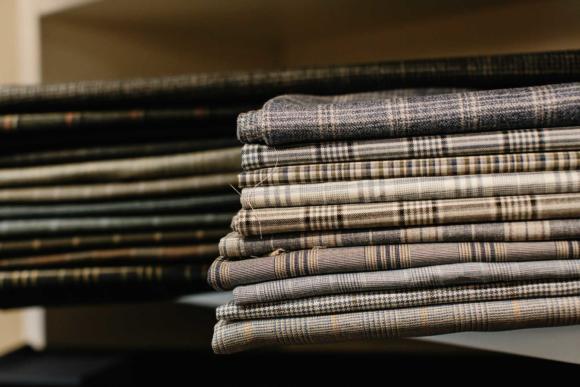 Lino Pommella makes the trousers for Formosa - and readers may have seen his name around, as he's done trunk shows for his trousers at The Armoury and elsewhere.
I had a pair made and will publish a review in a couple of weeks.
The trousers he makes for Formosa, though, are more straightforward than those under his own name - with less handwork and more standard designs.
Pictured above in the Formosa workshop is Donnelli, whom readers might recognise from the superb O Mast film on Neapolitan tailoring by Gianluca Migliarotti.
Behind him is the master cutter, Dionisio, who oversees all the cutting.
He and cutter Antonio are getting on, and the latter doesn't travel any more; Dionisio generally does Milan, New York and Japan.
Gennaro Formosa is therefore trying to work more with two young cutters - pictured in my fitting for a bespoke jacket below.
Unfortunately the fitting wasn't great - and this is the third, after previous meetings in London and Florence.
The waist on the jacket (a linen/wool/silk Cacciopoli cloth) was too tight; the vents were opening sharply; and the shoulders still both needed lifting up - although the top of the back and the neck were very clean.
Hopefully the final jacket will have corrected these issues, and the young cutters can take a step up to provide a long-term foundation for Formosa.
The increasingly important RTW and MTM offerings, of course, are less affected by these issues.
Photography: Jamie Ferguson @jkf_man