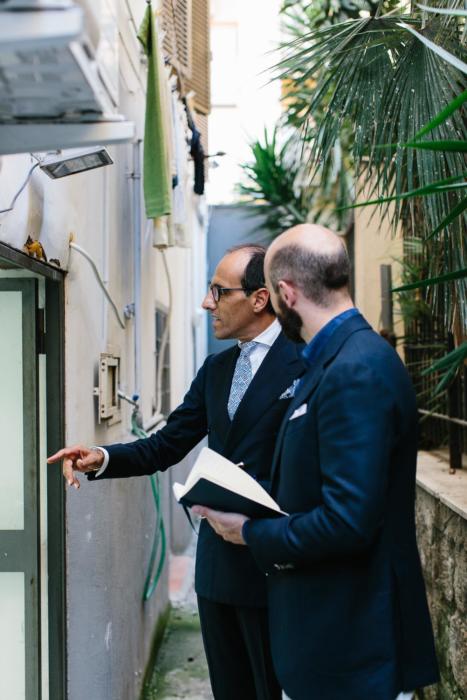 *For more on Ettore de Cesare, and examples of the pieces he has made for me, see original post here*
The workshop of Ettore de Cesare is in Vomero, a residential neighbourhood on the hill behind central Naples. But he lives in the centre of town.
Every day he reverse-commutes, driving up the hill while on the opposite side of the road a long snarl of traffic tries to drives down.
This is not the reason he lives in the centre, of course. He lives there because it's more fun, and interesting, and because it's no longer as dirty or dangerous as it used to be.
I found his arrangement interesting because another tailor in Altamura - Sartoria Cornacchia - said the same thing to me the other day.
Their workshop is in a set of flats outside the city - where their parents moved to - but they now live in the centre.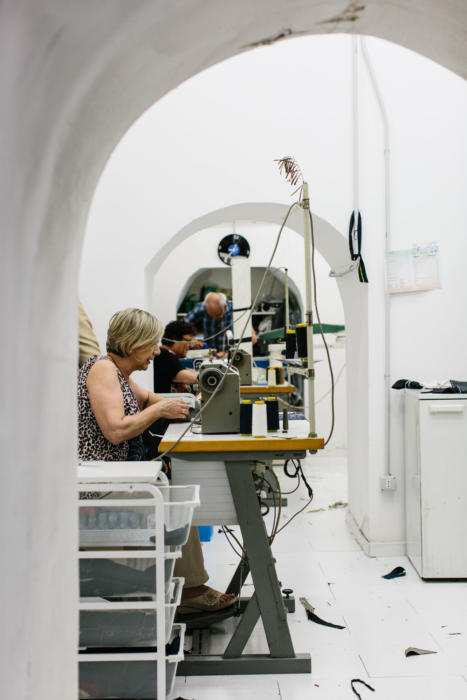 It is a generational thing, more than anything else. Ettore's grandfather lived in Vomero, and set up the workshop there in 1960.
Ettore has since expanded and modernised it.
The work is done in four interconnected rooms under arches that were once used as bomb shelters (above). The showroom is in the building next door, though a gate in the fence.
The showroom is a little too modern for me, but the arches have a lovely atmosphere, with each effectively dedicated to a different stage in the making process.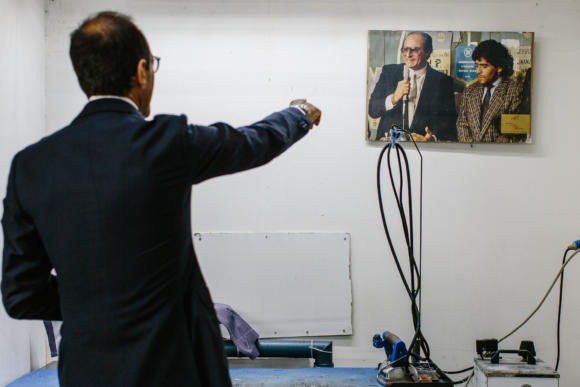 Particularly noteworthy was the photograph on one wall of Ettore's father with Diego Maradonna, wearing a De Cesare jacket (above).
It caught our eye because the previous evening Maradonna had been in Naples, to receive the freedom of the city in recognition of his time playing for Napoli.
He was staying in the Grand Hotel Vesuvio, next to us, and all night a crowd of fans waited outside, chanting his name and hoping for an appearance on the balcony.
It finally happened about 1am, just as I was falling asleep.
Ettore's master tailor, Luigi, works in the first arch of the workshop and oversees much of what is done elsewhere.
We watched as he laboriously but four rows of stitches in a hand-padded collar (above), slowly rounding its shape as he went.
The stitches were also small and more numerous than many Neapolitan makers.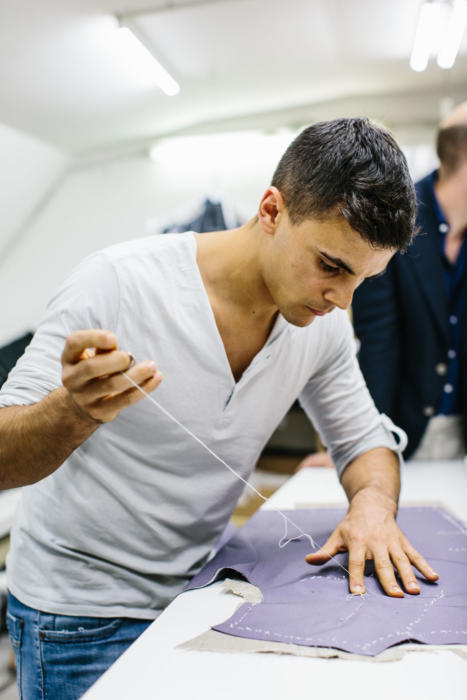 In a larger room down a couple of stairs, Luigi was overseeing a young apprentice, Alessio (above), who was repeatedly padding the chest of jacket after jacket, trying to get his speed up.
It's relatively rare in Italy to see young people learning tailoring - certainly compared to the UK or Japan - so it was great to see Alessio's focus and dedication.
Luigi also demonstrated the process of inserting a sleeve into a jacket (above).
This is one of the hardest parts of assembling a jacket, as the sleevehead is 5-7cm bigger in circumference than the armhole it has to go into.
The excess must be worked in gradually, all the way round the armhole, with a smooth finish where it is desired, and ripples where it is not.
The ripples at the top of a sleeve on some Neapolitan jackets - often associated with 'spalla camicia' or shirt-shoulder construction - are a good example of the latter.
Ettore's team are also good at working with unusual designs or materials.
I noted in my review of the jacket and coat he made me that this includes suede and leather - as I had under the collar of my pieces.
When we visited the workshop, the team was working on a design sent by a customer, of an Indian Nehru-collared jacket in light-blue wool with blue-silk details.
Not my cup of tea, but interesting to see the range of work.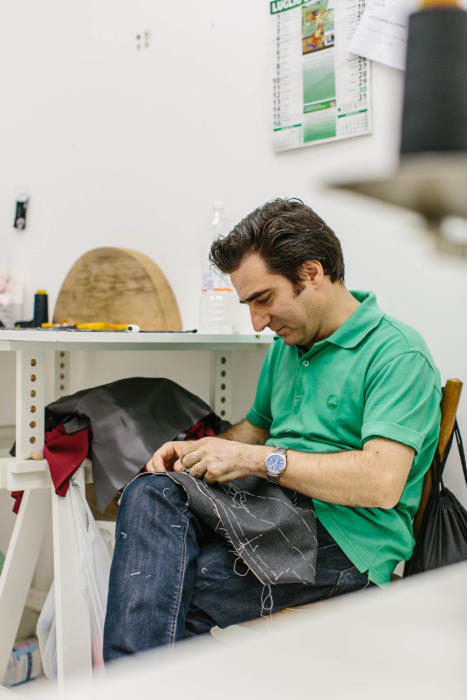 Back in the showroom, Ettore walked us through a few of the styles he has been working on.
I always welcome attempts by tailors to innovate, even if some of them are not to my taste, or plain don't work.
As long as they maintain their quality and focus on craftsmanship, it's a useful way to stop tailoring from stagnating.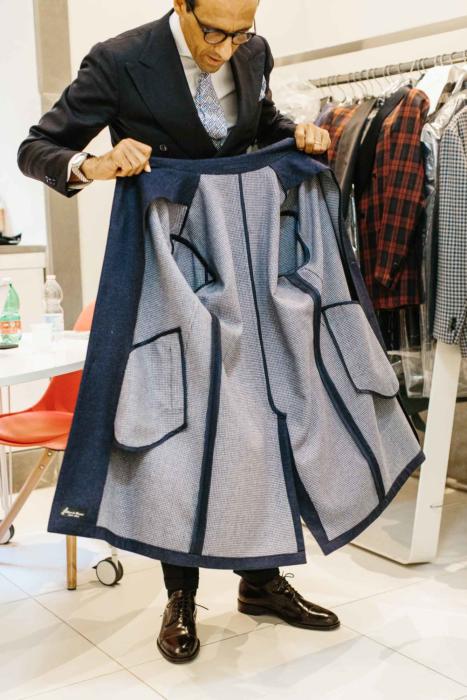 A few of those things are pictured here:
An unlined overcoat (above)

A reversible car coat (below)

And a safari-style jacket in chalk-stripe flannel (further below)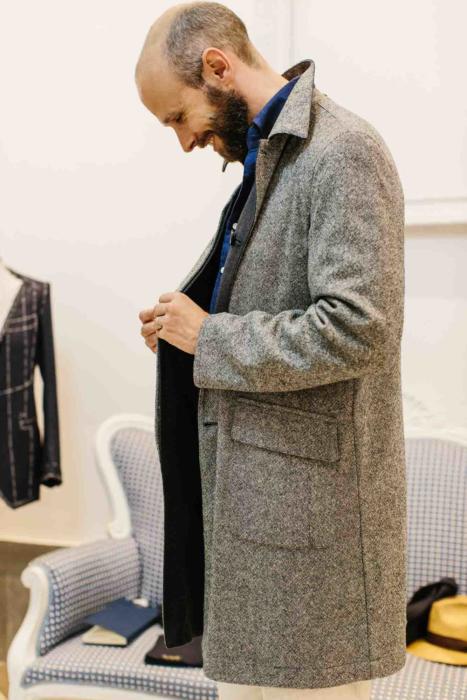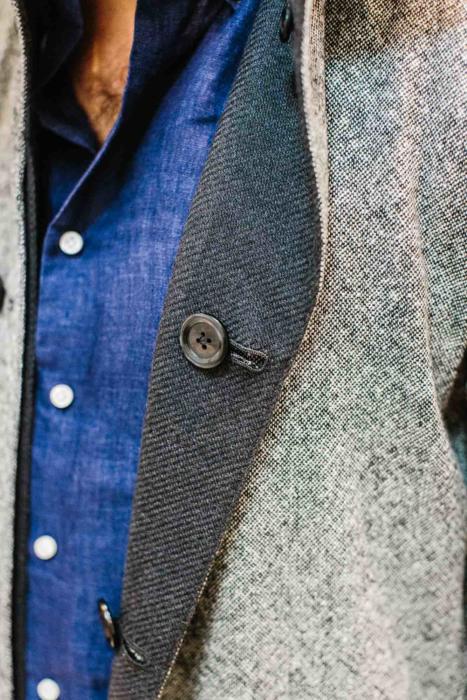 I tend to prefer bespoke pieces that have a full canvas, as they benefit from the hand-padded shape in the chest and lapel that you won't get with ready-to-wear.
But these pieces do appeal to guys that want to create their own unique versions of such coats, and with a better fit (the other two benefits of bespoke, aside from the make).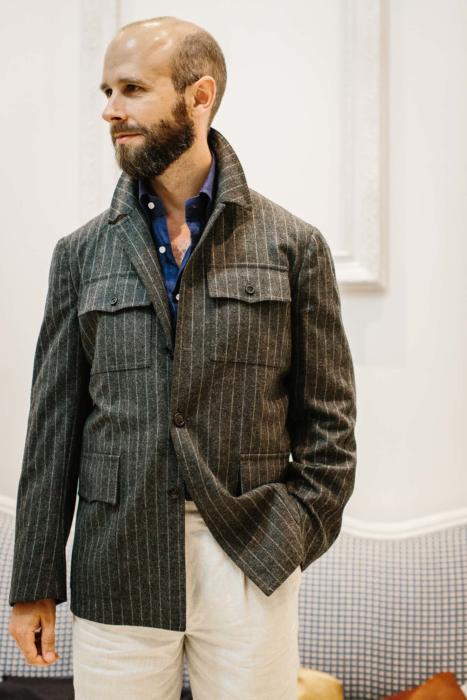 It was lovely seeing Ettore's workshop, particularly as our previous meetings at Holland & Sherry in London had been so fleeting.
We also had more time to talk later, as we had dinner round the coast in Marechiaro (Al Faretto restaurant).
Given the quality of Ettore's work, and the frequency of his visits to London, I'm sure we'll be working on something else again soon.
Photography: Jamie Ferguson @jkf_man