Ettore de Cesare – Neapolitan summer blazer and top coat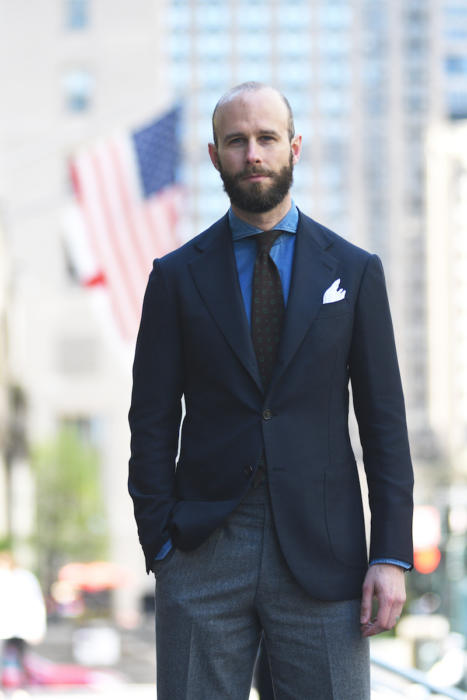 In some ways, this navy jacket and topcoat from Ettore de Cesare are the antithesis of the Disguisery tweed jacket we featured last week.
Ettore is a third-generation Neapolitan tailor known for his close-fitting, unstructured garments and leather work.
The jacket - in a hopsack-like open-weave cloth from Holland & Sherry - is relatively short, small-shouldered and completely unpadded. Other than a touch of roping at the end of the shoulder, It makes no effort to make me look bigger or stronger.
It may make me look slimmer, but that's about it. (And even then, there is minimal difference in the fit through the waist.)
The contrast between it and the Disguisery tweed should be interesting, therefore, for readers evaluating where on the spectrum of size and structure they prefer to sit.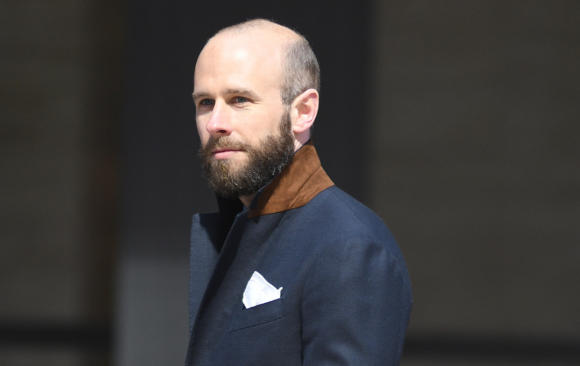 Readers may also understandably ask why I have jackets made in such different styles.
Partly it is the interests of the blog. I want Permanent Style to be a reference for all styles of tailoring, and that requires pieces made by a variety of tailors in their rough house style.
But in reality that is a minor reason. More important is the fact that I just enjoy different styles of tailoring.
I enjoy, in the same way, finely welted bespoke shoes, chunky cordovan boots, and simple, chic sneakers.
There are limits (all have points of quality and style in common) but the range is still fairly wide.
Of course, I will also wear these pieces of tailoring in different ways. I am more likely to wear English tailoring at a smarter occasion, with smarter accessories. I am more likely to wear a Neapolitan jacket with an open-necked denim shirt and slip-ons.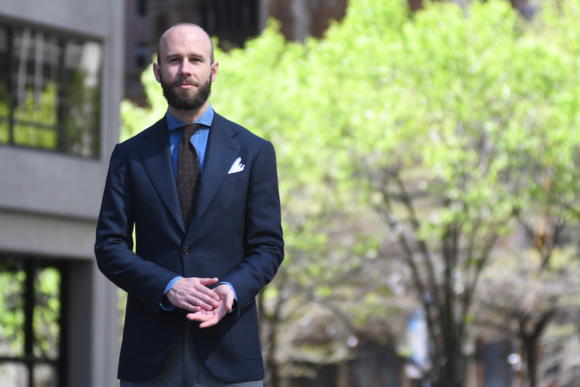 Ettore has not had much attention online as a visiting tailor, which I think is partly due to his tendency to bright colours/designs, and partly that so much of his clientele is in Italy - Naples and Milan.
However, the quality of the work is very high - and he offers something genuinely different in his familiarity with leather and suede.
The workshop was founded by his grandfather, who had trained at Rubinacci, in 1960. Ettore initially learnt tailoring at his grandfather's knee, working after school as many in Naples do.
But he left to go to university, studying economics, and comes across as a little more cosmopolitan than some tailors as a result. (He is also very tall - easily the most striking thing about him.)
I'm in Naples next week and will report back on Ettore's workshop, as well as those of many other Permanent Style favourites.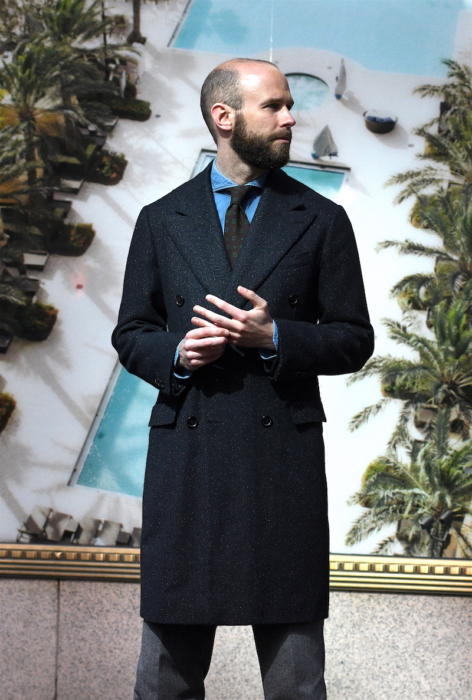 The fit of the pieces Ettore made for me was very good in the fundamentals - but required a few changes, both functionally and aesthetically.
Both were made without any padding in the shoulders, just canvas. But at the first fitting, the shoulder line was perfect, the balance perfect, and both back and chest very clean.
It was the work of someone that - I learnt - is used to working off a single fitting.
Because when Ettore returned to London, both pieces were finished. This wasn't what I expected, but as the fundamentals were right it just meant the changes would be a little harder for him to make - requiring more seams to be unstitched.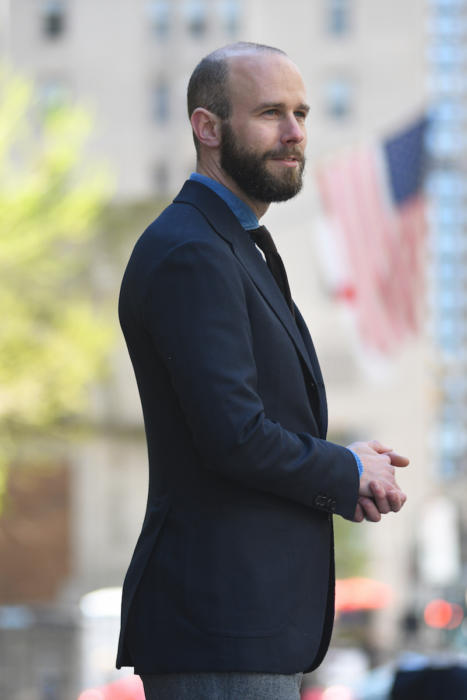 As I was travelling to New York the following week, and shooting with Karl-Edwin Guerre of Guerrisms, I took the two pieces as they were and had them photographed.
That is what you can see here. There were some functional issues with the jacket, eg:
the vent was opening too far (obvious in the image above)
the fit was a little too tight through the waist
And some aesthetic issues:
the length is about 2cm too short for me, even on a short jacket (seen on the top image most obviously)
the sleeve was a little too slim (it was usable, but any sleeve becomes rather effeminate, for me, if too slim)
The latter two points perhaps illustrate how Ettore naturally cuts a jacket - what might be called his house style. And it's useful to have imagery of those things for anyone considering using him.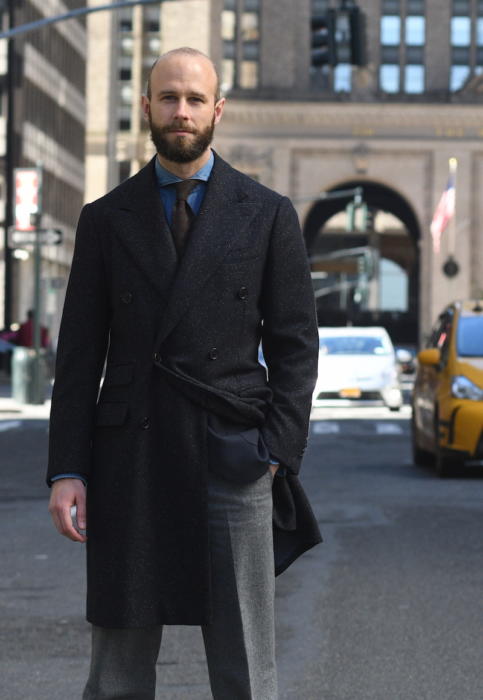 The coat, by contrast, was perfect from the off. That same clean fit in the chest and back, and neither waist nor sleeve too tight.
It is double breasted, with a dark-brown suede undercollar, ticket pocket, dark-brown horn buttons and a half-belt in the back.
The back of the coat has a full-length pleat, tacked just behind the belt - which itself has been made in the style I originally used on my Vergallo loden coat, with two buttons at the fastening points to allow it to be tightened when worn without a jacket.
This system has worked very well on the loden, and so far on this navy DB.
It helps that the coat already has some fullness in the back gathered into the belt, as tightening it just increases that gathering. It also helps that it is a relatively soft, lightweight cloth.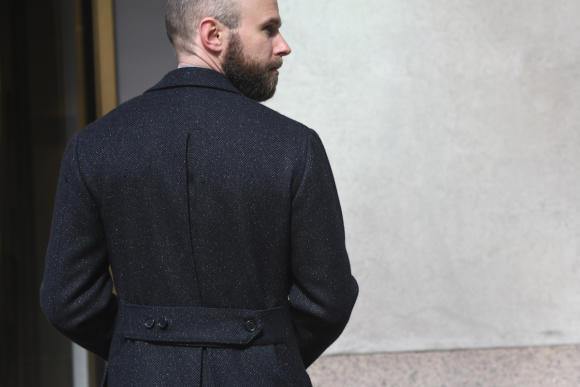 I'd pick out that cloth separately as something I love about the coat.
It is a 400g wool/cashmere mix - so very lightweight and soft for a coat - and has a beautiful black herringbone pattern over a mix of navy and white/grey flecks.
It is produced by Scabal, but unfortunately exclusively for Ettore - so it is available only through him.
As a top coat, the dark colour will make it a great piece to wear with smarter outfits - suits or at least smart trousers, black or dark-brown shoes - in warmer weather than a regular overcoat.
The jacket's cloth also deserves a mention, as it is an open-weave wool that is extremely lightweight and breathable - but not a hopsack.
It is from the Mesh Blazers 1730 bunch at Holland & Sherry, which was new this year.
The bunch has five different blues, plus a big range of bright summer colours. Nine ounces, woven in Huddersfield.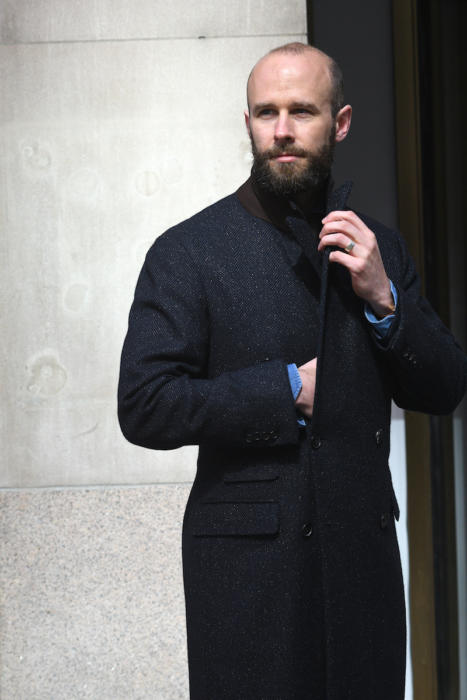 As to the suede, I was keen to make use of Ettore's experience here but in a small way to start with. So we just added suede to the undercollar of both pieces - dark brown for the coat, mid-brown for the jacket.
Both are subtle details, but ones that I really like. The mid-brown on a blazer, in particular, is something I've always loved on Loro Piana jackets, but been unable to replicate bespoke.
The suede is beautifully soft, and neatly worked. It also helps support the collar when it is popped up.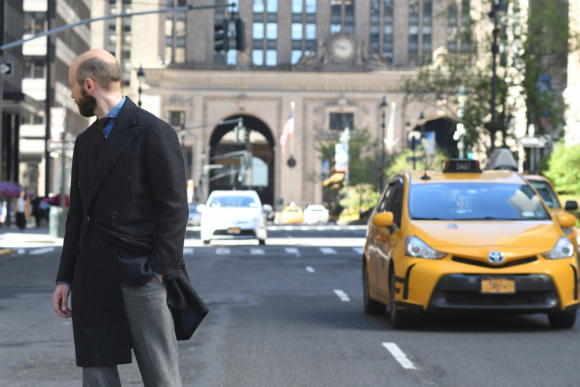 Ettore's suits start at €2300 - so great value - with this jacket costing €1800 and the coat €2600.
He travels regularly between Milan, Naples and London, but not elsewhere. He is in London roughly every 4-6 weeks, and is next here in September after the summer break.
Usually fittings and finishing can be done between each visit, so 2-3 appointments would be necessary for a suit. More likely to be three for a first-time customer.